Jiang Tingxi, Chinese Painting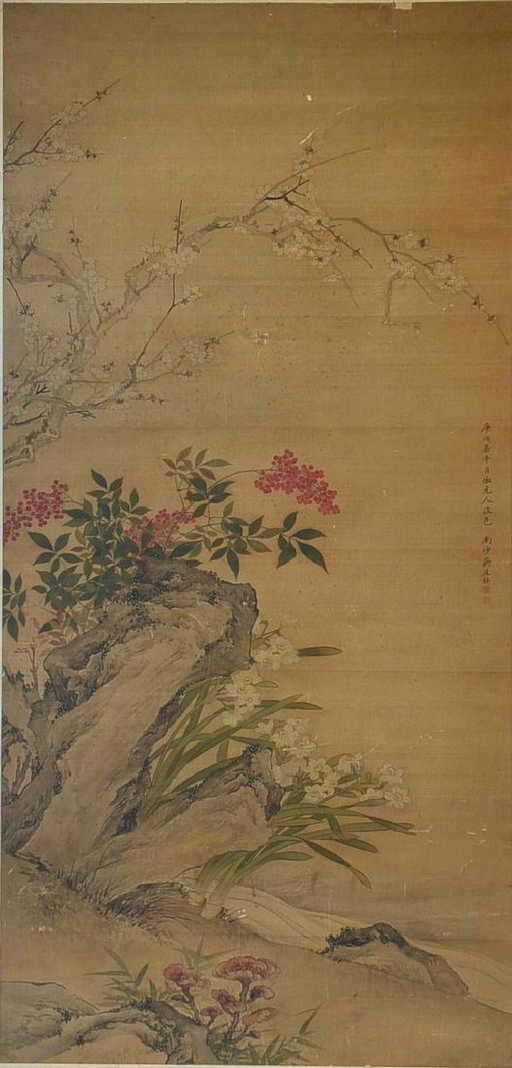 See Sold Price
Don't Miss Your Next Treasure.
Set up a search alert to hear when The Great Value Auctions lists new auctions.
Auction ended on March 16th, 2018 UTC
Jiang Tingxi, Chinese Painting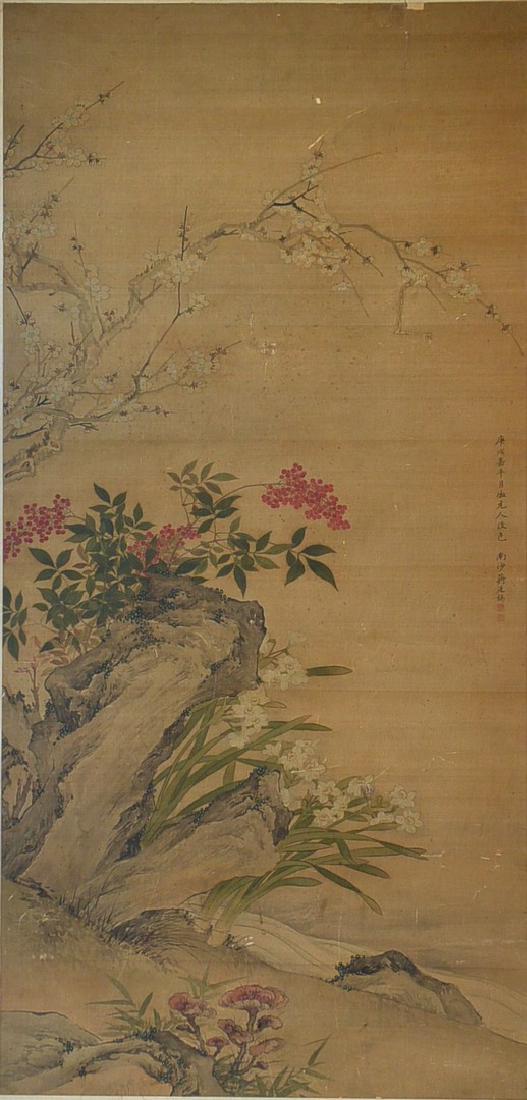 蒋廷锡 梅花幽兰荔枝图 绢本 设色 拍品尺寸:74x155cm 钤印:蒋廷锡(朱文)朝朝染翰(朱文) 款识:庚午嘉平月 仿元人设色 南沙蒋廷锡 拍品来源:原为西人家族旧藏,早年经加拿大蒙特利尔法裔古董商,售与多伦多资深藏家珍藏至今。 蒋廷锡(1669年—1732年),字酉君、杨孙,号南沙、西谷,又号青桐居士,汉族,江苏常熟人。清朝前期政治人物、是清朝重要的宫廷画家之一,擅长花鸟,以逸笔写生,奇正率工,敷色晕墨,风神生动,得恽寿平韵味,点缀坡石,偶作兰竹,亦具雅致。康熙四十二年(1703年)进士,雍正年间曾任礼部侍郎、户部尚书、文华殿大学士、太子太傅等职,雍正六年(1728年)拜文华殿大学士,仍兼理户部事。次年加太子太傅。雍正十年(1732年)卒于任内。谥文肃。 这是一幅早年流出海外,清代早期宫廷御用画家蒋廷锡真迹,蒋廷锡作为清代康熙、雍正朝位高权显的重臣和清代最重要的宫廷画家之一,在书画界开创了"蒋派"花鸟画流派。他的绘画风格有两种,一为水墨小写,潇脱苍厚,兼陈道复、恽南田二家之长;一为设色写生,艳丽生动,开邹一桂等法门。前者表达了他志趣雅洁的文人情怀,后者象征了他华贵富足的官宦气象。在康熙后期,蒋廷锡已是重要的词臣画家,在《石渠宝笈初编》收录的31件蒋廷锡的作品中,有康熙帝题跋的就有16件之多,足见皇帝对其的赏识,他的作品也多被藏入秘阁。这幅集梅花,红荔枝,幽兰,灵芝与礁石为一体的佳作,正是作者仿元人画风画法风格的设色工笔画。作者笔下的梅花,荔枝,幽兰和灵芝,形象,艳丽,生态栩栩。绘画非常精细,雅致,灵动逼真,具有很高的艺术和收藏价值。 ------------------------------------------------------------Jiang Tingxi Plum Orchid Litchi Figure Silk The color Auction Size: 74x155cm Seal: Jiang Tingxi (Zhu Wen) Dynasty dynasty Han (Zhu Wen) Collection knowledge: Gengwu Jia Ping month imitation Yuan Ren Nansha Jiang Tingxi Source: Early in Montreal, Canada, French antiques dealer, sold to Toronto, a collection of senior Chinese collectors since ancient times. Jiang Tingxi (1669-1732), Zi Youjun, Yang Sun, No. Nansha, Xigu, also called Qing Tong lay, Han, Changshu, Jiangsu. Early Qing Dynasty politicians, is one of the important court painters of the Qing Dynasty, good at birds and flowers, with easel painting, extraordinary workmanship, color halo ink, Fengshen vivid, have longevity flavor, dotted slope stone, even for blue bamboo, also with Elegant. During the forty-two years of Emperor Kangxi (1703), he served as minister of minister of rites, minister of civil division, associate degree of Wenhua Hall University, and tutor of Prince Edward. In the six years of Emperor Zhengzheng (1728) Customer Department Affairs. The following year, added Prince Edward. Yongzheng ten years (1732) died within the office. 谥 Wen Su. This is an early Qing outflow overseas, the early imperial court painter Jiang Tingxi authentic Qing Dynasty, Jiang Tingxi as Qing Dynasty Kangxi, Yongzheng bit high power was prominent minister and the Qing Dynasty one of the most important palace painter, created in the calligraphy and painting "Jiang faction" flowers and birds Draw genre. His painting style has two kinds, one is lowercase in ink and wash, Xiaotong thick, and Chen Dao Fu, Nao Tian two long; one for the color sketch, bright and vivid, open Zou Yi Gui and other methods. The former expresses his gentle and elegant literati feelings, the latter symbolizes his noble and rich official atmosphere. In the late Kangxi period, Jiang Tingxi was an important Ci painter. Among the 31 works by Jiang Tingxiu collected by Shi Bao Bao Chu in the late Qing dynasty, there are 16 pieces of inscription written by Emperor Kangxi, which shows the appreciation of the emperor to him. Works are also more hidden in secret cabinet. This set of plum, red lychee, orchids, Ganoderma lucidum and reef as one of the masterpieces, it is the style of the artist imitation of Yuan style painter strokes. The author's plum, litchi, orchids and Ganoderma lucidum, image, beautiful, ecologically realistic. Painting is very fine, elegant, vivid and realistic, with high artistic and collectible value.
Condition
重要说明:应几位买家咨询及要求,现在补充上传总计20张高清晰图片,都是补充,重新拍摄。如果买家有更多要求,请尽快邮件联系我们。邮件请发到公司邮箱:info@thegreatvalueauctions.com, info-88@thegreatvalueauctions.com--------------------------------------------- Explanation: In response to several buyers' requests and requests, the uploading of a total of 37 high-resolution images is now supplemental and re-shooting. If the buyer has more requirements, please contact us as soon as possible. Please email the company's email address: info@thegreatvalueauctions.com, info-88@thegreatvalueauctions.com ----------------------------- Good condition. Age discolored, natural inclusions. Take all pictures at daylight source. 状况报告:状况良好,年久变色, 有自然夹杂物. 所有拍摄在自然光源下
Discover Items You'll Love