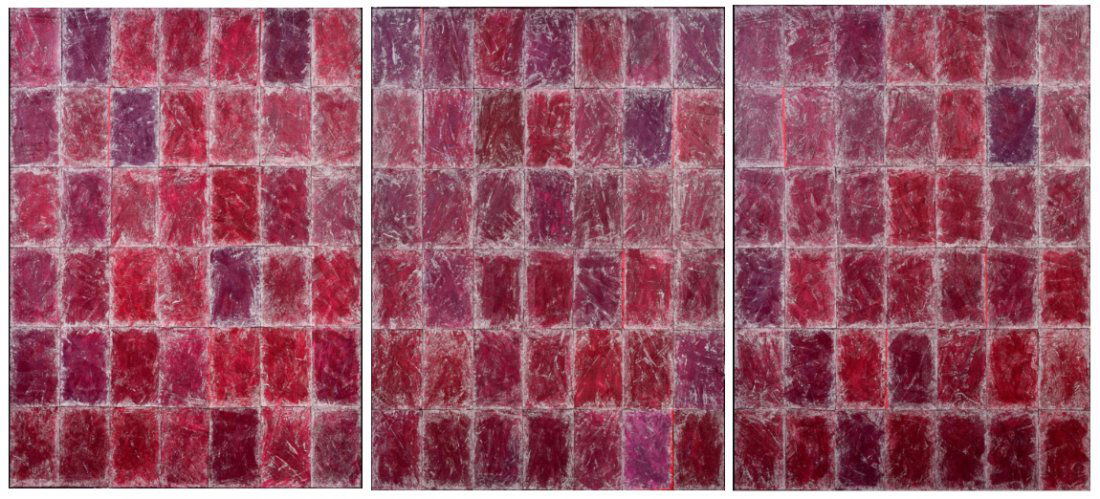 Artist: Robert Courtright (American, 1926-2011)
Title: "Untitled (Triptych)"
Dimensions: 59 x 44 (Each)
Date: 2002
Medium: French Paper Collage
Signature: On each verso.
Provenance: Property from a Distinguished Corporate Collection
Robert Courtright grew up in Sumter, South Carolina, and would often visit the library to looks at books about historical architecture. He studied at the Art Students League, St. JohnÂ's College and the New School for Social Research before moving to Rome, Italy in 1953. His fascination with architecture drew him to create collages that incorporated scraps of paper and materials directly from actual structures.
Courtright is famous for his non-representational grid collages that he started creating in the 1970s and became his signature form for the duration of his career. The famous art critic J. Bowyer Bell commented on these works "Courtright…offers the best of two possible worlds. There is the ideal work, carefully planned, carefully executed, cool, withdrawn, a matter of concept over adventure, a grid imposing order. There is, however, more to what you see than what you first see. Even if few have visuals ... all offer pattern. If the grid dominates as pattern, the real visual drama is elsewhere - in the perception of each viewer. The grid merges into the whole, color moves across the surface, differences in intensity appear, sight changes are made significant, an image rises from the squares, from the object. There is nothing minimal, nothing cold, nothing as exercise in the ultimate image. Each is an adventure for the eye."
Lots #33 and #34 represent his later, more mature grid period of artworks. Each work features thick, textured paper lightly attached to the wooden support. Each collage is monochromatic and austere and enchants the viewer by their artistic construction and sensitive materials. Each grid of stacked rectangles creates a wonderful and harmonious pictorial language. The formal pattern of arrangement to the components of his collages reveals subtle shifts of color and texture. The viewer sees the grid initially as a simple carefully planned pattern and when looking deeper notices the differences in intensity across the surface as well as the different textures of the plates that create a harmonious and complex visual aesthetic. Each painted rectangle, unique with its textural quality is loosely adhered to the substrate reminiscent of tile terraces and building surfaces that were always an inspiration for Courtright.
Robert Courtrights artworks are held in several important public collections including the Metropolitan Museum of Art, The Phillips Collection, the San Francisco Museum of Modern Art and the Carnegie Institute. A major retrospective of his work was held at the State Museum in South Carolina.
Keywords: collage construction, grid, found materials, recycled paper, monochromatic, red, texture, reductive, minimalist, non-representational, rectangle, abstract, Art Students League, South Carolina, New York, Paris, Italy, Metropolitan Museum of Art (coll.), Carnegie Institute (coll.), San Francisco Museum of Modern Art (coll.), South Carolina State Museum retrospective
Condition
Notice to bidders: Condition reports and additional photographs are available by request at info@revereauctions.com. The absence of a condition report does not imply that the lot is in perfect condition.
Robert Courtright, "Untitled (Triptych)," Collage
7 

Days
12 

Hrs
14 

Min
Until Auction Starts
Register to Bid

Revere Auctions
275 Market St.
#524
Minneapolis, MN 55405
United States

Discover Items You'll Love