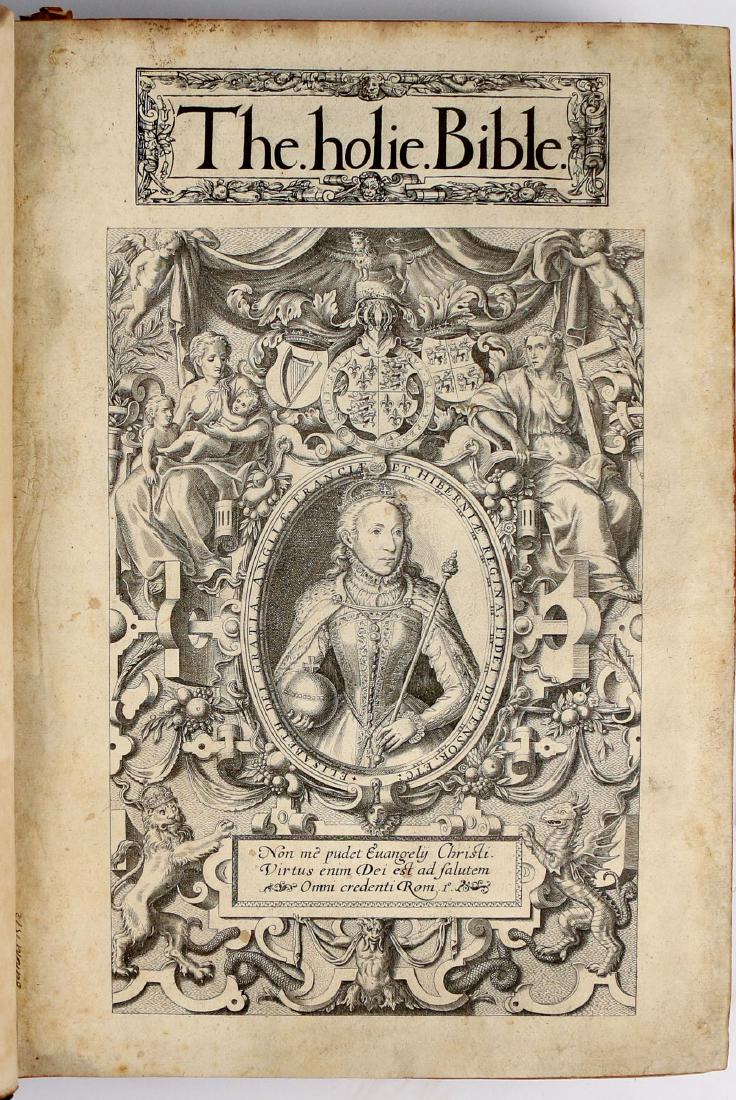 The. holie . Bible., Bishops' version, London: Richard Jugge, 1572, the second folio edition (D. and M. 96), in black letter, with autograph letter on inside cover by English bibliographer and book collector Francis Fry (1803-1886) in which he describes the present example:

'This is a copy of the second / Edition in folio of the / Bishops' Version, 1572 / The Title is a very exact / facsimile with this exception / it is all genuine & perfect / & every leaf the true edition / It is a good sound copy / Francis Fry / It has a fine / copy of the rare Map Joshua Ch21 / on the Joshua title Lord Leicester / at the Psalms title Lord Burleigh / Cotham / Feb 1880'

Front end leaf with dedication 'Francis James Fry / from his loving Father / Francis Fry / Lower House / Cotham Bristol / June 28, 1881'_x000D_
_x000D_




Darlow and Moule indicate that the 1572 second folio edition is 'a reprint of the 1568 Bible, so far as the Old Testament is concerned; but the New Testament has undergone further careful revision since the quarto edition of 1569 (q.v.). All later issues, with two exceptions, appear to follow the quarto of 1569 in the Old Testament, but generally adopt the text of this Bible of 1572 in the New Testament.'

They continue, 'A remarkable feature of this edition is its two-version Psalter, which exhibits, printed side by side, (1) The translation used in common prayer (taken originally from the Great Bible, and still retained in the Prayer Book), in black-letter, and (2) The translation after the Hebrewes (i.e. the Bishop's version) in roman type.'
h. 15-1/2 w. 11-1/2 d. 4 in.
Condition
old bookseller's label on inside cover reads '...woodcuts, title and last leaf in facsimile, a few leaves at beginning and end slightly defective and repaired, old rough calf, rebacked'. It is unclear which woodcuts this is referring to... possibly the Exodus map and the portrait of Leicester. The facsimiles and repairs are incredibly well done and inconspicuous. The Joshua map is restored, mostly at the lower right-corner (starting halfway through the coat of arms to the corner)
[FRANCIS FRY COPY] BISHOPS' BIBLE [1572]
4 

Days
15 

Hrs
12 

Min
Until Auction Starts
Register to Bid

Butterscotch Auction
608 Old Post Rd
Bedford, NY 10506
United States

Discover Items You'll Love