L. Dennis Painting - "Ramp (Emerson)" 2008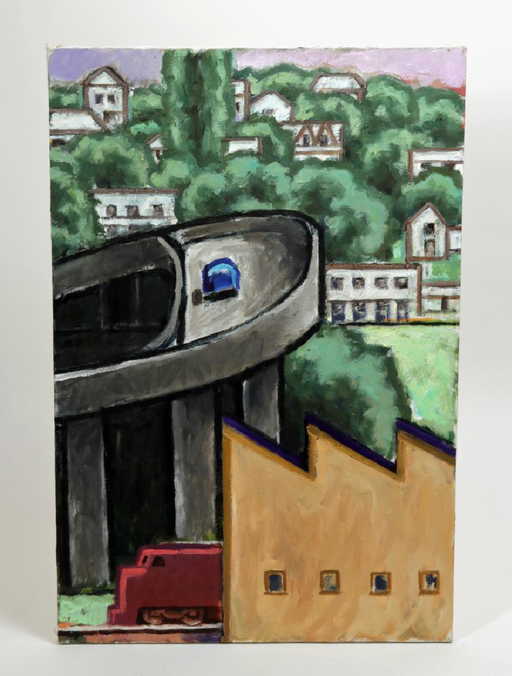 See Sold Price
Don't Miss Your Next Treasure.
Set up a search alert to hear when Paintings items arrive.
Auction ended on March 15th, 2018 UTC
L. Dennis Painting - "Ramp (Emerson)" 2008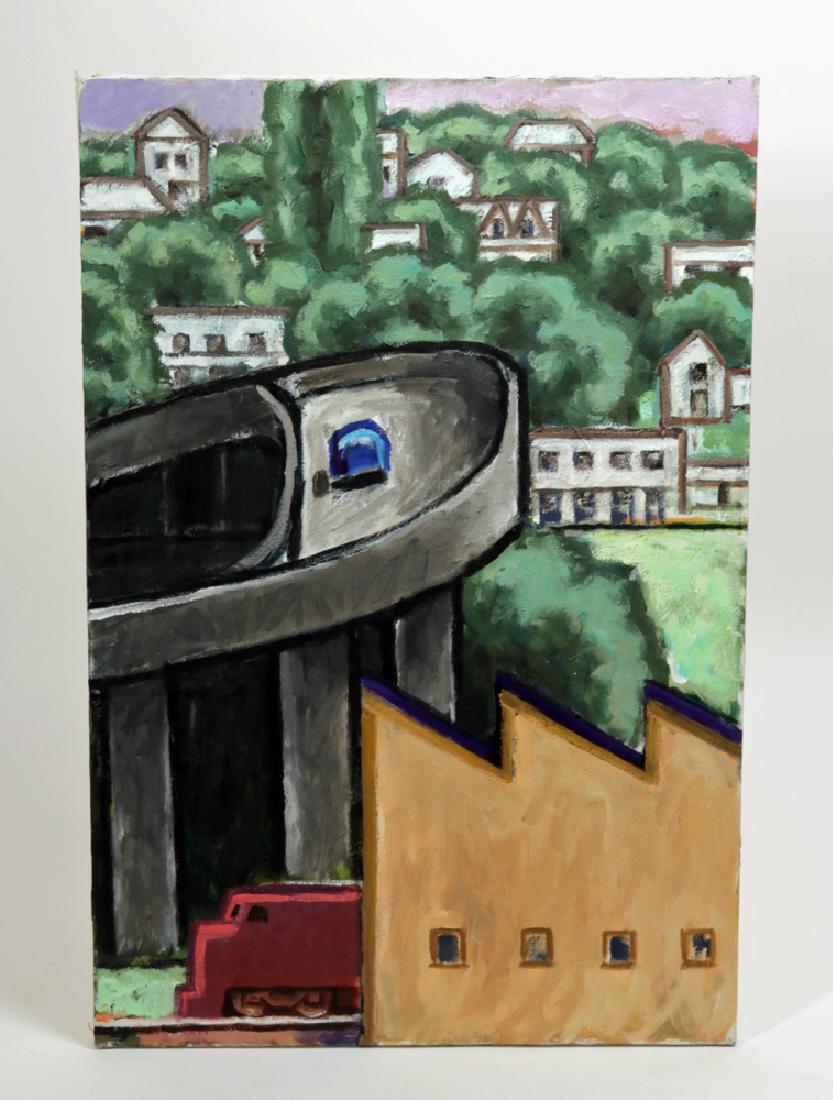 Lockwood Dennis (American, 1937-2012), "Ramp (Emerson)," oil on canvas, 2008. Lockwood Dennis had a way of capturing the wonder and immediacy of moments in our environment - whether those moments featured organic elements of the natural environment, industrial ones from the built environment, or the union of both as we see in this large painting featuring a blue vehicle on a highway ramp, a red train emerging from a tunnel below, and houses nestled in the lush foliage-rich hills above. Paintings like this example were very much informed by Dennis' woodcuts for which he took great inspiration from vintage cast-metal toy cars, trucks, and construction vehicles, comic art, Japanese woodblock prints, and WPA era industrial design. Size: 30" L x 20" W (76.2 cm x 50.8 cm)

Lockwood Dennis was driven to paint throughout his 45 year career. Although this medium posed the artist's greatest challenge, painting was the most personal and rewarding artistic endeavor for Dennis. Each canvas reveals new aspects about him as a person - his approaches to life, the environment, and art. During the early years, Dennis was most influenced by the works of Post-Impressionist pioneers of early Modernism such as Cezanne and Matisse. As Dennis evolved, he developed a graphic style that was informed by the simplified imagery he created for his woodblock prints. In several instances, the subject and image for his paintings and prints are shared.

Lockwood Dennis paintings have been collected by the following museums and organizations: Microsoft Corporation, Redmond, Washington; Seattle Art Commission, Seattle, Washington; Hallie Ford Museum of Art, Salem, Oregon; Tacoma Art Museum, Tacoma, Washington; Swedish Medical Center Foundation, Seattle, Washington; Museum of History and Industry, Seattle, Washington; Jefferson Museum of Art and History, Port Townsend, Washington; Whitman College, Walla Walla, Washington; Museum of Northwest Art, La Conner, Washington; Clallam County Historical Society, Port Angeles, Washington; Bainbridge Island Art Museum, Winslow, Washington; US Library of Congress, Washington, DC; US State Department, Washington, DC.

Lockwood Dennis was quite eloquent and insightful when asked about his art. The following are excerpts from the "On Impetus" section of his "Philosophical Musings on Painting":

"The impetus to paint is always an experience - a specific place, weather, ordinary things remembered. A celebration of just being here, experiencing the world. The experience itself is somehow lost in the process, and, anyway, its not intended that it should be conveyed. The result is a picture animated by that experience.

Dennis continues, "A painting starts with an exuberance. It's good to be alive. The work is a wonderful place. The feeling seems to cover everything, but it relates especially to past experiences, beginning further back than I can remember. It becomes specific in associations with past experiences: Portland, Eastern Washington, Africa; but not with an exact description. The memory of a precise place and time - a moment of past reality is too terrible to bear, there is such a sense of loss, of things gone forever. So it is a present experience, based on the past. And perhaps the cartoon character adds the levity to remove it from the past, or "animate" it in the present."

The following is an excerpt from Lockwood's public lecture at the Northwind Art Center in Port Townsend, Washington (April 2012): "For me, my painting began with trying to recall my Peace Corp trip to Africa. We were living in Wapato (Eastern Washington), so I painted our surroundings there in much the same way as Africa. I first painted Port Townsend when some friends invited us to house sit for them and introduced us to many good friends here. When we moved to Port Townsend in 1975, we were living at Fort Worden and I painted from sketches of the gun emplacement bunkers and cliffs. I did a lot of water color paintings with artist Bill Nelson around town and out on the coast (La Push). I used the lithography printing studio of J. Albers to produce 245 editions. And then friend and University of Washington professor Michael Spafford got me started on woodblock prints which I continued to do after we move to our current house in 1990. I did 385 editions of 20 or more each. This changed the paintings a lot, for better or worse. The important thing for me is making a space you can move through. I use places that I find exciting that way. The hills of Africa, Fort Worden, San Francisco, Onomichi; and industrial sites, all of which remind me of where I grew up in Portland. It's about maintaining the mystery of the unexplored.

In the paintings, I work around a center to which everything is related. My wife showed me this in a Monet lily pond on our first date (1960). And I work with layers, based on Cezanne. The subject of my master's of art thesis was about how to conceptualize space in a flat picture with linguistic theory."

Provenance: Lockwood Dennis Art Estate, Boulder, Colorado, USA; Lockwood Dennis works are now part of the permanent collection at the U.S. Library of Congress in Washington, D.C. Among the highlights of his career, was an exhibition at the Jackson Street Gallery in Seattle entitled, "Images of Seattle 1925 to 1985" where he showed alongside artists like Ken Callahan – one of the Northwest Mystics or Northwest School, perhaps best known for artists Morris Graves and Mark Tobey. Dennis' contemporaries include Alden Mason and Mike Spafford who also taught at the University of Washington.

All items legal to buy/sell under U.S. Statute covering cultural patrimony Code 2600, CHAPTER 14, and are guaranteed to be as described or your money back.

A Certificate of Authenticity will accompany all winning bids.

We ship worldwide to most countries and handle all shipping in-house for your convenience.

#129922
Condition
Painting is excellent. A few inactive mold stains on verso that do not interfere with the image. "Ramp" as well as signature, inventory number, and date handwritten on verso.
Discover Items You'll Love