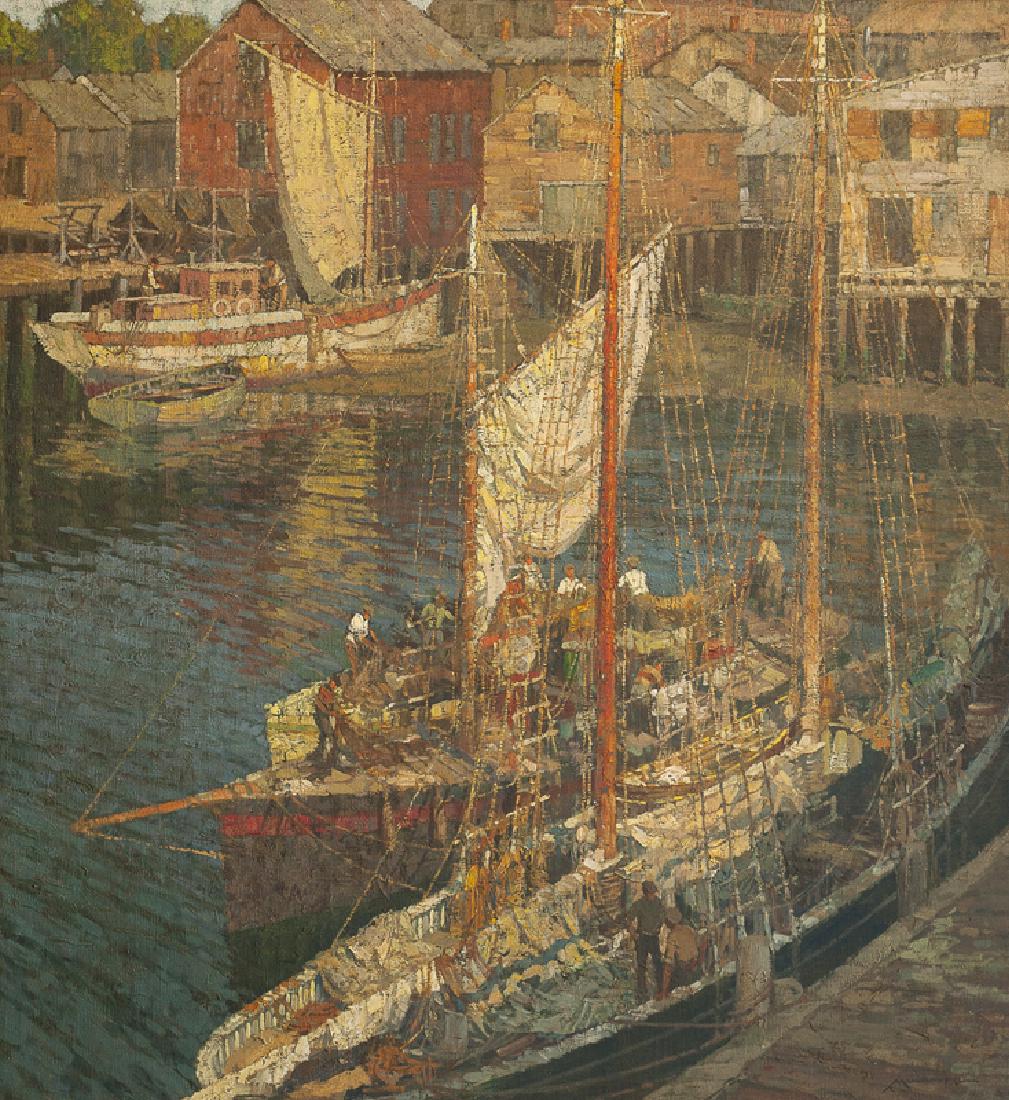 "Morning, Gloucester Harbor", c. 1920
Oil on canvas laid to waxed canvas
Signed lower right: Mulhaupt, signed again and titled on an exhibition label affixed to the stretcher
58.25" H x 53.25" W
Provenance: Private Collection, Indian Wells, CA.
Exhibitions: The Corcoran Gallery of Art, Washington D.C., "Eighth Exhibition Contemporary American Oil Paintings", December 1921 - January 1922.
Notes: Framed size: 67.5" H x 62.5" W x 3" D.
Frederick Mulhaupt was best known for his depictions of the working harbors of the seaside towns of Cape Ann and Gloucester, Massachusetts. The artist was Mid-Western-born and received his art education at the Art Institute of Chicago before teaching and working in Chicago, New York and Paris. Mulhaupt settled in Gloucester in 1907. At the prime of his career, when the present work was executed, Mulhaupt was a member of, and exhibited at, major American art clubs including the Palette and Chisel Club, the Boston Arts Club, the Rockport Art Association and the Salmagundi Club. He was also an Associate Member of the National Academy of Design (1926). The present work is an exceptional example of the artist?s best-known subject and captures the essence of the charm and grit of coastal New England?s working harbor environs painted with exhaustive detail. In this birds-eye-view, men work on the decks of two fishing boats are seen through intricate, lace-like rigging. The calm harbor surface behind the boats reflects the densely packed seaside buildings that line the water?s edge. Mulhaupt?s defined and singular style explored Modernism while also referencing Impressionism. In masterworks like the present painting, Mulhaupt?s remarkable draftsmanship is on view in tight, lively, bravura brushwork while the artist?s facility at capturing light, atmosphere and action is also on display.
Condition
Visual: Generally good condition. Very fine, stable craquelure scattered throughout. A few flecks of paint loss along the right center edge. Tacking edges removed when lined. Blacklight: No evidence of touch-up under blacklight.
Frederick J. Mulhaupt ANA (1871 - 1938 New York, NY)
6 

Days
4 

Hrs
40 

Min
Until Auction Starts
Register to Bid

John Moran Auctioneers, Inc.
145 East Walnut Avenue
Monrovia, CA 91016
United States

Discover Items You'll Love