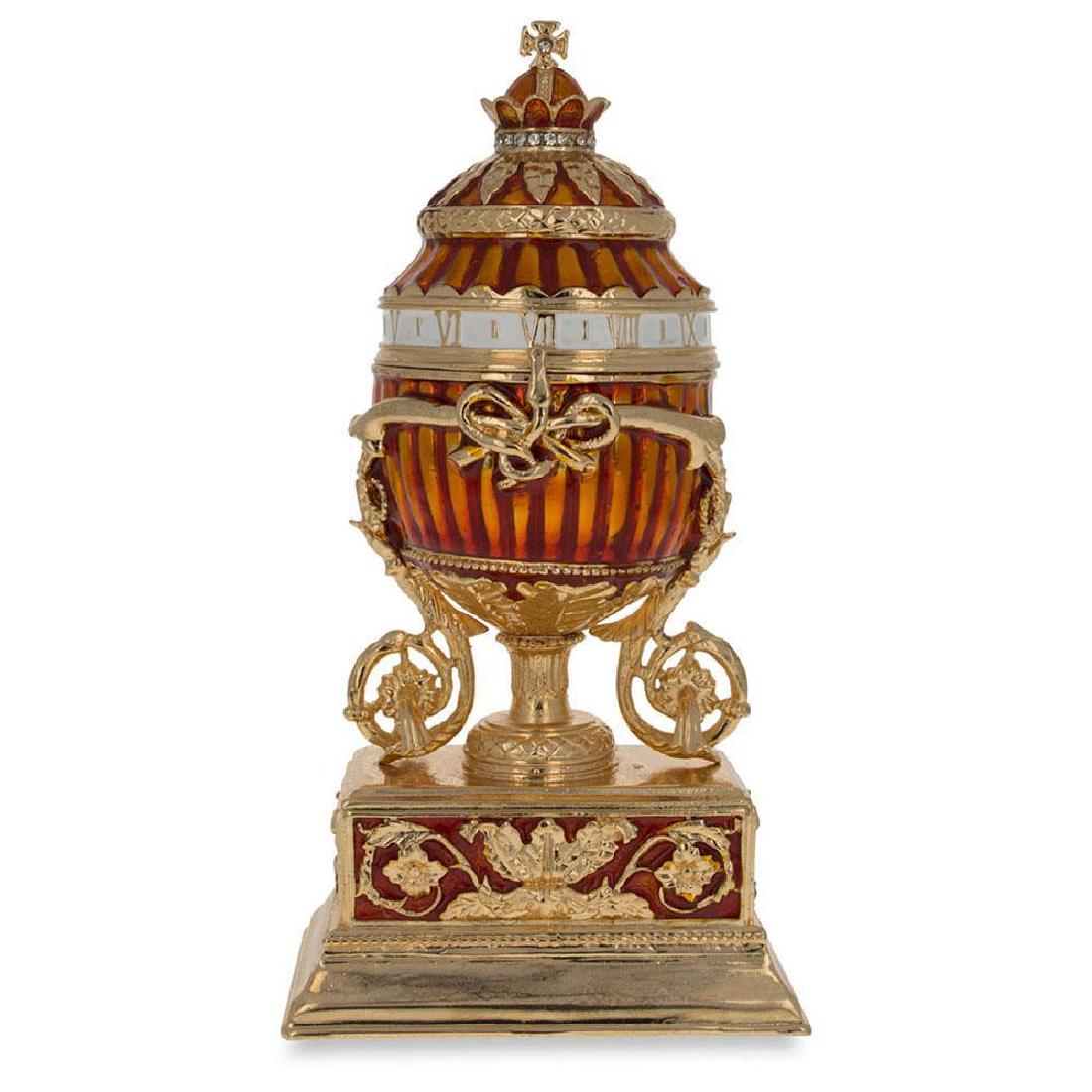 1899 Bouquet of Lilies Clock Faberge Egg

6 Inches Tall X 2.5 Inches Diameter
Enamel, Gold Plated Pewter
Hand Painted
Gift Boxed

This hand-painted sparkling egg is adorned with a high-polished enamel with golden trim. The egg opens on a hinge and closes shut with a magnet, to keep the box securely shut.
The piece comes in a beautiful gift box.

History:
The Bouquet of Lilies Clock Egg (or the Madonna Lily Egg) is a jeweled Easter egg made under the supervision of Peter Carl Faberge in 1899 for Tsar Nicholas II as an Easter gift to his wife, the Alexandra Fyodorovna. It is currently held in the Kremlin Armory Museum in Moscow and it is one of the few Royal Russian eggs that have never left Russia.
The egg-shaped decorative clock and its rectangular pedestal are decorated with translucent enamel on a guilloche background.

The body of the clock is divided into twelve parts which are outlined in diamond-studded stripes. The belt of the dial which revolves around the perimeter of the egg is enameled white with twelve Roman numerals set in diamonds. The hours are indicated by a diamond clock hand shaped like the head of an arrow in a drawn bow. The egg uses the language of flowers which was well known at the time. The roses were symbols of love and the lilies were a symbol of purity and innocence.
1899 Bouquet Of Lilies Clock Faberge Egg
2 

Days
17 

Hrs
15 

Min
Until Auction Starts
Register to Bid

Connoisseur Auctions
199 Rose Hill Way
Bluffton, SC 29910
United States

Discover Items You'll Love