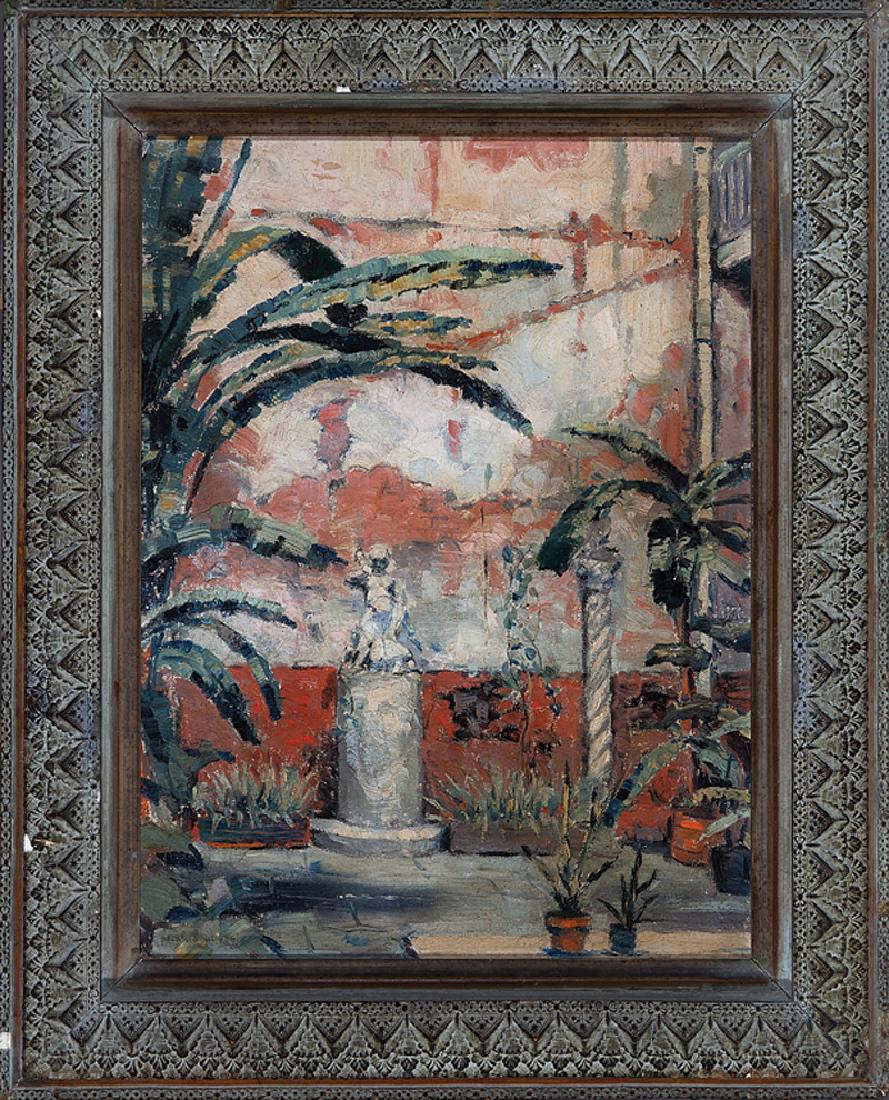 Morris Henry Hobbs (American/New Orleans, 1892-1967), "Patio at 740 Royal Street", 1938, oil on canvas board, signed lower left, 16 in. x 12 in., original frame. Ill.: Isbell, Reed. Morris Henry Hobbs - A Catalogue Raisonne of Etchings, Engravings & Lithograph. McLean, VA: Coffee Street Publishing, 2017, p. ix. Note: Morris Henry Hobbs arrived in New Orleans from Chicago on January 20, 1938, a visit that would prove a turning point in his career and give new life to his work. In the painting offered here, Hobbs depicts the patio of his lodgings at 740 Royal Street, where he had established his first studio in the city. In October of 1938, Arts & Antiques magazine published an article by Hobbs in which he wrote of the location:

"One of the nicest things about my studio is the lovely old courtyard through which I must pass to enter or leave the building. Once painted a bright pink, it has faded and the rain has washed away more of the color, until it is the most beautiful soft shade of pink I have ever seen. The building is three stories high, and the courtyard … is rather small with a thriving banana tree and a few other tropical plants growing in two narrow brick-edged plots. The stone pavement seems always damp and mossy looking …. I never come home, or leave, without a quiet moment … contemplating this peaceful and inviting spot; the cool, moist greens of the plants glowing against the faded pink of the walls. I must paint it, but I will not even try until I have lived here long enough to absorb more of the full, sweet beauty of it. There is sadness in it, too, and the ghosts of the past flit through the shadowed arches."
Ref.: Isbell, Reed. Morris Henry Hobbs – A Catalogue Raisonné of Etchings, Engravings, & Lithographs. McLean, VA: Coffee Street Publishing, 2017; Hobbs, Morris Henry. "An Artist in New Orleans." Arts and Antiques. October, 1938.
Morris Henry Hobbs (American/New Orleans, 1892)
Sat, Mar 24, 2018 3:00 PM UTC
Register to Bid

Neal Auction Company
4038 Magazine Street
New Orleans, LA 70115
United States

Discover Items You'll Love