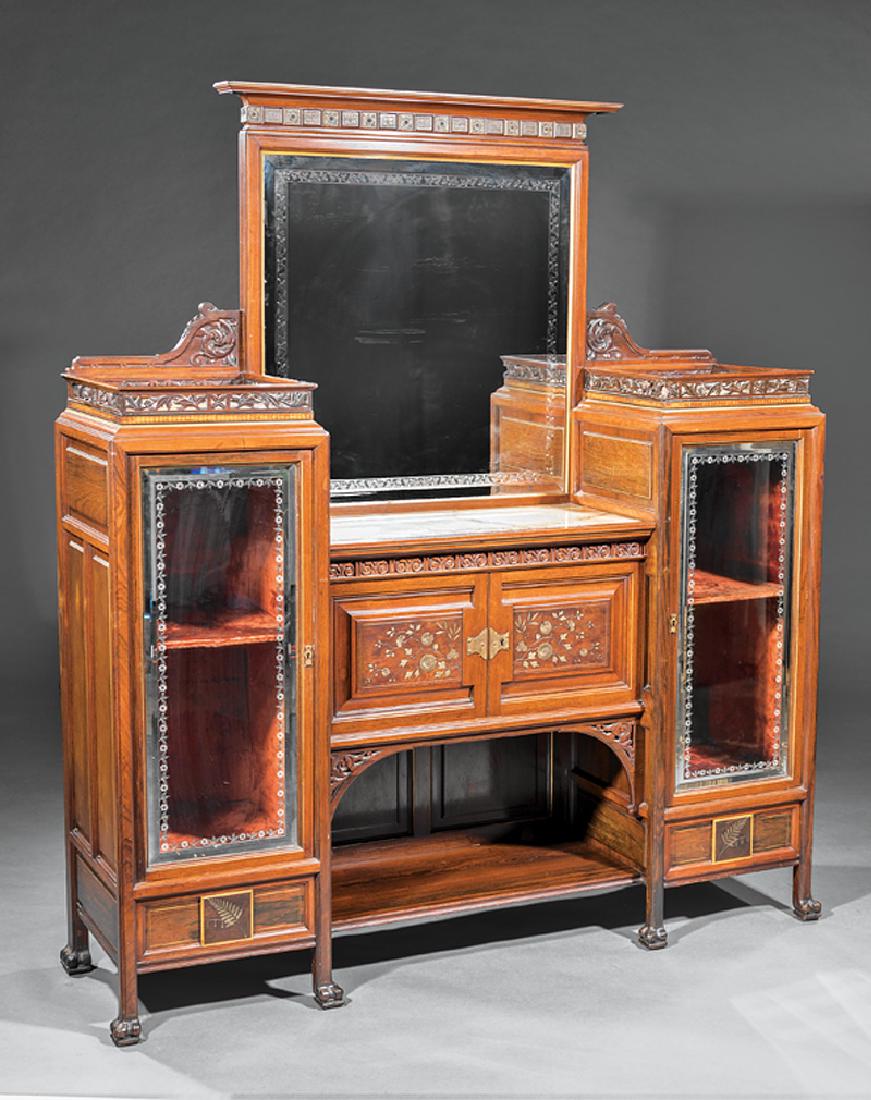 Important American Aesthetic Gilt-Incised, Inlaid and Carved Rosewood Parlor Cabinet, c. 1880, attr. to Pottier and Stymus, New York, reverse stamped "67694", center section with beveled and engraved mirror plate and inset onyx top, over pair of doors and niche, flanked by marble top vitrine cabinets with floral galleried tops, paw feet, h. 68 1/2 in., w. 59 in., d. 16 1/2 in. Note: The exquisitely inlaid parlor cabinet shown here is closely related to some of the finest examples of aesthetic furniture by the New York firm Pottier & Stymus. Featuring intricately incised floral motifs and mother-of-pearl inlaid cabinet doors, the cabinet is closely related to furniture from the Mark Hopkins residence in San Francisco and the Thomas Edison home at Glenmont in West Orange, New Jersey.
The use of a five-digit numbering system by Pottier & Stymus before 1888 is documented by Kristin Herron in her article on the Thomas Edison home at Glenmont. Numbers on a Pottier & Stymus example could be penciled, impressed, or stenciled in black ink, as seen on the cabinet in the present lot. Herron notes that numbers were likely assigned chronologically and furniture dating to the early 1880s, such as this piece, were marked with numbers between 50000 and 70000.
Ref.: Herron, Kristin S. "The Modern Gothic Furniture of Pottier and Stymus," Magazine Antiques. May 1999.
Rosewood Parlor Cabinet, attr. Pottier & Stymus
4 

Days
5 

Hrs
1 

Min
Until Auction Starts
Register to Bid

Neal Auction Company
4038 Magazine Street
New Orleans, LA 70115
United States

Discover Items You'll Love