lots of lots
Welcome to the world's largest marketplace for fine art, antiques & collectibles.
646: 1904 WORLD'S FAIR AWARD HOHNER ACCORDION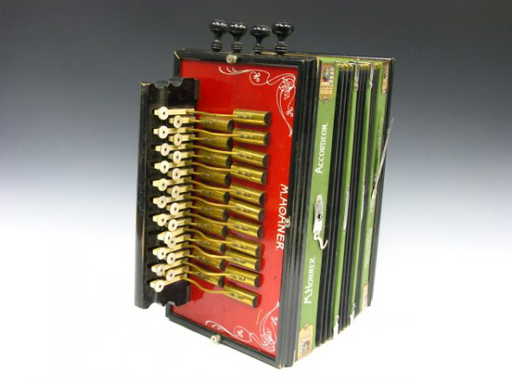 See Sold Price
Don't Miss Your Next Treasure.
Set up a search alert to hear when Soulis Auctions lists new auctions.
Discover Related Items Available Now
Auction ended on December 29th, 2008 UTC
646: 1904 WORLD'S FAIR AWARD HOHNER ACCORDION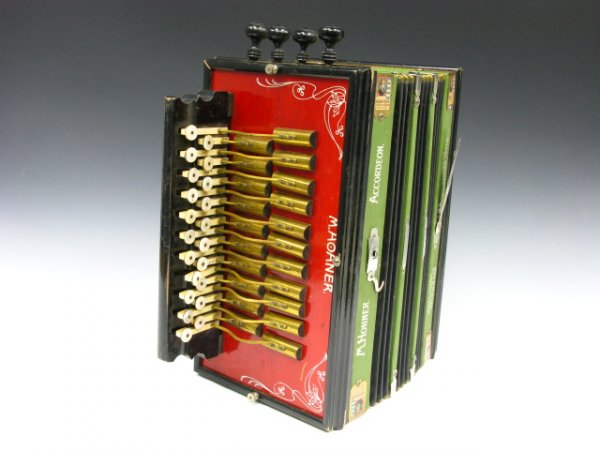 Measures 13.5 x 13.5 inches closed, tin litho maker's corners, pearl buttons.
Condition
Very good noting one clasp break, otherwise very good and clean, intact.
Shipping
WE DO NOT HANDLE PACKING AND SHIPPING, unless otherwise agreed upon in writing. Packing and shipping of won auction items are handled by third party professionals. We do all we can to assist with this process. You can hire a shipper local to our gallery in Lone Jack Missouri. Contact information for good, proven local shippers is: Dennis Kemp at The UPS Store in Lee s Summit Missouri, 10 miles away. The owner's personal cell is 816.812.4828 and store phone is 816.524.1999, email: shipitupssbcglobal.net Or we also work with Roy at Craters Freighters of Kansas City at 816.505.2223. These are good local shippers with whom we have had 1000's of successful transactions since 2003. For large items independent truckers are available. Since we don't have a shipping department, using professional shippers ensures a more thorough job We know independent truckers who may also be able to help with large items or sets. WE WILL DO ALL WE CAN TO ASSIST YOU WITH THIS SHIPPING PROCESS. We coordinate with the YOUR chosen shipper to be sure the items are received by the shipper in good condition.
Payment
PAYMENT: Paypal, Visa, Master Card and approved checks. PAYPAL eCHECKS TAKE 3-4 DAYS TO CLEAR, Successful internet buyers, as determined by the auctioneer, will receive an invoice within a few hours of the auction's finish. Please don't email for payment instructions. Thanks
Accepted payment methods
APPEARANCE OF CONSECUTIVE BIDS BY SAME BIDDER
APPEARANCE OF CONSECUTIVE BIDS.In some instances the bid history for an item may show multiple bids from the same user ID with no sign of competing bids having been placed. This gives the appearance that a bidder is bidding against themselves or that there were no competing bids being entered. In essence, when a live internet bidder attempts to bid an amount equal to or below that of a previously placed absentee bid, eBay gives that bid increment to the absentee bidder instead. Since they aren't actually submitting a bid for the live Internet bidder, EBay does not enter his user ID into the bid history. When this happens, multiple bids from the same User ID may be displayed. (This info can be found on any eBay bid history page). Thus, at times it may seem that the eBay system is allowing you to bid against yourself. The eBay system is too complex and thorough for this to happen. What is actually happening is another Internet bidder, participating live, is trying to outbid you. EBay designed the eBay Live Auctions bidding system to give absentee bids entered through eBay preference over live bids being entered during the auction through eBay. Therefore, every time a live Internet bidder tried to place a bid, the eBay software entered in a bid for you instead. That's why you may see a series of bids entered in a row from your User ID. Since they aren't actually submitting a bid for the live bidder, EBay does not enter his User ID into the bid history. Had there not been a live Internet bidder, eBay would have had no reason to increase your bid amount. This information can be found on the bid history page or obtained directly from eBay by emailing cswebhelpebay.com
Ebay's Traditional Tie Bid Policy
PLEASE NOTE THAT EBAY S TRADITIONAL TIE BID POLICY CANNOT APPLY TO LIVE AUCTIONS. Under the current system it is impossible for live auctioneers to know during the auction that a current floor bidder's amount equals that of a bid made days earlier by an internet bidder. The bidding patterns that occur during an auction could occur in such a way that a live floor bidder may win an item with a bid amount equal to an internet bidder's top bid amount. For instance: if a proxy bid of 100 is placed through ebay for item A. And purely by chance, bidding for item A begins in the auction room at 40, then an ebay bid comes in at 50, then 60 to the room , 70 to an ebay bid, 80 to the room, 90 to ebay, 100 to the room (the maximum amount placed with ebay was 100, so no more signals are received from the internet). If no other bids are received from anywhere, the item sells for 100 to the room (the same amount that was bid by proxyabsentee prior to the auction). Ebay DOES NOT reveal bid amounts at any time. There is no mechanism in the software to alert the auction house that a bid of 100 was placed days earlier. Thus, Ebay's standard tie bid policy of first bid entered does not apply to live bid auctions. BID HISTORY will show consecutive bids by the same bidder in instances where a live eBay bidder is attempting to out bid an absentee. Each time a live bidder tries to bid, the increment is given to the absentee bidder resulting in multiple bids showing on the bid history.
WHAT'S THIS ALL ABOUT
This is just one lot from an entire collection to be offered at a live auction event being held in our gallery near Kansas City, Missouri. You can watch and listen to the auction while it takes place on auction day, and bid live during the sale. Please register and we'll approve you to bid during the auction. Or, you can place an absentee bid and have your bids executed by eBay's software as each lot is offered from the auction block during the live auction event.
Terms
IMPORTANT TERMS: - EBAY AUCTION ENDING TIMES ARE NOT ACCURATE - A BUYERS PREMIUM WILL BE ADDED TO THE FINAL PRICE - BID HISTORY MAY SHOW CONSECUTIVE BIDS BY ONE BIDDER - THE eBay SYSTEM MAY INCORRECTLY INDICATE WINNING BIDDER STATUS, THE AUCTIONEER'S DECLARATION IS THE SOLE DETERMINANT OF A WINNING BID - PLEASE READ THE TERMS OR CALL US AT 1.800.252.1501 WITH QUESTIONS - Bidding on any item indicates the bidders acceptance of the following terms and conditions. Bidding on any item indicates the bidder's acceptance of the following terms and conditions. 1. Payment terms are PAYPAL, PAYPAL ECHECK PAYMENTS TAKE 3 to 4 DAYS TO CLEAR, Visa, Master Card and approved checks. Dirk T. Soulis Antiques LLC, d.b.a. Dirk Soulis Auctions Auctioneers reserves the right to hold items purchased by personal check until the check has cleared the bank. 2. A buyer's premium of 15% will be added to the hammer price of each lot. 3. Dirk T. Soulis Antiques LLC, d.b.a. Dirk Soulis Auctions Auctioneers guarantees the authenticity of origin of a lot for a period of fourteen (14) days from the date of the auction and only to the original purchaser of record at the auction. If it is determined to our satisfaction that the bold line listing for an item is incorrect, the sale will be rescinded provided the lot is returned to Dirk T. Soulis Antiques LLC, d.b.a. Dirk Soulis Auctions Auctioneers in the same condition in which it was at the time of the auction. It is also the policy of Dirk T. Soulis Antiques LLC, d.b.a. Dirk Soulis Auctions Auctioneers to have the purchaser obtain, at the purchaser expense, the opinion of two recognized experts in the field, mutually acceptable to Dirk T. Soulis Antiques LLC, d.b.a. Dirk Soulis Auctions Auctioneers and the purchaser, before any consideration to rescind the sale under the above guarantee. The purchasers sole remedy in the event of disputed authenticity of origin of any lot shall be the rescission of the sale and return of the original purchase price and premium paid by the purchaser. There are no other guarantees, expressed or implied, all items are sold AS-IS. 4. WITHDRAWN LOTS: Dirk T. Soulis Antiques LLC, d.b.a. Dirk Soulis Auctions Auctioneers reserves the right to withdraw any property before the auction and shall have no liability whatsoever for withdrawal of the property. 5. SUCCESSFUL BIDDERS: The highest bidder acknowledged by the auctioneer is the buyer. The auctioneer is the sole determinant as to who is the successful bidder. Once the auctioneers gavel falls, the successful bidder immediately assumes full risk and responsibility for the purchased lot. 6. DISPUTED BIDS - In the event of discrepancies, saleroom records take precedence regarding hammer price and the winning bidder. 7. Invoices will be sent to the successful bidders not present at the auction WITHIN TWO HOURS OF THE LAST AUCTION LOT. Upon a successful bid, we take care of getting the item to the buyer's chosen shipper, unless other arrangements are made. Connection is made with shippers at least once a week and upon receipt of the item, they handle all packing, insurance, shipping etc. Estimates, charges and payments are arranged between winning bidder and shipper. We are responsible only for the chosen shipper receiving the item(s) in good condition. Since we have a limited in-house shipping department this makes for a much faster and more professional shipping method. Contact information for those we have worked with in the past is as follows: The UPS Store 816.812.4828, Lee s Summit MO, email: shipitups@sbcglobal.net And Roy at Craters and Freighters 816.505.2333. Let us know if you have other questions. ACCEPTANCE OF TERMS: Bidding on any item indicates the bidders acceptance of the above terms and conditions.
Discover Items You'll Love

Bid Anywhere, Anytime. Download the LiveAuctioneers App.
Available on the App Store
Android App on Google Play