lots of lots
Welcome to the world's largest marketplace for fine art, antiques & collectibles.
1097: CERAMIC SNAIL GARDEN STOOL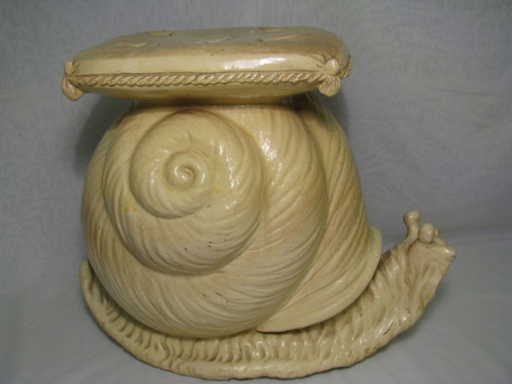 See Sold Price
Don't Miss Your Next Treasure.
Set up a search alert to hear when Ceramic Garden Stools items arrive.
Auction ended on December 30th, 2008 UTC
1097: CERAMIC SNAIL GARDEN STOOL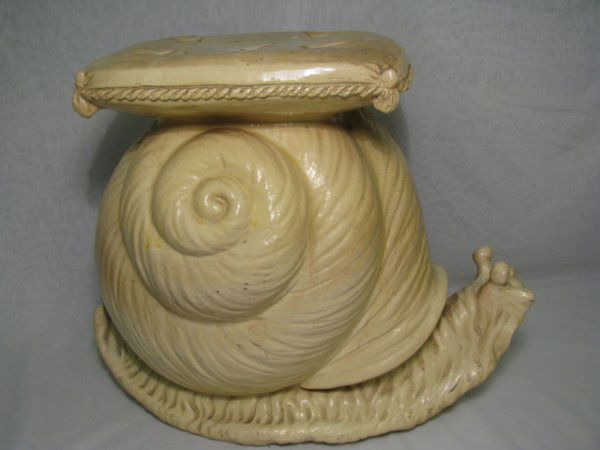 Beige cream color paster garden stool in the form of a snail with a pillow at the top of its shell. Measures 18 1/4" tall by 21 1/4" long. Paint is crazing. See images. Approx. weight 24.5 lbs.
Shipping
Buyer pays shipping, handling and insurance.br It is the buyer's responsibility to pick up or make shipping arrangements. We may choose, but are not obligated, to ship small, non-complicated, non-fragile items with a total value of less than 500 within the US via US Priority mail.Items must fit into a shoebox or sweater box leaving room for 1-2 inches of packaing materials on all sides. The cost per box will be 12.00 Plus Insurance. The following companies provide quotes and great service for all other items: br ALL ITEMS:br The UPS Store (239) 262-7678br theupsstore3369comcast.netbr Pak Mail (239) 793-5060br us275pakmailearthlink.netp FOR FURNITURE OR OVERSIZE ITEMS:br Legal Transportation - 1-866-618-2501br A.C. Delivers - 800-553-3269 brEmail - shippingacdelivers.com -br Craters Freighters - 800-459-0863, 239-774-5700
Payment
Payment in US dollars is due within 10 days of auction. Invoices are sent within 24 hours of auction close to the email address on file with Ebay. Please contact us if you do not receive one. We accept Pay Pal, Checks, Money Orders, Cash, and approved Wire Transfers. Please read the terms and conditions of sale concerning returns.
Accepted payment methods
Taxes
6% Florida Sales Tax is due for all items picked up from the Gallery or shipped to a Florida address unless we have your valid 2008 Tax Exempt Certificate on file.
VERY IMPORTANT PLEASE READ THIS
1) LIVE AUCTION: This is not a regular eBay listing. If you have never participated in a live auction, we respectfully request that you call us before bidding. br 2) For shipping quotes, contact Jason or Ted at The UPS Store 239-262-7678 theupsstore3369comcast.net or Jim from Pak Mail 239-793-5060. us275pakmailearthlink.net . E-mail is the fast route to an answer. They know us. Send your request with SHIPPING QUOTE PLEASE in the subject. Include the Lot number, short description and your address with zip code in the body. They will send a quote. If you are successful, Pay them via Pay Pal, check or charge and they will be here the next day to pick up, package and ship your items.brIf your purchase fits within our narrow shipping parameters (see Shipping section) the shipping and insurance charge will be included on your invoice. 3) SUBMIT YOUR BIDS EARLY: The end time shown is wrong. The auction starts in Florida at 5:30 pm EST. Ebay shuts down the pre bidding about 2 hours before the Start time shown. If you wish to place a bid after Ebay closes the proxy bidding, call us at 239-262-7333 no later than 4 pm EST on day of auction. If you are registered, you may also bid while the auction is in progress by going to Ebayliveauctions.com.br 4) CONDITION NOTES: We try to accurately reflect the Lots with extensive images. Do not assume that no mention of condition means there are no problems. Good condition means generally good, some signs of normal use, no significant breaks or repairs. The items are not new. Do not rely on the Ebay Category an item is listed in. They are assigned automatically and may not be accurate. br 5) RETURN POLICY - Money back guarantee We will refund all costs if an item is materially different than described BUT it is YOUR responsibility to contact us for a condition report before bidding, and you should carefully review the images they are an integral part of the description. If a loss, flaw, damage, repair, etc. is shown in an image, it is described. Even if it is not specifically mentioned in the text. br 6) A persistent PENDING registration means there is a problem. Please contact us through the email link above or by calling 239-262-7333. We want you to be able to bid and will try and resolve any problem. br 7) CALL US WITH ANY QUESTIONS - We can be reached at 239-262-7333. (Please call before the auction starts.)
Terms
The following together with or as amended by any posted notices or verbal announcements during the sale constitutes the entire terms and conditions on which property shall be offered for sale or sold by Dovetails LLC doing business as Auctions Neapolitan (referred to as "Auctioneer" or "Auction House" ), and any consignor of such property (referred to as "Seller") (collectively referred to as "WE" and/or "US") for whom we act as agent. Auctioneer, Bidder, Buyer and Seller agree to be bound by these terms for this auction: 1. These terms control this auction in all regards and supersede all previous announcements, advertisements and published information however distributed, except for any announcement made by Auctioneer at the auction, which will take precedence and be controlling in all instances. Auctioneer has been hired by Seller to act as Sellers agent in conduction of the auction, and Auctioneer is not serving as an agent for Bidder or any Buyer. 2. Bidder must register with Auctioneer before bidding. Proper identification will be required. Auctioneer reserves the right to refuse to register or accept bids from any prospective bidder for any reason and to require the removal of any person from the auction site for any reason including, but not limited to: (a) tampering with auction lots; (b) any illegal conduct including collusive bidding or stealing; (c) disruptive behavior; (d) failure to abide by these terms; and (e) intoxication. Bidder agrees to leave the auction site immediately and quietly upon request by Auctioneer. Any act of theft, vandalism or disruption will be prosecuted to the fullest extent of the law. 3. 15% (Fifteen Percent) Buyer's Premium is in effect for this Auction. This means a surcharge of 15% will be added to the amount of the highest bid for each lot to determine the final selling price for that lot. Bidder should carefully guard his bidding number and or username/password to avoid unauthorized purchases for which Bidder will be responsible. 4) Catalogs and brochures are guides only based on information from sources believed to be reliable, but their accuracy cannot be guaranteed or warranted. Auctioneer will not be liable for any errors or omissions. Auctioneer reserves the right to withdraw any lot, or portion of a lot, from the auction or to cancel the entire auction without notice or liability to Auctioneer or Seller. Auctioneer may determine minimum acceptable increments to advance the bidding. In the event of a bid amount dispute, the auction house clerk's written record will be absolute. 5) Each lot will be sold AS IS, WHERE IS with all defects and faults, and no warranties or guarantees of any kind will be given by Seller or Auctioneer including no warranty of fitness, merchantability or suitability. Bidders should carefully inspect each lot to determine condition and contents. All measurements are approximate. Bidder acknowledges that all lots were available for inspection prior to the auction and that he relied solely on his own inspection of the lots and not any information listed in the catalog or otherwise provided by Auctioneer, the auction staff or Seller. 5.A) LIMITED RETURN POLICY: returns may be permitted for eBay Live Auctions as follows:- Online bidders participating through eBay Live Internet Auctions who are unable to physically preview items because they reside in locations other than Lee or Collier County Florida may request the right to rescind the sale if the physical condition of the property materially differs from what was described or if the description is, in any material respect, inaccurate, so long as the buyer has fulfilled the obligations below: a) Request and receive a written condition report prior to bidding. b) Buyer has paid for the lot within 10 (ten) business days of the sale. c) Buyer has arranged and paid for shipping within 10 (ten) business days the sale. d) Buyer provides notice of intent to return the Lot within forty-eight hours following receipt of the Property. e) Buyer returns the property to the Seller within 10 (ten) business days of receiving the property. f) The item is returned in the same condition as when sold. g) Shipping costs, duties, tariffs and / or other expenses incurred beyond the hammer price and buyer's premium are non-refundable. At no time shall Auctioneer be liable for more than the fee amount earned from the consignor of the disputed lot if buyer does not meet all of the requirements stated above. 6) PENALTY and FINANCE CHARGES: Bidder agrees to pay a restocking penalty charge of 20% (twenty percent) of the final bid price OR a flat fee penalty charge of $20.00 (twenty dollars), WHICHEVER IS HIGHER, for any sale canceled for any reason other than a material misrepresentation of the item sold. This charge will be due and payable immediately upon termination of the sale. 7) The highest bidder recognized by Auctioneer will be the Buyer for that lot subject to the satisfaction of any reserve amount for that lot. A lot is sold when the Auctioneer indicates it in customary manner. Should a dispute arise between two or more bidders, the decision of Auctioneer will be final. Bidder agrees, without exception, that if he is the highest bidder for a lot and it is sold to him, an enforceable contract of sale is immediately formed and no further writing of any kind will be required from him to satisfy any decision, principle, rule, statute or other requirement in law or equity. Buyers should assume that all items are reserved unless otherwise stated. We reserve the right to bid on behalf of consignors up to, but not more than, the reserve to protect against selling at a price below the reserve. This will be accomplished as necessary by placing successive bids, or bids in response to buyers' bids. 8) Absentee bids are accepted by phone, by mail, via the Internet, in person, or by fax. Absentee bids are requested by no later than 4 p.m. on the auction day. Auctioneer reserves the right to require a deposit before bids are placed on any item. All absentee bidding is handled as though you are in attendance. All absentee bidder names and bids are held in strictest confidence, disclosed only in the event of a question after the sale. Bidders are reminded that the Auctioneer is acting as agent for the Seller and Absentee bidding is a offered as a convenience to our bidders. If you place absentee bids with the Auction House, and choose to attend in person, bid by phone or by any other means, it is solely your responsibility to cancel any or all absentee bids prior to the start of the auction. Neither seller nor Auctioneer is responsible for failure to execute absentee or proxy bids caused by human error, electronic or technical failure of any kind. 9) Ownership, possession and the risk of loss from all causes shall pass immediately to Buyer when Auctioneer announces the sale of a lot in the usual manner. a) Buyers are solely responsible for their purchases, and Seller and Auctioneer will have no responsibility for lost, stolen or damaged lots. b) All purchases by those attending the auction must be paid for in within 2 business days of the auction. All purchases by absentee bidders including Internet and telephone bidders must be paid for within 10 business days of the auction. c) Payment is due within 10 days of auction. A LATE FEE of $10.00 will be charged for unpaid invoices as of 20 days post auction plus Finance charges of TWO PERCENT (2%) per month (24 PERCENT PER ANNUM) will begin on outstanding balances starting on the 20 (twentieth) day after auction. e) Acceptable forms of payment include cash(In House Only), approved check and acceptable charge cards when electronically swiped or imprinted. We accept PayPal but retain the right to refuse shipment when the address is Unverified. f) Buyer will incur a $50.00 charge for any check dishonored by a bank for any reason. g) Buyer will incur a $50.00 charge for any Pay Pal chargeback that is reversed. h) Buyer will incur a $100.00 charge for any credit card chargeback that is reversed. i) Legal action will be instituted to collect any unpaid account and Buyer agrees to pay all costs of collection, including reasonable attorneys fee of THIRTY-THREE AND ONE-THIRD PERCENT (33 1/3%), plus a finance charge of TWO PERCENT (2%) PER MONTH (24 PERCENT PER ANNUM) from the date of the auction until the balance is paid in full. 10. SHIPPING AND PICK UP: a) Buyer must present Auctioneer with a paid receipt. b) Pick up, Shipping, packaging and insurance are the sole responsibility of the Buyer. Most items must be packaged and shipped by Professional Shippers. Occasionally, the auction house may elect to ship select items within the Continental US using the shipping method preferred by the Auction House. If so, the cost will be a flat $15.00 per box plus insurance costs. Items must be single uncomplicated units, the lot must fit into a standard USPS Priority Box with at least 2" packing materials on all sides, be valued at less than $500.00 and shipped within the Continental US. All other lots must be picked up or shipped by professional shipping companies. Buyer may make shipping and packaging arrangements with any shipping company of Buyer's choice. Buyer agrees to make shipping arrangements and to pay actual shipping and insurance costs directly to the shipping company. The following companies have successfully shipped items for our clients and are listed here for convenience; The UPS Store - Phone 239-262-7678 Email theupsstore3369@comcast.net Pak Mail of America - Phone 239-793-5060 Email us275pakmail@earthlink.net. Allied Van Lines (Ann Thomas)- phone 1- 800-593-7372 ext 108 Phone 239-643-4440 ext 108, Craters & Freighters Phone 888-671-0177 We recommend obtaining shipping quotes from the above named companies prior to bidding. c)Bidder agrees to pay a restocking penalty charge of 20% (twenty percent) of the final bid price OR a flat fee penalty charge of $20.00 (twenty dollars), WHICHEVER IS HIGHER, for any sale canceled for any reason other than a material misrepresentation of the item sold. This charge will be due and payable immediately upon cancellation. d) Auctioneer will have no responsibility for loss or damage resulting from Auctioneer's staff carrying, handling, placing in storage, packing or loading any item. e) Arrangements for Shipping must be made within 10 (ten) business days of the auction date all local pick ups must be made within 2 days unless specifically approved by Auctioneer. f) Buyer shall incur STORAGE FEES of $10.00 (Ten dollars) per day, per LOT for each Lot not removed within 30 days of the auction. Any lot not removed within 60 days of the auction will be forfeited by buyer and at Auctioneers sole discretion may be disposed of, donated to a charitable organization of Auctioneers choice, or resold to settle fees due Auctioneer's account. 11. Sales or use taxes will be added to the purchase price of all taxable purchases. Florida Sales tax is 6%. Dealers and other exempt organizations must have a current sales tax exemption certificate on file with the cashier prior to invoicing. 12. Persons attending the auction understand that the auction and site may pose both obvious and hidden dangers, defects and other perils and each person assumes the risk of all injury, loss and/or death from any cause whatsoever and Auctioneer and Seller will have no liability whatsoever. Bidder agrees to indemnify Auctioneer and Seller and hold them harmless for any injury, death or other damage to person or property at the auction site which was caused by Bidder. Except for announcements made pursuant to paragraph 1 of these terms, terms may not be amended in any way except by a signed, written agreement between Auctioneer and Bidder. 13. This Agreement will be construed and governed solely in accordance with the laws of the State of Florida and that the exclusive venue for any controversy or claim between them will be in the County of Collier, Florida. Bidder agrees that any controversy or claim arising out of this auction, or any related dealings with Auctioneer or Seller, must be resolved by final and binding arbitration with no appeal permitted except as provided by Florida statute. The parties voluntarily waive their rights to seek traditional remedies in any court including the right to a trial by jury. The prevailing party will be entitled to collect from the other its costs associated with the arbitration, including reasonable attorneys fees. 14. Notwithstanding this requirement for binding arbitration, the parties agree Auctioneer and Seller retain their right to pursue a traditional lawsuit against any Buyer for the collection of any payment due them by the Buyer for any purchase at the auction and it is agreed that in that event the defaulting bidder will be responsible for all of Auctioneers and/or Sellers costs of collection including, but not limited to, its attorneys fees of THIRTY-THREE AND ONE-THIRD PERCENT (33 1/3%) of any judgment recovered against Buyer. 15. BID RIGGING IS A VERY SERIOUS CRIME AND ANY ILLEGAL CONDUCT BY BIDDER OR OTHERS WILL BE IMMEDIATELY REPORTED BY AUCTIONEER TO THE U.S. ATTORNEY AND DEPARTMENT OF JUSTICE FOR INVESTIGATION AND PROSECUTION TO THE FULLEST EXTENT OF THE LAW. Title 15, Section 1 of the U.S. Code provides any agreement among potential bidders not to bid against one another, or otherwise to dampen the bidding process, is a felony under federal law. The law provides for fines of up to $10 million per violation for a corporate offender and $350,000 per violation for others, as well as imprisonment of up to three years. 16. Registering to bid or attending the auction indicates full understanding and acceptance of these terms along with the agreement to be so bound. If there is anything relevant to this auction that you do not understand; please ask Auctioneer or a member of Auctioneers staff to assist you.
Discover Items You'll Love

Bid Anywhere, Anytime. Download the LiveAuctioneers App.
Available on the App Store
Android App on Google Play