41161: LARGE TIGER IRON SLAB Port Hedland, Western Aus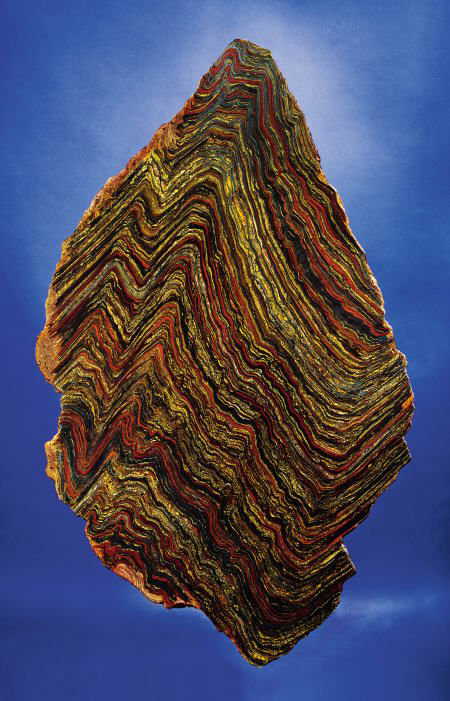 See Sold Price
Don't Miss Your Next Treasure.
Set up a search alert to hear when Heritage Auctions lists new auctions.
Auction ended on January 18th, 2009 UTC
41161: LARGE TIGER IRON SLAB Port Hedland, Western Aus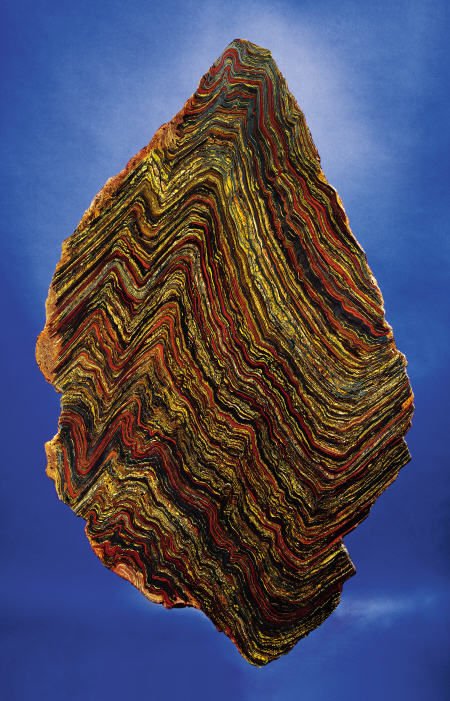 LARGE TIGER IRON SLAB
Port Hedland, Western Australia
Found in a more northerly location than the Marra Mamba tiger's eye, this tiger iron slab shows what happens when the layers of tiger's eye, hematite and the other constituent minerals are subjected to much heavier tectonic disruption and pressure. The bands become much narrower and more defined and in place of the soft flowing colors of Marra Mamba tiger's eye, tiger iron presents strong and sharply delineated layers of golden tiger's eye, red jasperlite and shimmering black hematite. The uncanny regularity of the undulating ribbons of color only adds to the aesthetic appeal, shown to its finest advantage in this highly polished piece of natural abstract art.
It is now believed that this banded, iron-rich material represents a "true fossil" of one of the oldest life forms known. During the Archean period (3.8 - 2.5 billion years ago) single celled organisms known as Stromatolites managed to prosper because they had an open niche with no competition. These simple organisms were (and still are) the Prokaryotes or Cyanobacteria; life forms so simple they had no cellular nucleus at all. Billions of years ago, huge colonies of stromatolites turned seawater, sunlight and atmospheric carbon dioxide into the first atmospheric oxygen this planet has known.
This uncommonly large slab measures 56 x 32½ x 5/8 inches.

Shipping: Requires 3rd Party Shipping (
view shipping information
)
Important notice:
Heritage usually auctions material at the rate of 100-110 lots per hour. On some occasions eBay Live bid software or the Internet may not be able to keep up with the pace of the auction. We recommend placing a realistic absentee bid now as insurance to avoid disappointment. Occasionally the auctioneer may eliminate or reject an eBay Live bid, and the auctioneer may also reopen a lot after the close of the eBay live bidding (usually because we missed an audience bid), and may reject your bid even if it shows you as the winning bidder. By bidding via eBay Live, you agree that Heritage may award the lot to another bidder at its sole discretion under the circumstances described above or any other reasonable circumstances. Since eBay bids are not shown to us until we open the lot on the floor, we treat those bids just like floor bids. In most cases the floor responds before the eBay bid is presented to us, due to Internet lag time, so for consistency we have made it a policy that floor bids are always considered first over tie eBay live bids. Also please note that all Heritage lots purchased through eBay Live carry a 22.50% Buyer's Premium with a $9 minimum Buyer's Premium. Please make sure you read the Terms and Conditions before you bid. This lot is being auctioned in conjunction with a live floor auction by Heritage Auctions. All final auction and invoice information will be supplied by Heritage Auctions, and all other information should be considered preliminary. Lot:41161
Winning Notification and Billing:
After the FINAL session in this auction is complete, Heritage will send e-mail and snail mail invoices. This process normally takes several days. All final auction and invoice information will be supplied by Heritage Auctions, and all other information should be considered preliminary.
Second Chance Offers:
Heritage does not make Second Chance Offers. Once our auction ends, if you receive a Second Chance Offer to buy this item DO NOT accept the offer. Please forward any Second Chance offer emails received on one of our auctions to eBay's Safe Harbor Department.
This auction will be conducted on a live auction floor and over the Internet through eBay Live. If you choose to place an absentee bid, please take a moment to
learn how eBay Live absentee bidding works
Auction House Info [removed] Heritage Auctions
3500 Maple Avenue 17th Floor
Dallas, Texas
75219-3941, United States
Tel: 214-528-3500
Fax: 214-443-8425
EMail:
EbayLive@HeritageAuctions.com
[removed] CLICK TO Ask a Question ABOUT THE LOT OR AUCTION
FOR TECHNICAL SUPPORT
CONTACT EBAY LIVE AUCTIONS
Terms & Conditions Please view our complete Terms & Conditions at the following web address:
http://www.heritageauctions.com/common/images/TermsAndConditions.pdf
Buyer's Premium
22.5% up to

$999.00

22.5% above

$999.00
Discover Items You'll Love