102: 1960s GEMINI G-2C SPACESUIT, HELMET, GLOVES & BOOT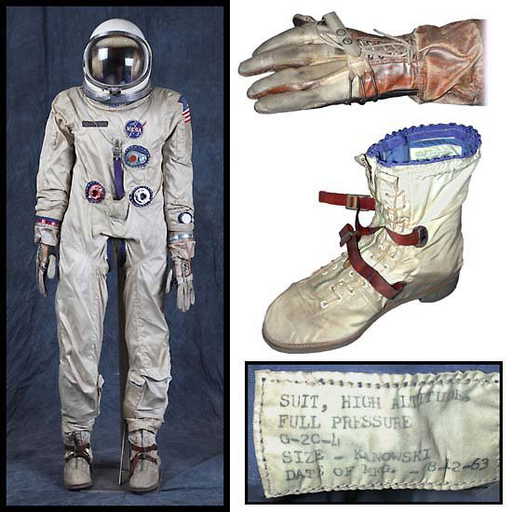 See Sold Price
Don't Miss Your Next Treasure.
Set up a search alert to hear when Necklaces & Pendants items arrive.
Auction ended on April 16th, 2009 UTC
102: 1960s GEMINI G-2C SPACESUIT, HELMET, GLOVES & BOOT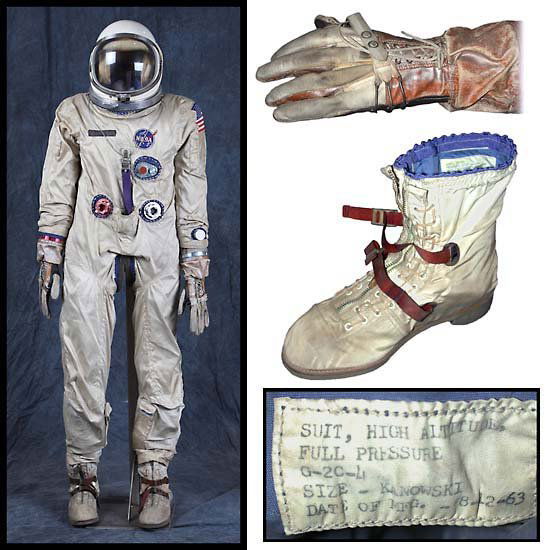 Complete Gemini Program test spacesuit in excellent condition. Cleaned, restored and preserved by The Kansas Cosmosphere. Suit is an early Gemini G-2C; boots are G-5C (the type of boot used on suits used on the Gemini 7 mission); gloves are G-2C. Condition of suit is what one would expect to see. There are no signs of abnormal deterioration. Outer layer somewhat yellowed as is normal, since this is caused by exposure to direct visible light that has discolored the Nomex nylon material. Overall, the cover layer, gloves, boots and helmet are in very good condition. The anodized aluminum is in excellent condition. Often, anodized aluminum (glove wrist rings & suit neck ring) are very corroded, which is NOT the case with this suit.
Sewn in suit label reads: 'SUIT HIGH ALTITUDE/FULL PRESSURE/G2C-4/SIZE KANOWSKI/DATE OF MFG. 8-2-63'. Mitchell B. Kanowski was a Chief Warrant Officer who tested the Gemini suits prior to their being used by the Astronauts in the Gemini Program. Included with this lot is a film of CWO Kanowski being dropped from a plane in this Gemini suit during the testing period. Transcripts of interviews with Mr. Kanowski and other memorabilia related to him are included as part of the provenance of this lot.
Sewn in boot labels read: 'BOOT RIGHT/PRESSURE SUIT ASSEMBLY/NASA DESIGNATION gb-5c-9/MFG. DAVID CLARK COMPANY INC./P/N A-2482-2 SERIAL NO. 509/SIZE BORMAN OCT. 1965'. Left boot label is same except: 'BOOT LEFT' and 'P/N A2482-1'. Glove labels read: 'GLOVE, SPACE SUIT,/NASA DESIGNATION GG-2C-1/DAVID CLARK CO. INC./P/N ACS 1003 SER. NO. 116/SIZE CONRAD DEC. 13'.
The boots were made for Astronaut Frank Borman, Command Pilot of the Gemini 7 mission. Gloves were made for Astronaut Charles Conrad, Jr, Pilot of the Gemini 5 mission and Command Pilot of the Gemini 11 Mission.
The spacesuit has original NASA red/white/blue extended vector patch on left breast and on the inner blue nylon lining is attached Kanowski's name tag. On left shoulder, the original United States flag shoulder patch has been replaced with an exact replica. The original flag patch, which was peeling has been restored, and is included. All zippers, closures and connections are in sound working condition.
Restoration of this Gemini G-2C Spacesuit was overseen by F. James Remar, Vice President of Museum Operations at the Kansas Cosmosphere during October & November 2005 at which time all part numbers and serial numbers were shared with Amanda Young of the National Air and Space Museum for her list of early spacesuits. A preservation mannequin was fabricated and inserted in the suit at the time of restoration. This mannequin was fabricated with a stainless steel frame and ethafoam and polyester batting for padding. The mannequin can be used for both display and storage.
According to the specialists at Kansas Cosmosphere responsible for restoration and preservation, the suit should be handled with care. It should be handled and moved as little as possible. It should be stored and displayed in an environment that will aid in the continued preservation of the suit. The ideal environment is 68-69 degrees F (20-21 degrees C) 45% relative humidity and low light levels. When in storage, the suit should be stored with its helmet, gloves and boots removed.
This is a unique opportunity to acquire an original Gemini Test Space Suit. This is an ideal centerpiece for the finest museum or personal space memorabilia collection. Complete documentation of provenance, history of ownership and researched history of this suit and of Mitchell Kanowski, the man who risked his life parachute testing this historic artifact is included with the suit. Additional information available on this lot for serious bidders.
A portion of the proceeds from the sale of this lot will be donated to both the NASA College Scholarship Fund and the Astronaut Scholarship Foundation.
Watch a video of Mitchell B. Kanowski testing the spacesuit during a drop. Copy and paste the following link in your browser: http://www.youtube.com/watch?v=QqAA8U0XnM4
Discover Items You'll Love