lots of lots
Welcome to the world's largest marketplace for fine art, antiques & collectibles.
120: CLAY REGAZZONI RACE HELMET; 1970s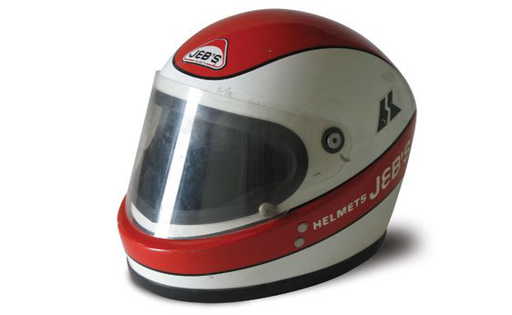 See Sold Price
Don't Miss Your Next Treasure.
Set up a search alert to hear when RM Auctions lists new auctions.
Discover Related Items Available Now
Auction ended on May 17th, 2009 UTC
120: CLAY REGAZZONI RACE HELMET; 1970s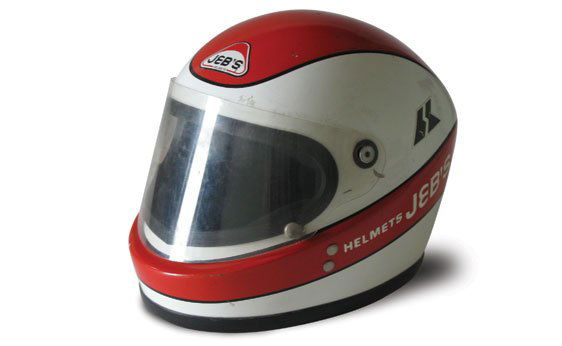 Winning the Monza Formula 1 race in his debut season, Clay Regazzoni, a native of Switzerland, soon became a very successful racing driver for Ferrari in the 1970s. Offered here is a very important piece of any Formula 1 driver's protection – his helmet. Made by JEB'S Helmets, this particular helmet comes finished in its original white and red livery, complete with a signature of the driver on the back as well as the Ferrari prancing horse insignia.
Reasonable condition, showing scuffing and some losses to paint.


CASCO USATO DA CLAY REGAZZONI NEGLI ANNI SETTANTA
Dopo aver vinto il G.P. di Formula 1 di Monza nella stagione del suo debutto, lo svizzero Clay Ragazzoni divenne un pilota di grande successo correndo per la Ferrari negli anni Settanta. Il lotto offerto rappresenta un pezzo particolarmente importante nella dotazione di sicurezza di ogni pilota: il casco. Prodotto dalla JEB'S Helmets, il casco è finito nella sua colorazione originale bianca e rossa, e reca sul retro la firma del pilota e l'emblema del cavallino rampante.
Discrete condizioni, con qualche graffio e qualche mancanza di vernice.
Shipping
If buyer is picking up items or using another packingshipping company other than the RM recommended company, Buyer is responsible for removing items from the auction location by Monday, May 18th at 12:00 noon. Buyer is responsible to pay for the removal of items from the site, packing, shipping, handling and insurance of any items purchased. If buyer is unable to provide RM with the name of a transportation company within 24hrs of the purchase then RM will release the lot to the onsite shipping company. Buyer will pay RM directly for the lots, buyers fee and any applicable taxes and pay the onsite shipping company directly for their services.br br Il compratore dovrà, a proprie spese, ritirare il lotto acquistato entro la fine del primo giorno lavorito successivo allasta, dopo aver pagato per intero RM il prezzo dacquisto di questo o di qualsiasi altro lotto. I lotti devono essere ritirati prima delle ore 12.00 il 18 di Maggio 2009. br br Il compratore sarà ritenuto responsabilie per il ritiro, la custodia, lassicurazione e le altre spese sostenute per un qualsiasi lotto non ritirato nel giorno e lora specificati nella condizione qui sopra. br br Il compratore sarà ritenuto responsabilie in caso di perdita o danno del lotto acquistato a partire dal termine dellasta. Né RM né i suoi dependenti o agenti saranno ritenuti responsabili in caso di perdita o danno, a meno che questi non siano stati causati da negligenza imputabile a RM, ai suoi dipendenti o agenti nel normale esercizio delle proprie funzioni, fino a che il lotto è sotto la custodia o il controllo di RM. br br Sarà responsabilità del compratore assicurasi che ciascun autoveicolo acquistato allasta rispetti tutte le normative vigenti relative alla guida, allutilizzo o al trasporto e che tutti I necessari certificati di prova siano validi. Il compratore sarà responsabile dellottenimento di qualsiasi licenza desportazione che potrebbe essere richiesta in relazione al lotto.
Payment
Bank Wire Transfer is the preferred method of payment. RM also accepts Money Order or Certified Check. Any questions, please email.br br Pagamento a saldo per tutti I lotti deve essere fatto a RM in Euro, a mezzo di assegno circolare, bonifio bancario o carta di credito. Se avete delle domande, per favore speditemi una mail.
Accepted payment methods
Taxes
Value Added Tax payable by the Buyer on the Hammer Price may be refundable by H.M. Customs and Excise on proof of export. RM makes no warranties in this regard.br br L'IVA pagabile dal Compratore sul Prezzo di aggiudicazione può essere rimborsata da H.M. Ufficio Dazi e Dogane con prova d'esportazione. RM non dà garanzie a questo proposito.
Accuracy
Although every effort is made to ensure the accuracy of the information contained in the online auction website, such information is provided by the seller and may not be verified by RM Auctions Italia S.R.L. prior to the sale time. Any additional information or corrections known at sale time will be announced by the auctioneer. RM Auctions Italia S.R.L. accepts no responsibility for the condition of any items offered.br br Anche se è stato compiuto qualsiasi sforzo per garantire l'accuratezza delle informazioni, tali informazioni sono fornite dal venditore e non sono necessariamente verificate da RM Auctions Italia prima della vendita. Qualsiasi informazione aggiuntiva o crrezione nota al momento della vendita saràannunciata dal banditore. RM Auctions Italia S.r.l non acceta responsabilità per la condizione dei lotti offerti.
Important Notice
RM Auctions usually auctions automobiles at the rate of 60-80 lots per hour. On some occasions LiveAuctioneers Live bid software or the Internet may not be able to keep up with the pace of the auction. RM recommends placing a realistic absentee bid now as insurance to help avoid disappointment. Occasionally the auctioneer may eliminate or reject a LiveAuctioneers Live bid, and the auctioneer may also re-open a lot after the close of the LiveAuctioneers live bidding (usually because of a missed audience bid), and may reject your bid even if it shows you as the winning bidder. By bidding via LiveAuctioneers Live, you agree that RM Auctions may award the lot to another bidder at its sole discretion under the circumstances described above or any other reasonable circumstances. Since LiveAuctioneers bids are not shown to us until we open the lot on the floor, we treat those bids just like floor bids. In most cases the floor responds before the LiveAuctioneers bid is presented to us, due to Internet lag time, so for consistency we have made it a policy that floor bids are always considered first over tie LiveAuctioneers live bids. Also please note that all RM Auctions lots purchased through LiveAuctioneers Live carry a 15% Buyer's Premium. Please make sure you read the Terms and Conditions before you bid. This lot is being auctioned in conjunction with a live floor auction by RM Auctions Italia S.R.L. All final auction and invoice information will be supplied by RM Auctions Italia S.R.L., and all other information should be considered preliminary. Winning Notification and Billing: After the FINAL session in this auction is complete RM Auctions will send e-mail invoices. This process normally takes up to two days. All final auction and invoice information will be supplied by RM Auctions Italia S.R.L., and all other information should be considered preliminary. This auction will be conducted on a live auction floor and over the Internet through LiveAuctioneers Live. If you choose to place an absentee bid, please take a moment to learn how LiveAuctioneers Live absentee bidding works by visiting a hrefhttp:www.liveauctioneers.comhelpbiddersabsentee_bid.htmlThe LiveAuctioneers websitea.br br Di solito RM Auctions mette in asta 60-80 lotti di vetture all'ora. A volta il LiveAuctioneers Live bid software o l'internet non puo seguire il ritmo dell'asta. RM vi raccomando di postare una vera offerta scritta ora come sicurezza per evitare le delusione. A volta il banditore puo respingere o eliminare un'offerta di LiveAuctioneers Live e puo anche riaprire un lotto dopo la chiusura di LiveAuctioneers Live (di solito perche c'e stato un'offerta persa nel pubblico) e puo anche respingere la Sua offerta anche se si vede che ha l'offerta vincente. Utilizando LiveAuctioneers Live, e d'accordo che RM Auctions puo aggiudicare il lotto ad un altro acquirente alla sua discrezione per le situazione qui sopra o per altre situazione ragionevoli. Poiche le offerte di LiveAuctioneers non sono mostrati prima dell'apertura del lotto nel pubblico, le trattiamo come offerte dal pubblico. Nella magioria dei casi il pubblico risponde prima di LiveAuctioneers per colpa del ritardo del internet, allora abbiamo deciso di farne la nostra polizza di prendere prima le offerte pareggiate di davanti al banditore. Nota bene che tutti i lotti comprati su LiveAuctioneers live hanno un premio del acquirente di 15%. Leggete bene le condizione prima di fare un'offerta. Questo lotto e stata messa in asta contemporaneamente ad un'asta viva da RM Auctions Italia S.r.l. Tutte le informazioni e fatture dell'asta verrano date da RM Auctions Italia S.r.l e tutt'altra informazione deve essere considerata come preliminare. Nota vincente e fatturazione: Una volta tutti lotti passati e l'asta e stata completata, RM Auctions spedira le fatture via email. Ci vuole normalmente fino a due giorni. Quest'asta si svolgera dal vivo e su internet a traverso LiveAuctioneers Live. Se vuole partecipare all'asta con un offerta scritta, visiti il a hrefhttp:www.liveauctioneers.comhelpbiddersabsentee_bid.htmlsito di LiveAuctioneersa per imparare ad usare LiveAuctioneers.
Terms
Please ensure that you have read and understood these terms and conditions prior to bidding at this or any other RM sale. 1. All sales are final. No bidder may retract a bid made during the sale for any reason. 2. Final bid price does not include 15% buyer's premium or applicable taxes on each lot purchased. Proof of tax exemption is buyer's responsibility. 3. All payments must be in the form of certified funds unless other arrangements have been approved in advance. 4. All sales are "as is" and "where is". Bidder is responsible for inspections and verification of condition, authenticity, and completeness of any item purchased. No warranties or representations of any type whatsoever are made by RM. Buyers are strongly encouraged to conduct their own evaluation and inspection. Any announcements made at the time of sale supersede any earlier printed information. 5. Bidder authorizes RM Auctions Italia S.R.L. to authorize the credit card number provided for €1500. Should a bidder default on payment in any manner whatsoever, without limiting any recourse RM Auctions Italia S.R.L. may have, bidder agrees to pay RM Auctions Italia S.R.L. all lost auction fees (which is the maximum published rates for (1) the seller's commission, (2) the buyer's premium, and (3) the entry), this amount is due and payable without relief. 6. Person bidding online must be 21 years of age or older. No minors are allowed to bid. 7. Buyer is responsible for all risk of loss or damage immediately upon purchase of the vehicle or item. All vehicles or items purchased must be removed from the auction site at the buyer's expense immediately following the sale. If not removed by the end of the day following the sale, RM Auctions will remove the vehicle or item with all costs of moving and storage to be paid by the buyer. 8. The auctioneer reserves the right to rearrange, separate, exclude or withdraw any lot without giving a reason. 9. If buyer sues RM Auctions Italia S.R.L. and does not prevail, buyer will reimburse RM Auctions Italia S.R.L. for all legal fees and expenses in connection with said suit. 10. All terms of sale posted on the auction premises, printed in sale brochures or forms, publicly announced, communicated via the LiveAuctioneers bidding applet or otherwise published are incorporated herein by reference. Leggere attentamente i seguenti termini e condizioni prima di presentare le offerte per questa o qualsiasi altra asta organizzata da RM Auctions. 1. Tutte le vendite sono considerate definitive. Gli offerenti non possono ritirare un'offerta presentata nel corso della vendita all'asta per nessun motivo. 2. Il prezzo finale non include la 15% commissione che l'acquirente è tenuto a pagare, né le tasse relative a qualsiasi lotto acquistato. L'acquirente è responsabile del pagamento di qualsiasi tassa dalla quale non sia esente. Spetta all'acquirente dimostrare tale esenzione. 3. Tutti I pagamenti devono essere effettuati in certificati di fondi se non ci sono stati altri metodi gia organizzati in anticipo. 4. Tutti i lotti sono venduti così "come sono" e "dove si trovano". Spetta agli offerenti eseguire eventuali ispezioni e verificare le condizioni, l'autenticità  e la completezza di qualsiasi autovettura acquistata. RM Auctions non da alcuna garanzia né rilascia alcuna dichiarazione. Le informazioni stampate su cataloghi, dépliant, cartelli e vetrofanie nonché quelle verbali rilasciate dai banditori o dal personale dell'asta sono fornite dal venditore, RM Auctions non ha alcun obbligo di verificarne l'autenticità . Qualsiasi annuncio fatto al momento della vendita sostituisce qualsiasi informazione stampata prima della vendita stessa. 5. L'acquirente autorizza RM ad utilizzare la sua carta di credito per i 1,500 di euro. Se l'acquirente non paga, RM puo subito ritirare le tasse perse durante l'asta (cioe la tariffa massima pubblicata(1) per la commissione del venditore, la commissione del acquirente, e (3) il prezzo di registrazione). 6. L'offerente deve avere piu di 21 anni. Minori vietati. 7. Appena venga acquistata un'autovettura o un articolo, l'acquirente è responsabile di qualsiasi rischio per perdita o danno. Subito dopo la vendita qualsiasi autovettura o articolo acquistato deve essere rimosso dal sito in cui si è svolta l'asta a spese dell'acquirente. Nel caso in cui non venga ritirata entro la fine della giornata successiva alla vendita, RM Auctions provvederà  a rimuovere l'autovettura o l'articolo e qualsiasi costo di trasporto e magazzinaggio sarà  addebitato all'acquirente. 8. Il Banditore si reserva il diritto di re-organizzare, dividere, escludere o togliere un lotto senza dare una ragione. 9. Se l'acquirente fa causa a RM, e non vince, quello deve compensare RM per le tasse legali e le spese relative alla causa. 10. I termi di vendita presentati in loco dell'asta, stampati sul catalogo o sui formulari, annunciati pubblicamente, communicati via LiveAuctioneers o pubblicati di un'altra maniera si trovano qui sotto.
Discover Items You'll Love

Bid Anywhere, Anytime. Download the LiveAuctioneers App.
Available on the App Store
Android App on Google Play