232: 1956 Ferrari 250 GT Berlinetta (Tour de France)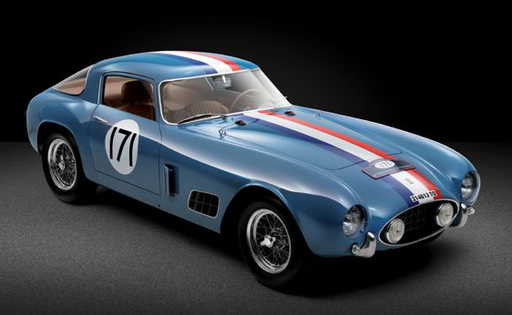 See Sold Price
Don't Miss Your Next Treasure.
Set up a search alert to hear when RM Auctions lists new auctions.
Auction ended on May 17th, 2009 UTC
232: 1956 Ferrari 250 GT Berlinetta (Tour de France)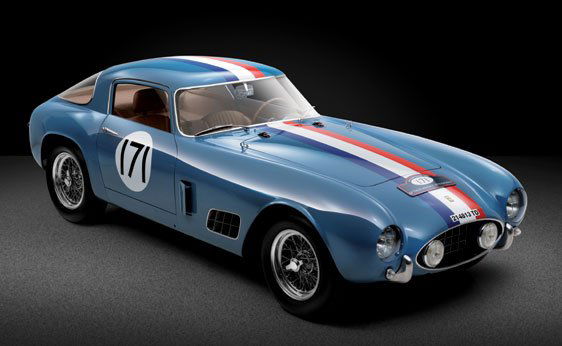 230/280 bhp at 7,000 rpm, 2,953 cc single overhead camshaft V-12 engine with three Weber carburettors, four-speed manual transmission, independent front suspension with A-arms and coil springs, live rear axle with semi-elliptical springs, four-wheel hydraulic drum brakes. Wheelbase: 2,600 mm (102.4 in.)

The Ferrari 250 GT Berlinetta not only has breathtaking looks, it is unquestionably one of the greatest Ferrari racing cars ever built and a car of such class that the various versions that followed have become legendary in their own right. Names like Testa Rossa, GTO and Tour de France evoke strong emotions in enthusiasts the world over. The 250 GT Berlinetta's forerunner was the 250 MM, named after the famous Mille Miglia race won by Italian hill climb champion Giovanni Bracco in 1952. The last 250 MMs had been built by 1954 and work began on what would become the 250 GT Berlinetta "Tour de France". A stronger, new tubular chassis was employed with a wheelbase of 2,600 mm. The elliptic leaf spring suspension was replaced with wishbones, coil springs and shocks and the Colombo Tipo 112 short block V-12 engine was fitted. (Subsequently the engine would be developed and designated Tipo 128, 128B, C and D.) This car was chassis number 0369 GT, the prototype Pinin Farina Berlinetta. Between April and July of 1955 Pinin Farina built three more 250 GTs that were of similar appearance to the 250 MM. In October, another car was shown at the Paris Salon and was the first design with many side louvres. Pinin Farina made a further two prototypes, one of which was owned by the Marquis de Portago from Spain. In December 1955 at Nassau, Bahamas, he scored the first victory for the car, which, by the end of the decade, would be a massive catalogue of race wins.

1955 was a bleak year in motor sport history. At the 24 Hours of Le Mans, Pierre Levegh's Mercedes had been launched into the crowd, killing 84 people and injuring another 200. This prompted the creation of a Gran Turismo category with an engine capacity of 3.0 litres. The new rules would play into Ferrari's hands in 1956.

Scaglietti appeared at the 1956 Geneva Motor Show with their own prototype which would become the limited production series I, fourteen-louvre 250 GT Berlinetta. The first production car was built in November 1956 and production was now the responsibility of Scaglietti in Modena.

There were five series of 250 GT Long Wheelbase Berlinettas. From mid-1957 the series II cars were introduced, which had three louvres and covered headlights, and just fifteen were produced. About twenty-nine series III cars were built; these retained the covered headlights but had just a single louvre. In 1959 eight single louvre cars were built with open headlights although some of these very late 250 GT LWB Berlinettas still had covered headlights. Five superlight Zagato-bodied cars were also made, not to mention the 250 GT LWB "Interim" Berlinettas, one of which won the 1959 Tour de France.

1956 saw the real start of the 250 GT Berlinetta's competition career. The car would win more races than either of its legendary successors, the 250 GT SWB Berlinetta and the 250 GTO. Olivier Gendebien won the GT class in the Tour of Sicily at the beginning of 1956, but it was the Tour de France of that year which would be the GT Berlinetta's most important race and put this car into the annals of motor sport history.

The Tour de France took five or six days and covered over 4,800 gruelling kilometres around France, sometimes venturing into Italy, Belgium or Germany. The race consisted of up to six circuit races, two hill climbs and a sprint. In 1956, in his first attempt, with Edmund Nelson as his co-driver, Alfonso de Portago took the victory, with Stirling Moss in a Mercedes 300 SL second and Gendebien third in the first Pinin Farina ex-works development car. From then on the name of the race which Ferrari had scored the famous victory came into common usage for the name of this model. Sadly, the Spanish nobleman de Portago, who was a three-time French amateur champion jockey, world-class swimmer and part of the Spanish bobsledding team in the 1956 Winter Olympics, perished the following year only forty kilometres from the end of the 1957 Mille Miglia. His co-driver Nelson and nine spectators were also killed when a tyre blew out on their Ferrari 335. De Portago can be remembered for giving the legendary Ferrari 250 GT Long Wheelbase Berlinetta its sobriquet – Tour de France.

Olivier Gendebien drove a Ferrari 250 GT (Tour de France) to victory for the next three consecutive years in the race whose name the car had now unofficially taken. The 250 GT (Tour de France) would be driven in some of the great races of the day by some of the most famous and talented drivers. The number of victories scored is testament to one of the most successful racing cars in history.

The Ferrari 250 GT Tour de France presented here, chassis no. 0563 GT, was sold new by Ferrari SpA to Racing Sport S.r.l of Torino, Italy on 10th September, 1956. Racing Sport immediately leased the car to Jacques Peron, resident in Nice, France. The fifth Tour de France was held between 17th to 23rd September and Peron, with co-driver Jacques Bertrammier entered 0536 GT and took the car to eighth place overall. Peron was a very active racer and obviously enjoyed racing the car. In October of that year he entered the 12th Coupe du Salon at Montlhéry, where he finished a fine second place.

In 1957 Peron won the Rallye des Forets in March, proving just how versatile these Ferrari competition cars really are. Victory again in April at the USA Cup at Montlhéry for Peron was followed by second overall and second in class in the Rallye du Printemps. June saw a class win in the Grand Prix of Paris at Montlhéry. Peron then shipped the car from France to Algeria to take part in the Rallye Allier where he would take victory. The next race was the Reims 12 Hours in France, but the car did not finish due to mechanical issues. However, it was not long before Peron was back to his winning ways, as he finished first in class in the Razel race. In September of the same year Peron entered 0563 GT in the sixth Tour de France, in which he and co-driver Burggraf finished a tremendous fifth overall against some of the best cars and drivers of the period including a number of works entries. This was a fantastic result for a privateer and proved what a superb competition car the Ferrari 250 GT was in its time. The Coupe du Salon at Montlhéry was followed by Peron's last event of the year, the Armagnac Rallye in which he finished third.

1958 saw a more limited season, but highlights were seventh in the Pau 3 Hours and a class win in the Planfoy hill climb. Late in 1958, 0563 GT was returned by Racing Sport and Peron to the Ferrari factory in Maranello, Italy.

In November 1959 the car was sold by Ferrari to Bruce Kessler and exported to the U.S. In 1960 it was sold to Ron Wakeman from California and in 1973 became the property of Larry Taylor, also of California. In 1983 Richard Gent, Jr. bought the car from Taylor's estate and had it restored by Joe Piscazzi's Auto Body and Tom Selby. It was shown by Gent at the 25th Annual Ferrari Club of America International Concours at Stouffer's Pine Isle Resort at Lake Lanier Island, Georgia where it placed second.

In the 1990s Bob Smith Coachworks in Texas fully restored 0563 GT to concours condition, bringing it back to the original colour scheme it had when it took part in the 1957 Tour de France. The car was not shown again by Richard Gent until January 2001 at the Tenth Annual Palm Beach Cavallino Classic at The Breakers in Palm Beach, Florida, where it attracted great interest. In May of the same year the car won the Forza Award at the 37th Annual Ferrari Club of America National Meeting and Concours at Dallas. The car was then seen at the 53rd Pebble Beach Concours d'Elégance where it finished second in the class for Ferrari competition cars – a testament to the quality of its restoration in comparison to the other spectacular Ferraris on the lawn at Pebble Beach. More recently 0563 GT was shown at the Cavallino Classic alongside a Ferrari 250 Pontoon Fender Testa Rossa, where it once more attracted great interest. It was driven from The Breakers to the Palm Beach International Raceway, performing flawlessly and proving that it was equally at home on the open road as it is on the race track.

Ferrari 250 GT Berlinetta (Tour de France) chassis no. 0563 GT is one of the most legendary Ferrari dual-purpose road/race cars and is the last of the series of eight cars produced in this body style. With its outstanding competition history it is certainly of the most desirable closed 12-cylinder Ferraris and it would be eligible for all the important historic races and events around the world, including the Tour Auto, Mille Miglia Storica and Shell Ferrari Maserati Historic Challenge, where it would be very competitive in the drum brake class. In fact, closed 12-cylinder Ferraris eligible for the Mille Miglia very rarely come onto the market today. With breathtaking looks, fantastic performance and great handling, early Ferrari 250 GT competition cars such as 0563 GT remain some of the most coveted models in the marque's history.


Da 230 a 280 CV a 7.000 giri/min., 2.953 cm³, motore V12 con un albero a camme in testa per bancata e tre carburatori Weber, cambio manuale a quattro marce, sospensioni anteriori a ruote indipendenti con due triangoli sovrapposti con molle elicoidali, assale rigido posteriore con balestre semi-ellittiche, freni a tamburo idraulici. Passo: 2.600 mm

La Ferrari 250 GT Berlinetta non solo ha una linea mozzafiato ma è anche senza dubbio una delle più grandi Ferrari da corsa prodotte dalla Casa di Maranello, una vettura di tale classe che le varie versioni che si sono succedute sono diventate di per sé stesse una leggenda. Nomi come Testa Rossa, GTO e Tour de France evocano grandi emozioni negli appassionati di tutto il mondo. Precursore della 250 GT Berlinetta fu la 250 MM, così denominata dopo la Mille Miglia del 1952 vinta dal campione italiano della montagna, Giovanni Bracco. L'ultima 250 MM fu costruita nel 1954, anno in cui fu iniziata la costruzione di quella che sarebbe diventata la 250 GT Berlinetta "Tour de France". Venne impiegato un nuovo telaio tubolare, più rigido, con passo di 2.600mm; le sospensioni con balestre semi-ellittiche furono sostituite da triangoli sovrapposti, molle elicoidali e ammortizzatori; fu montato il motore V12 Colombo Tipo 112 a corsa corta (successivamente sviluppato e denominato Tipo 128, 128B, C e D). Sul telaio n. 0369 GT, era nato il prototipo della Berlinetta di Pinin Farina. Tra aprile e luglio 1955 Pinin Farina costruì altre tre 250 GT all'apparenza simili alla 250 MM. In ottobre, un'altra vettura, la prima con numerose feritoie sul montante posteriore del tetto, fu esposta al Salone di Parigi. Pinin Farina costruì altri due prototipi, uno dei quali venne acquistato dal marchese spagnolo de Portago. Nel dicembre 1955 a Nassau (Bahamas), questi colse la prima vittoria del nuovo modello, che nel corso degli anni Cinquanta avrebbe collezionato un enorme numero di trionfi.

Il 1955 fu un anno tragico nella storia dello sport motoristico. Alla 24 Ore di Le Mans la Mercedes di Pierre Levegh era piombata in mezzo alla folla uccidendo 84 persone e ferendone altre 200. L'incidente portò alla creazione della Classe Gran Turismo con motori di 3 litri, il cui nuovo regolamento arrivò nelle mani di Enzo Ferrari nel 1956.

Al Salone di Ginevra del 1956, Scaglietti presentò il suo prototipo, dando il via alla prima serie del modello 250 GT Berlinetta, con 14 feritoie sul montante posteriore del tetto: essa sarebbe stata prodotta in un numero limitato di esemplari, il primo dei quali costruito nel novembre 1956.

Sono state cinque le serie della 250 GT Berlinetta a passo lungo. La seconda serie fu introdotta a metà del 1957: costruita in 15 esemplari, era caratterizzata da tre feritoie sul montante posteriore del tetto e dai fari carenati. 29 furono gli esemplari della terza serie, ancora con i fari carenati ma una sola feritoia. Nel 1959 furono costruite otto vetture con una sola feritoia e fari scoperti, anche se alcune di queste ultime Berlinette a passo lungo avevano i fari carenati. Furono anche costruite cinque vetture con carrozzeria alleggerita di Zagato, e infine le 250 GT Berlinetta a passo lungo, cosiddette "Interim", una delle quali vinse il Tour de France del 1959.

Il 1956 segnò l'inizio della carriera agonistica della 250 GT Berlinetta a passo lungo, la vettura che avrebbe poi vinto un numero di corse superiore a quello della Berlinetta a passo corto e della GTO. Olivier Gendebien vinse la classe GT al Giro di Sicilia ma fu la vittoria al Tour de France che iscrisse per sempre la Berlinetta negli annali dello sport motoristico.

Il Tour de France durava cinque o sei giorni, era una gara estenuante lunga oltre 4.800 km sul territorio francese, ma con sconfinamenti anche in Italia, Belgio e Germania. Comprendeva fino a sei prove in circuito, due in salita e una gara sprint. Nel 1956, al suo primo tentativo, Alfonso de Portago, in coppia con Edmund Nelson, vinse davanti a Stirling Moss, su una Mercedes 300 SL, e a Gendebien, terzo sul primo prototipo di Pinin Farina, la ex vettura sperimentale della Casa. Da allora in poi, il nome di questa corsa in cui la Ferrari aveva riportato una grande vittoria fu comunemente usato come denominazione di questo modello. Sfortunatamente il nobiluomo spagnolo de Portago, tre volte campione di Francia di equitazione, campione di nuoto e componente della squadra spagnola di bob alle Olimpiadi Invernali del 1956, morì, assieme al suo copilota Nelson e a nove spettatori, durante la Mille Miglia del 1957. Fu la conseguenza di un incidente, a soli quaranta km dalla fine della corsa, causato dallo scoppio di uno pneumatico della sua vettura. Egli verrà ricordato per aver dato alla 250 GT Berlinetta a passo lungo il suo soprannome, Tour de France.

Olivier Gendebien guidò una 250 GT, ormai denominata, non ufficialmente, Tour de France, alla vittoria anche nelle tre successive edizioni della corsa francese. La 250 GT Tour de France fu guidata nelle più importanti corse del periodo dai più grandi e famosi piloti, raccogliendo un tale numero di vittorie da poter essere considerata una delle vetture da corsa più vittoriose di ogni tempo.

La vettura offerta, telaio 0563 GT, fu venduta dalla Ferrari alla Racing Sport Srl, di Torino, il 10 settembre 1956. La Racing Sport la noleggiò immediatamente al francese Jacques Peron, di Nizza, che dal 17 al 23 settembre partecipò al Tour de France, dove si classificò, in coppia con Jacques Bertrammier, all'ottavo posto assoluto. Peron era un pilota molto attivo e chiaramente gli piaceva gareggiare con questa vettura. Nell'ottobre dello stesso anno partecipò alla 12a Coppa del Salone a Montlhéry, classificandosi al secondo posto.

Nel marzo 1957 vinse il Rallye des Forets, a testimonianza delle versatilità delle vetture Ferrari, e in aprile la USA Cup a Montlhéry, seguita da un secondo posto assoluto e secondo di classe al Rallye du Printemps; in giugno vinse la classe al G.P. di Parigi a Montlhéry, e quindi il Rallye Allier, in Algeria. La corsa successiva fu la 12 Ore di Reims, in Francia, dove non giunse al traguardo per problemi meccanici; si rifece subito dopo vincendo la sua classe alla corsa di Razel. In settembre partecipò alla sesta edizione del Tour de France: in coppia con Burggraf, si classificò quinto assoluto, battagliando con i migliori piloti e le migliori vetture, molte delle quali ufficiali. Fu un risultato sensazionale per un pilota privato, a testimonianza ancora di che superba vettura da corsa fosse la Ferrari 250 GT. La Coppa del Salone a Montlhéry fu seguita dall'ultima corsa dell'anno, l'Armagnac Rallye, dove Peron si classificò al terzo posto.

Quella del 1958 fu una stagione con meno gare e i migliori risultati furono un settimo posto alla 3 Ore di Pau e una vittoria di classe alla corsa in salita di Planfoy. Alla fine dell'anno, la Racing Sport, e Peron, inviarono la 0563 GT in fabbrica a Maranello.

Nel novembre 1959 la Ferrari vendette la vettura negli USA a Bruce Kessler; nel 1960 fu rivenduta a Ron Wakeman, California, e nel 1973 fu acquistata da Larry Taylor, anche lui californiano. Nel 1983 Richard Gent Jr. acquistò la vettura e la fece restaurare dalla Auto Body di Joe Biscazzi e da Tom Selby. Gent la presentò quindi alla 25ma edizione del Concorso Internazionale del Ferrari Club America, allo Stouffer's Pine Isle Resort di Lake Lanier Island, in Georgia, dove si classificò al secondo posto.

Negli anni Novanta la Bob Smith Coachworks, Texas, restaurò la 0563 GT in condizioni da concorso, riportandola nei colori originali del Tour de France del 1957. Richard Gent presentò nuovamente la vettura solo nel gennaio 2001 alla decima edizione di Cavallino Classic al Breakers Hotel di Palm Beach, in Florida, dove suscitò un grande interesse. Nel maggio di quello stesso anno la vettura vinse il premio Forza alla 37ma edizione del raduno del Ferrari Club America a Dallas; in agosto fu presentata alla 53ma edizione del Concorso d'Eleganza di Pebble Beach, dove fu classificata al secondo posto della classe Ferrari da Competizione, a testimonianza della qualità del restauro in rapporto alle altre grandi vetture Ferrari presentate sull'erba di Pebble Beach. Più recentemente è stata presentata al Cavallino Classic, a fianco di una 250 Testa Rossa "pontoon fender", destando ancora una volta un grande interesse. E' stata anche guidata dal Breakers fino al circuito internazionale di Palm Beach, senza mostrare alcun difetto e provando di essere a suo agio sia su strada sia in pista.

La Ferrari 250 GT Berlinetta Tour de France telaio 0563 GT è una delle più grandi vetture Ferrari dal duplice uso, strada e pista, ed è l'ultima delle serie caratterizzata da queste specifiche estetiche. Grazie alla sua notevole storia agonistica è certamente una delle più desiderabili berlinetta 12 cilindri Ferrari e ha i requisiti per poter partecipare alle maggiori manifestazioni storiche del mondo, compresi il Tour Auto, la Mille Miglia Storica e lo Shell Ferrari Maserati Historic Challenge, dove è sicuramente competitiva nella classe "freni a tamburo". Infatti, molto raramente vengono offerte oggi sul mercato berlinette Ferrari in grado di essere accettate alla Mille Miglia. Grazie all'estetica mozzafiato, alle fantastiche prestazioni e alla grande guidabilità le prime Ferrari 250 GT, come la 0563 GT, rimangono fra i modelli più desiderati nella storia della casa.
Starting Bid
€1,375,000.00
Discover Items You'll Love