Weekly Auctions of Exceptional Items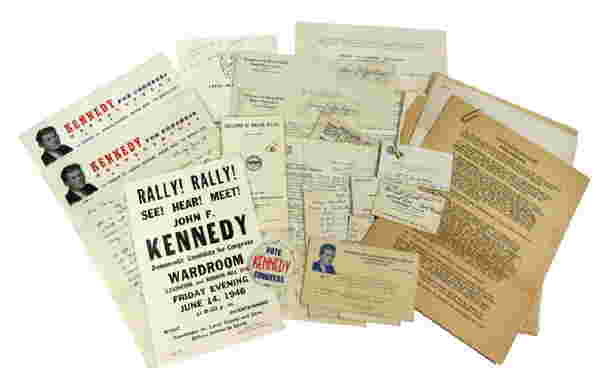 Kennedy John

John F. Kennedy's Congressional Campaign of 1946, A Fascinating Look




Kennedy family friend Richard Flood worked on John F. Kennedy's first Congressional campaign in the summer and fall of 1946. This archive of material pertains to Flood's efforts and the overall management of Kennedy's first successful campaign in Boston.




JOHN F. KENNEDY, Archive of materials relating to his 1946 Congressional campaign. 32 items, including printed, typed, and handwritten letters and notes, a rare Kennedy campaign pin, business cards, and other materials associated with Kennedy's successful campaign. Some rust to back of campaign pin, not affecting face; most items in very good condition.




Excerpts and Highlights

· An extremely rare 1946 "VOTE KENNEDY CONGRESS" pin, of which fewer than a dozen are known to exist


· A blank sheet of colorful "KENNEDY for congress headquarters" stationery with a two-inch photograph of a youthful Kennedy.



· A rare and important broadside for a June 14, 1946 rally, just days before the Democratic primary: "RALLY! RALLY! / SEE! HEAR! MEET! / JOHN F. / KENNEDY / Democratic Candidate for Congress / WARDROOM / (LEXINGTON and BUNKER HILL STS.) / FRIDAY EVENING / JUNE 14, 1946 / at 8:30 p.m. / MUSIC ENTERTAINMENT / Candidates for Local, County and State Offices Invited to Speak"



· A fascinating letter from Dick Flood to "Pang," June 1, 1945, written on two sheets of the colorful "KENNEDY for congress headquarters" stationery, detailing how he became involved in the Kennedy campaign. After making it from Pearl Harbor in Honolulu home to Lowell, Massachusetts in two and a half days, Flood was discharged on a Monday and "at 0900 on Tues I was in the thick of Jack Kennedy's campaign for Congress."

"You have perhaps heard me speak of his brother Joe who was killed in England. He was my best friend and also my roommate at Law School. His father is the former ambassador to Britain.

"Well, Jack asked me to take things over and I have been working 16 hrs—7 days a week since then


"I have opened up 6 headquarters, organized staff, cleared literature etc. as well as a thousand other jobs. The district is a most complex one. It covers all Cambridge, Brighton, East Boston, Charlestown, and the North, South & West Ends of Boston. If you have read your history books you will recognize that this is about the oldest part of the USA. We have all kinds of races—Irish, Polish, Greeks, Portuguese, Chinese, Italians, etc.... I feel certain that we are going to win the fight. In fact, I entertain a feeling that Jack may poll a tremendous vote. In the event he does he should soon become one of the most powerful men in Massachusetts politics."

· A typed memo entitled "Kennedy Campaign Organization" with sixteen points regarding organization and responsibility.

"1. The following plan has been drawn up to aid the local headquarters to determine whom to call at the Boston headquarters on the various problems which will arise during the course of the campaign."


"4. Each headquarters will receive daily a list of the candidate's appointments for that day."


"5. Jim Kelly is in exclusive overall charge of transportation to take voters to the polls on election day. The transportation job is a most difficult and a most vital one, requiring the fullest efforts of all local headquarters...."



>>
"14. Dick Flood is in exclusive charge of supplies of stationery, campaign cards, etc. for all local headquarters. Requests for such material should be called into Flood at BOW 6130 or BOW 6131 days and evenings. All requests for such material should be cleared with Flood and with no one else."

· A typed memo, dated May 16, 1946, "For. Hon. Joseph Timilty" with the names of five leaders of the Chinese community in Boston, including Mr. Jones Moy-Wing, interpreter for the U.S. Immigration Office and president of the Chinese-American Citizen's Society of Massachusetts; Mr. Wesley Moy, Harvard and Boston University graduate and Commander of the Chinese Branch of the American Legion; and Frank Goon, the mayor of Chinatown. Joseph F. Timilty (1894-1980) was the Boston Police Commissioner from 1936 to 1943.


· Typed drafts of letters appealing to specific wards or blocs of voters, such as one signed in type by sixteen individuals that assert that "We, as Italian-Americans, who have had close association with John F. Kennedy, are fully convinced that his service to us will be completely free from racial prejudice of any sort" and several urging voters to register in May in preparation for the June 18 primary.


· A typed draft from the "John F. Kennedy Workers Committee" with a series of nine questions to potential supporters suggesting ways they could assist, including "Would you help to register voters?" "Could you hold a house party?" "Could you use your car to drive voters to the polls on election day?" "Could you do clerical work at headquarters?" and "Would you put a small 'Kennedy for Congress' sticker in the window of your home and car?"

· A handwritten tally of the number of Democratic, Republican, and Independent voters registered in Wards 1, 2, 3, and 22.

· A variety of other items, including a 48-page Location of Polling Places booklet issued by the Boston Board of Election Commissioners; two business cards for Anthony Paula, a Portuguese and Spanish interpreter; and January 1945 and January 1946 letters to Flood from Congressman Henry M. Jackson (1912-1983) of Washington, signed "Scoop."



Historical Background

When Joseph P. Kennedy Jr. tragically died in a military mission over southeastern England in August 1944, his next younger brother John F. Kennedy became the family's designated political candidate. At the urging of family patriarch Joseph P. Kennedy, former Massachusetts governor and current Congressman James Michael Curley announced that he would vacate his seat in Congress to become mayor of Boston for the fourth time in January 1946. Curley later spent five months of his term in federal prison for mail fraud.

John F. Kennedy's older brother's Harvard roommate and family friend Richard Flood later recalled that he spent about three months at Kennedy's headquarters in the Kimball Building in Boston, "doing all types of work." Many of those working on Kennedy's campaign were not political professionals, but his classmates and friends. In another headquarters in the Central Square neighborhood of Boston, according to Flood, another family friend Lem Billings had "thirty or forty young girls working over there almost every day, doing a tremendous job, getting all kinds of correspondence out." They also distributed reprints of John Hersey's article on Kennedy's PT-109 experience in 1943 that originally appeared in The New Yorker in June 1944, then in the Reader's Digest two months later.

With his father's support, John F. Kennedy won the Democratic primary by capturing 42 percent of the vote, defeating nine other candidates, and outpolling his nearest competitor by nearly two-to-one. In November, Kennedy went on to defeat his Republican opponent, Lester W. Bowen, with nearly 72 percent of the vote.





WE PROVIDE IN-HOUSE SHIPPING WORLDWIDE.
John F. Kennedy's Congressional Campaign of 1946, A
Get pre-approved to bid live on

Thu, Sep 27, 2018 2:30 AM GMT

.
Register For Auction

University Archives
49 Richmondville Avenue
Westport, CT 06880
United States
Discover Items You'll Love