Weekly Auctions of Exceptional Items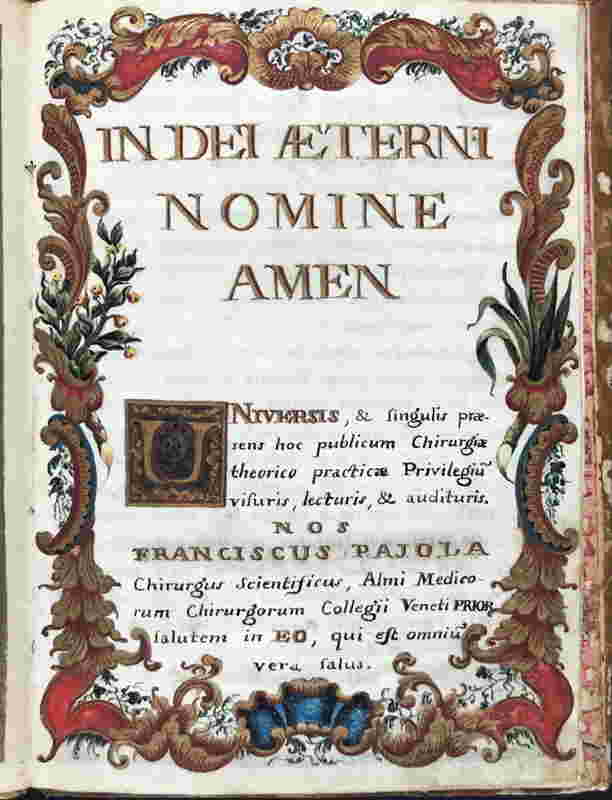 Diploma di Laurea in Medicina. PAJOLA, Francesco. Privilegio di Arte Chirurgica concesso ad Angelo Piave. Manuscript, Venice, 7 Maggio 1785

"… ac peritiam ejusdem Egregii, & Studiosi Juvenis Angeli Piave vigore Privilegiorum Collegiii nostri, auctoritate qua fungimur Nobis concessa, eidem licentiam, & potestatem concedimus, & impertimur, ut de cetero in Arte Chirurgiae hic, et ubique in toto Locorum, Terrarum, et Civitatum se exercere, ac privatim, & publice mederi possit, ac valeat … " Manuscript on vellum in 4to, 232x162 mm; Contemporary full brown calf marbled with cold blind tooling and gilt decorations, concentric linear frames alternating with gilt interweave frames, fleurons in the center of the plates, other smaller ones on the internal frames, inside covers in polychrome paper decorated with woodcut. 4 sheets in vellum, all framed with a linear gilt frame, the first white. The recto of the second sheet with wide polychrome frame with gilt illuminations and floral motifs. Initial letter with gilt ornaments on red background. Gilt incipit and names, elegant and clear handwriting in black ink, text on two sheets. Last blank sheet, with only the copyist's indication on the bottom of the gilt frame: "P. Antonio Santini de Mandato Collegii Scripsit ". Excellent condition.
Condition
The famous surgeon Antonio Pajola, assisted by the famous obstetrician Sebastiano Rizzo, Prior of the Medical School of Venice, confers the Privilege of Doctor Surgeon to Antonio Piave, from Murano, whose qualities and scholarly thesis he praises. The young scholar will be able to be a practicing physician: "Nec non eidem concedimus potestatem, & auctoritatem Annulum Aureum, ac Vestes quocumque ornatu suffultas". In the end, the autograph and signature confirmation of both experts. The document finally shows the certificate of the Venetian notary Giovanni Antonio Dall'Acqua, with his signature and seal. Francesco Pajola, 1738-1816, a pupil of Lecat, Professor of Surgical Institutions and Surgery in Venice, was famous throughout Europe for his expertise in operations; in 1804 in Vienna the Emperor praised him with a precious snuffbox with diamonds; in 1807 in Wilna, "non solo operava in presenza d'illustri professori e di altri uomini dell'arte, ma con tutta precisione e chiarezza spiegava loro il metodo che teneva nell'operare … II medico Angelo Piave di Venezia nel dedicare al nostro Pajola la sua traduzione del trattato delle malattie delle donne e dei bambini di Hamilton, tale un elogio in poche parole ne fece, da superare, credo io, ogni eloquentissimo discorso che in suo onore si potesse tessere". Sebastiano Rizzo, published in 1776 in Venice the work that became a milestone in the obstetric practice "Della Origine e dei Progressi dell'Arte Ostetricia".Cfr. M. G. Levi, Ricordi intorno agli incliti siedici chirurghi e farmacisti che praticarono loro arte in venezia dopo il 1740, Venezia, Antonelli, 1835, pp. 47-48.
Manuscript. Diploma di Laurea in Medicina. PAJOLA.
Get pre-approved to bid live on

Tue, Oct 9, 2018 9:00 AM GMT

.
Register For Auction

BADO e MART AUCTIONS
Via dei Soncin 25
Padova, 35122
Italy
Discover Items You'll Love