Weekly Auctions of Exceptional Items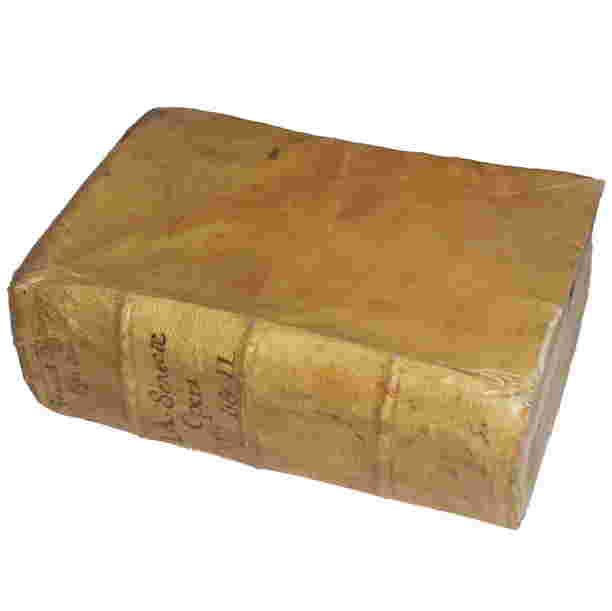 THE COMPLETE WORKS OF SENECA: THE GREATEST PHILOSOPHER OF HIS TIME
AND A FORERUNNER OF PSYCHOLOGY OF EMOTIONS

Seneca, Lucius Annaeus. Annaei Senecae tum rhetoris tum philosophi, Opera omnia ab Andrea Schotto ad veterum exemplarium fidem castigata, graecis etiam hiatibus expletis. Tomus primus [-secundus]. Quid in eo contineatur sequens pagina indicabit. Cum indicibus rerum memorabilium. Geneve: Chouet, 1636.

A thick volume in 8vo (162x104 mm), contemporary limp vellum with handwritten title on spine, pp. [16], 807, [25], for the first volume, [24], 371-910, [34] for the second volume.

Scarce Swiss edition of Seneca's collected philosophical works: the acme of Stoic philosophy and a forerunner of Psychology of Emotions.

Lucius Anneus Seneca (c. 1 BC-65 AD) was a Spanish-Roman Stoic philosopher, statesman, dramatist, and in one work humorist, of the Silver Age of Latin literature. He was tutor and later advisor to emperor Nero. He was later forced to commit suicide for complicity in the Pisonian conspiracy to assassinate the emperor; however, he may have been innocent. Works attributed to Seneca include a dozen philosophical essays (all present in this edition), one hundred twenty-four letters dealing with moral issues, nine tragedies, a satire, and a meteorological essay. His writings contain the traditional themes of Stoic philosophy: the universe is governed for the best by a rational providence; contentedness is achieved by a simple, unperturbed life in accordance with nature and the duty to the state; human suffering should be accepted and has a positive effect on the soul. He emphasized practical steps by which the reader might confront life's problems. In particular, he considered it important to confront the fact of one's own mortality. The discussion of how to approach death dominates many of his letters.

Seneca is one of the few popular Roman philosophers from the period. A recent work is showing his originality in Seneca's contribution to the history of ideas. Examination of Seneca's life and thought in relation to contemporary education and to the psychology of emotions is revealing a relevance of his thought. For example, Martha Nussbaum in her discussion of desire and emotion includes Seneca among the Stoics who offered important insights and perspectives on emotions and their role in our lives. Specifically devoting a chapter to his treatment of anger and its management she shows Seneca's appreciation of the damaging role of uncontrolled anger, and its pathological connections. Nussbaum later extended her examination to Seneca's contribution to political philosophy showing considerable subtlety and richness in his thoughts about politics, education and notions of global citizenship and finding a basis for reform minded education in Seneca's ideas that allows her to propose a mode of modern education which steers clear of both narrow traditionalism and total rejection of tradition.

Some writers regard Seneca as the first great western thinker on the complex nature and role of gratitude in human relationships.

The legacy of Seneca is immense. The early Christian Church was very favorably disposed towards Seneca and his writings, and the church leader Tertullian called him «our Seneca». Medieval writers and humanists believed Seneca had been converted to the Christian faith by Saint Paul. Dante placed Seneca in the First Circle of Hell, or Limbo, a place of perfect natural happiness where virtuous non-Christians like the ancient philosophers had to stay for eternity, due to their lack of the justifying grace (given only by Christ) required to go to heaven. He appears also in Chaucer and to a large degree in Petrarch, who adopted his style in his own essays and who quotes him more than any other authority except Virgil; in the Renaissance, printed editions and translations of his works become common, including an edition by Erasmus and a commentary by John Calvin. Ralph Waldo Emerson, John of Salisbury and others celebrated his works. French essayist Montaigne, who claimed not to have studied on Seneca and Plutarch, was himself considered by Pasquier a «French Seneca»; similarly,Thomas Fuller praised Joseph Hall as «our English Seneca».

Provenance: Erased ownership signature at title page.

References: IT\ICCU\LEKE\000133 (two only copies). OCLC, 230748831. M. T. Griffin. Seneca: A Philosopher in Politics, Oxford 1976. M. Nussbaum, The Therapy of Desire, Princeton University Press, 1996. M. Nussbaum, Cultivating Humanity: A Classical Defence of Reform in Liberal Education, Harvard University Press, 1999. E. Harpham, Gratitude in the History of Ideas, in M. A. Emmons and M. E. McCulloch, (editors), The Psychology of Gratitude, Oxford University Press, 2004, pp. 19-37.
Condition
Light brownings and minor traces of use, but a fine copy.
Buyer's Premium
25% up to

€10,000.00

22% up to

€100,000.00

19% above

€100,000.00
[Philosophy] Seneca, Opera, 1636
Get pre-approved to bid live on

Tue, Nov 27, 2018 4:00 PM GMT

.
Register For Auction

BIBLIOPATHOS Auctions
via Enrico Toti 1
Verona, 37129
Italy
Discover Items You'll Love