Weekly Auctions of Exceptional Items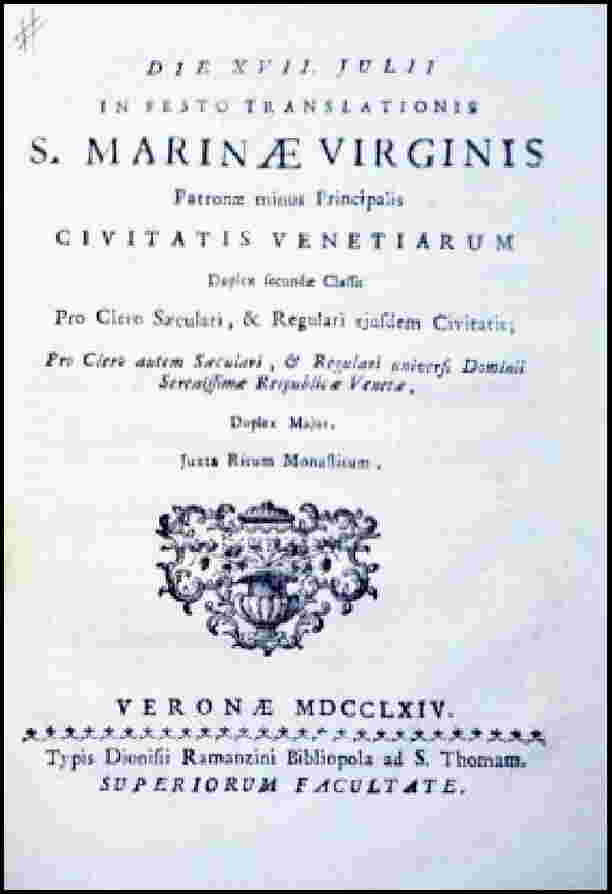 A COLLECTION OF 18th CENTURY PLAQUETTES OF SAINT'S FEASTS

Saints's Feasts. Collection of plaquettes for the ritual celebrations of the feasts of saints. [Almost no printing datas, but printed presumably in Verona, by Dionysius Ramanzini, during the 18th century].

19 plaquette in 4to (approximately 200-150 mm), blue paper binding. Latin text on one or two columns divided by a black fillet. Title-page with ornamental woodcut, some of them printed in red and black.

A scarce collection of catholic plaquettes, each regarding the celebration of the mass devoted to important festivities or renowned saints. Here is the list of the celebrations and saints involved, following the order of the pictures:

1. SEVEN HOLY FOUNDERS' FEAST DAY: AMADEUS, ALEXIS, BONIFACIUS, BONAJUNTA, HUGH, MANNETTUS, SOSTENE
The Seven Holy Founders were XIII century young merchants coming from Florence: Buonfiglio dei Monaldi, Giovanni di Buonagiunta, Amadeus degli Amidei, Ricovero dei Lippi-Uguccioni, Benedetto dell'Antella, Gherardino di Sostegno, and Alessio de' Falconieri. Before 1233 they were all associated to the "Societas Sanctae Mariae"; aware of their unworthiness before God, they decided to dedicate themselves as Servants of the Holy Virgin so that she might be with them as they stood before their Lord. According to the legend, she invited them to live together and to devote themselves to holiness, a condition to be reached by all seven, or by no one. Hence they gave to the poors all they belongings and moved to a little house on Mount Senario, some twelve miles from the town, where they lived in contemplation and extreme poverty; after some time, they accepted more associates and they founded other convents. Their order is called Servite Order, Servite Friars or Servants of Mary and is one of the most ancient Catholic mendicant orders; their mission is to spread the worship of the Virgin Mary and to preach the Gospel. In the United States the Servites are best known for their Marian shrines of our Lady of Sorrows Basilica in Chicago, where the Novena to Our Sorrowful Mother began in 1937 and the Shrine of Our Sorrowful Mother in Portland, Oregon.

2. ST. FIDELIS
Fidelis of Sigmaringen (1577-1622) was born as Mark Roy at Sigmaringen, in Germany. He studied law and philosophy, and he practiced law as a counselor in Alsace. However his ideals were in conflict over his work: that's how he entered in Capuchin friars, to help the lowest and the poor; the guardian gave him the Latin religious name of "Fidelis", meaning Faithful, alluding to the Book of Revelation. At the end of the course of theology, he was employed in preaching, and appointed guardian of the Capuchin Convent of Weltkirchen. He became famous for some anti-Calvinist and anti-Reformation pamphlets; for this reason the Congregation of the Doctrine of the Faith, which had to extend Catholic influence and fame, commissioned Fidelis to predicate among the Grisons. On April 24th, he was preaching in the Church at Seewis with the purpose of reconverting the people from Calvinism to Catholicism, when the town was invaded by the Austrian Calvinist troops. He ran out of Seewis, and he returned alone to Grusch, but on his way he was surrounded by twenty soldiers and murdered.

3. ST. GEORGE MARTYR
Saint George was born approximately in 278 from a Christian noble family in Syria. According to the tradition, his father was a Roman army official, who died when George was only fourteen, and immediately after his mother followed him. For this reason George went to Nicomedia, presenting himself to apply as a soldier in service to Diocletian, who welcomed him. In 302, Diocletian issued an edict that soldiers had to offer a sacrifice to Pagan gods, and every Christian soldier should be arrested: considering that George was Christian, he was arrested. He should have made a sacrifice to the Pagan gods, and declared his worship to them: but George claimed himself to be a Christian, not accepting any gift offered by Diocletian, who wanted to save him. After various tortures, George was executed by decapitation in 202.

4. ST. CAMILLUS DE LELLIS
Camillus de Lellis was born in the Kingdom of Naples, at Bucchianico in the XVI century. He joined the Venetian army when he was very young and, after some years and the disbanding of his regiment he became first a nurse for incurables, and later the director of the hospital in Rom where he used to work. He established the Camillians, i. e. the Order of Clerks Regular Ministers to the Sick: they would assist soldiers on the battlefield and in plague cases. He also formed the "Brothers of the Happy Death", giving assistance to plague victims and sayed to be responsible for the defeat of the disease in Rome for a certain time: this gained Camillus the title of "Patron Saint of Rome". He died in 1614. He was beatified by Pope Benedict XIV in 1742, and canonized by him in 1746.

5. FEAST OF THE SACRED HEART OF JESUS
The Sacred Heart of Jesus is the Christian worship to Jesus' physical heart as representation of His incommensurable love for People: this devotion underlines the central Christian idea of loving and adoring Jesus. Its origin derived from Marguerite Alacoque, a French nun who said she acquired this devotion from Jesus himself in a vision; before her, traces can be found of this veneration also in medieval Catholic mystical tradition. The Sacred Heart is closely associated with Acts of Reparation to Jesus Christ, prayers for the repair of insults and blasphemies against the Holy Name of Jesus; it is depicted as a shining bleeding heart, surrounded by a thorns' crown and surmounted by a cross (these two final elements remember Jesus' passion and death). This feast had been celebrated probably for the first time in 1672 in France, and became universal in 1856 for the Catholic Church; it is celebrated 19 days after Pentecost, and it always falls on a Friday. In Tyrol is tradition to light a bonfire, the Herz-Jesu-Feuer, on mountains to commemorate Sacred Heart.

6. ST. JOSEPH CALASANZ
Jose Calasanz was born at Peralta de la Sal (Kingdom of Spain) in 1557; he received a good education in the family and, after studies, in 1583 he was ordained priest. In 1586 he moved to Rome hoping to raise his ecclesiastical career; Cardinal Colonna became his protector, and Joseph was chosen as theologian and instructor to his nephew. Thanks to this, he decided to devote himself to help poor children in obtaining an education: he joined the Confraternity of Christian Doctrine, gathering boys from the streets and bringing them to school. In 1597 he opened in Rome the first free public school in Europe. In 1600 he founded the "Pious Schools", to enhance Church's work in helping poor children; he received contributions from Pope Clement VIII and aid from some Roman rich families. In 1617 Pope Paul V approved his "Congregation of the Pious Schools", the first religious order born to teaching purposes; his school's model was expanded across Europe. Being very interested in mathematics and science and wanting them to be taught in his schools, Calasanz had frequent contacts with Galileo Galilei and the philosopher Tommaso Campanella. Both of them became close friends of him, and the members of Calasanz' Congregation were sent to sustain and support them even in their worst periods, which caused him many problems with the Church. He died ninety-year-old in Rome; he was beatified in 1748 and canonized by Clement XIII in 1767. Pope Pius XII declared him to be the UNIVERSAL PATRON OF ALL CHRISTIAN POPULAR SCHOOLS IN THE WORLD.

7. BLESSED LAWRENCE OF SUBIACO
Blessed Lawrence of Subiaco, called Lorenzo Loricato, was an Italian man living in the thirteenth century who had killed a person by accident: to atone his sin, he spent his whole life imposing to himself an existence of extreme austerity and penitence, and living as a hermit on a mountain near Subiaco. His fame of holiness recalled many people that, on the path to his cave, recovered miraculously. He died in 1243.

8. ST. PETER ACOTANTO
Petrus Acotanto was born about in 1110 in Venice, from noble and known family. There aren't reliable notices about his life, but there is a shared general idea about his behavior: it is said that he wanted to dedicate his life to Christ, as a monk; but after the death of his father, he returned home to help his mother. Probably, he married Maria, a girl from Crete; together they watched carefully gospel principles, isolating themselves from the material world, and practicing a life of charity and altruism. He likely went alone in pilgrimage to Jerusalem for about three years, as his father did; on his return he found his wife dead. He spent the his last years near S. George's monastery and he died in 1187.

9. ST. ROCCO/ROCH
Roch de la Croix was born at Montpellier around 1358, son of the governor of the city. The legend recounts his birth as a miracle, because he was marked with a red cross; from an early age he manifested devoutness and faith. When he was twelve his parents died: he distributed all his goods to the poor and went on pilgrimage to Rome promising to preserve his anonimity; he arrived in Italy during an epidemic of plague, and he devoted himself to the cure of the infected (it is said that he cured some people just with prayers and the sign of cross). In Rome he cured a cardinal who introduced him to the Pope. Returning to Montpellier, he became himself a plague victim and, in order to avoid further infections he hide himself in the woods, where it is said that a dog brought him daily food; Saint Roch managed to defeat the disease, and left again. Near Voghera he was accused to be a spy and he spent five years in prison; he died in 1327 without revealing his name, to achieve eternal glory.

10. ST. JOSEPH OF CUPERTINO
Saint Joseph of Cupertino was born in 1603 in Cupertino from a poor family. During his childhood he was tormented by a serious disease, but he recovered completely thanks to the grace given to him by Our Lady of Grace of Galatone. Because of illness, he didn't attended school: he wanted to be ordained priest, but his lack of education prevented him from admittance. Aspiring to divine protection and being very determined, he began to study by himself, passed the exam and in 1628 he was ordained Franciscan priest. For seventeen years he lived in the Sanctuary of Our Lady of Grottella, but because of the miracles related to levitation attributed to him, he was relegated to a convent of Capuchin friars by Inquisition. In 1657 he died a Osimo and he was canonized by Clemens XIII in 1767. HE IS RECOGNIZED AS THE PATRON SAINT OF AIR TRAVELERS, AVIATORS, DUE TO HIS PRODIGIOUS FLIGHTS, AND OF PEOPLE WITH A MENTAL HANDICAP, TEST TAKERS AND STUDENTS, BECAUSE OF HIS STRONG APPLICATION TO STUDY IN SPITE OF HIS DIFFICULTIES. The US city of Cupertino, where the Apple company has its headquarters, was named after him.

11. ST. JANE MARIE BONOMI
Jane Marie Bonomi was born in 1606 in Asiago, a small mountain town in the North of Italy, from a noble and rich family. She spent her childhood in St. Clare's Monastery of Trent. In 1622 became a nun of St. Jerome's Monastery of Bassano del Grappa and in 1655 she was elected abbess until 1670, when she died. She was beatified in 1783 by Pope Pius VI, as an awarding for many recognized miracles.

12. BLESSED JAMES SALOMONI
Blessed James Salomoni (Venice, 1231-Forlì, 1314) was a priest of the Order of Preachers, more commonly known as Dominicans. He was born from a Venetian family; at the age of seventeen he became a Dominican monk and he was later appointed prior of several places among which Forlì, a city of central Italy, where he spent the rest of his life. Due to his renowned charity, he was called, and he's still known as the "father of the poor", but he also gained fame as a prophet. He was the person who received the confessions of the assassin of Peter of Verona, Carino of Balsamo, who was later canonized in spite of his reproachful acts thanks to the spiritual growth owing to the invaluable assistance of Salomoni. He died in 1314, and in 1622 Pope Gregory XV approved his cult for the Dominicans.

13. ST. JULIAN
The story of Saint Julian is necessarily connected with that of his wife, Saint Basilissa; they are both martyrs. Son of a known family of III century Roman Empire, Julian received a good education; at eighteen his parents decided to marry him to the young Basilissa, with the promise of never consummating they marriage. After their parents' death, to fulfil their vow, they founded two monasteries, one for men and one for women; when Diocletian's persecutions began, Basilissa and her mates died mysteriously, Julian was imprisoned by the governor Marciano, but he was able to convert Celso and Marcianilla, son and wife of the governor, who later suffered decapitation with other Catholics; Julian died the very same day.

14. ST. EUSTACE
Blessed Eustochio, born as Lucrezia Bellini in Padua (1444), was daughter of a nun of the Benedictine Monastery of St. Prosdocimo and of Bartolomeo Bellini. Since the age of four and for the rest of her life, she was believed to be possessed by the devil in her body, but not in her mind; when she was seven she was entrusted to the Benedictine Monastery, and she proved to be very devoted to the Virgin Mary and to Saint Luke. In 1461 she became a nun of the Benedictine Order with the name of Eustochio, and the demon, who had left her peaceful for a while, came back pushing her to commit thoughtless acts; the monastery's abbess became sick, and Eustochio was accused of witchcraft. She spent her life in this Monastery, absorbed in prayer and meditation on the Passion of Jesus; she wanted to atone for the sin committed by his parents within those very walls. She died in 1469. Eustochio is the only known example of a faithful nun come to holiness, even if possessed by a demon during all her lifetime. It is said that four years after the death her body was exhumed from the grave, which began to be filled with pure miraculous water.

15. ST. JANE FRANCES DE CHANTAL
Saint Jane Frances de Chantal was born in 1572 in Dijon (France), daughter of the Parliament of Burgundy's President. She married the Baron of Chantal, but she was widowed at the age of 28 and she had to grow up her four children; her strong faith helped her to cope with her husband's death. A few years later she met Saint Francis de Sales, bishop of Geneva, at the Sainte Chapelle in Dijon: he became an important figure in her life, and inspired her to start the Order of the Visitation of Holy Mary, a religious congregation for women into which she entered as soon as she was ordained. From 1618 to 1622 she directed the monastery of Paris, one of those she had raised. In her life she wrote exemplary letters of spiritual direction. She died in 1641 at the Visitation Convent in Moulins. She was the grandmother of the French letter-writer Madame de Sevigne. She was beatified by Benedict XIV in 1751 and canonized by Clement XIII in 1767.

16. ST. JEROME EMILIANI
Jerome Emiliani was born in 1486 in Venice, son of a noble family. He joined the army and in 1508 he defended Castelnuovo against the League of Cambray. In 1511, after having been prisoner and liberated, he made a pilgrimage to the shrine of Our Lady of Treviso. In 1517 he was appointed "podestà" (Venetian magistrate) of Castelnuovo, but after a short time he returned to Venice in order to supervise the education of his nephews; all his time was devoted to charity and study. In 1528 he built a house near the church of St. Rose, to help plague victims and orphans; after that, he erected orphanages and hospitals in Verona, Brescia and Bergamo. With the help of two priests, Alessandro Besuzio and Agostino Bariso, he founded a religion society in Somascha, and his members became known as Somaschi; their principal work was to attend orphans, poor and sick. St Jerome contracted a disease at Bergamo and died at Somasca in 1537. He was beatified by Benedict XIV in 1747 and canonized by Clement XIII in 1767.

17. ST. LAWRENCE GIUSTINIANI
Lorenzo Giustiniani was born in 1381 in Venice, member of a well-known family. In 1404 he started the congregation of the canons of St. George in Alga, with two Venetian aristocrats: Antonio Correr and Gabriele Condulmer, who was after ordained Pope Eugene IV; in 1424 Lorenzo was appointed general of the Order, and he was very zealous in his work. In 1433 he was made Bishop of Castello by Pope Eugene IV and, when in 1451 Pope Nicholas V united the Diocese of Castello with the Patriarchate of Grado, which was identified with Venice, Lorenzo became the first Patriarch of Venice, a title he held until his death, in 1456. He was canonized in 1690 by Pope Alexander VIII.

18. ST. JONH OF KANTY
Saint John of Kanty was born in 1390 in Kety, a small town in the diocese of Krakow, Poland. After years of university in Krakow, he graduated bachelor, master and doctor, and he was also ordained priest. He spent his life between teaching theology and the university and preaching, but he was also renowned for his physics studies together with Jean Buridan, forerunner of Galileo's theories. St John was noted for his good humor, humility and charity. He made four pilgrimages to Rome (on foot), and one to Jerusalem, with the intent of suffering martyrdom by the Turks. He died in 1473. He is the patron of Poland and Lithuania; Pope Clement X beatified him in 1676, while Clement XIII canonized him in 1767. A large amount of churches and schools founded by the Polish emigrants in the USA are named in his honor.

19. ST. MARINA
Saint Marina was born in Bithynia (ancient Roman province) in 725. His father Eugene, after the death of her mother, decided to live in a convent; in order to stay with him, Marina pretended to a be a boy, named Marino, was ordained monk and remained in the convent also after the death of her father; during a voyage, she slept with her brothers in a inn, but the innkeeper's daughter accused Marino of getting her pregnant. She kept silent and was expelled from the convent, having thus to grow up the child, named Fortunato. After three years she was readmitted in the convent thanks to the intercession of the monks, but a little after, in 740, she died due to the life of privation she had had. After her death, her real sex was discovered and with that came the truth about the past. Marina had showed great strength of will and fierce faith, and for this reason she was acclaimed by her brothers the monks as a saint. Her worship is held both by Catholic and Eastern Orthodox Church.
Buyer's Premium
25% up to

€10,000.00

22% up to

€100,000.00

19% above

€100,000.00
[Saints' Feasts] 19 plaquettes, 18th century
Get pre-approved to bid live on

Tue, Nov 27, 2018 4:00 PM GMT

.
Register For Auction

BIBLIOPATHOS Auctions
via Enrico Toti 1
Verona, 37129
Italy
Discover Items You'll Love