Weekly Auctions of Exceptional Items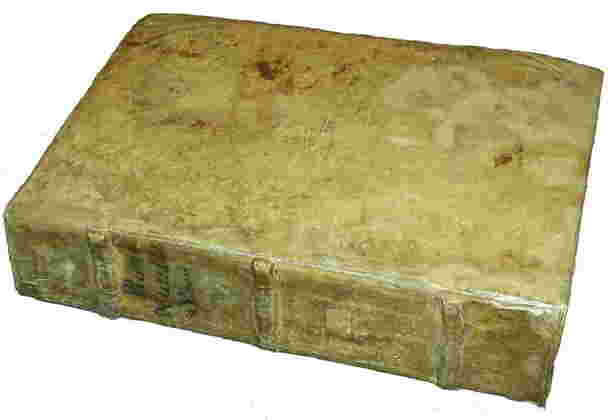 PLUTARCHUS' "PARALLEL LIVES"
PORTRAITS AND GOSSIP ABOUT THE VERY IMPORTANT PERSONS IN ROME AND GREECE

Plutarchus. Plutarchi Chaeronaei Graecorum Romanorumque illustrium vitae, post omnium hucusque impressiones diligentissima castigatione restitutae.Venice: [Vittore Ravani], 1538.

Folio (330x202 mm), contemporary stiff vellum, ff. [20], 357, [1].Woodcut device at title-page, woodcut headletters.

Fine edition of Plutarchus' "Parallel Lives of the most important Greek and Roman persons", the most important classic biographical and anecdotical work (sometimes plenty of funny gossip) about the great personalities of the past: Julius Caesar, Pericles, Alexander the Great, Tiberius, Pompey, Mark Anthony, Romulus, Cicero and many others.

It is a kind of who's who of ancient times: the title "Parallel lives" comes from the will of the Greek historian to write a series of portraits of famous Greek and Romans ar ranged in pairs to illuminate their common virtues and vices. The surviving Lives contain 23 pairs, each with one Greek Life and one Roman Life, as well as four unpaired single Lives.

Content: As is explained in the opening paragraph of his Life of Alexander, Plutarch was not concerned with history so much as the influence of character, good or bad, on the lives and destinies of men. Whereas sometimes he barely touched on epoch-making events, he devoted much space to charming anecdote and incidental triviality, reasoning that this often said far more for his subjects than even their most famous accomplishments. He sought to provide rounded portraits, likening his craft to that of a painter; indeed, he went to tremendous lengths (often leading to tenuous comparisons) to draw parallels between physical appearance and moral character. In many ways, he must be counted amongst the earliest moral philosophers.

Some of the Lives, such as those of Heracles, Philip II of Macedon and Scipio Africanus, no longer exist; many of the remaining Lives are truncated, contain obvious lacunae or have been tampered with by later writers. Extant Lives include those on Solon, Themistocles, Aristides, Pericles, Alcibiades, Nicias, Demosthenes, Pelopidas, Philopoemen, Timoleon, Dion of Syracuse, Alexander the Great, Pyrrhus of Epirus, Romulus, Numa Pompilius, Coriolanus, Theseus, Aemilius Paullus, Tiberius Gracchus, Gaius Gracchus, Gaius Marius, Sulla, Sertorius, Lucullus, Pompey, Julius Caesar, Cicero, Cato the Younger, Mark Antony, and Marcus Junius Brutus.

Life of Alexander: Plutarchs' Life of Alexander, written as a parallel to that of Julius Caesar, is one of only five extant tertiary sources on the Macedonian conqueror Alexander the Great. It includes anecdotes and descriptions of events that appear in no other source. Plutarch devotes a great deal of space to Alexander's drive and desire, and strives to determine how much of it was presaged in his youth. He also draws extensively on the work of Lysippus, Alexander's favourite sculptor, to provide what is probably the fullest and most accurate description of the conqueror's physical appearance.

Much, too, is made of Alexander's scorn for luxury: "He desired not pleasure or wealth, but only excellence and glory". This is most true, for Alexander's tastes grew more extravagant as he grew older only in the last year of his life and only as a means of approaching the image of a ruler his Persian subjects were better accustomed to - thus making it easier for him to succeed in uniting the Greek and Persian worlds together.

Life of Caesar: This is the main account of Julius Caesar's feats by ancient historians. Plutarch starts by telling us the audacity of Caesar and his refusal of dismissing Cinna's daughter, Cornelia. Other important parts are these containing his military deeds, accounts of battles and Caesar's capacity of inspiring the soldiers.

In the final part of this Life, Plutarch counts Caesar's assassination, and several details. The book ends on telling the destiny of his murderers, and says that Caesar's "great guardian-genius" avenged him after life.

Legacy: The Romans loved the Lives, and enough copies were written out over the centuries so that a copy of most of the lives managed to survive to the present day. There are translations in Latin, English, French, German, Italian, Polish and Hebrew. Plutarch's writings had an enormous influence on English and French literature. Plutarch's Lives were translated into English by Sir Thomas North in 1579. Shakespeare in his plays paraphrased parts of Norths translation of selected Lives, and occasionally quoted from them in verbatim. James Boswell quoted Plutarch on writing lives, rather than biographies, in the introduction to his own Life of Samuel Johnson. Other admirers included Ben Jonson, John Dryden, Alexander Hamilton, John Milton, and Francis Bacon, as well as such disparate figures as Cotton Mather and Robert Browning.

Plutarch remains embedded in the popular ideas of Greek and Roman history. One of his most famous quotes was:

"The world of man is best captured through the lives of the men who created history".

Lucius Mestrius Plutarchus (c. 46-120 AD) better known as Plutarchus, was a Greek historian, biographer, essayist. He studied mathematics and philosophy at the Academy of Athens, then travelled widely in the Mediterranean world, including central Greece, Sparta, Corinth, Patras, Alexandria, and naturally Rome, where he took up Roman citizenship. For many years Plutarch served as one of the two priests at the temple of Apollo at Delphi, the site of the famous Delphic Oracle. By his writings and lectures Plutarch became a celebrity in the Roman empire, yet he continued to reside where he was born, and actively participated in local affairs, even serving as mayor. At his country estate, guests from all over the empire congregated for serious conversation, presided over by Plutarch in his marble chair.

Provenance: 1. Contemporary owner's signature Joannis Petri Plantini at title-page. 2. 18th century inscription at first fly-leaf: Angela Margaritta Rondi figlia dello avocato Rondi di Biella è tutta di Gesù ("Angela Margaritta Rondi daughter of the lawyer Rondi from Biella belongs to Jesus").

References: CNCE 47466. OCLC, 36139488. T. A. Wardman, Plutarch's "Lives", Elek, 1974, p. 274. D.A. Russell, Plutarch. Duckworth Publishing, 2001. C. Pelling, Plutarch and History. Eighteen Studies, London 2002. T. Duff, Plutarch's Lives: Exploring Virtue and Vice, Oxford, University Press, 2002.
E. A. J. Honigmann, «Shakespeare's Plutarch», in Shakespeare Quarterly, 1959, pp. 25-33.
Condition
Minor traces of use, but a fine and unsophisticated copy.
Buyer's Premium
25% up to

€10,000.00

22% up to

€100,000.00

19% above

€100,000.00
[Greek History, Celebrities] Plutarchus, 1538
Get pre-approved to bid live on

Tue, Nov 27, 2018 4:00 PM GMT

.
Register For Auction

BIBLIOPATHOS Auctions
via Enrico Toti 1
Verona, 37129
Italy
Discover Items You'll Love