Weekly Auctions of Exceptional Items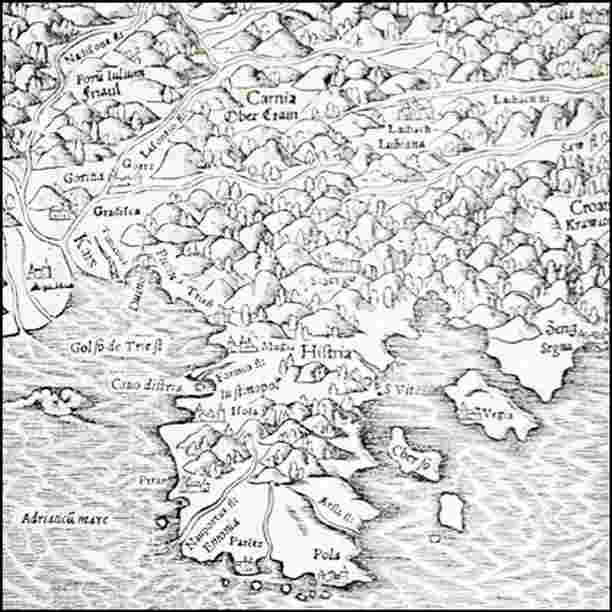 FIRST EDITION OF PICCOLOMINI'S COLLECTED WORKS ILLUSTRATED WITH GEOGRAPHICAL WOODCUTS BY SEBASTIAN MÜNSTER

PICCOLOMINI, ENEA SILVIO (POPE PIUS II). Aeneae Syluii Piccolominei Senensis, [...]opera quae extant omnia, nunc demum post corruptissimas editiones summa diligentia castigata & in unum corpus redacta, quorum elenchum uersa pagella indicabit. His quoque accessit Gnomologia ex omnibus Syluij operibus collecta, & Index rerum ac uerborum omnium copiossimus. [at colophon:] Basileae, per Henrichum Petri, mense Augusto MDLI [Basel, Heinrich Petri, 1551].

Folio (325x196mm), full calf binding, five raised bands spine with gilt fillets and floral decorations in an elegant rectangular shape, name of the author printed in gold to the second compartment, pp. [44, the last blank], [68], 1034, [2, blank with the exception of the printer's device at the verso], [30, lacking the last leaf, blank]. Roman, Greek and Italic type, text in Latin.

Extremely scarce first edition of the collected works of Pope Pius II, illustrated with geographical woodcuts by Sebastian Münster and headletters by Hans Holbein.

The work includes De gestis Basileensis concilii (1440), Historia de duobus amantibus (1444), De liberorum educatione (1450), Historia Bohemica (1458) and Cosmographia (Historia de Europa, Historia de Asia) (1458-1461). The geographic treatises are enriched by 19 partly full page woodcut maps. Printer Heinrich Petri's device to the title page and last leaf of the main work. Superb woodcut initials.

Piccolomini's Opera Omnia consists of an interesting collection of some of his most popular literary works. The present edition includes, among a selection of papal letters organized in the Pontificis epistolarum liber, De gestis Basileensis concilii (Facts of Basel's council, 1440), Historia rerum ubique gestarum locorumque descriptio, also known as Cosmographia (1458-1461), Historia Bohemica (History of Bohemia, 1458), De liberorum educatione (On the education of the children, 1450) and Artis rhetoricae praecepta (Rules of the rhetoric art, 1456).

The Epistole (Letters), collected by Pius II himself during his life, are a very rich source of historical information about the events and historical figures of the past and his contemporary time. Though Pius II was not an eminent scholar "his Latin was sometimes incorrect and he barely knew Greek" his writings have a defined literary quality and are considered vivid and accurate witnesses of the time's spirit.

Definitely worth of attention is his De gestis Basileensis concilii (1440), a narrative of the turning point in the affairs of the Council of Basel written by Piccolomini during his conciliar period. It provided and important contemporary account of the personalities and principles involved in the election of the anti-pope Felix V (1383-1451), of whom Piccolomini was once secretary. A few years later, in 1450, he withdrew his original thesis publishing De rebus Basileae gestis istante vel dissoluto concilio («Facts of Basel during and after the council») and issuing, once pope in 1460, the Execrabilis (execrable) papal bull.

Without any doubt, the most exquisite work in this Opera Omnia is Cosmographia (1458-1461), a geo-political and ethnographical description of Asia and Europe. Piccolomini structured the contents in three volumes: De ritu, situ, moribus et conditione Germanorum, De Europa and De Asia, the former not supposed to be included in this edition. The last two treatises, which are included in the 1551 Opera Omnia and contain almost twenty detailed geographical woodcuts, are the result of Piccolomini's trips and humanistic attitude. Such a high interest in geography and history was an innate feature of his spirit and humanist mind, enriched with a great biography signed by diplomatic and international tasks.

In Historia Bohemica (1458), the most read literary work in Germany at that time, Pius II analyzed the conditions of the Vatican, of Italy and Europe together with their difficulties and potentialities. He also claimed that the Church had a central role, as it was the only true unifying link between the nations in a season where Christianity was shaken by political and religious dissolutions. It also provided an eloquent profile of the Bohemian political and ecclesiastical authorities of the time, not mentioning the religious situation in Bohemia. The religion was oppressed, the priests were killed, the churches were destroyed: they all lived sine fide, sine bonis moribus, in latrociniis, in adulteriis, in omni sporcitia (with no religion, with no common sense, among thieves and adulterers, in any kind of filth), carrying on a rebellion adversus potentissimos reges, innumerabiles populos, peritissimos duces, structissimos exercitus (against the most powerful kings, countless peoples, valiant leaders and great armies) (Historia Bohemica).

The Historia de duobus amantibus (1444) is one of the earliest examples of epistolary novel, full of erotic imagery. The novel, set in Siena, deals with the love story of Lucretia, a married woman, and Euryalus, one of the men waiting on the Duke of Austria. After an uncertain beginning, in which each is in love but unaware that it is reciprocated, they begin a correspondence, which takes up much of the rest of the novel. Historia de duobus amantibus is considered one of Piccolomini's best literary efforts considering the psychological analysis of the characters, the environment's descriptions and the fairly correct Latin. It was a real "˜best seller" of the time, as it was edited 27 times in the 15th century only - not mentioning its translations in several languages including vulgar.

In De liberorum educatione (1450), Piccolomini addressed to the young Hungarian king Ladislao Postumo (1440-1457) " who sought his advice in matter of education - and reformulated the pedagogical theories of the first humanists under a rhetorical, formal and aristocratic point of view. Amongst various suggestions, Piccolomini stressed the importance for a young cultivated man to learn how to express ourselves with distinction, with style and manner worthy of our subject.

Artis rhetoricae praecepta (1456), although transmitted under the name of Pius II and later included in his Opera omnia, is in fact a work by the humanist Albertus de Eyb (1420-1475), and may be taken as a first version of the Margarita poetica (1459) (see, ISTC number ie00185400).

ENEA SILVIO PICCOLOMINI (1405-1464), 210th pope of the Roman Catholic Church, is also remembered as a famous humanist. Born in Siena, he immediately showed an outstanding intelligence and started his studies in law, first in his hometown and later in Florence. At the beginning of his career he worked as a professor but was then asked to move to Basel as the secretary of some lords of the place, like the Bishop Capranica (1400-1458). In Basel he had the opportunity to attend the local Council, where he gave proof of his abilities in rhetoric and politics. In 1435 Cardinal Albergati (1373-1443) sent him on a mission to Scotland, of which Piccolomini left an interesting report. Making the most of his permanence abroad, he visited England and Scotland. He then moved to the Court of Wien, where he was crowned poet laureate of the Holy Roman Empire by Frederick III. During his flashing diplomatic career in the Church environment he never abandoned his intense literary production, which proved to be not at all ascetic, but delightfully mundane, quite similar to the libertine writings dealing with love adventures and letters. Piccolomini himself was once a libertine gentleman, a man of contemporary world, humanist and literate and was able to adapt to every office and circumstance. However in 1447, at the age of forty years, he undertook an intense approach towards the Catholic Church. After the death of Callisto III in 1458 he was unexpectedly elected pope under the name of Pio, which he chose as a tribute to Virgil's Enea (whose appellative was Pius), not as homage to pope Pius I. Once embraced his new religious career, Piccolomini drastically denied his humanistic past by saying "˜Rigettate Enea ed accogliete Pio II" (Forget Enea and welcome Pius II). From that moment on, he interested himself only with the Church's matters, fed on the pure apostolic faith. He also engaged himself in the preservation of his glory for posterity and carried on a sort of personalization of the power, which was not that far from the Borgia's one. It did not take too much before the figure of the "˜king-pope" showed up. However, Pius II proved to be a clever and wit pope, who understood the conditions that allowed to the maintenance of his monopoly over the spiritual faith. His ideas were liberal and forward-looking and his personal interests almost never influenced his decisions. One of Pius II's most important actions, as well as a leitmotiv of his pontificate, was that of establishing a congress in order to push all the Christian kings and emperors to a common action against the Ottoman Turks. Led by Mohammed II, they were about to conquer the entire Byzantine Empire after having defeated Constantinople. Facing a general indifference of the European crowned heads towards his new crusade, Pius II wrote and spread a long letter to the Sultan, Mohammed II, where he offered him the title of Roman Emperor (which nobody but him was worth of) once converted to the Catholic faith. The Turk Sultan never replied back. On the 18th June 1464, Pius II left for Ancona, aiming to lead the crusade himself but he died on the 14th August and the strongly sought march failed miserably. Firstly buried in the Chapel of Saint Gregory the Great, his body was later moved to the Basilica of St. Andrew of the Valley. His monument and sarcophagus remain, but his body was lost during a renovation work in the 18th century.

Enea Silvio Piccolomini, colourful and remarkable in his papal vest, was also an interesting historical figure. His behaviour proved to be extremely versatile, reflecting the tendencies of his time. He easily moved from the status of literate to that of humanist, from diplomat to pope using his chameleonic qualities. He was a prolific and versatile writer with an outstanding intellectual strength. In his writings he showed his charming personality, first divided between the medieval and the modern spirit, melted together till the latter got the upper hand.

SEBASTIAN MÜNSTER (1489-1552), was one of the most influential cartographers of the 16th century, executed for this work detailed xylographic maps of Tartaria, Friesland, Holland, Cyprus, Europe, Croatia, Austria, Poland with European Russia, East Prussia, Northern Germany, Denmark, Bohemia, Hesse, Franconia, Baveria, Great Britain, Spain, Hungaria, and Turkey.

Provenance: I. Handwritten note in brown ink stating ex veteri biblioteca domini Bannonio («from Bannonio's ancient library») at title-page. II. Underlined passages at some pages and some contemporary handwritten marginal annotations. III. Blue round stamp stating ". Convent Augustin ab Assumptione apud Lovanienses". IV. Second blue round stamp stating "Saint Augustin Lormov". V. Rectangular paper label on paste-down stating "Ex Bibliotheca P.P.C. Lammens".

References: Adams P 1333; VD 16 P 3093; BMSTC, German books, 700; Ebert 148; Heitz/Bernoulli 76 (for the printer's device); Butsch I, plate 61 (for the printer's device and the initials by Hans Holbein).
Condition
Few isolated ink stains, minor damages to the lower margins and few marginal traces of dump; overall, a fine copy.
Buyer's Premium
25% up to

€10,000.00

22% up to

€100,000.00

19% above

€100,000.00
[Cosmography, Explorations] Piccolomini, 1551
Get pre-approved to bid live on

Tue, Nov 27, 2018 4:00 PM GMT

.
Register For Auction

BIBLIOPATHOS Auctions
via Enrico Toti 1
Verona, 37129
Italy
Discover Items You'll Love