Weekly Auctions of Exceptional Items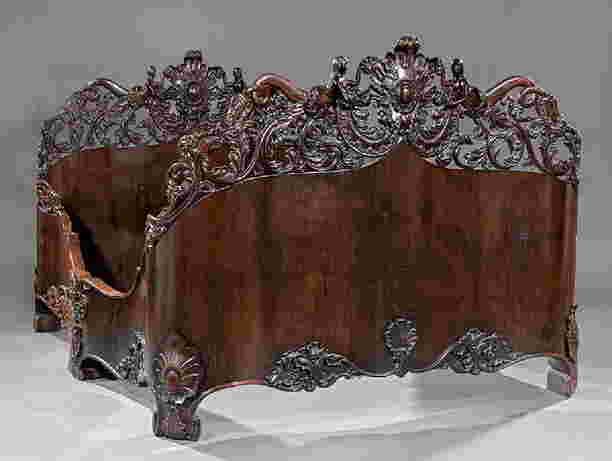 Very Rare American Rococo Carved and Laminated Rosewood Bedstead, c. 1850-1860, attr. to John Henry Belter, New York, serpentine-form reticulated phoenix and foliate motif headboard centered by an acanthus medallion flanked by mermaids, conforming rails and foot board, crest of foot board is carved on the reverse with a diaper-pattern medallion, cabochon-decorated scrolled feet; together with custom box-spring, h. 49 in., l. 78 in., w. 61 in. Note: Accommodates double mattress Provenance: Estate of M. Qvistgaard-Petersen, Palmer Ave., New Orleans; Morton's Auction, New Orleans, Oct. 1987; Estate of Gordon and Vera Noakes, Detroit, MI. Note: The stunning and ornately carved bed offered here is directly related to a patent filed by John Henry Belter in 1856. The U.S. Patent No. 15552 features a bed design showing a serpentine two-part bedstead with an elaborately scrolled headboard and footboard, nearly identical to the present lot. The patent illustration also shows Belter's signature seven-layer lamination and the corresponding patent specification text written by Belter explains his intricate design process. Interestingly, Belter states within the patent text that the bed was constructed to be easily taken apart without the use of tools, which are "an evil more particularly apparent when it becomes necessary to separate the parts very hurriedly in case of a fire."
A superb example of Belter's figural carvings, the crests of this bed are surmounted by whimsical mermaids and fanciful phoenix heads are placed among the crest foliage. A close examination of the mermaid faces shows the same distinctive features found on other documented Belter figures, including the maiden and cupids on an étagère from the Service Collection of Grant Oakes and a well-known parlor suite that features carved busts of Shakespeare, Chaucer, Dante, Virgil, George Washington, Thomas Jefferson, and Benjamin Franklin.
Ref.: United States Patent and Trademark Office, Patent #US000015552. patft.uspto.gov. Accessed October 18, 2018; Dubrow, Eileen and Richard. American Furniture of the 19th Century, 1840-1880. Pennsylvania: Schiffer Publishing, 1983, pp. 110, 122, 148-150, 155.
Carved and Laminated Rosewood Bedstead, Belter
Estimate

$15,000

-

$25,000
Nov 17, 2018

Neal Auction Company
4038 Magazine Street
New Orleans, LA 70115
United States
Discover Items You'll Love