lots of lots
Welcome to the world's largest marketplace for fine art, antiques & collectibles.
580: French brass carriage clock with beveled glass, fa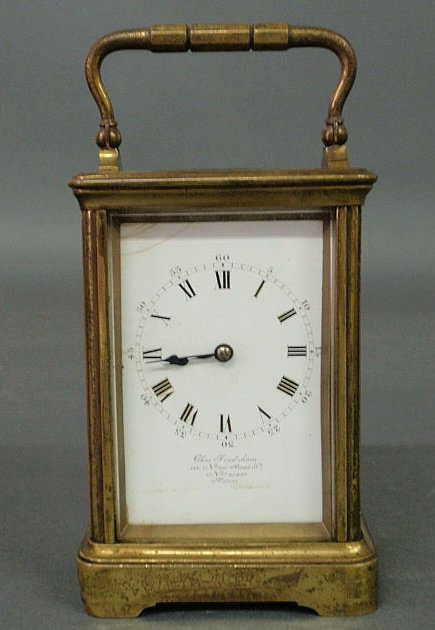 See Sold Price
Don't Miss Your Next Treasure.
Set up a search alert to hear when Brass Carriage Clocks items arrive.
Auction ended on September 12th, 2009 UTC
580: French brass carriage clock with beveled glass, fa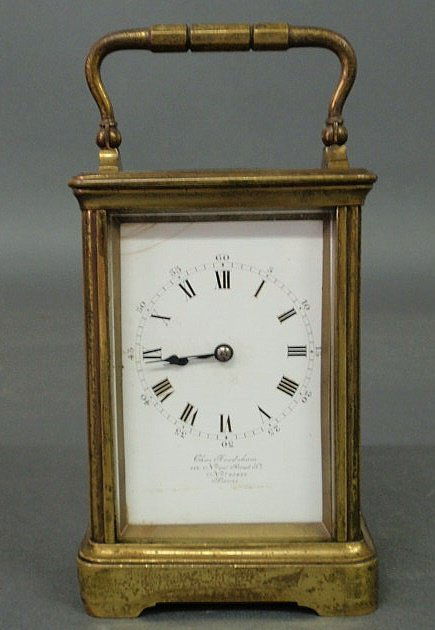 French brass carriage clock with beveled glass, face signed "Chas. Frodsham & Co". 5"h.x3.25"w.x3"d.
Buyer's Premium
18% up to

$1,000,000.00

18% above

$1,000,000.00
Shipping
Buyer Pays Shipping Cost- QUOTES CANNOT BE PROVIDED BY THE AUCTION HOUSE- ALL SHIPPING IS OUTSOURCED. A list of suggested shippers, Our UPS Store information (a 20% discount on packing is extended by our UPS Store to our customers) and for more detailed information, please see Terms Conditions, Section 6. Items are removed from the auction site after the last session ends and returned to our warehouse at 1041 W. Bridge St., Phoenixville, PA 19460 and will be subject to a removal fee of 25 per lot for furniture and lareger items and 10 per lot for smalls. Hours of pick up are generally by appointment only- please call the office 610-827-1910 to arrange for pickup.
Payment
PAYMENT MUST BE RECEIVED WITHIN TEN (10) DAYS AFTER END OF AUCTION- personal checks, business checks, money orders, cashiers or official bank checks and wire transfers (contact for bank details).Items paid by check will be held until payment has cleared. NO PAYPAL OR CREDIT CARDS For further assistance, contact Wiederseim Associates, Inc. at (610) 827-1910 or tewwiederseim.com
Accepted payment methods
Taxes
For Pennsylvania buyers the 6% PA State Sales Tax Applies unless bidder faxes a copy of their Pennsylvania Sales Tax License to Fax (610) 827-1930. All buyers physically picking up in PA, unless you have a sales tax License from your State, by law, PA tax will be charged.
Important Note Regarding Live Auctions
Items being sold are part of a REAL LIVE AUCTION being conducted by Wiederseim Associates, Inc., Auctioneers in Glenmoore, Pennsylvania. We are on Eastern Time and sell approximately 100 Lots per hour and sell in numerical order. The internet time remaining stamp is not an accurate reflection of the hour at which any given lot will be sold. Bidder Registration Absentee Bids left through Live Auctioneerss are NOT the same as bids left directly with the Auction House. They are executed from an independent computer terminal on the auction floor against other internet bidders. Other competitive bidders may be in the room, on the telephone, andor through absentee bids left with the Auction House. This may result in a tie bid in which case, the Auctioneer has the sole discretion to award the lot to the high bidder of his or her choosing and often goes to the floor bidder. Please see complete Terms Conditions as listed.
Condition Reports and Additional Information
CONDITION REPORTS AVAILABLE UPON REQUEST.REQUESTS WILL BE RESPONDED TO BY ADDING THE INFORMATION ANDOR ADDITIONAL PHOTOS TO THE LOT LISTING where appropriate. The absence of a condition statement does not imply that the lot is in perfect condition or completely free from wear and tear, imperfections, or the effects of aging. If you need additional information or photographs for a lot, please make your request as early as possible before the sale. Requests for additional condition reports and information will be answered up to twenty-four (24) hours prior to the start of the auction. Items in this sale must be packed and moved to the auction site several days before the sale. Any given lot may not be available to take additional photographs, measurements, etc. for several days. We receive dozens of requests for photos. Please be patient. We will try to get you the information as soon as the items are unpacked, but that may be the day before the sale. Wiederseim Associates will endeavor to provide additional information as a courtesy, but it is only an opinion and should not be regarded as a statement of fact. Wiederseim Associates, Inc. will not be held liable for errors or omissions.
PLEASE READ EVERYTHING BEFORE YOU BID
PLEASE READ ALL SECTIONS INCLUDING, BUT NOT LIMITED TO: PAYMENT, SHIPPING, CONDITION REPORTS We advise anyone bidding with ANY auction house ANYWHERE to READ ALL INFORMATION including the Terms Conditions. Many Frequently Asked Questions (Shipping, Condition Reports, Payment Terms, etc.)can be easily answered simply by taking a few moments to read this very important information. If you have any questions whatsoever, please call or email us for clarification PRIOR to the start of the auction. We cannot help you any later than one hour before the start time. By registering to bid, you agree to accept these Terms Conditions- NO EXCEPTIONS THANK YOU
Terms
CONDITIONS OF SALE IMPORTANT INFORMATION: BEFORE REGISTERING TO BID, PLEASE READ ALL TERMS AND CONDITIONS IN FULL! BY REGISTERING TO BID, YOU ACCEPT AND AGREE TO THESE TERMS & CONDITIONS WITH NO EXCEPTIONS. WIEDERSEIM ASSOC., INC. IS AN AUCTION HOUSE CONDUCTING THIS AUCTION LIVE WITH PARTICIPATING BIDDERS FROM MANY VENUES. This is a Public Sale and is conducted by a Licensed and Bonded Auctioneer. PA Lic.#AU-003361-L 1. CATALOGUE DESCRIPTIONS All items being sold "AS IS", "WHERE IS". No statement shall be deemed a warranty, representation, or assumption of liability with respect to age, authenticity, condition, size, quality, variety, importance, provenance, material of manufacture, metal content or assay, stone identification, weight, or size measurement, or historical relevance of any of the items offered for sale. Any potential Bidders accept sole responsibility for contacting us to obtain condition reports on any offered lots and/or inspect said lots before bidding to determine the condition and if there are any repairs or restorations. CONDITION REPORT REQUESTS sent via e-mail will be responded to by adding information and/or photographs to the lot listing where appropriate. Any requests received after 12:00 Noon the day before the start of an Auction may not be answered. Questions cannot and will not be answered once the Auction has started. ALL SALES ARE FINAL! Any items purchased and removed from the auction cannot be returned. 2. BIDDING The Auctioneer will attempt to follow bidding increments as precisely as possible, but retains the discretion to change increments and further reserves the right to reject any bid or raise in bid. As a service to our customers WIEDERSEIM ASSOCIATES, INC. offers Internet Bidding, both Absentee and Live, through Live Auctioneers. Please visit the Live Auctioneers website to review current sale offerings and deadlines for bidding. The Auctioneer is not liable for, nor has control of, online transmission speeds or bid increments placed by approved and registered online users. WIEDERSEIM ASSOCIATES, INC. reserves the right to limit lots offered for auction through Live Auctioneers and is not liable for any errors or failure in execution of any bid in connection with this process. Certain lots may be subject to a reserve or minimum price as agreed upon by WIEDERSEIM ASSOCIATES, INC. and the Consignor. The Auctioneer will execute the reserve on behalf of the Consignor. WIEDERSEIM ASSOCIATES, INC. reserves the right to withdraw any property prior to the Auction. STANDARD BID INCREMENTS Bid Range: Bid Increment: 0-500 by 25 500-1,000 by 50 1,000-2,500 by 100 2,500-5,000 by 250 5,000-10,000 by 500 10,000-20,000 by 1,000 20,000 and above by Auctioneer's Discretion 3. DISPUTES & TITLE TO GOODS In the event of a dispute, the Auctioneer will be the final judge as to which Bidder is successful. The Auctioneer may at his sole discretion, re-open the bidding on a particular item. Title shall pass on all items sold when the Auctioneer says "SOLD". The Purchaser assumes total and full responsibility for all goods at that time, and is responsible for payment for all items whether or not the Purchaser actually takes possession at that time. If any dispute arises after the conclusion of the Auction, the records of the Auctioneer and Clerk shall stand as conclusive. Any loss or damage by breakage, natural disaster, theft or any other cause is therefore the sole and entire responsibility of the Purchaser. 4. BUYER'S PREMIUM & SALES TAX Each individual Lot sold is subject to a 18% Buyer's Premium which will be added to the successful bid price of each Lot and is payable by the Purchaser as part of the total purchase price. A 6% State of Pennsylvania sales tax will be added to the total purchase price, unless purchased for resale or exempt from tax by other Pennsylvania law. All Bidders who qualify for exemption must file a Sales Tax exemption form with WIEDERSEIM ASSOCIATES, INC. Items physically picked up in Pennsylvania by buyers without a sales tax exemption will be charged the Pennsylvania State sales tax. Items shipped by common carrier out of State will not be charged State sales tax. 5. PAYMENT TERMS Invoices will be emailed to the email address registered with Live Auctioneers within 48 hours of the conclusion of the Auction and payment is due upon receipt of the invoice. ALL ACCOUNTS MUST BE SETTLED WITHIN 10 DAYS OF THE AUCTION DATE! Payment shall be in cash(In House Only), money order, cashier's check, bank wire transfer (requires an additional Bank wire transfer fee of $15.00). Personal and business checks will be accepted and WIEDERSEIM ASSOCIATES, INC. reserves the right to hold all items purchased until any check has cleared our bank. A service charge of $25.00 will be charged for any returned check. WIEDERSEIM ASSOC., INC. DOES NOT ACCEPT CREDIT CARDS OR PAYPAL. All items are to be packed and shipped at the Purchaser's expense. 6. REMOVAL OF GOODS, STORAGE & PICK UP All property is to be packed, shipped or transported at the risk and expense of the Purchaser. WIEDERSEIM ASSOCIATES, INC. CANNOT PROVIDE IN-HOUSE SHIPPING OR QUOTES-ALL SHIPPING IS OUTSOURCED. Items are removed from the auction site after the last session ends and returned to our warehouse at 1041 W. Bridge St., Phoenixville, PA 19460 and WILL BE CHARGED A FEE FOR REMOVING TO THE WAREHOUSE OF $25 FOR EACH LOT OF FURNITURE & LARGER ITEMS AND $5 FOR EACH LOT OF SMALLS. PICK UP BY TRANSPORT COMPANIES OR INDIVIDUALS BY APPOINTMENT ONLY-PLEASE CALL 610-827-1910. MESSAGES ASKING FOR SHIPPING COST ESTIMATES WILL NOT BE ANSWERED. Dimensions have been provided and published in order to help you determine this. SHIPPING OF SMALLS: Unless otherwise indicated or requested by the Purchaser at the time payment is made, all smaller items will be released after the payment has cleared to: The UPS Store 518 Kimberton Road Phoenixville, PA 19460 (610) 917-8100 phone (610) 917-0800 fax store3273@theupsstore.com You then deal directly with them for all packing and shipping charges. AS A COURTESY TO OUR CUSTOMERS, OUR UPS STORE WILL EXTEND A 20% DISCOUNT ON THE PACKING CHARGES. LARGE ITEMS- LIST OF SUGGESTED SHIPPERS For Purchasers of furniture and larger items so delivery quotes may be obtained or you may use you own shipper: Josh Unruh Antique Furniture & Moving Services (610) 506-7881 Vintage Transport- based in Atlanta, GA (800) 333-0056 West Coast (888) 882-4442 Schimmerhorn's Delivery 7900 D Stevens Mill Road #107 Matthews, NC 28104 (704)577-9974 PLYCON Van Lines 7110 Golden Ring Rd- Suite 102-103 Baltimore, MD 21221 (410)238-2655 Craters & Freighters 4110 Butler Pike, Suite A-101A Plymouth Meeting, PA 19462 610-397-0488 866-397-0488 philly@cratersand freighters.com Mizzentop E.T.S. P.O. Box 196 Refton, PA 17568 (717) 786-8809 info@mizzentoptransport.com www.mizzentoptransport.com ITEMS MUST BE REMOVED FROM OUR WAREHOUSE WITHIN 15 DAYS OF THE END OF THE AUCTION AND ARE SUBJECT TO THE REMOVAL FEES LISTED ABOVE. Items are stored at the risk of the Purchaser. A 36 hour notice is required for any items that are to be picked up and a storage fee of $5.00 per day WILL be assessed per item if not removed within the requested time. 7. ERRORS OR OMISSIONS WIEDERSEIM ASSOCIATES, INC. is not responsible for any typographical or other error or omission in this catalogue or in any advertising connected to this sale. 8. AGREEMENT TO TERMS OF SALE By registering for this sale, and bidding on any item contained therein, all Bidders are entering into a contract and agree to abide by and accept the Terms of Sale. NO ON-LINE REGISTRATION REQUIRING MANUAL APPROVAL WILL BE ACCEPTED AFTER 6:00 AM Eastern Time THE MORNING(S) OF THE SALE PLEASE READ ALL CONDITIONS OF SALE! BEFORE SENDING ANY MESSAGES ASKING ANY QUESTIONS, PLEASE DETERMINE IF THEY CAN BE ANSWERED BY READING THE TERMS AND CONDITIONS OF SALE This is a Public Sale and is conducted by a Licensed and Bonded Auctioneer.
Discover Items You'll Love

Bid Anywhere, Anytime. Download the LiveAuctioneers App.
Available on the App Store
Android App on Google Play