Weekly Auctions of Exceptional Items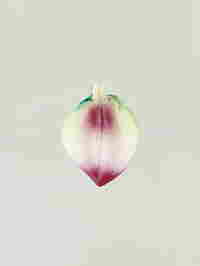 FAMILLE-ROSE PORCELAIN SNUFF BOTTLE, QING DYNASTY, 19c.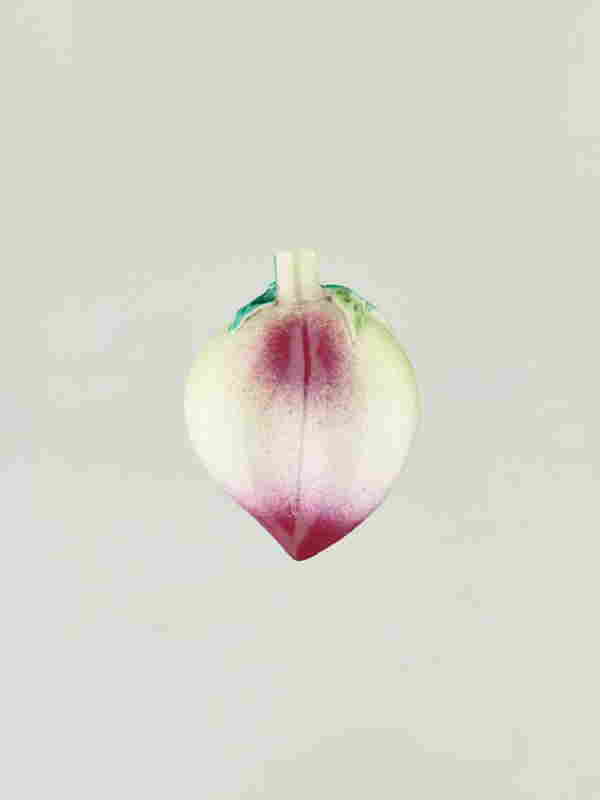 Item Details
Description
A FAMILLE-ROSE PORCELAIN PEACH-FORM SNUFF BOTTLE, QING DYNASTY, 19TH CENTURY

Molded and carved porcelain painted in polychrome enamels
China, 19th century

Naturalistically formed and carved to depict a peach with its leaves executed in reticulated manner, delicately painted with polychrome enamels. Most likely Jingdezhen.
Ceramics were produced in many parts of China, of course, and there were other main centers of production; but most are well-documented and distinctively different in their paste and usually in their range of glazes and enamels, as well. The two raw materials required for the finest porcelain were conveniently located in different deposits near Jingdezhen, which was the reason for its establishment as China's main porcelain metropolis since long before the Qing dynasty. According to Rose Kerr, there were some three hundred kilns operating at Jingdezhen during the Daoguang period, and they produced the vast majority of the high-fired white-paste, fine-quality porcelain we see today. A bottle like the present one, although not typical of the broader range of Jingdezhen wares, is still likely to have been made there.
It is surprising that the peach shape does not occur far more often in porcelain snuff bottles. It was popular enough in other materials and is not a difficult form to make in a two-part mold, so given its obvious symbolism of longevity, we might expect far more to have been made than appears to be the case.
Shape: Peach
Hollowing: Standard
Mouth, neck and lip: Small cylindric neck with wide mouth
Base: None
Design, marks, school: Jingdezehn kilns
Height of the bottle with stopper: 7.3 cm.
Width of the mouth: 6 mm.
Width of the neck: 9 mm.
Condition: Perfect, the glaze with minimal wear
Provenance: American private collection
Literature comparison: Snuff Bottles from the Mary & George Bloch Collection: Part VIII. Sotheby's, Hong Kong, May 26th, 2014, lot 1145. (for an almost identical bottle)

粉彩壽桃形鼻烟壺,清代, 十九世紀
粉彩,塑形
中國,十九世紀
壺型: 桃形
掏膛:規整
壺口、頸與唇部:小直頸,寬口
底足:無
造型、落款及流派:景德鎮
壺高(含壺蓋):7.3 厘米
口徑:6 毫米
壺頸寬:9 毫米
品相:完美,右面有輕微褪色
來源:美國私人收藏

FAMILLE-ROSE PORCELAIN SNUFF BOTTLE, QING DYNASTY, 19c.
Shipping, Payment & Auction Policies
Ships from Vienna, Austria
www.liveauctioneers.com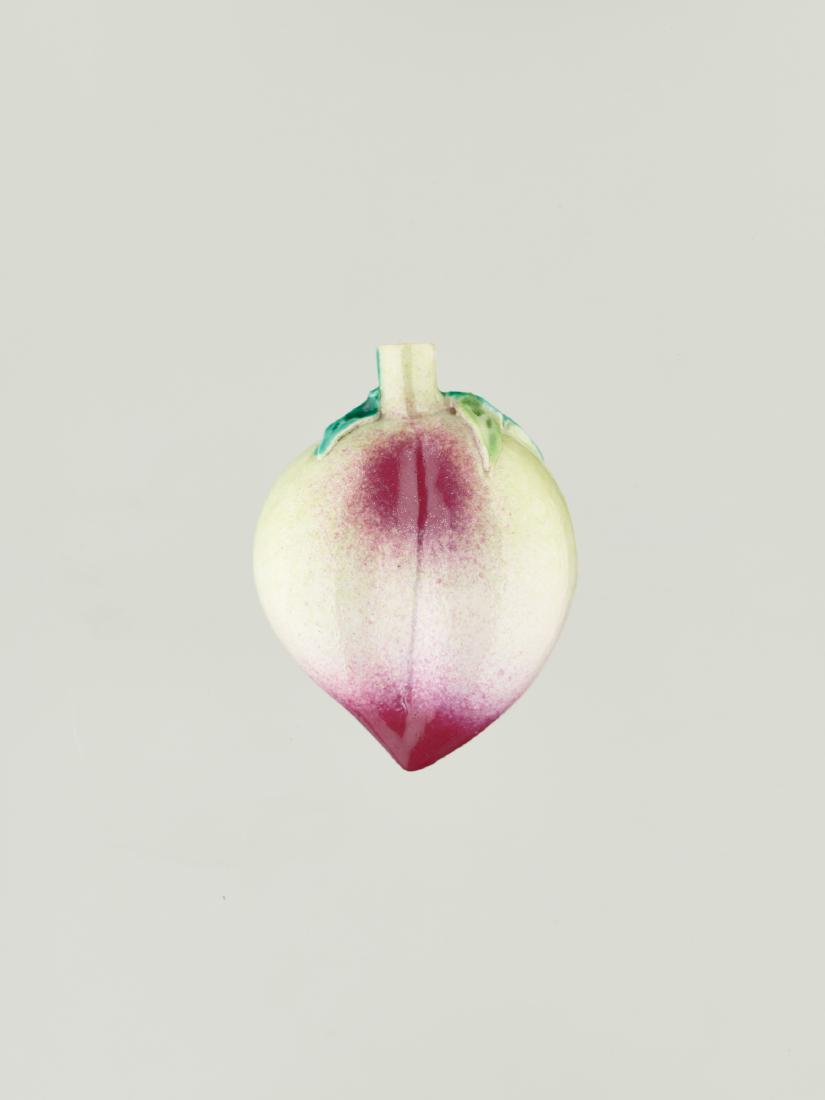 0218: FAMILLE-ROSE PORCELAIN SNUFF BOTTLE, QING DYNASTY, 19c.
Est.

€150

-

€300
•
Starting Price

€150
Fine Chinese Art, Japanese and Buddhist Art
Dec 08, 2018 7:00 AM EST
Buyer's Premium 27%
Lot 0218 Details
Description
A FAMILLE-ROSE PORCELAIN PEACH-FORM SNUFF BOTTLE, QING DYNASTY, 19TH CENTURY

Molded and carved porcelain painted in polychrome enamels
China, 19th century

Naturalistically formed and carved to depict a peach with its leaves executed in reticulated manner, delicately painted with polychrome enamels. Most likely Jingdezhen.
Ceramics were produced in many parts of China, of course, and there were other main centers of production; but most are well-documented and distinctively different in their paste and usually in their range of glazes and enamels, as well. The two raw materials required for the finest porcelain were conveniently located in different deposits near Jingdezhen, which was the reason for its establishment as China's main porcelain metropolis since long before the Qing dynasty. According to Rose Kerr, there were some three hundred kilns operating at Jingdezhen during the Daoguang period, and they produced the vast majority of the high-fired white-paste, fine-quality porcelain we see today. A bottle like the present one, although not typical of the broader range of Jingdezhen wares, is still likely to have been made there.
It is surprising that the peach shape does not occur far more often in porcelain snuff bottles. It was popular enough in other materials and is not a difficult form to make in a two-part mold, so given its obvious symbolism of longevity, we might expect far more to have been made than appears to be the case.
Shape: Peach
Hollowing: Standard
Mouth, neck and lip: Small cylindric neck with wide mouth
Base: None
Design, marks, school: Jingdezehn kilns
Height of the bottle with stopper: 7.3 cm.
Width of the mouth: 6 mm.
Width of the neck: 9 mm.
Condition: Perfect, the glaze with minimal wear
Provenance: American private collection
Literature comparison: Snuff Bottles from the Mary & George Bloch Collection: Part VIII. Sotheby's, Hong Kong, May 26th, 2014, lot 1145. (for an almost identical bottle)

粉彩壽桃形鼻烟壺,清代, 十九世紀
粉彩,塑形
中國,十九世紀
壺型: 桃形
掏膛:規整
壺口、頸與唇部:小直頸,寬口
底足:無
造型、落款及流派:景德鎮
壺高(含壺蓋):7.3 厘米
口徑:6 毫米
壺頸寬:9 毫米
品相:完美,右面有輕微褪色
來源:美國私人收藏

Contacts
Galerie Zacke
+43-1-5320452
SZA Versteigerungen und Vertriebs GmbH
LiveAuctioneers Support
info@liveauctioneers.com