Napoleon Bonaparte LS: Incredible Content "how is it
Don't Miss Your Next Treasure.
Set up a search alert to hear when Weapons & Armor items arrive.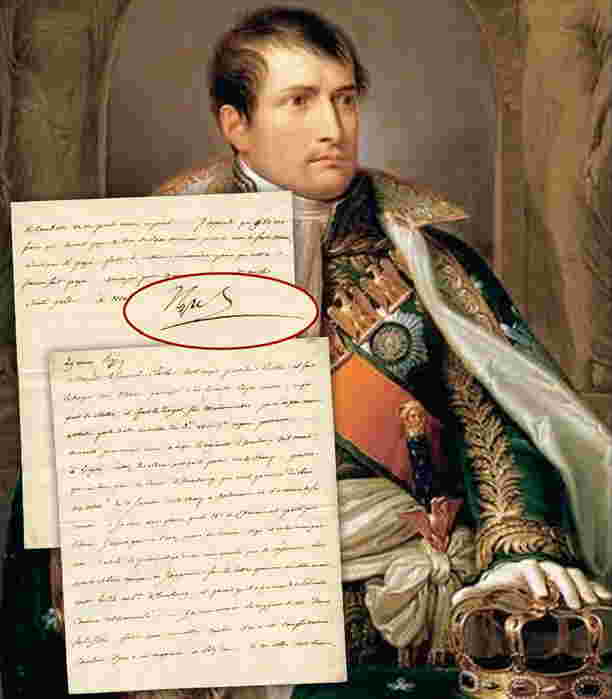 Lot 0011 Details
Description
Bonaparte Napoleon

Napoleon Bonaparte LS: "…how is it that the Prince of Isenburg thinks he can disobey orders?...It seems there is no one as ridiculous as that man."
2pp LS in French inscribed in a clerical hand and signed by Napoleon Bonaparte (1769-1821) as "Napol" at top of second page verso. Written in Osterode, Germany on March 29, 1807. The cream paper is in near fine condition, with expected light paper folds, measuring 7.875" x 9.75". From the Marc-Arthur Kohn sale, "The Empire in Paris," December 2, 2013 (Paris, France), part of Lot 39.
Napoleon Bonaparte--emperor, military commander, and master geopolitical strategist--addressed this letter to his Minister of War, Henri Jacques Guillaume Clarke (1765-1818), in late March 1807. It dates from the waning months of the War of the 4th Coalition (October 1806-July 1807), when Napoleon was inexorably marching east conquering modern day Poland. Napoleon won the war after forcing the surrender of Polish strongholds Szczecin in October 1806, Gdansk in May 1807, and Kolobrzeg in July 1807.
Napoleon personally commanded his Grande Armee, comprised of 1,000,000 soldiers at its greatest extent, while invading and incorporating European territories into his ever-expanding empire. In this Polish campaign, Napoleon's French forces joined German, Italian, and Polish troops and faced off against the coalition forces Prussia, Russia, Great Britain, and Sweden.
Translation from the French; page breaks have been added for improved legibility.
"Monsieur General Clarke, everyone who left from Kostrzyn, you must direct towards Torun, because the route is shorter, and everyone who left from Szczecin, you must direct towards Kwidzyn. I still haven't heard about the march of the 3rd and 5th provisional regiments. In truth, I can conceive of no reason why the Isenburg regiment is still at Leipzig; reiterate the orders that they leave right away; how is it that the Prince of Isenburg thinks he can disobey orders? He needs to report to Valenciennes where he can start recruiting. --
I see with pleasure that the 24th infantry left for Torun. I hope that you reviewed them and that they weren't missing anything. It is important that you send us only well-mounted and well-equipped regiments. -- I approve strongly of the letter that you told me you wrote the 24th to the Pce d'Isenburg. It seems there is no one as ridiculous as that man. --
I am sending you Mr. Daru's report on the saddles. Let me know who many he made, how many he had in the store in Potsdam, if the saddles are good, and how many we can still expect. -- I learn that 980,000 francs that should have been paid to the Duke of Saxe-Weimar for the months of February and March were never paid; make the necessary arrangements so that this sum can be paid.
On this, I pray that God keeps you in his holy care. At Osterode March 29, 1807.
Napol."
Charles Frederic Louis Maurice, Prince d'Isenburg (1766-1820) had served in the Prussian Army before joining the French Army in 1804 at the rank of Brigade General. Napoleon ordered Isenburg to form a mercenary regiment in November 1806. Its officers were to be recruited among Prussian prisoners of war and its rank and file among Prussian deserters. Isenburg, who recruited regardless of nationality or status, easily filled his complement but loitered in Leipzig instead of proceeding to France. Napoleon was incensed that Isenburg violated his instructions; Isenburg was supposed to travel directly to Valenciennes, a recruiting center located on the border of modern day France and Belgium. Prince d'Isenburg commanded his eponymous regiment until January 1808.
Napoleon's response to Isenburg demonstrated how he handled conflict. His report to Clarke, chock full as it was with significant directives, ping pongs back to the rankling subject of Isenburg's disobedience in the second paragraph apropos of nothing. It evidently truly bothered him. Was Napoleon angry because Isenburg's dawdling weakened his forces? Angry because Isenburg's actions showed a lack of awe, fear, and respect for the Emperor? The answer is uncertain, but what is clear is Napoleon's tenacious single-mindedness. Apparently he could be as obsessively fixated on personnel problems as he could be about conquering Western Europe.
"Mr. Daru" referred to Pierre Daru (1767-1829), who served as Intendant General of the Grande Armee after 1806. Daru had considerable experience with military administration, having served as the Chief Commissary of the French Revolutionary Army in Brittany, Switzerland, and northern Italy between 1793-1803, and Napoleon put him in charge of conquered Prussian and Austrian territories in 1807. He later became Napoleon's Minister of War in 1811.
Napoleon instructed General Clarke to pay the "Duke of Saxe-Weimar." Karl August, Grand Duke of Saxe-Weimar-Eisenach (1757-1828) had been forced to join the Confederation of the Rhine (comprised of leaders of lesser German states) after the disastrous Battle of Jena-Auerstedt (October 1806). To avoid the confiscation of his territories, the Grand Duke and his forces fought under Napoleon's banners until 1812.
Napoleon was in part able to accomplish all he did by relying on General Clarke, who handled military matters ranging from inspection and provisioning, to conscription and internal discipline. General Clarke was recognized for his great service when he was granted the honorary title of Duc of Feltre in August 1809.
WE PROVIDE IN-HOUSE SHIPPING WORLDWIDE!
Napoleon Bonaparte LS: Incredible Content "how is it
Estimate $2,000 - $2,400
Dec 05, 2018
Shipping, Payment & Auction Policies
Ships from
Westport , CT, United States