Cole Porter's Backgammon Set!
Don't Miss Your Next Treasure.
Set up a search alert to hear when Toys, Dolls & Games items arrive.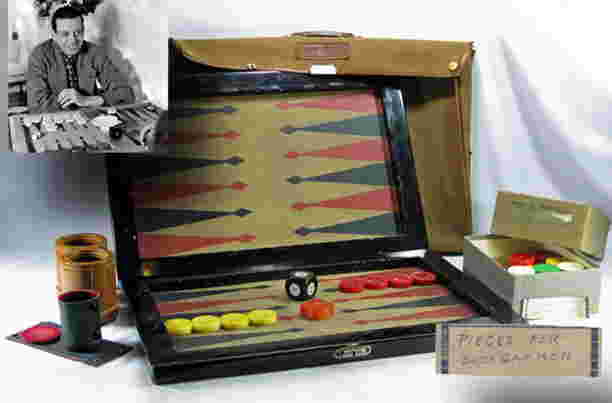 Lot 0198 Details
Description
Porter Cole

Cole Porter's Backgammon Set!

Offered here is Cole Porter's own backgammon set and accessories, imprinted with his name on both the set and the case – with the box in which he kept the pieces and wrote his name on the cover. He loved to gamble and play backgammon so much, he even wrote a song with the lyrics "For the fortune I lost when you taught me backgammon…"


From the notarized provenance, in part, "I worked for Louis[e] Cole Schmitt one of the Heir's to Cole Porter's estate (Cole's cousin) when I was in high school … we became very close friends. [Note: Cole Porter's mother's maiden name was Cole] … I was cleaning out one of her basements at her request … about a week before I was to leave for the Air Force. I came across a box buried under some fishing supplies. It contained Cole Porter's engraved backgammon set … and a box with game pieces in it. She told me it was one of the many boxes from Cole's estate and she told me it was one of the many boxes from Cole's estate and she told me stories of how she and Cole would play on that backgammon set … and how they would bet pieces of candy as the winnings, many stories of how Cole and Montey [sic] Woolley would take her riding horses at the Cole family farm in Peru Indiana, and how Cole and Montey would act like teenagers gambling and drinking and acting a fool. I asked her what I should do with the items, and she told me that since I saved them from getting thrown out, they would be my going away present. She always said Cole would have really liked me a lot if he'd ever gotten to meet me … I transfer ownership and clear title to John Reznikoff of University Archives…"


One of the greatest, and certainly the most wittiest, of all songwriters, in 1934, Cole Porter wrote the song "Thank You So Much Missus Lowsborough-Goodby," a jab at high society, He wrote, in part, "Mrs. Lowsborough-Goodby gives weekends and her weekends are not a success, but she asks you so often you finally soften and end by answering 'Yes.' … For the fortune I lost when you taught me backgammon … And for making me swear to myself there and then, never to go for a weekend again. Thank you so much, Mrs. Lowsborough-Goodby, thank you, thank you so much."



Comprises:


Encased portable backgammon board, folded to 22" x 14" x 2". Lock at one edge, two hinges at other end. Hinges are detached from one side. When open, the home board and outer board each measure 19" x 11.5", with 1.5" wide black-painted wood on each perimeter. The points are black and red. Wood slightly chipped, boards soiled. The 22" x 14" sides are black leather; one side, near the lock, bears the imprint "COLE PORTER" in silver. Brown canvas carrying case, with tears. Lock and leather handle are intact. A 4" x 1" leather strip has been stitched onto the canvas beneath the handle, imprinted "COLE PORTER." The portable backgammon board and carrying case show have minor flaws, showing evidence of very frequent use.


Each of two 3" x 7.25" red felt-lined leather strips present snap together and with a 2" diameter red felt-lined leather circle, when assembled, form the dice shaker cup. These were easily stored in the case. Two 4" high partial leather covered dice shaker cups, 3.25" diameter, are also included.


There are 15 green and 15 ivory Bakelite backgammon checkers; in addition, there is an almost complete set of 14 cherry red swirled and 13 butterscotch yellow swirled Bakelite backgammon checkers. Each backgammon checker is approximately 1.75" in diameter and a little less than 0.5" thick.


The backgammon set has two pair of 0.75" dice with black dots and a pair of 0.5" dice with opposite sides of red, blue, and black. There is a large 1.5" black doubling cube with a black numeral engraved on a .75" diameter mother-of-pearl circle on each side. Undoubtedly, as were the larger shaker cups, this doubling cube did not come with the backgammon set. A second doubling cherry red swirled Bakelite rectangular cuboid is also present; as the coloring is identical to 14 of the backgammon checkers, it probably came with the set.


The dice and doubling cubes were stored by Cole Porter in an 8.5" x 6.25" x 3" brown box imprinted in the cover "Merrimade / Lawrence, Mass." Stained on the over, Porter had penciled "COLE PORTER" in upper case letters on one side, then partially crossed it out, penciling "ENVELOPES ONLY." He had affixed a 4.5" x 1.5" gummed label onto his writing, in effect relabeling its contents, handwriting again in upper case: "PIECES FOR / BACKGAMMON." The label is now separated from the box but a remnant of the label appears on the box between "PORTER" and "ONLY" matching paper loss on the gummed side of the label which also displays offset of five letters of "Envelopes Only."

WE PROVIDE IN-HOUSE SHIPPING WORLDWIDE.
Cole Porter's Backgammon Set!
Estimate $3,000 - $4,000
Dec 05, 2018
Shipping, Payment & Auction Policies
Ships from
Westport , CT, United States