George Washington, Outraged over Continued Native
Don't Miss Your Next Treasure.
Set up a search alert to hear when Political Memorabilia items arrive.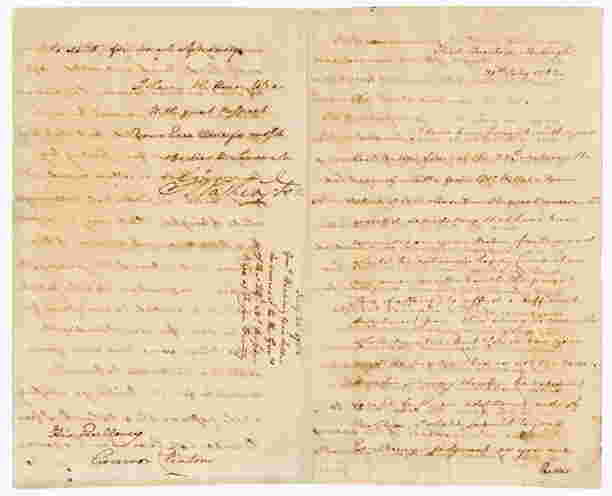 Lot 0263 Details
Description
Washington George
George Washington, Outraged over Continued Native American and Loyalist Attacks on the New York Frontier, Wishes "to chastise the insolence of the enemy in any future incursion," But Cannot Provide Much Direct Aid
"I have learnt with great concern the repeated depredations that have been committed on your Western frontier … notwithstanding the order … for the buildings necessary at the posts on the Mohawk, I fear he will not have it in his power to do it for want of money."
Between victory at Yorktown and recognition of American independence, British forces, Loyalists, and native tribes all continued raids on American outposts and settlers, especially on the New York frontier. Washington had to maintain the army's strength in order to force favorable negotiations, but here defers to the local governor. Fortunately for both General and Governor, Colonel Marinus Willett was one of the Revolution's most capable leaders with decades of familiarity with Western New York's peoples, places, and potential problems.
GEORGE WASHINGTON (1732-1799).  Letter Signed as Commander in Chief, to Governor George Clinton.  Newburgh, N.Y., July 30, 1782. 4 pp., 7 x 11¾  in. Condition.  Fine. Professionally strengthened along old folds, very slight toning, minor water discoloration in one corner, some ink show through.
Transcript
"Sir,
I have been honored with your Excellency's favor of the 24th inclosing the Copy of a Letter From Col. Willet—From which I have learnt with great concern the repeated depredations that have been committed on your Western frontier, and should be extremely happy (were it in my power consistent with the general state of affairs) to afford a sufficient Detachment from this Army to cover the whole country; but I dare say you must be sensible this is not the case. How far it may therefore be expedient to call forth an additional aid of Militia, I shall submit to your Excellencys judgment, as you are better acquainted with the circumstances of the frontier, the strength of Willets command, and probably the state of the Enemy at Oswego, than I am. In the mean time, I wish to be informed as far as may be in your power, of the force of Willet's Corps now assembled on the Mohawk, also of the strength of the Enemy at Oswego, of which I have as yet had only vague and unsatisfactory accounts.
Since the date of Col. Willet's Letter, he has, I suppose, received four hundred cartridge Boxes, in which Article his most essential deficiency consisted. In consequence of which I cannot but hope, that corps in conjunction with the Continental regiment stationed in that quarter will be able to give a better protection to the Country than has lately been the case, and to chastise the insolence of the enemy in any future incursion, especially since they are now likely to be supplied with hard bread and salted meat—Of which articles, however, I apprehend there will not at present be such quantities accumulated, but that they may be preserved from spoiling by temporary sheds, or cellars covered with good thatch, or substantial well-wrought shade of boughs, which may be constructed by a little care and attention of the officers and labour of the soldiers. This is upon a supposition that the public will not be enabled to erect stores for the purpose; for notwithstanding the order I have sometime since given to the Quarter Master to furnish materials for the buildings necessary at the posts on the Mohawk, I fear he will not have it in his power to do it for want of money.
I have the Honor to be, with great respect, Your Excellency's most obedient Servant
Go: Washington"
Historical Background
Despite Washington's victory over Cornwallis at the Battle of Yorktown in October 1781, the war lasted another year. The British had left Savannah, Georgia, only three weeks before Washington wrote this letter, and they still occupied Charleston, South Carolina, and New York City.  Washington believed that the United States had to be robustly prepared for another campaign. Nathanael Greene, one of his most respected generals, agreed that the British would continue to prosecute the war. King George III wanted to fight on, and debates in Parliament left the option open. Even after a string of American victories had convinced the British to negotiate for peace, the British naval victory over French Admiral de Grasse at the Battle of the Saintes in the Caribbean in April 1782, gave some in Great Britain second thoughts.  They questioned whether it was any longer necessary to grant full American independence.
Events in London, however, overtook military operations in North America. In late March, Lord Rockingham, who was sympathetic to the American cause, replaced Lord North as Prime Minister. In early April, British envoy Richard Oswald opened formal negotiations with American commissioner Benjamin Franklin. On November 30, 1782, Britain agreed to recognize American independence and to withdraw its forces. The Treaty of Paris, ending the Revolutionary War, was formally ratified by Congress on April 11, 1783. By the end of that year, the last British troops had evacuated New York City.
In the interim between the victory of American and French forces at Yorktown and recognition of American independence a year later, the frontier raids continued.  In early 1782, the British rebuilt Fort Ontario in Oswego, and their allies, including Native Americans and local Loyalists, continued raids on settlers and soldiers on the New York frontier.  Late in June 1782, a war party of 300 to 400, "consisting of British, Refugees, and Savages," according to Washington, attacked soldiers and civilians at Little Falls, on the Mohawk River.  They burned the mill, killed Daniel Petrie, and "captured (after a gallant defence) a small guard of Continental Troops."  Washington likely learned of this latest raid on June 30, when he visited Schenectady, fifty miles east of Little Falls.  He told the leaders of Schenectady, "May you, and the good People of this Town…be protected from every insidious or open foe, and may the complicated blessings of peace soon Reward your arduous Struggles for the establishment of the freedom and Independence of our common country."  (George Washington to John Hanson, 9 July 1782; George Washington to Frederick Visscher, 30 June 1782.)
On July 17, 1782, Colonel Marinus Willett wrote from Fort Rensselaer on the Mohawk River to New York Governor Clinton that an enemy force of 500 or 600 had burned all uninhabited places between Herkimer and Little Falls on the Mohawk River and driven off 150 head of cattle and 50 horses.  Willett complained that he could not pursue them without "salt provisions and hard bread," which he did not have.  His lack of weapons and clothing prevented him from utilizing a "considerable proportion" of the troops raised by promises of land bounties.  On July 24, Governor Clinton forwarded Willett's letter to General Washington with his concern that unless Willett's command were augmented and properly supplied, "the whole of the Settlements on the Mohawk River will be destroyed or abandoned."  He offered to call into service more militia to reinforce Willett.  He also reported that the troops along the Mohawk River lacked the necessary buildings to store hard bread and salted meat.  (Full text of Clinton and Willett letters)
Washington was in the unenviable position of trying to maintain the strength of his forces to keep a favorable negotiating position, while also protecting American settlers over a wide frontier. The Commander-in-Chief had much to do and few resources, so he was happy to defer to New York Governor George Clinton regarding troop strength and reconnaissance in the Empire State.  In this letter from his headquarters in Newburgh, New York, Washington explains the discrepancy between his desires and his abilities to the governor up the river in Albany.
George Clinton (1739-1812) served as the first governor of the State of New York from 1777 to 1795, and again from 1801 to 1804.  He served as Vice President to both President Thomas Jefferson and President James Madison (1805-1812).  Born to Irish parents in the colony of New York, he served in the French and Indian War first on a privateer in the Caribbean and then in the militia.  After studying law, he began his practice in 1764, and also served in the New York Provincial Assembly from 1768 to 1776.  Commissioned as brigadier general in both the militia and the Continental Army, Clinton began serving as New York's governor in July 1777.
Colonel Marinus Willett (1740-1830) was intimately familiar with the geography and geopolitics of the Western New York frontier.  He was characterized by historian Mark M. Boatner as "one of the truly outstanding American leaders of the Revolution." Willett served in the militia during the French and Indian War and had taken part in the expedition to Fort Ticonderoga. He participated in the Battle of Fort Frontenac, and later convalesced at Fort Stanwix. As a New York Son of Liberty, he helped confiscate arms from an arsenal and captured British stores at Turtle Bay in the East River. Willett was appointed captain in the Continental Army, again heading north and participating in the Invasion of Canada and the Siege of Quebec. After a series of posts throughout New York, in April 1781 he was made a colonel of the New York militia and assigned to the Mohawk Valley. Most of his efforts involved fighting local Loyalists and their Indian allies, notably at the Battles of Sharon Springs (July 10, 1781) and Johnstown (October 25, 1781).
Willett was still in the Mohawk Valley when Washington wrote to Clinton asking him to keep an eye on the British forces that had recently rebuilt Fort Ontario.  In February 1783, Washington instructed Willett to take Fort Ontario back from the British, but Willett retreated upon determining that he had lost the element of surprise. The fort would remain in British hands until 1796, after the signing of Jay's Treaty. Willett maintained his political alignment with Governor Clinton and later served in the New York State Assembly, Sheriff of New York County, and the 48th Mayor of New York City.
WE PROVIDE IN-HOUSE SHIPPING WORLDWIDE!
George Washington, Outraged over Continued Native
Estimate $18,000 - $20,000
Dec 05, 2018
Shipping, Payment & Auction Policies
Ships from
Westport , CT, United States