Weekly Auctions of Exceptional Items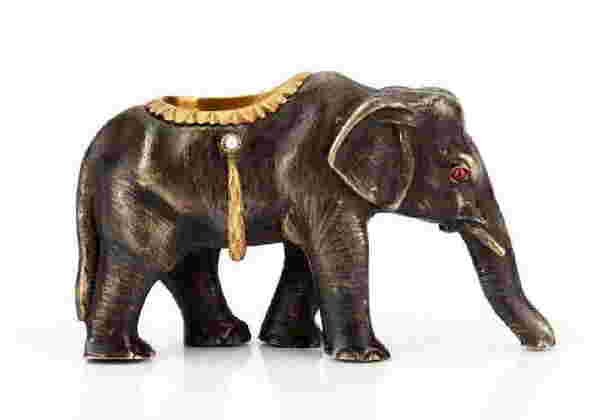 Rare FABERGE - Russian Imperial Silver and GOLD Jewelled Elephant Form Pincushion.
Figural pincushion of a standing elephant with gilt accents and jewelling. Faberge marks: FABERGE, 88 for silver, H.W. for workmaster in Faberge shop - Henrik Immanuel Wigstrom.
Size: L. 7.5 cm (2 7/8 inches). Weight: 204g. Please note: last image is for sample only.
Estimate price: $18000 - $20000. Please don't hesitate make us an offer.
Few years ago figures of animals made by Faberge was sold on Live Auctioneer for $25.000 and $27.500 and were estimated up to $80.000 - please see the screenshots.
Reserve price is VERY LOW. Start price is $1.
If an item is NOT SOLD, you can still give us a reasonable OFFER - please save the link of this page.
Payment: Credit Card payment, Wire transfer, Check or Money Order payment are also available. International bidder can use PayPal for payment.
Shipping: Let us Handle Your Shipping. We are one of the few places that offer full service shipping. For your convenience we will ship your item for a reasonable price - shipping costs will be included in the invoice. Combined shipping is available.

WORKMASTER: Henrik Immanuel Wigstrom (1862-1923) was one of the most important Faberge workmasters along with Michael Perchin. Perchin was the head workmaster from 1886 until his death in 1903, when he was succeeded by his chief assistant Henrik Wigstrom. These two workmasters were responsible for almost all the imperial Easter eggs.
Erik August Kollin, a Finn, was head work master from 1870 to 1886 and produced gold jewellery, including pieces in the Scythian style (the Scythian treasure had just been discovered at Kerch in the Crimea). August Wilhelm Holmstrom (who had been appointed head jeweller by Gustav Faberge in 1857) was born in Ekenas, Finland. Henrik Wigstrom was apprenticed to a local silversmith named Petter Madsen, a successful manufacturer of silverware who was familiar with the jewellery trade in St. Petersburg, as at one time he had had a workshop there. Once in Madsen's employment, his master's trade with Russia, as well as his numerous business contacts here, brought him to work in St. Petersburg. It is unknown who employed Wigstrom on his arrival in the capital, but Wigstrom became assistant in 1884, at the age of 22, to Perchin, whose shop at that time was already working exclusively for Faberge. Wigstrom became head workmaster at Faberge after Perchin's death in 1903. The number of craftsmen in Wigstrom's workshop diminished drastically with the outbreak of World War I. By 1918, the Revolution forced the complete closing of the House of Faberge. Aged 56, Wigstrom retreated almost empty-handed to his summer house, on Finnish territory, and died there in 1923.
His art is similar to Perchin's but tends to be in the Louis XVI, Empire, or neo-classical style. Nearly all the Faberge hardstone animals, figures and flowers from that time period were produced under his supervision.

WIKIPEDIA: Peter Carl Faberge, also known as Karl Gustavovich Faberge was a Russian jeweller best known for the famous Faberge eggs made in the style of genuine Easter eggs, but using precious metals and gemstones rather than more mundane materials. He's the founder of the famous jewelry legacy House of Faberge.The House of Faberge is a jewelry firm founded in 1842 in St. Petersburg, Imperial Russia, by Gustav Faberge, using the accented name Faberge, Gustav's sons Peter Carl Faberge and Agathon Faberge, and grandsons followed him in running the business until it was nationalised by the Bolsheviks in 1918.
The firm was famous for designing elaborate jewel-encrusted Faberge eggs for the Russian Tsars and a range of other work of high quality and intricate detail. In 1924, Peter Carl's sons Alexander Faberge and Eugene Faberge opened Faberge & Cie in Paris, making similar jewellery items and adding the name of the city to their rival firm's trademark, styling it FABERGE, PARIS. In 1937, the rights to the Faberge brand name were sold to Samuel Rubin for the marketing of perfume. It was then re-sold in 1964 to cosmetics company Rayette Inc., which changed its name to Rayette-Faberge Inc.
FABERGE - Russian Imperial GOLD & Silver Elephant
Estimate

$18,000

-

$20,000
Get pre-approved to bid live on

Sun, Jan 20, 2019 5:15 PM GMT

.
Register For Auction
Discover Items You'll Love