Weekly Auctions of Exceptional Items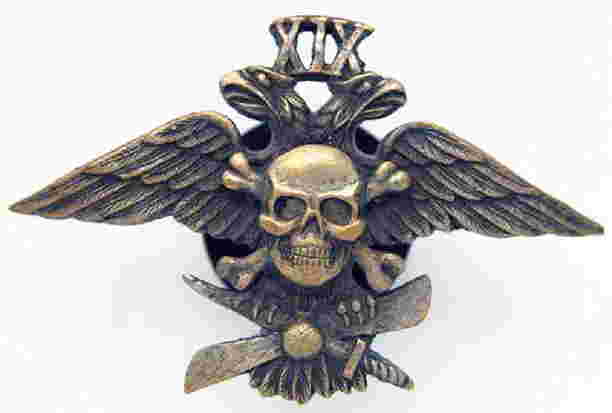 Russian Imperial Badge of the 19th Corps Air-Division, 1917.
Silver oxidized double-headed eagle with outstretched wings. On the eagle's breast is a silver human skull. On the eagle's tail is the aviation emblem in the form of crossed silver oxidized sword and propeller on which is laid a silver oxidized grenade with flames. The badge is surmounted by the gold Roman numeral 'XIX'.
Reference: V.Kempf. Imperial military badges of Russia, Catalogue, 2012, item 6.5.60, R4, price in VF condition is $8.000 - please see the screenshot (CATALOGUE is selling on lot #1000). Last 10 years the same badge did not sell at any International auctions. Please note: last image is for sample only.
Estimate price: $7.000 - $8.000.
Reserve price is VERY LOW. Start price is $1.
If an item is NOT SOLD, you can still give us a reasonable OFFER - please save the link of this page.
Payment: Credit Card payment, Wire transfer, Check or Money Order payment are also available. International bidder can use PayPal for payment.
Shipping: Let us Handle Your Shipping. We are one of the few places that offer full service shipping. For your convenience we will ship your item for a reasonable price - shipping costs will be included in the invoice. Combined shipping is available.

WIKIPEDIA: The Imperial Russian Air Service was an air force founded in 1912 for Imperial Russia. The Air Service operated for 5 years. It only saw combat in World War I before being reorganized and renamed in 1917 following the creation of Soviet Russia. It formed what would later become the Soviet Air Forces.
At the beginning of World War I, Russia's air service was second only to that of France (263 aeroplanes and 14 airships), although the bulk of its aircraft were too outdated to be of much use.
Initially, Russia used aviation only for reconnaissance and coordination of artillery fire. Later, several aeroplanes were armed with steel flechettes to attack ground targets (columns of enemy infantry and cavalry, campsites, etc.). Later, aeroplanes were armed with air-dropped bombs.
On 8 September 1914, the Russian pilot Pyotr Nesterov performed the first aerial ramming aircraft attack in the history of aviation. Later, Lt. Vyacheslav Tkachov became the very first Russian pilot who shot down an enemy aircraft with a handgun. He attacked a German "Albatros" and shot the enemy pilot. In 1916 the size and force of naval aviation was increased, the Black Sea Fleet had two seaplane carriers and fourteen M-9 seaplanes.
During World War I, 269 Russian aviators were awarded the St. George military decorations (St George Sword, Order of St. George or Cross of St. George), 5 aviators were awarded the Chevalier's National Order of the Legion of Honour, 2 aviators were awarded the Military Cross, 2 aviators were awarded the Order of the White Eagle and many others were awarded medals. 26 aviators became flying aces of Russian Empire. The most successful Russian flying ace and fighter pilot was Alexander Kazakov, who shot down 20 enemy aeroplanes. After the February Revolution of 1917 the Imperial Russian Air Service was reformed.
Russian Imperial Badge 19th Corps Air-division, 1917
Get pre-approved to bid live on

Sun, Jan 20, 2019 5:15 PM GMT

.
Register For Auction
Discover Items You'll Love