213: HALEY, J[ames] Evetts. The XIT Ranch of Texas....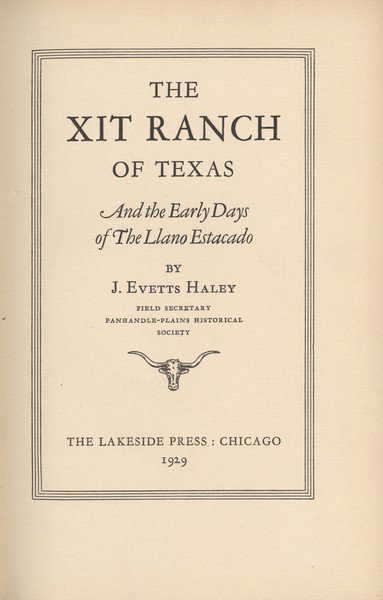 See Sold Price
Don't Miss Your Next Treasure.
Set up a search alert to hear when Dorothy Sloan - Rare Books lists new auctions.
Auction ended on December 11th, 2009 UTC
213: HALEY, J[ames] Evetts. The XIT Ranch of Texas....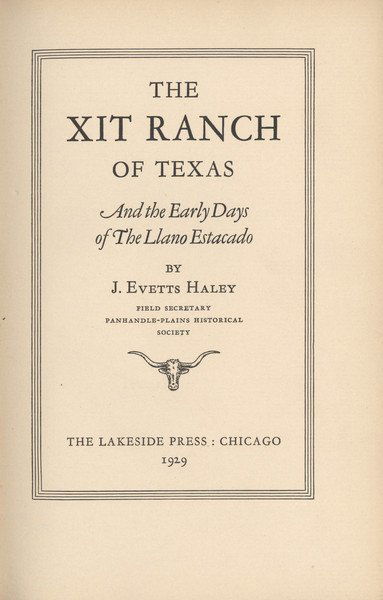 XIT: Merrill Aristocrat & Reese Six Score
213.     HALEY, J[ames] Evetts. The XIT Ranch of Texas and the Early Days of the Llano Estacado. Chicago: The Lakeside Press, 1929. [i-vi] vii-xvi, 1-261 [1, blank], [2] pp., 30 leaves of plates with images on rectos and versos (portraits, scenes; mostly photographs, some by Erwin E. Smith), plus 2 maps: [1] frontispiece map: Western Land Cessions; [2] folded map: Map of XIT Ranch Lands. 8vo (23.5 x 15.5 cm), original dark olive green cloth, gilt longhorn on upper cover, gilt lettering on spine, t.e.g. Very fine. Original invoice for $32.50 from Carnegie Book Shop laid in.
     First edition of author's first book. Adams, Guns 894. Adams, Herd 969: "One of the rarest and most sought after books on cattle." Basic Texas Books 82: "Haley's first book, this is nevertheless one of the best examples of his scholarship." Bauer Sale 178. Campbell, pp. 187–88. Campbell, My Favorite 101 Books about the Cattle Industry 41. CBC 121a (plus 5 additional entries). Dobie, pp. 104: "As county and town afford the basis for historical treatment of many areas, ranches have afforded bases for various range country histories. Of such this is tops." Dobie & Dykes, 44 & 44 #20. Dykes, Collecting Range Life Literature, p. 5. Dykes, Western High Spots, p. 21 ("My Ten Most Outstanding Books on the West"): "Beautifully printed"; p. 70 ("High Spots of Western Illustrating" #56); p. 79 ("A Range Man's Library"): "Spoke quite plainly about some folks who started their herds with XIT cows. A suit was filed and the unsold remainder of the first edition was impounded by the court. It is a very scarce and expensive book"; p. 103 ("The Texas Ranch Today"). Graff 1718. Howes H39. Merrill, Aristocrats of the Cow Country, p. 19. One Hundred Head Cut Out of the Jeff Dykes Herd 68. Rader 1731. Reese, Six Score 54. Robinson, Haley (1967) 198: "This epic account of the largest and most famous ranching operation of the early West is a landmark in the literature of the cattle country. Monumental in scope, infinitely detailed, the book presents the history of the Llano Estacado and traces the development and operations of a 3,000,000 acre ranch. It is the one volume that, more than any other, portrays the early-day cattle business of the West". Robinson, Haley (1978) 3: "The first edition consisted of 1,380 copies, and was withdrawn from circulation soon after it was first issued." Vandale 82.
     Handbook of Texas Online: James Evetts Haley, Sr.:
In 1927 officials of the former Capitol Freehold Land and Investment Company commissioned the twenty-six-year-old scholar to write a history of the XIT Ranch. Haley's critically acclaimed The XIT Ranch of Texas and the Early Days of the Llano Estacado, which appeared two years later, established the author as a premier interpreter of the western range cattle industry. The book, however, was also the subject of libel suits totaling $2.2 million. The first of these actions was tried in state district court in Lubbock in 1931. Although acquitted of the charges, Haley and his co-defendants subsequently agreed to withdraw the book from the market and paid the plaintiffs $17,500 to settle all pending claims.
     The book is enhanced by the presence of incredible range photographs of cowboy-photographer Erwin E. Smith who captured a way of life then rapidly disappearing.
Discover Items You'll Love