Weekly Auctions of Exceptional Items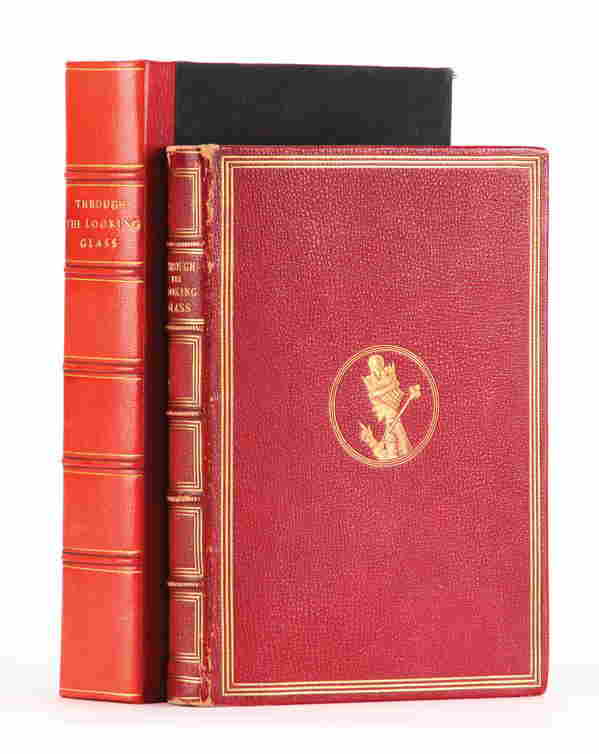 Lot 0028 Details
Description
Lewis Carroll - Alice Liddell

On July 4, 1862, the shy, deeply religious Charles Lutwidge Dodgson "Lewis Carroll" (1832-1898), together with his fellow Oxford don, Robinson Duckworth, took the three Liddell sisters (Alice, Ina and Edith, daughters of the Dean of Christ Church) on what was perhaps the most famous picnic of all time:

"Duckworth and I made an expedition up the river to Godstow with the three Liddells; we had tea on the bank there, and did not reach Christ Church again til quarter past eight…On which occasion, I told them the fairy-tale of Alice's Adventures Under Ground…"

So was created – initially just for Alice, and with no thought for its future life – perhaps the world's most famous and best-loved children's story. It is now so much part of our heritage that it is difficult to comprehend how revolutionary this story was in its conception and execution. In modern times, it is said, Lewis Carroll is second only to the Bible and Shakespeare in the number of times quotations from the Alice books and his other works appear in our literary or common discourse.

As the inspiration for the 'Alice' stories, Alice Pleasance Liddell (1852-1934) has a unique place in literary history. But Dodgson himself also practiced another art in addition to writing, one that has been fully appreciated only in recent years: the – as it then was – pioneering and painstaking art of photography. And if Alice, with her "pure, unclouded brow and dreaming eyes of wonder" (Dodgson) was his Muse for his greatest literary works, she was equally so as his model for some of the most touching and enchanting pictures ever produced in this medium. It was, of course, through photography that Dodgson first met Alice on April 25, 1856, when he went with Southey to the Deanery to "take a photograph of the Cathedral".

On November 26, 1864 Dodgson presented to Alice the manuscript of Alice's Adventures Under Ground. In April 1928, four years before her death, Alice Liddell sold this manuscript – together with a few other items from her collection – at Sotheby's in New Bond Street where it was sold for the record price of the £15,400 (the equivalent of over $75,000 at that time) to an American collector. Some years later a group of American bibliophiles banded together to re-acquire the manuscript and present it to the British nation, in gratitude to "a noble people who held Hitler at bay for a long period single-handed". It now resides in the British Library.

28. Through the Looking-Glass, First Edition, the Dedication Copy, presented to the original Alice by Lewis Carroll and signed by her. Dodgson, Charles Lutwidge (Lewis Carroll). Through the Looking-Glass, and What Alice Found There. With Fifty Illustrations by John Tenniel. London: Macmillan and Co., 1872. Octavo. First Edition, first issue, with misprint "wade" for "wabe" on page 21. Publisher's presentation binding in red morocco at the request of Dodgson, gilt-stamped in the style of the cloth binding, spine lettered in gilt, all edges gilt. Extremities rubbed, light foxing to preliminary and end leaves. Dodgson began requesting from Macmillan specially bound copies of his books for presentations in 1865 when he asked for a vellum-bound copy of Alice's Adventures in Wonderland – this was famously recalled due to printing errors; now in the Harcourt Armory Collection at Harvard. One of three copies bound thus for presentation, and received by Dodgson on December 8, 1871, the other two copies in morocco being for Tennyson and Florence Terry. Signed contemporaneously by Alice on the half title in blue ink using her full maiden name, "Alice Pleasance Liddell", the letters of which are spelled out in the unconventional printed dedication concealed at the end of the book in the form of a beautiful acrostic poem:

A boat beneath a starry sky,
Lingering onward dreamily
In an evening in July –
Children three that nestle near,
Eager eye and willing ear,

Pleased a simple tale to hear –
Long has paled that sunny sky:
Echoes fade and memories die:
Autumn frosts have slain July.
Still she haunts me, phantomwise,
Alice moving under skies
Never seen by waking eyes.
Children yet, the tale to hear,
Eager eye and willing ear,

Lovingly shall nestle near.
In a Wonderland they lie,
Dreaming as the summers die:
Ever drifting down the stream –
Lingering in the golden gleam –
Life, what is it but a dream?

The fact that the book is not signed by Dodgson is consistent with his practice of not inscribing presentation copies in special bindings at this date; for example, neither the 1865 nor 1866 Alice bound in vellum for Alice Liddell are inscribed by Dodgson. Earl of Gloucester's copy with his bookplate. Housed in a ¼ red morocco clamshell box. The historical importance of this book cannot be overstated, as one has only to listen to John Lennon's Beatles song "I am the Walrus" inspired by this book. In 2001 at Sotheby's London, the dedication copy to Alice Liddell of the 1886 Alice's Adventures Under Ground being a facsimile of the original Alice MS sold for $197,000. The copy being offered represents an amazing opportunity to own the most important dedication copy left in private hands. $100,000 – $150,000
28: Through the Looking-Glass, First Edition, signed
Estimate
$100,000
-
$150,000
Get pre-approved to bid live.
Register For Auction
Shipping, Payment & Auction Policies
Wed, Dec 16, 2009 2:00 PM EST
www.liveauctioneers.com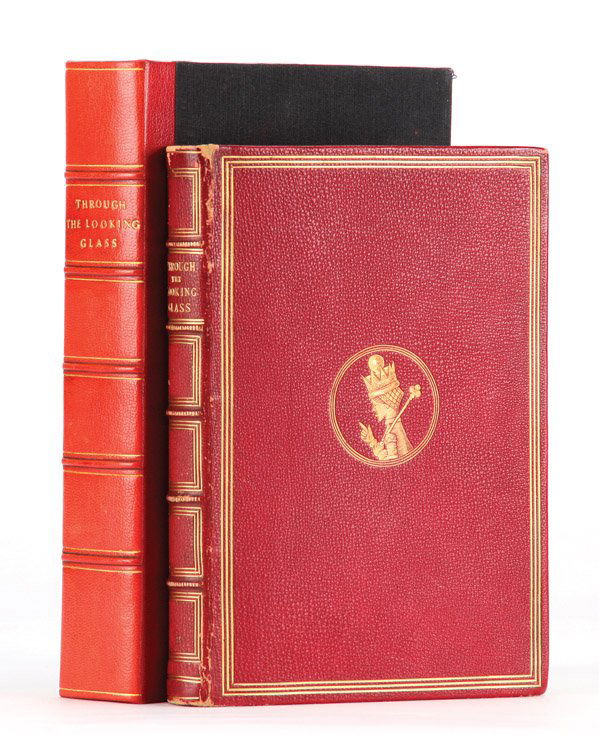 0028: 28: Through the Looking-Glass, First Edition, signed
Est.

$100,000

-

$150,000
•
Starting Price

$100,000
Pat McInally Collection of Children's Books
Wed, Dec 16, 2009 02:00 PM
Buyer's Premium 18%
Lot 0028 Details
Description
Lewis Carroll - Alice Liddell

On July 4, 1862, the shy, deeply religious Charles Lutwidge Dodgson "Lewis Carroll" (1832-1898), together with his fellow Oxford don, Robinson Duckworth, took the three Liddell sisters (Alice, Ina and Edith, daughters of the Dean of Christ Church) on what was perhaps the most famous picnic of all time:

"Duckworth and I made an expedition up the river to Godstow with the three Liddells; we had tea on the bank there, and did not reach Christ Church again til quarter past eight…On which occasion, I told them the fairy-tale of Alice's Adventures Under Ground…"

So was created – initially just for Alice, and with no thought for its future life – perhaps the world's most famous and best-loved children's story. It is now so much part of our heritage that it is difficult to comprehend how revolutionary this story was in its conception and execution. In modern times, it is said, Lewis Carroll is second only to the Bible and Shakespeare in the number of times quotations from the Alice books and his other works appear in our literary or common discourse.

As the inspiration for the 'Alice' stories, Alice Pleasance Liddell (1852-1934) has a unique place in literary history. But Dodgson himself also practiced another art in addition to writing, one that has been fully appreciated only in recent years: the – as it then was – pioneering and painstaking art of photography. And if Alice, with her "pure, unclouded brow and dreaming eyes of wonder" (Dodgson) was his Muse for his greatest literary works, she was equally so as his model for some of the most touching and enchanting pictures ever produced in this medium. It was, of course, through photography that Dodgson first met Alice on April 25, 1856, when he went with Southey to the Deanery to "take a photograph of the Cathedral".

On November 26, 1864 Dodgson presented to Alice the manuscript of Alice's Adventures Under Ground. In April 1928, four years before her death, Alice Liddell sold this manuscript – together with a few other items from her collection – at Sotheby's in New Bond Street where it was sold for the record price of the £15,400 (the equivalent of over $75,000 at that time) to an American collector. Some years later a group of American bibliophiles banded together to re-acquire the manuscript and present it to the British nation, in gratitude to "a noble people who held Hitler at bay for a long period single-handed". It now resides in the British Library.

28. Through the Looking-Glass, First Edition, the Dedication Copy, presented to the original Alice by Lewis Carroll and signed by her. Dodgson, Charles Lutwidge (Lewis Carroll). Through the Looking-Glass, and What Alice Found There. With Fifty Illustrations by John Tenniel. London: Macmillan and Co., 1872. Octavo. First Edition, first issue, with misprint "wade" for "wabe" on page 21. Publisher's presentation binding in red morocco at the request of Dodgson, gilt-stamped in the style of the cloth binding, spine lettered in gilt, all edges gilt. Extremities rubbed, light foxing to preliminary and end leaves. Dodgson began requesting from Macmillan specially bound copies of his books for presentations in 1865 when he asked for a vellum-bound copy of Alice's Adventures in Wonderland – this was famously recalled due to printing errors; now in the Harcourt Armory Collection at Harvard. One of three copies bound thus for presentation, and received by Dodgson on December 8, 1871, the other two copies in morocco being for Tennyson and Florence Terry. Signed contemporaneously by Alice on the half title in blue ink using her full maiden name, "Alice Pleasance Liddell", the letters of which are spelled out in the unconventional printed dedication concealed at the end of the book in the form of a beautiful acrostic poem:

A boat beneath a starry sky,
Lingering onward dreamily
In an evening in July –
Children three that nestle near,
Eager eye and willing ear,

Pleased a simple tale to hear –
Long has paled that sunny sky:
Echoes fade and memories die:
Autumn frosts have slain July.
Still she haunts me, phantomwise,
Alice moving under skies
Never seen by waking eyes.
Children yet, the tale to hear,
Eager eye and willing ear,

Lovingly shall nestle near.
In a Wonderland they lie,
Dreaming as the summers die:
Ever drifting down the stream –
Lingering in the golden gleam –
Life, what is it but a dream?

The fact that the book is not signed by Dodgson is consistent with his practice of not inscribing presentation copies in special bindings at this date; for example, neither the 1865 nor 1866 Alice bound in vellum for Alice Liddell are inscribed by Dodgson. Earl of Gloucester's copy with his bookplate. Housed in a ¼ red morocco clamshell box. The historical importance of this book cannot be overstated, as one has only to listen to John Lennon's Beatles song "I am the Walrus" inspired by this book. In 2001 at Sotheby's London, the dedication copy to Alice Liddell of the 1886 Alice's Adventures Under Ground being a facsimile of the original Alice MS sold for $197,000. The copy being offered represents an amazing opportunity to own the most important dedication copy left in private hands. $100,000 – $150,000
Contacts
Profiles in History
310-859-7701
26662 Agoura Rd.
Calabasas, CA 91302
USA
LiveAuctioneers Support
info@liveauctioneers.com