Welcome to the world's largest marketplace for fine art, antiques & collectibles.
Julia Thecla (American, 1896-1973) Painting 1936
Don't Miss Your Next Treasure.
Set up a search alert to hear when Paintings items arrive.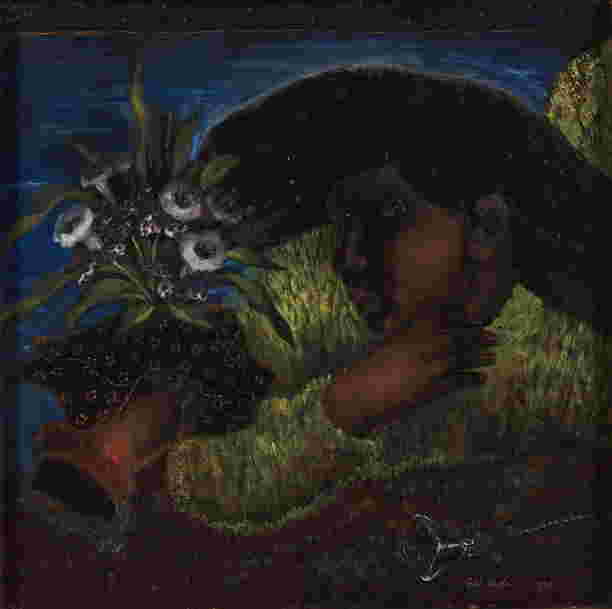 Lot 0200 Details
Description
Julia Thecla (American, 1896-1973) painting. Titled: The Last Lover. Casein, gouache opaque watercolor painting on artist board panel. Signed lower right Julia Thecla 1936. Retains old original Museum of Modern Art paper loan with G Place Gallery address. Titled on reverse and marked property of David Porter. Painting is from the estate of artist David Porter (1912-2005). Painting measures 12 inches high, 12 inches wide. Original frame which has loss measures 17.3 inches high, 17.3 inches wide. In good condition. The painting is pictured on page 6 of the 1985 Winter issue of The Illinois State Museum - Living Museum - Volume 47 Number 1 Magazine. The 1985 issue featured a full story on the Chicago artist entitled: Julia Thecla - Painter of Magic Worls and Private Visions by Associate Curator of Art - Maureen A. McKenna (please see below photos of the magazine story). For Hi Res images of the painting, simply cut and paste the below link into your web browser. https://www.dropbox.com/sh/rj8rqm9c7ambk2l/AABdHcySGXww2vrlnv4S8HIxa?dl=0

The New York artist David Porter (1912-2005) was a student at the Chicago Art Institute and met Julia in the early 1930's. They became life-long friends and later in 1947 David introduced Julia to his friend Peggy Guggenheim who included her in a show called "Women". David also helped organize an exhibit in Chicago of Julia's work at the State of Illinois Art Gallery Museum in the summer of 1986, where this painting was exhibited. Included is a copy of David Porter's 1986 museum loan agreement for the painting. Maureen McKenna, the curator for the exhibition, asked David to include reminiscences of Julia for the museum exhibition catalog. David provided a wonderful account giving some of his memories and we have included scanned pages of these reminiscences. Also included are scans from various exhibition catalogues and a letter from Julia to David. Julia's work is associated with the Magical Realism movement. A self-portrait of Julia is scanned from an article titled "Illinois Women Artists, 1840-1940" that appeared in the April 2012 issue of American Art Review Magazine. Porter exhibited Thecla's work at the David Porter Gallery, 916 G Place, N. W. Washington, D.C. in the 1940's along with such vanguard artists as Baziotes, Bourgeois, de Kooning, Gottlieb, Motherwell, Nevelson, Pollock, Pousette-Dart, Rothko and other abstract expressionists. Julia Thecla has been described as a performance artist. She dressed eccentrically, adopting a childlike persona, and dressed in Victoriana. This was as much a part of her artistic expression as her painting. She walked down the street where she lived in full costume with her pet chicken on a leash. This extraordinary act in the conservative Chicago suburbs led to friends advising her to tone it down, for fear she could be treated as insane. Whilst her costuming may have been a disguise, to hide her shyness, it was also a performance. She gives the impression of pursuing the femme-enfant ideal which was encouraged by the Surrealists in their younger female followers. Though was not personally engaged with them she was well read and would have been aware of the phenomenon. Quite apart from her disguises, Julia was also secretive in her personal life. She had some friends, but few were close. She lived simply, alone, and was nervous outside familiar milieu. Her solitary state was assuaged by her many pets, especially rabbits, cats, chickens and pigeons. Apart from fellow artist Gertrude Abercrombie, her greatest friend was painter David Porter, who she first met in the early 1930's. He helped her to exhibit her work outside Chicago, in Washington, and New York. She also exhibited at the Chicago Women Artist's Salon and with the WPA. From an article in Time Out Chicago: "Like so many figurative artists working in the 1930s and 1940s, Julia Thecla got pushed to the side by the art world's fascination with abstraction. An exhibition of 35 paintings by this Chicago artist at DePaul Art Museum makes a strong case for why she should not be forgotten. The museum was already in possession of 14 pieces from Thecla's planetary series (donated by the late gallerist Helen Findlay), and its director, Louise Lincoln, knew it formed a great base for a show. She invited DePaul art professor Joanna Gardner-Huggett, who specializes in women artists, to be the guest curator. But it took six years to track down more of Thecla's work and find archival material. It was time well spent: Included in this exhibition of 35 paintings is a rare, early self-portrait from 1926, and Gardner-Huggett also located footage of a ballet at the Newberry Library, for which Thecla designed the sets and costumes (the attribution, until now, was unknown). Also included here are works by her friends-a lithography by Ivan Albright and paintings by Gertrude Abercrombie that alone are worth a visit. Thecla was born Julia Connell in Delavan, a small southern Illinois town. In 1920, she made a radical change in her life when she moved to Chicago. She was about 24, and she cut herself off from her family and changed her last name in honor, she once said, of a nun aunt who was enamored with Saint Thecla. Clearly, Thecla had technical skill; she was able to support herself as an art restorer and pay for some classes at the School of the Art Institute. There she met fellow artist David Porter, who she had a long term relationship with. She created gouache and charcoal paintings of little girls reading, ballerinas and the heavens. She experimented with materials like soot and incorporated collage into her canvases. By the 1940s, her career was going strong and she was included in Peggy Guggenheim's legendary exhibition of women surrealists. But in time, Thecla came to be viewed as mentally unstable. Maybe this had something to do with the fact that she kept chickens in her studio on Ontario Street, dyed her pet pigeon pink, or walked around the city wearing elaborate costumes. (One of her friends encouraged Thecla to rein it in, saying: "This is not Paris.") In her research for this exhibition, Gardner-Huggett says she hopes to dispel the "eccentric" stereotype. "She was a performer," she says. "She was assuming an identity." The ballet that Thecla worked on dealt with the tragic love of an interracial couple, which points to the fact that Thecla had a political view and a sense of social justice. "She was not a crazy woman living with birds," Gardner-Huggett says. "She was engaged in the world. Friends have said that she read a lot and could talk about anything." (Which probably explains why so many of the little girls in her paintings are holding books.) Thecla also wrote poetry, although none of it has been published. So why did Thecla disappear from the art world? "Well, no family is a big issue," Gardner-Huggett says. "You need someone to maintain your estate." And she wasn't attached to a male artist, a point that Gardner-Huggett says pushed her even further down the ladder. Thecla never had children or married, and her sexual orientation is unclear (she often referred to her intimates by initials). Those personal details are only worth noting because her status as a single, female artist has a lot to do with why she has been ignored. "There was really no one looking out for her work," Gardner-Huggett says. Thecla painted up into her seventies until she started losing her vision. Friends took turns looking in on her but eventually she was moved into a charity home where she died in 1973. There are Theclas in the collections of the Hirshhorn Museum in D.C., MCA and Art Institute but they are never shown unless they are loaned out. "Hopefully a show like this changes the dialogue and it gets people thinking about her work again," Gardner-Huggett says." American painter, theatre & ballet designer, performance artist, curator Julia Connell Thecla was born 28th February 1896 in Delavan, Illinois and moved to Chicago in around 1920. She was a working artist from around 1920 to 1966, but she was not recognised elsewhere and she was almost forgotten even before her death. Little is known about her family, she largely severed ties with them. Julia attended classes at the Art Institute of Chicago, while supporting herself as a commercial artist, copyist and art restorer. These and other subsidiary activities sustained her over many years; she never earned much from her paintings. Even after her arrival in Chicago it was eleven years before she could exhibit. Her first exhibition was the Art Institute's International Watercolour Exhibition in 1931, when Thecla was already 35. She contributed work to the Art Institute's various annual shows until her death. Though she is sometimes described as a surrealist, Julia Thecla's enigmatic and deeply personal pictures are out on the periphery of the surrealist movement. Much of her work is symbolist or just quirkily representational, rather than really surrealist. Being deeply involved in the artistic community, she was aware of surrealism and its connotations but, like many women artists, she took only what she liked out of it. Her first truly Surrealist pictures began to emerge in the late 1930's with works such as Dreamer and Nudes 1937 which depicting a costumed woman, her eyes closed, holding four ropes which are stretched taut and disappear into the sea. Attached to the other ends of the ropes are a line of nudes. Like some of the other women associated with surrealism, notably Leonor Fini and Frida Kahlo, Julia often included her own face in her paintings, though these are not as obviously self-portraits as in, for example, the entirely self-aware work of Frida Kahlo. The meaning of Julia Thecla's paintings of dreamy, childlike women remains obscure, like the even more enigmatic work of Leonora Carrington and Remedios Varo. Also like them she refused to explain her enigmas, allowing the pictures to speak for themselves, or not. Thecla's favourite medium was gouache, she used the water based paint thick and opaque, often scratching through layers of paint to the paper below, so outlining her subjects in white. She seldom painted on canvas, reserving this for rare, large oil paintings; most of her works are small or very small and have been described as jewel like, for their size and intensity of colour. In the surrealist manner, Julia Thecla experimented with mixed media and random collage and used wax and soot from candle flames in her painting, a technique named 'fumage' by the surrealists. Inspired by shapes thus formed, she made images with her paper flat on the table or even floor; she never worked at an easel. From the late 1930's Julia was involved with theatre and especially with ballet. She designed costumes and sets for a number of productions, one required her to design circus freak costumes for the dancers including one with three heads and another for a one-legged dancer. She curated two large exhibitions of Ballet Art in the early 1950's and she painted pictures on a ballet theme. Her best known, Bunny Backstage, painted in 1939 shows her friend, ballerina Mary Guggenheim, sitting on a trunk to take off her dancing shoes, with a large black rabbit for an audience. Some of her other ballet paintings are more fantastical, with tutu clad dancers atop mountains or in the clouds and in a series of late paintings she became excited by the outward bound world of space exploration.

From AskArt: Julia Thecla Connell was born in 1896 in the rural town of Delavan, Illinois, to Irish parents Julia Fitzpatrick Connell and James Gleason Connell. She had three older sisters and one younger brother, and showed an early aptitude for art. Thecla began her art education as soon as she was old enough to pay for classes, studying at Illinois State University, Normal, for a summer. In 1920 she moved to Chicago, taking classes at the School of the Art Institute of Chicago (SAIC), supporting herself and her studies through art and antique restoration work. Around that time, she dropped the Irish surname Connell and assumed the name Thecla, fashioning a new identity for herself as an artist. She joined many associations in the 1930s—including the Chicago No-Jury Society of Artists, the Neoterics, and the Chicago Society of Artists—and participated in Chicago's first outdoor art fair held in Grant Park in 1932. In 1936 Thecla enrolled in Francis Chapin's lithography class at SAIC. She developed a personal vocabulary of fairy tale images of children and animals. During her employment in the easel painting section of Works Progress Administration during the Depression (1938-42), however, she tempered her imaginative explorations and produced more prosaic themes of everyday life.Thecla met Ivan Albright and Gertrude Abercrombie in the 1930s, and, like them, joined the modernist trend toward fantasy. Imaginative and dreamlike images like theirs blossomed in 1920s and 1930s Chicago. Thecla's early works are representational but as personal, unconventional, and idiosyncratic as she was. Known for her odd way of dressing and childlike persona, Thecla lived alone in a tiny apartment with an assortment of animals, including a chicken and rabbit. Chicago critic C. J. Bulliet described her as shy, self-effacing, and quiet, and declared her "the mystery girl of Chicago art." Some have argued that her oddness was a performance and should not overshadow her credibility as an artist. It is important, however, to recognize how her uniqueness extended to her approach to making art. She developed an original technique of rubbing through the top layer of opaque watercolor to create smudged, mottled surfaces, often crossed by delicate, scratched lines.Her subject matter shifted away from the childlike imagery, becoming increasingly arbitrary and unusual—and based on her imagination. She often incorporated images of floating or flying, as if floating to another world. For instance, in Girl on the Flying Trapeze, 1936, she takes the viewer into the heavenly realm of the trapeze artist high above the spectators below; stark white highlights accentuate the sparkles on her shoes and skirt.Silver Bell Cabaret, 1937, exemplifies well her preference for stark outlining as seen in the myriad details of clothing, hair, fabrics, and furs. Dramatic red curtains frame the scene and render its "reality" ambiguous. Untitled (Girl with nest egg), 1937, is also heavily detailed: Thecla incised paint to mark the floor boards and stairway. It merits comparison to Abercrombie and Harold Noecker, whose surrealist works also tended to depict lone figures in empty rooms or vacant surroundings. Thecla's Girl with Nest Egg conveys an outsider's point of view and is imbued with a sense of mystery. It depicts a room full of doors and windows—portals to an unknown world, whose stars match those on the girl's dress. She holds up her hands as if she is as mystified as we are at the appearance of a giant egg (possibly an ostrich's) in front of her.Thecla also reworked the surface of Millinery, 1944, in which two women gaze admiringly at themselves in twin handheld mirrors, wearing gloves and heavy coats, while inspecting their fine hats. Thecla scratched oil paint off the surface to create the mottled quality of faces and dark skin, and added contrast with stark outline. People and Planets, 1946, takes on a more idiosyncratic, playful, and abstract tone. It's a mythological scene of water rocks and sea creatures, in which vivid aqua and pink tones render an otherworldly terrain. With her interest in depicting details of clothing and accessories, it is not surprising that Thecla designed scenery and costumes for three ballets choreographed by her friend Berenice Holmes in 1945-46. Many of her works also show this interest in dancers—another predominately female realm.Thecla's later works became more mystical and enigmatic, whimsical, and dreamlike, as seen in her gouache, Untitled (Women and birds). She portrayed herself in front of a wall of her work but obscured her face in a 1950 Untitled (Self-portrait with paintings), allowing the works on the wall to stand in for her representation. Bird Girl Investigator, 1961, even further abstracts the human form, melding surreal images of birds, people, and heavenly bodies, as if fully launched into a stellar realm. Like many figurative artists of the 1940s, Thecla's work lost favor in the shift toward abstraction.With no immediate family to care for her in her old age—she never married and had no children—Thecla died in relative obscurity in a Catholic charity home in Chicago in 1973. She was given a solo exhibition at the Illinois State Museum in Springfield in 1984.
Julia Thecla (American, 1896-1973) Painting 1936
Estimate $15,000 - $25,000
Feb 17, 2019
Shipping, Payment & Auction Policies
Ships from
St. Petersburg, FL, United States