58: 1986 Fleer Joe Dumars Rookie Basketball Card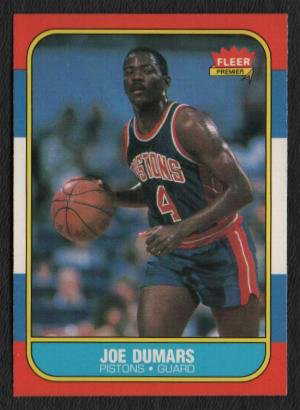 See Sold Price
Don't Miss Your Next Treasure.
Set up a search alert to hear when Seized Assets Auctioneers lists new auctions.
Auction ended on January 23rd, 2010 UTC
58: 1986 Fleer Joe Dumars Rookie Basketball Card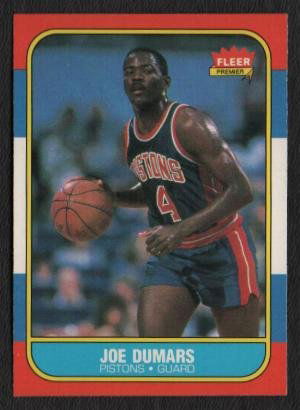 1986 Fleer Joe Dumars Rookie Basketball Card - Excellent Condition - Thank you for viewing this auction. We appreciate your business. Check out our future auctions from Seized Assets Auctioneers.
[removed]
click to enlarge
click to view more images
1986 Fleer Joe Dumars Rookie Basketball Card
Condition Report: Excellent Condition
Description:
You are bidding on the following lot: 1986 Fleer Joe Dumars Rookie Basketball Card. Trading Cards are a terrific way to collect an inexpensive collectible of your favorite sports stars. Many of these items are Rookie Cards, the ideal card to collect of any All-Star.
Contact & Payment Info:
Phone: (805) 496-4969 x34
"Bid and invest with confidence when you purchase from Seized Assets Auctioneers."
Payment Options
All items must be paid for within (5) working days by the respective purchaser. We will accept most major credit cards including Visa, MasterCard & American Express, Intuit payments as well as certified check/money orders and personal checks. (Certified checks, personal checks and money orders will be held for 10 days to clear our account prior to shipment) Sorry, we no longer accept paypal payments. Non Performing Bidder Reports lead to suspension from all online auctions. We will email you an invoice upon completion of live auction. Payment details and corresponding contact information will be provided. Once paid in full, winning item will be shipped to its winning bidder with insurance and delivery confirmation.
Shipping
SHIPPING TABLE Small items, Cards, Coins, Jewelry, $12.95 each item, may not bundle. Baseballs, Mini Helmets, Loose items - $36.00, may not bundle. Full Sized Helmets, Footballs, Basketballs, Baseball Bats, Shoes, Boxing Gloves etc. - $64.00, May not bundle. Small Framed Items (12"x12") - $44.00, May not bundle Medium Framed Items (30"x30") - $64.00, May not bundle Large Framed Items (50"x50") - $84.00, May not bundle Oversized Framed Items - $116.00, May not bundle ***INSURANCE INCLUDED IN ABOVE PRICES*** ***IMPORTANT*** BECAUSE INSURANCE IS INCLUDED; YOU MAY NOT BUNDLE SHIPPING COSTS FOR MULTIPLE PURCHASES!! If item is over $500.00, please add $0.50 for each $100 of your winning bid. - Should expedited shipping be requested, additional fees will apply. - We reserve the right to adjust shipping charges. - Additional fees apply when shipping Internationally. - All items are shipped insured.
IMPORTANT Notices & Disclaimers - Please Read
Regarding Appraised Jewelry and Loose Stones -
Seized Assets Auctioneers utilizes Retail Replacement Value Appraisals, which are the most common. These types of evaluations are written for insurance needs. This would be the cost to replace the jewelry with an item of equal quality and kind, considered to be the current market price or the replacement value. This type of appraisal is done to protect you in the event of damage or loss of a valuable item. Our appraisals are conducted by and independent 3rd Party appraisal firm that utilizes Certified GIA Gemologist, if more information is needed you are welcome to contact them directly: Gemological Laboratory of America-info@gemlabamerica.com or American International Gemologists - info@aiglabs.com. Appraisals should be used for verification of gemstone and/or metal weight, size, and grade only, not actual value. Appraisal value should be considered for insurance purposes only, not actual value, as price varies greatly from retail locations thru out the world. Items should not be purchased with the expectation to resell for appraisal price, or for profit.

Regarding Memorabilia Items -
All autographs come with a Third-Party Certificate of Authenticity from either PSA/DNA, Global Authentication, Bang the Gavel Auction Services, Spence Authentication, UDA, Online Authentics or another reputable memorabilia authenticator. Seized Assets Auctioneers is not responsible for the opinions of any of the third-party authenticators. Please email us at questions@seizedassetsauctioneers.com with any specific questions.

Regarding Land Purchases -
Please note that there may be many lots in this subdivision, therefore picture(s) may or may not be of specific lot. All properties are sold "as-is". Prospective purchasers are urged to examine and research all properties prior to bidding. All information contained in this listing page has come from reliable sources and is accurate to the best of our knowledge. We make no guarantee expressed or implied as to the location, condition, accessibility, terrain, build ability or information contained in this listing. We do guarantee free and clear title with no liens or encumbrances to every property that we sell. Title is conveyed via a Deed on all straight-sale properties. Title is conveyed via land-sales contract on all bid and assume properties. "Bid and Assume" means that your winning 'bid" is your down payment; you then will "assume" the note that is placed on the property and you will be obligated to pay the monthly payments as explained on each individual land listing. Be sure that you understand the terms of the note prior to placing your bid as all bids are binding and considered a legal contract. If you have further questions, please contact us at Questions@SeizedAssetsAuctioneers.com Once your property is paid for in full, your property will be deeded to you via a Deed. All sales contracts are assumable, no pre-payment penalties. Please allow 14-21 days for execution and delivery of all paperwork. Bid and invest with confidence from Seized Assets Auctioneers.
[removed] [removed] [removed] [removed] [removed] [removed] [removed] [removed] [removed]
Buyer's Premium
12% up to

$10,000.00

8% above

$10,000.00
Discover Items You'll Love