Weekly Auctions of Exceptional Items
lots of lots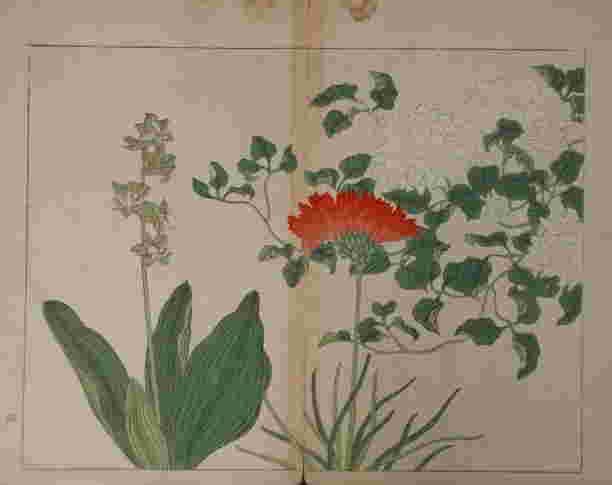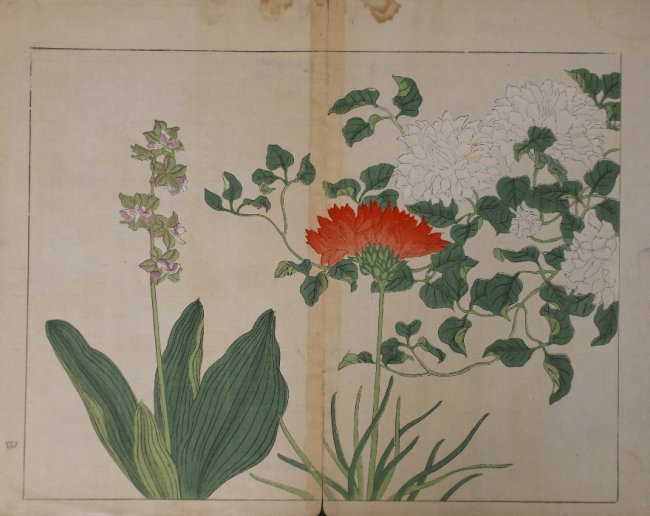 Sakai Hoitsu, "Red & White Flowers", original woodblock print from the Shiki no hana, authentic first printing by Yomada Unsodo, Kyoto, 1907-1908, Meiji Era 40-41. Certifications of Authenticity will be included upon buyers request.

Sakai [1761-1828] served at the Imperial court and was the son of a Daimyo of Himeiji in Harima province. He painted this work from living specimens, and was assisted by Suzuki who supplemented the work. Upon Sakai's death, the work was continued and finished by Nakano [1833-1892]. He rounded out the work to contain some 1000 examples, then it was published for the first time in 1907 - 1908. The work contains a profusion of stunningly beautiful color woodblock-printed flowers as well as fruits & fruiting trees, illustrated in Deluxe large Oban size. The Co-painters/artists were Suzuki Sonoichi and Nakano Sonoaki.

Artwork will be mailed unframed.

US: Priority (c 2-4 days) ------- $12.50
Canada: Priority (c 2-7 weeks) -- $27.50
World: Priority (c 2-8 weeks) --- $37.50
Condition
Double page woodblock print, 36.5cm x 27.5cm [c. 14.1/2" x 10.3/4"] including blank margins, design 32.3cm x 23.5cm [c. 12.3/4" x 9.1/4"] aging, some soiling and wear, some thins, old repair, fair + /good condition. The visible fold in the middle, or even separation is an indication that the print is authentic.
Shipping
$12.50

shipping to contiguous United States
Ask for international & combined shipping rates
Please allow 2-7 business days after receipt of cleared payment for your purchases to ship. Once shipped, you will receive shipment tracking information by email. Estimated shipping charges and shipping options found in lot descriptions include signature/delivery confirmation. All items that are insurable will be insured. We combine shipping when possible, if more than one item is purchased. In case you would like to have the item shipped via Express mail, please let us know before auction ends, so we will be able to adjust shipping costs with invoice. PLEASE MAKE SURE that YOUR SHIP-TO ADDRESS is CLEARLY PROVIDED. We usually send to provided and confirmed PayPal address. Please, KEEP YOUR ADDRESS UP-TO-DATE !! If you would like to have the item shipped to a different address, please contact us immediately with the right information and make sure that you INCLUDE the Ship-To- Address With your Payment! Shipping prices include solid packaging and tracking when possible. We will do our best to pack your item[s] as secure as we can to avoid any damages during the regular transport according to the USPS postal regulations. Shipping costs displayed in the item description are estimates. Shipping will be computed on an individual basis after the completion of the sale. Please do not pay before we compute your shipping charges and email you the invoice. In case you would like to have the item shipped the faster way (Express mail) -- please let us know before or immediately after the auction ends, so we will be able to adjust shipping costs with the invoice. NOTE: You may also hire your own shipping agent to handle your shipping for you. Please contact us before or right after the auction ends to arrange for your agent to pick up your items. All inquiries must be made either via e-mail system through this auction site or directly to nicklausfinearts@yahoo.com. Sensitive items such as frames with glass, pottery and other ceramics, as well as bulky items such as sculptures, etc. will require double-boxing for safe transport during shipping. Auction Company attempts to fairly estimate shipping charges for these sensitive items in the lot description, but these are estimates only. Our invoice will contain the adjusted final shipping costs. !IMPORTANT NOTE for INTERNATIONAL Buyers:! Import duties, VAT taxes, GST and charges are not included in the item price or shipping fees. These charges are buyer's responsibility. Please, do not confuse these charges for additional postage. These are fees your country may charge for importing goods. In case buyer fails to pick up the package at customs or Post Office which will hold the package for ca. 10 days unless buyer arranged a new pick up date and as result it is returned to us, we will either re-ship the package while the buyer has to cover return shipping charge and the new shipping costs the Post Office will charge again, or we will issue a refund when item is received -- minus the shipping and return shipping fees. As per new Postal Regulations of 2016, "Shippers in the US will now pay return postage fees for undeliverable packages." Frost & Nicklaus is not liable for foreign Winner's failing to pay his/her country's duties or to follow his country's regulation. Therefore, Frost & Nicklaus does not reimbursement any funds already paid in such cases. SHIPPING TIME: Shipping will be conducted once payment is received and has cleared. Please allow 2-7 days to ship after the payment is cleared. We use mainly the US Postal Service. Since a third party is involved in delivering your items, we cannot give a guarantee that a package will arrive to a certain date. International packages have to go through customs, which might delay the item delivery. Usually, Priority mail within US takes ca 2-4 days; International Priority package ca 2-8 weeks, very rarely up to three months; Express mail ca 5-10 business days. The US Postal web-site at usps.com is offering the possibility to request an e-mail up-date which can be found next to the tracking info. There is also a toll free phone-number. Damaged or Lost Package -- Please see at our Auction Terms & Info.
Payment
We accept debit/credit cards through liveauctioneers payment system or through paypal.com - Please always include your correct ship-to address with your payment. Domestic and international wire transfer is possible for an amount of $500.00 and up, bank charges must be covered by the buyer. We also accept cash, Postal Money orders and personal or business check. All payments need to be made in the US currency. All purchases must be paid for in full before shipping of any item. Frost & Nicklaus may at its discretion hold property until funds have cleared. SALES TAX: Unless exempt by law, the purchasers residing in the State of Virginia will be required to pay the sales tax. Current rate is 5.3%. Buyer has to pay shipping/ handling, which will be included in the invoice. Payment is due upon notification of a successful bid. All payments must be made within one week of auction, unless other arrangements were made. After auction completes, Frost & Nicklaus will submit your invoice via email. Buyer will have 7 business days to submit payment once invoice has been sent, unless other arrangements were made. We may offer LAYAWAY: We can, by special arrangement offer some short-term payment installment plans and we will hold (lay-away with your 1st down-payment) your item(s) until it is paid in full. Contact us Before the auction ends, so we can work out the details. Invoices for agreed on payment plans will be send via paypal. Payments sent by personal check will not ship until funds clear. Please notify Frost & Nicklaus at --nicklausfinearts@yahoo.com-- of any mailed check or Postal Money order. It is recommended to mail with signature confirmation to be able to track your payment/s. All checks must be submitted and made payable to --Frost & Nicklaus, P.O. Box 1877, Petersburg, VA 23805.-- You can pay via PayPal by submitting payment to --nicklausfinearts@yahoo.com-- via bank account or credit/debit card, the correct ship-to address needs to be included with paypal payment. VA RESIDENTS -- have to add. 5.3% sales tax. Virginia buyers, without exception, in order to be considered tax-exempt, you must provide a valid signed resale tax certificate which can be send via e-mail as pdf file or attachment.
Accepted payment methods
Terms
Privacy Policy Statement The information obtained for registration purposes is for the sole use and purpose of Frost & Nicklaus and is required to bid. Information retained includes order details, shipping address, as well as contact information provided by the buyer when they opt in via the purchase. A copy of the order notification and payment details will be printed and retained to accurately complete the order and then filed for record keeping and tax purposes. Shipping address and contact information will only be used to communicate with you about your order, to fulfill your order, and for other necessary/legal reasons such as inquiries or insurance claims with the shipping courier. AUCTION TERMS AND CONDITIONS OF SALE By submitting your bid, you agree that with the Auction Terms and Conditions stated below. ON-LINE BIDDING We are not responsible for lag/delay/response time errors in on-line bidding. Therefore, online bidders are encouraged to leave bids in advance to avoid any difficulties in executing bids. Please sign up for the auction 24 business hours before the sale begins. We cannot guarantee approval of the bidders attempting to sign up and be approved on the day of sale or during the sale. The record of sale kept by the auction clerks will be taken as final in the event of any dispute. All items in the catalog are sold as described and sales are final. We carefully review and research each item. We also seek and welcome advice from other experts. All results of our research are reflected and stated in the item descriptions; further information is not available at the time of sale. However, our statements should be considered our opinion and not a statement of a final fact or free from human error. Therefore, all sales are made on an as-is, where-is with all faults basis. Frost & Nicklaus does not make any warranties or representations with respect to these items, and neither will be responsible for the absolute correctness of description, genuineness, attribution, period, culture, age, source, origin, authenticity, or condition of any item sold. All statements, written and oral, are qualified statements of opinion only. If an item is materially different than was described, Buyer shall have 48 hours from the date the property is received to notify us. After the 48 hour period all items are considered "as is", without recourse. The foregoing guarantee is only valid to the original buyer. In case of a return, the item(s) must be returned in the same condition as when purchased - with tracking number and insured. No purchaser shall be entitled to any remedy, relief or damages beyond the return of the property, rescission of the sale and refund of the purchase price; and, without limitation, no purchaser shall be entitled to damages of any kind. You acknowledge and agree that you have read our Terms of Use and Privacy Policy, which is incorporated by reference into, and made part of, this Agreement. We may change our Terms of Use and/or Privacy Policy in the future without notice to you and you should check our Terms of Use and Privacy Policy sections of the Site frequently for changes. Frost & Nicklaus is not responsible for any variations in appearance of online photographs. We provide shipping. Packaging & shipping will be arranged at the buyer's expense. Auction Company reserves the right to withdraw property before or during the sale, and has no liability whatsoever for the withdrawal of property. Auction Company reserves the right to reject any bid(s). Your bid is a contract. If you are a successful bidder, you have entered into a legally binding contract to purchase any and all items won. It is suggested that you contact the seller to resolve any issues before bidding. The values given are estimates only. Items may sell for more or less. Most of the items are vintage or antique. Please look at all pictures and read descriptions, items may have some amount of acceptable wear, scratches, nicks, missing stitches, etc. PAYMENT We accept debit/credit cards through liveauctioneers payment system or through paypal.com - Please always include the correct ship-to address with your payment. Domestic and international wire transfer is possible for an amount of $500.00 and up, bank charges must be covered by the buyer. We also accept cash, postal money orders and personal or business checks. We do not accept cashier checks at the moment. All payments need to be made in US currency. All purchases must be paid for in full before shipping of any item. Frost & Nicklaus may at its discretion hold property until funds have cleared. SALES TAX: Unless exempt by law, the purchasers residing in the State of Virginia will be required to pay the sales tax. Current rate is 5.3%. Buyers have to pay the shipping/ handling which will be included in the invoice. Payment is due upon notification of a successful bid. All payments must be made within one week of auction, unless other arrangements were made. After auction completes, Frost & Nicklaus will submit your invoice via email. Buyers will have 7 business days to submit payment once invoice has been sent. If payment is not received within 7 business days, or other arrangements were made, the auction house has the right to deem the sale "null & void" and a non-paying bidder claim will be left. We reserve the right to verify funds on personal checks. A $38.00 fee will apply to all returned checks. We may offer LAYAWAY: We can, by special arrangement offer some short-term payment installment plans and we will hold (lay-away with your 1st down-payment) your item(s) until it is paid in full. Contact us Before the auction ends, so we can work out the details. Invoices for agreed on payment plans will be send via paypal. Payments can be submitted via PayPal (always include correct ship-to address with paypal payment!), or sending funds to our provided address. Disputes will be filed against any non-paying Buyers within 14 days of the sale completion date, unless other arrangements were made. Once disputes are submitted, items will be available for purchase within the 14 days of initial dispute being filed, unless other arrangements are made. Frost & Nicklaus does not guarantee the availability of disputed items once past the 14 day dispute period. For payments $500.00 and up, Frost & Nicklaus reserves the right to require a bank or wire transfer. Bank charges must be covered by the buyer. In some cases, we may ask buyers who wish to pay with check to provide a current letter of credit from their bank guaranteeing funds for that account. We may withhold merchandise if appropriate Buyer credit has not been established per terms of this paragraph. This will be determined on an individual basis. Payments sent by personal check will not ship until funds clear. Please notify Frost & Nicklaus at nicklausfinearts@yahoo.com of any mailed checks or Postal Money order. It is recommended to mail with signature confirmation to be able to track your payment/s. All checks or Postal Money orders must be submitted and made payable to Frost & Nicklaus, P.O. Box 1877, Petersburg, VA 23805. You can pay via PayPal by submitting payment to nicklausfinearts@yahoo.com - via bank account or credit/debit card. VA RESIDENTS -- have to add. 5.3% sales tax. Virginia buyers, without exception, in order to be considered tax-exempt, you must provide a valid signed resale tax certificate which can be send via e-mail as pdf file or attachment. If not already on file or available at time of check out, sales tax will be applied to all purchases. Signed documentation of current sales tax exemption can be emailed to nicklausfinearts@yahoo.com. Sales tax will not be adjusted without physical proof of a current resale license for the state of Virginia. SHIPPING / HANDLING: Please allow 2-7 business days after receipt of cleared payment for your purchases to ship. Once shipped, Buyers receive their shipment tracking information by email. Estimated shipping charges found in lot descriptions include, tracking number when available, signature/delivery confirmation. All items that are insurable will be insured. We combine shipping, when possible, if more than one item is purchased. PLEASE MAKE SURE that YOUR SHIP-TO ADDRESS is CLEARLY PROVIDED. By paypal payments, we usually send to provided and confirmed PayPal address. Please, KEEP YOUR ADDRESS UP-TO-DATE !! If you would like to have the item shipped to a different address, please contact us immediately with the right information and make sure that you INCLUDE the Ship-To- Address With your Payment! According to PayPal regulations, We have to ship to address provided with payment. If the address submitted with payment is different than the ship-to address, we have to refund you the PayPal payment and we have to ask you to include the right ship-to address when submitting the new payment. This is very important for tracking as info should not differ from address provided and for buyer's and seller's protection. Thank you. Shipping prices include solid packaging, handling and tracking when available. We will do our best to pack your item[s] as secure as we can to avoid any damages during the regular transport according to the USPS postal regulations. Shipping costs are indicated in the description area of the item description. These shipping charges are estimates only and can be lower or higher depending on State/country zone. We will adjust shipping price with invoice. Bidders from Hawaii, Alaska and Puerto Rico may incur further charges depending on the size and weight of the parcel. Foreign bidders are advised to inquire about shipping certain items before bidding to avoid surprises. Charges are for handling, packing materials, insurance and shipping fees. International buyers are responsible for VAT, customs, import fees. Items will be shipped primarily via the United States Postal Service domestically and for foreign shipments. If you want items shipped another way, you may have to pay the additional charges. Shipping will be computed on an individual basis after the completion of the sale; please do not pay before we compute your shipping charges and email you the invoice. NOTE: You may also hire your own shipping agent to handle your shipping for you. Please contact us before or after the auction ends to arrange for your agent to pick up your items. Sensitive items such as frames with glass, pottery, ceramics, as well as bulky items such as sculptures, etc. will require double-boxing for safe transport during shipping. Auction Company attempts to fairly estimate shipping charges for these sensitive items in the lot description, but these are estimates only. Our invoice will contain the adjusted final shipping costs. Damaged Package: In the event of damage during shipping, claims must be filed promptly within three [3] days of receiving your items. If items are damaged, please keep all packing materials and boxes, re-simulating the packages state as received, documenting the damage by extensively photographing, filing a damage report with the shipping company and contacting Auction Company for further instructions. Without pictures of the item damage, the packing materials and the damage report claims cannot be processed. The buyer could file the insurance claim, otherwise Auction Company will file the claim. We will explain what other information will be needed for filing claims. Claims will not be settled until the shipping company has completed investigation. The investigation may involve actual presentation to the shipping service. Buyers who do not wish to file claims on their damaged items will not receive a credit or reduction in price for their purchases. Insurance is purchased for all shipments when available in order to cover any possible damages item(s) might incur during freight. Lost Package: The Postal Service does not consider a package as lost unless it has been 30 business days from date the package was sent within US -- international packages 60 days. Once, this time frame has passed, we will be able to file a claim and either offer a refund or a credit towards another available item from our catalog as of buyer's choice -- after the buyer has filed a Lost/stolen package report from the post office and an affidavit for insurance purposes. International bidder please keep in mind packages can take 2-8 weeks, sometimes up to three months to arrive. ! IMPORTANT NOTE for INTERNATIONAL Buyers: ! Import duties, VAT taxes, GST and charges are not included in the item price or shipping fees. These charges are buyer's responsibility. Please, do not confuse these charges for additional postage. These are fees your country may charge for importing goods. In case buyer fails to pick up the package at customs or Post Office which will hold the package for ca. 10 days unless buyer arranged a new pick up date and as result it is returned to us, we will either re-ship the package while the buyer has to cover return shipping charge and the new shipping costs the Post Office will charge again, or we will issue a refund when item is received -- minus the shipping and return shipping fees. As per new Postal Regulations of 2016, "Shippers in the US will now pay return postage fees for undeliverable packages." The export and import of objects by Winners residing outside of U.S.A. are governed by the legislation and by the customs laws, currency and tax in force. Frost & Nicklaus assumes neither liability to the Winner in regards to possible foreign restrictions on the import of the awarded lots nor with regard to any licenses or certificates that the foreign Winner should obtain accordingly to U.S. and foreign laws. Frost & Nicklaus is not liable for foreign Winner's failing to pay his/her country's duties or to follow his country's regulation. Therefore, Frost & Nicklaus does not reimbursement any funds already paid in such cases. SHIPPING TIME: Shipping will be conducted once payment is received and has cleared. Please allow 2-7 business days to ship after the payment is cleared. We use mainly the US Postal Service. Several shipping options you can choose from, are normally displayed beneath the item descriptions. In case you would like to have the item shipped via Express mail, please let us know before auction ends, so we will be able to adjust shipping costs with invoice. Since a third party is involved in delivering your items, we cannot give a guarantee that a package will arrive to a certain date. International packages have to go through at least two customs, the US and your country, which might delay the item delivery. Usually, Priority mail within US takes ca 2-4 days; International Priority package ca 2-8 weeks, rarely up to three months; Express mail ca 5-10 business days. However, if a package takes an unusual long time to arrive, please feel free to contact us. We will provide a tracking number when the package is mailed, including the info where you might be able to track your package. The US Postal web-site is offering the possibility to request an e-mail up-date which can be found next to the tracking info and might be helpful to get a package moving. There is also a toll free phone-number.
Sakai Hoitsu, Red & White Flower, 1st print 1907-08
Get pre-approved to bid live on

Wed, May 22, 2019 3:00 AM GMT

.
Register For Auction
$12.50

shipping to contiguous United States
Ask for international & combined shipping rates
Discover Items You'll Love

Bid Anywhere, Anytime. Download the LiveAuctioneers App.
Available on the App Store
Android App on Google Play