Weekly Auctions of Exceptional Items
lots of lots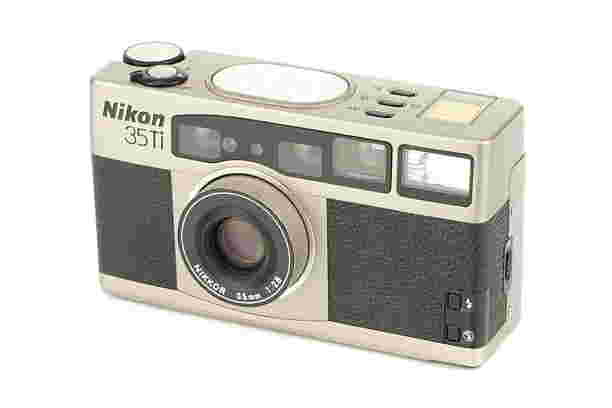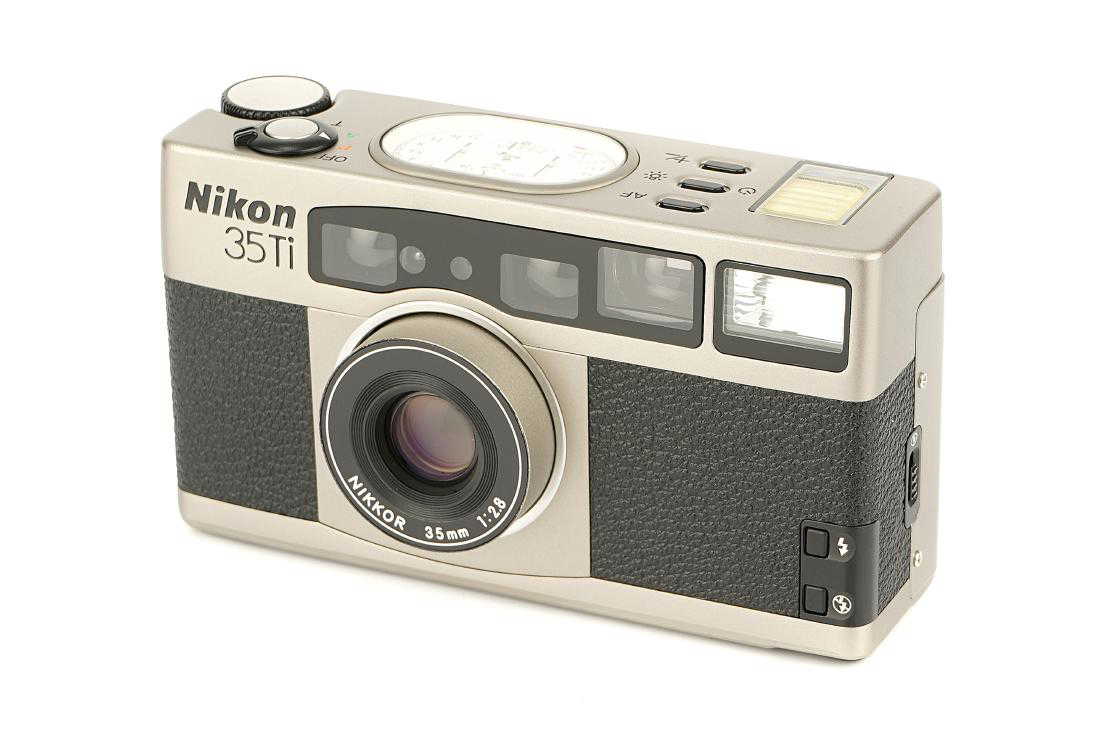 A Nikon 35Ti Compact Camera,

A Nikon 35Ti Compact Camera, 1993, titanium, serial no. 5007194, with Nikkor f/2.8 35mm lens, body, E, untested, lens, E, with strap and in maker's soft pouch; Appears unused
Shipping
General delivery information available from the auctioneer Shipping Flints Auctions Ltd has a specialist in-house shipping department. We can ship all types of delicate instruments, cameras and collectables. Whatever you buy in our sale we can ship to any location in the world. UK Shipping We use the best carriers to ship your items, including Fedex, DHL and TNT. We do not use economy carriers. Worldwide Shipping We use the best carriers to ship your items including Fedex, DHL and TNT. We do not use economy carriers. We provide all the correct and necessary customs declarations and commercial invoices to make sure your items reach you with minimum delay. Shipping Systems We always use the most suitable shipping materials, boxes, foam and tape to provide a range of custom packaging systems to help with unusual shapes and sizes, or particularly fragile items which require specialist packaging. We offer bespoke packaging and handling, this includes foam packs, custom cartons and full wooden crating. We use the most up-to-date techniques and are happy to consult with you on the best packaging methods. Our skill in secure packing and custom boxing means that any item, no matter how precious or fragile, will be safe in our hands. Shipping Insurance Our shipping insurance service (Shipping insurance charged at 1.5% +VAT of the invoice total) is designed to give you the peace of mind should the unthinkable happen – damage or loss of your package during transit. With Enhanced Cover, we will compensate you for the inconvenience of repair or replacement. Benefits include; No excess to pay in the event of a claim Simple paperwork Parcel tracking Proof of delivery Our shipping insurance is based on the declared value of your shipment and is only applicable if we pack your goods. Our shipping insurance is available up to a maximum of £20,000 per consignment. If your consignment has a value of more than this, we will be happy to discuss options for cover with you. Export Licences and Restricted Items A licence from the Department of Trade will be required before certain items such as weapons or firearms and items related to endangered species such as ivory can be shipped. It is the responsibility of the buyer to arrange these licenses, but we are happy to provide advice and assistance. Please contact us for more details if you are unsure at info@flintsauctions.com.
Payment
Room buyers are required to pay by debit or credit card. On-line, telephone and commission bidders from non-UK residents must make payment via Bank Transfer / Direct Wire. Non-UK or EU VAT registered buyers can have some classes of VAT refunded on their purchases.
Accepted payment methods
Photographic Condition Grading
Descriptions & Conditions To assist buyers, Flints has given a condition grade to cameras, lenses and some accessories, together with additional written notes highlighting other key points relating to the item. The condition grade is based upon our opinion at time of cataloguing and is still subject to 'Terms & Conditions' set forth at the back of this catalogue. We are unable to check and test certain aspects of light meters, rangefinders and electronics / electronic shutters. All buyers are given the opportunity to view and test all lots on either the viewing day or morning of the sale. Cosmetic Condition E Excellent As new / appears to be unused VG Very Good Minimal marks or wear G Good Light marks or wear F Fair Moderate marks or wear P Poor Heavy marks or wear Mechanical Shutter function is indicated as working or not working, with additional written notes stating if any speeds are inaccurate. Shutters that are battery dependent are not tested. As shutters are fragile, they cannot be guaranteed and the conditions mentioned in the catalogue are at time of testing and may not represent the condition post-sale. Lenses & Optics E Excellent Clear optics as new VG Very Good Minimal marks, some dust may present G Good Light marks, possible cleaning marks or imperfections F Fair Moderate marks, noticeable cleaning marks or imperfections P Poor Heavy marks or wear
Terms
Terms & Conditions Overview These Conditions and any disputes or claims arising out of it or their subject matter are governed by and construed in accordance with the law of England. English courts have exclusive jurisdiction to settle any dispute or claim that arises. Flints Auctions Ltd act as agents of the Vendor only. Any contract for the sale of a Lot will be formed between the Vendor and the Buyer. The Auction All Auctions shall be conducted at the absolute discretion of the Auctioneer. The Auctioneer shall have the right to refuse any bid which does not exceed the previous bid by at least 10% or by such greater proportion as the Auctioneer shall direct. Where two or more bids at the same level are simultaneously received by the Auctioneer, the Auctioneer at his/her absolute discretion shall determine which bid to prefer. Subject to the foregoing, where two or more bids at the same level are simultaneously received by the Auctioneer, any bid by a Bidder personally present at an Auction shall take preference over any bid submitted by other means. Any bid made by telephone or over the internet shall be deemed to have been made only if received by the Auctioneer. Flints Auctions Ltd, at its absolute discretion, has the right to refuse admission to its premises or attendance at (or participation in) any Auction by any person. All members of the public at the auction or storage premises of Flints Auctions Ltd are there at their own risk. Descriptions & Conditions All lots are offered subject to the ?Terms & Conditions? described here and on the-saleroom.com web site. For full terms and conditions of sale, please contact our auction office. A buyer?s premium of 20% plus VAT is payable on all lots, with an additional 5% for internet bidding making a total of 25% plus VAT. All descriptions and conditions, written or verbal, of lots are based upon information provided by the seller and our opinion, not fact. Lots are sold to the buyer on an ?as seen? basis which may include faults or imperfections. Photographs included in this catalogue are for a guide and may not represent accurate reproduction or colour of a lot. All measurements and sizes are approximate. It is your responsibility as the Buyer, to examine any lot prior to bidding to satisfy himself/herself regarding condition, provenance, period, age, quality, origin and value. Given the age of the lots, they have may been damaged or repaired so you should not assume that a lot is in ?good? condition. Electronic or mechanical parts may not operate as intended and all lots are sold as items of interest for display purposes only. Shipping For information and estimates on shipping, either domestic or international, please contact us at info@flintsauctions.com or +44 (0) 20 3086 8550. CITES Please be aware that all lots marked with the symbol § and are subject to CITES regulations when exporting these items outside the EU. Regulations may be found at www.ukcites.gov.uk. Bidding Bidders are required to register their details. Bidders attending in person may be required to meet our security arrangements before entering the premises. The Buyer accepts full liability for all bids submitted, via any means. Bidders using the live bidding facility on the-saleroom.com are agreeing to the terms and conditions of sale for Flints Auctions Ltd and ATG terms of use. Any successful bids using the live bidding facility will be subject to the usual Buyer?s Premium, plus a surcharge of 5% plus VAT. Subject to the conditions above, the highest Bidder at the Hammer Price shall be the Buyer. Any dispute about a bid shall be settled at the Auctioneer?s absolute discretion. Bidders are deemed to act as principals unless there is a written prior acknowledgement by Flints Auctions Ltd that a Bidder is acting as an agent for a named principal. Bidders are encouraged to attend the Auction in person. Bidders shall be responsible for any decision to bid for a Lot and shall be deemed to have satisfied themselves as to its condition. Neither Flints Auctions Ltd nor its employees or agents shall be responsible for any neglect or default in doing or failing to do so. Cataloguing is undertaken with reasonable skill and care. Neither Flints Auctions Ltd nor its employees and agents nor the Vendor accept liability for the accuracy of such opinions, and all conditions and warranties, expressed, implied or statutory are hereby excluded. Buying As soon as a Lot is sold, the Buyer shall pay to Flints Auctions Ltd the total amount due and give Flints Auctions Ltd their name and address and if requested, proof of identity, if all information is not already held. Cheques are not acceptable by Flints Auctions Ltd (unless Flints Auctions Ltd in its absolute discretion permits payment by such method) nor are third party references or credit facilities with other Auction houses. If a cheque is tendered Flints Auctions Ltd reserves the right to instruct its bank to check the Buyer?s status and account balance before exercising any discretion. Payment by debit or credit card shall only be accepted with the card holder present. There are no additional charges for payment by this method. Any payments by a Buyer to Flints Auctions Ltd may be applied by Flints Auctions Ltd towards any sums owing from that Buyer to Flints Auctions Ltd on any account whatever without regard to any directions of the Buyer or his/her agent. The Buyer will pay the Hammer Price and a premium of 20% plus Value Added Tax charged at the rate current at the date of sale. Lots may in addition have Value Added Tax on the Hammer Price. In this case, such lots will be indicated with an asterisk in the catalogue. In addition to all other charges Buyers will pay a commission charge of 5% + VAT of the Hammer Price if lots are successfully purchased online via the-saleroom.com. Non-UK or EU VAT registered buyers can have some classes of VAT refunded on their purchases. However please note that VAT on buyer?s premium is always payable wherever the buyer is domiciled or wherever the goods are to be sent. Ownership of Lots purchased does not pass to the Buyer until payment in full is made to Flints Auctions Ltd. Collection: Buyers are responsible for taking away any lot they have purchased. Any delivery costs must be paid in advance by the Buyer. Flints Auctions Ltd normally requires collection on the day from the auction venue, or within 10 day?s if collected from our depot in Reading, Berkshire. Flints Auctions Ltd will give 10 day?s notice if any storage or insurance costs are due from non-collection Payment Default Flints Auctions Ltd acts as agent for the Vendor, and is not responsible for default by the Buyer. If any Lot is not paid for in full and taken away in accordance with these Conditions, or if there is any other breach of these Conditions, Flints Auctions Ltd as agents for the Vendor shall at its absolute discretion and without prejudice to any other rights it may have, be entitled to exercise all or any of the following rights and remedies: i) to proceed against the Buyer for an action for debt or damages for breach of contract; ii) to rescind the sale of that Lot and/or any other Lots sold by Flints Auctions Ltd to the defaulting Buyer; iii) to re-sell the Lot by Auction or private treaty. If a lower Hammer Price is achieved on the re-sale than that achieved on the original sale the defaulting Buyer shall be liable for the difference; iv) to remove, store and insure the Lot at the expense of the defaulting Buyer; v) to retain that or any other Lot sold to the defaulting Buyer until that Buyer pays the total amount due; vi) to reject or ignore bids from the defaulting Buyer at future Auctions or to impose conditions before any such bids shall be accepted.
A Nikon 35Ti Compact Camera,
Get pre-approved to bid live on

Fri, Apr 26, 2019 11:00 AM GMT

.
Register For Auction
Discover Items You'll Love
Discover Related Items Available Now

Bid Anywhere, Anytime. Download the LiveAuctioneers App.
Available on the App Store
Android App on Google Play