Weekly Auctions of Exceptional Items
lots of lots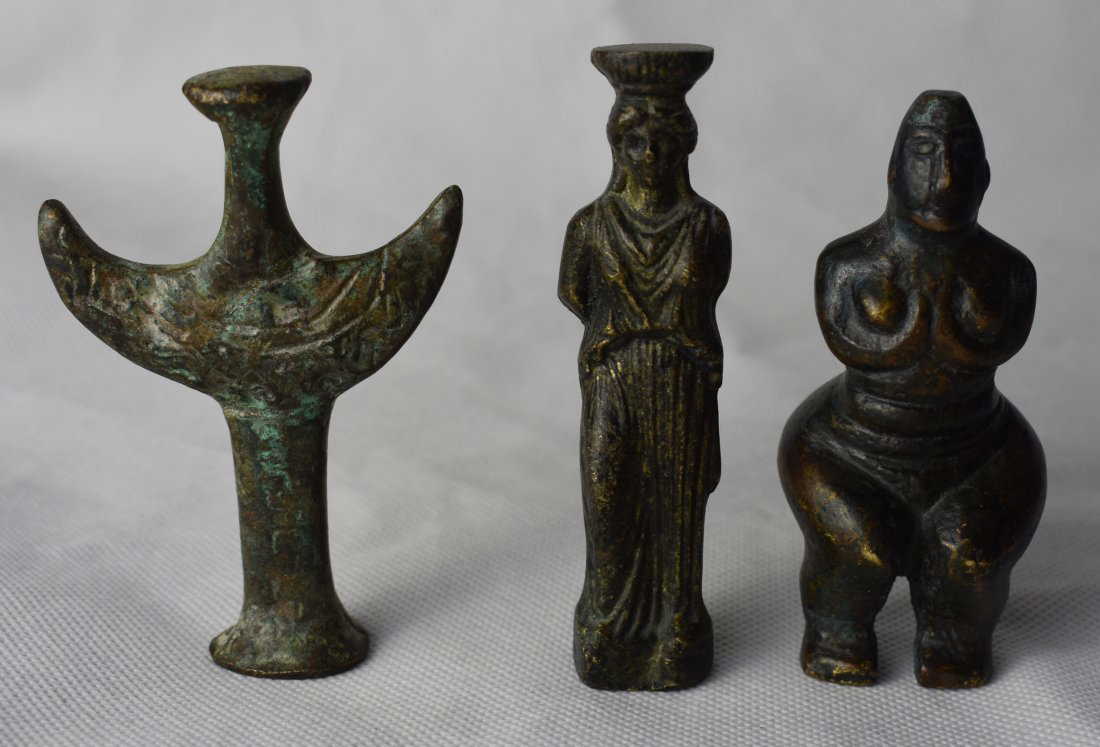 3 Modern Bronzes dipicting ancient female fertility Deitys

Figure left:Figure center:8.5cmFigure right:8.5cm
Shipping
Austria: 6.00 EUROE.U: 18.50 EUROU.S.A (Cont.) 27.00 EURO
Add 7 Euro for each additional item.
This auction has 0% Buyers premium.
E.U buyers will be charged 20% Tax on top of the winning bid unless you tell us you are exempt. (business)
Bidders from other countries will not be charged sales tax but import duty. This is the responsibilty of the buyer.
Sorry, but we cannot ship items as gifts.
Our full terms and conditions can be found under the auction terms & conditions section.

Shipping
Buyer Pays Shipping Cost. We can arrange for purchases to be shipped using the Austrian post. This will be charged to you, the buyer. Bidders are expected to confirm release of their property to third parties (post, Fed-ex etc) via Whatsapp, on our website or as an email.(andersonsauctions@outlook.com) Please include "Item Release" in the subject line & Lot number, Name & contact details. We will invoice you for shipping on a seperate invoice. All purchases should be picked up or shipped within three weeks after the auction. Any purchases that have not been collected within three weeks from the date of the invoice will be subject to handling and storage charge at 1 Euro per lot per day.
Payment
Payment from sucessful bidders online is due within 5 business days of the auction ending. The price you pay is the amount at which the auctioneer's hammer falls (the hammer price), plus a buyer's premium of 28% (Currently we are V.A.T exempt so there will be no addtional tax added to your invoice). If items are to be exported outside the E.U. no tax will fall but import charges (import duty) will be charged by your countrys customs office. These fees are your responsibility as a buyer. You may pay with cash, wire transfer or PayPal. Accepted payment methods
Accepted payment methods
Terms
A printable version of these terms can be found on our website: https://www.andersonsauctions.com/wp-content/uploads/2018/11/TERMS.pdf TERMS AND CONDITIONS ONLINE/SIMUCAST AUCTION Any auction conducted by Andersons Auctions, online or simulcast will conform to these terms and conditions. By bidding, you agree unconditionally to uphold the terms of sale and conduct stated hereafter. Andersons Auctions, Schulgartengasse 7, 2700 Wiener Neustadt (hereinafter referred to as the auctioneer) Auction Currency: EUR All payments are to be made in Euro. Any communication from us will come from our email address: andersonsauctions@outlook.com. Please white list this email with your provider. The auction of any item shall be conducted on a commission basis. The auctioneer withholds the right to withdraw lots without explanation or prior notice. Furthermore, the auctioneer has the right to offer joint lots. You are entering a binding legal contract with the auctioneer by biding on a lot. PERSONAL INFORMATION/ PRIVACY POLICY: We do not share our bidder information, addresses, email addresses or other personal information with anyone. If you require us to ship an item, you must sign a release form for insurance reasons and agree that we pass your information (name, address, Phone number) to a third party shipper. By registering for this auction, we may put your email on our email notify list. You can contact us to remove it at any time. PREVIEW. ALL ITEMS ARE SOLD AS IS. Consigned items are subject to public viewing prior to the auction at times deemed by the auctioneer. Bidders are given the opportunity to inspect and confirm the condition of each lot at auction. Every bidder shall be deemed to act on their own behalf. If a bidder elects a representative to participate at the auction on their behalf, we ask they make themselves known to the auctioneer. The auctioneer may refuse bids; this shall apply if a bidder or representative is unknown to the auctioneer or they have no prior business history. The auctioneer?s evaluate and describe consigned lots and determine the starting prices, unless otherwise stated, in-house. Information concerning production techniques, material, state of preservation, origin, design and age are based on published or public accessible (scientific) findings or museum collections with due care and accuracy. The company shall warrant the buyer that the descriptions provided are correct. In the event of a complaint, a formal written statement must be made with supporting evidence with 4 weeks of taking possession of the item. The auctioneer provides photographic images as a guide to potential buyers during the preview. They shall not be authoritative for the state or the properties of the pictured item. The catalogue and opinions shall only mention defects and damage affecting the artistic or commercial value. Complaints concerning the final bid price shall be void upon acceptance of the bid by the auctioneer. BID ACCEPTANCE. CLERKING and INTERNET BID ACCEPTANCE ERRORS. During the online bidding portion of the auction, it is possible for the internet clerk to award the winning bid to a bidder that was not recognized by the auctioneer. In these unfortunate cases, the auctioneer's record takes precedence and not the online bidding record. We will petition to have LiveAuctioneers remove the item from your buyer report. The Auctioneer reserves the right to make this determination and this decision is final and binding. ABSENTEE BIDS: We offer the absentee bid service as a convenience to biders. We execute your bid as if you were in the audience, attempting to obtain the item at the lowest price. The auctioneer will not be held responsible for error or failure to execute any bid. These bids must be in writing or submitted electronically. Please bid using our preset increments listed on the catalog front page. Please keep in mind that because bid position can be unpredictable; it may be possible for someone at the auction or another absentee bidder to buy the item for your top bid price. Bids of the same value from two or more bidders will be awarded to the bidder who placed their bid earliest. The auctioneer's decision is final. In the case of a missed bid, the auctioneer shall be entitled to revoke an acceptance of a bid and to continue auctioning the item. As a rule, the bids shall be increased by the increments stated at the foot HAMMER PRICE, BUYERS COMISSION & TAX. All items shall be subject to differential taxation. A uniform surcharge of 25% (buyers premium) 20% value added tax (applicable to the surcharge) shall be added to the highest final bid. There is an additional 2.5% charge for cards/Paypal. Example: Hammer price: ?100 25% premium + 20% Tax = ?30 Your total: ?130 U.S.A/NON E.U CONTRIES. In the event of a sale outside the E.U, (European Union) the value added tax will NOT be charged if the item is sold to a non-member country (third country) but export/ import charges will be applied to the item by third party carriers. The auctioneer cannot be held responsible for these charges/duty or give estimates on duty to your country. AUCTION PAYMENT. The buyer must pay the purchase price immediately upon acceptance of the bid. If there are a particularly high number of lots, you be invoiced for the goods within 1 hour of the auction ending. Please contact us within 3 days of the auction ending or your item will go into storage at your cost for a maximum of 30 days before being re-sold. Storage charges (2.4% of the final and highest bid per month (commencing 7 days upon acceptance of the bid by the auctioneer) will be implied. The item bought at auction shall be handed over exclusively upon full payment of the purchase price including all costs and charges accrued since the acceptance by the auctioneer of the bid. If full payment is not received within 21 days of the auction ending, the item will be re-listed at your cost. You will be charged a full month storage (2.4% of winning bid + Card charges) and accept to pay any difference between your initial bid and the second winning bid without contest. NOTE: If your card on file is declined for any reason, a service fee up to 25.00 may be accessed. SHIPPING. We ship as a courtesy to our customers using the Austrian Post. The auctioneers prefer you collect in person or arrange for your own courier. If the auctioneer is to ship the item on your behalf, you are required to sign a release form. This can be done over Whatsapp or our webpage. Please quote Name, Lot number and that you confirm release of the item to a third party. This is an insurance requirement. The auctioneer is not responsible for third party damage. You will be invoiced separately for shipping/post. All legal relationships and contracts regarding sales made by the auctioneer with all partners (consignees, bidders and any aforementioned third party service providers) are subject and conform to Austrian Trading standards & Law and are liable to Austrian jurisdiction. Should a dispute rise, pertaining to accuracy, damage or other unforeseeable activity, such a case will be dealt with in Austria and abide to the laws of Austria. The auctioneer appoints, Landesgericht Wiener Neustadt, Maria Theresia Ring 2700, Wiener Neustadt for any subsequent legal contest. By registering for our auctions, you are consenting to receive communication from us. You may refuse by contacting us directly. Robertanderson348@hotmail.com By bidding you agree to all of the above terms conditions and will be held responsible for any conduct as a bidder that is deemed detrimental to the Auctioneers business. Increments as stated below but are subject to change.
3 Female Fertility Deitys | Modern Bronze
Get pre-approved to bid live on

Sun, Jun 2, 2019 8:00 PM GMT

.
Register For Auction
Discover Items You'll Love

Bid Anywhere, Anytime. Download the LiveAuctioneers App.
Available on the App Store
Android App on Google Play