Civil War Archive with Gettysburg Sword of
Don't Miss Your Next Treasure.
Set up a search alert to hear when Militaria & War Memorabilia items arrive.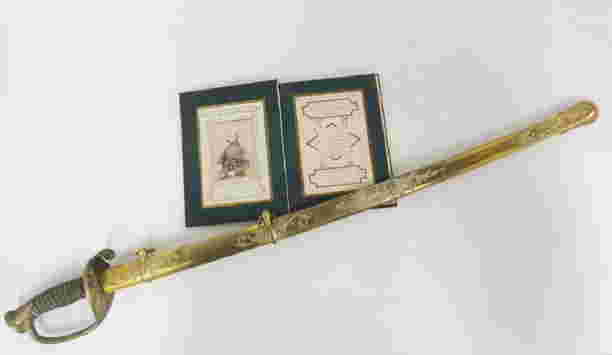 Lot 0104 Details
Description
Civil War

Civil War Archive with Gettysburg Sword of Heavily-Decorated & Wounded Captain



This small archive includes wartime and postwar documents and objects related to the Civil War service of George E. Henry, a junior officer with the 1st Massachusetts Volunteer Infantry. Highlights include his war diary from 1861, with a dramatic first-hand account of the First Battle of Bull Run; a sword presented to Henry by friends in Boston during the war; his postwar brevet commission for bravery at the Battle of Gettysburg, signed in print by President Andrew Johnson, and other items.



GEORGE E. HENRY, Archive of approximately 40 items from his Civil War career and postwar commemorations, 1861-1932. Most items in very good condition. Some damage to the ribbons and water stain to the pencil sketch.



George E. Henry (1838-1907) was born in Vermont, and married Lavinia A. Wallace (d. 1871) in 1859, and they had one son. He enlisted as a 2nd lieutenant in the 1st Massachusetts Volunteer Infantry in May 1861. He was promoted to 1st lieutenant in July 1861, and to captain in July 1862. He was wounded in the hip in May 1862 at Williamsburg, Virginia, during the Peninsular Campaign; again in the thigh at the Second Battle of Bull Run in August 1862; and again in the foot at the Battle of Gettysburg on July 2, 1863. He served on the staff of General Joseph B. Carr from January 1863 to April 1864. He was mustered out with his regiment in Boston in May 1864. On June 18, 1864, President Abraham Lincoln appointed him as a 1st lieutenant in the Veteran Reserve Corps, stationed near Alexandria, Virginia. After the war, he served in the Freedmen's Bureau in Maryland as a1st lieutenant, brevet captain. He was brevetted major in 1866 for gallant services at Gettysburg on July 2, 1863. He married Emma Augusta Bell (1847-1936) in 1879, and they had two children. Henry was an active member and post commander of the Grand Army of the Republic, a member of the Military Order of the Loyal Legion, and a Mason.



Items


- Henry's Pocket Diary for 1861. Includes first-hand account of the First Battle of Bull Run.

Excerpts:

May 10, 1861: "We received orders to go to Washington per Stmr Cambridge Our men are anxious to go"

May 24: "We were mustered into the US. Service by Lieut Amory-101 men."

June 1: "today I recd my commission as 2d Lieut of Co. F."

June 6: "Rained Hard all day / Nothing going on"

June 12: "Went to Cambridge Arsenal and exchanged old guns for new ones"

June 15: "Today we start for the Seat of war."

June 17: "Took cars for Baltimore at 7 oclck Arrived at 2 Marched through the City and left. No disturbance."

June 18: "Today I...visited the capitol"

June 19: "was introduced to president Lincoln This morning we started for our camping ground at Georgetown heights pitched our tents & cooked our meals. It is very warm here more so than at home Went in bathing in the Potomac."

June 28: "I do not get any better of my diarrhea"

June 30: "Took a horse and went to Washington and Alexandria it is a deserted place visited the Marshall House where Ellsworth was shot, the slave pens, Ellsworths Zouave camp."

July 7: "I attended services by our Chaplain we begin to live like Christians"

July 12: "It is a very bad climate here for health. The days are generaly very hot and the nights very cold"

July 13: "We received order to drill as skirmishers"

July 17: "We are to make an attack on Fairfax we have 40,000 troops"

July 19: "Today our Brigade moved onto the point occupied yesterday...they don't think there will be another attack till to-morrow"

July 21: "Last night we were stationed on the battle field to protect the pickets We laid on the ground and slept but little, there was no trouble not a gun was fired. We have nearly 75000 troops in the field. We expect a great battle to-day we have a large force on the Right & Left Flank and our Brigade and a large force in the front.... I have just finished my breakfast, two Hard crackers & coffee. As Quarter master I have rations for the Reg. to draw. Went to Centreville about 8 oclk procured our Rations and advanced to our Reg. Find that the battle is begun I am now halted with my wagon a short distance from where the fight is going on Our forces are discharging our battery upon the enemy. They tell me I cannot go forward After some trouble I have joined my company our Reg are to the extreme advance covering our Artillery.... at 4 oclk we were ordered to fall back on Centreville which we did on double quick time. We formed in line of battle on the hill expecting the enemy's cavalry upon us. Our Reg was placed in the rear. After manoeuvering for a long line we formed in a hollow square and laid down to rest. At 12 oclk the order was given to fall in and we took the line of march towards Washington. It is said that our forces suffered great losses and also did the rebels Their masked batteries played the worst on us I have not found out the number of the rebels but they were receiving reinforcements all day We had about 20,000 in the fight. It is said that the N Y Zouaves are the greatest sufferers."

July 22: "We marched at 12 oclk taking the rear. We find the road strewed with Waggons & provisions left by our forces. The word is that the enemy cavalry are upon us."

August 9: "Had orders to move to Bladensburg under Col. Hooker. Struck tents packed waggons, got all ready to start. Orders countermanded. Slight indications of profanity among the men."

August 25: "Reviewed at 12 ock by President Lincoln"

September 17: "This morning at 8 oclk Co. F. was sent to Port Republic on special duty which was to sieze all arms and equipments belonging to the State of Maryland or the US."

September 18: "Co. F. now known as the Ram rod Guards."

September 22: "Plenty of niggers in camp.... this afternoon having learned from some niggers that were some arms burried nearby I took 4 men and went in search for them. I soon found them the property of John Roberts one of the Secesh Cavalry they were a full set of equipments. Turned them over to the Colonel."

September 25: "I have succeeded in getting leave of absence."

September 28: "arrived [in Boston] at 7½ took carriage for home surprised them all."

October 22: "got news of a reconnaissance by Col. Baker at Leesburg Col Baker was killed. Gen Stone came up and completely routed rebels, we now occupy Leesburg."

October 26: "1st Reg marched to Buds Ferry on Potomac, other Reg to come up tomorrow. We are now camped within shot of the Rebel Batteries on the other side."

November 19: "details are busy building Log house and chimneys"

November 29: "We have a balloon here near Rozeys house the Rebels have been engaged nearly all day firing at it. One shell struck about 100 ft from Hosp no damage done"

December 13: "the batteries on the other side fire more or less shots at us every day and we could not sleep well if we did not have a dozen or so to sleep on during the eve."

December 28: "Government decided to return Mason & Slidell to English authorities."



- Framed pencil sketch, ca. 1862, by unknown artist of "Our Post Picket, on Nuese Road, at Rail Road Crossing near New Berne N.C. Comp'y C, 24th Regt Mass Vols / 1st Lt. Jas B. Bell Com'dg."

James B. Bell (1826-1894) enlisted as a second lieutenant in Company A of the 24th Massachusetts Volunteer Infantry in September 1861. He transferred as a first lieutenant to Company C in December 1861 and was promoted to captain of Company B on December 28, 1862. He mustered out at the end of his term of service in September 1864. Company C of the 24th Massachusetts Infantry served on guard, picket, and outpost duty with the regiment at New Bern, North Carolina, from March to May 1863, when it was ordered to Washington.



- Engraved Sword "Presented Capt Geo E. Henry, 1st Regt Mass Inft. By his Friends of Boston. March 4th 1863" and Scabbard. This sword is the one that likely can be seen in a photo included in the archive.



- Presentation certificate that accompanied the Sword from the Citizens of Boston, commending Captain Henry for "marked heroism on the Battle Fields" as a "token of their regard as a true Patriot and brave Officer," March 4, 1863.



- Commission of George E. Henry as a Captain by Brevet in the U.S. Volunteers, to date from November 2, 1865, "for gallant and meritorious services." Signed with stamped signature on April 20, 1866, by President Andrew Johnson and Secretary of War Edwin M. Stanton. Docketing signed by Assistant Adjutant General Edward D. Townsend, who later served as Adjutant General of the U.S. Army from 1869 to 1880. Document measures 15" x 19" and overall in frame measures19.5" x 23.5".


- Another Johnson Commission for Henry dated May 10, 1866 and signed with a stamp signature which states "For Gallant and Meritorious Service at the Battle of Gettysburg Pennsylvania".



- Colorful framed graphic commemorating Henry's Civil War service and ranks, created by Forbes & Co., Boston. The shield is topped by an eagle and flags and contains Henry's ranks in the 1st Mass. Vols., Companies F and B, and in the Veterans Reserve Corps. A ribbon at the bottom reads, "Brevet Major, George E. Henry" and includes a photograph of Henry at the center. Document measures 16" x 21" and overall in frame measures 27" x 32".


- Henry's family photo album.



- A collection of 32 reunion, Grand Army of the Republic, Military Order of the Loyal Legion of the United States, and Women's Relief Corps ribbons and medallions belonging to George E. Henry or Marjorie L. Henry, 1890-1932, including:

o National Aid de Camp Medal, San Francisco, 1903

o Chaplain Medal, Women's Relief Corps, n.d.

o Special Aid, Women's Relief Corps, n.d.

o Musician, Women's Relief Corps, n.d.

o 33rd National Encampment Medal, Philadelphia, 1899 (made from cannon captured by New York, Pennsylvania, and Massachusetts regiments at Fort Fisher)



- Printed Personal Military and Civil History with Historic Reference (Washington, DC: Soldiers and Sailors Historical and Benevolent Society, n.d.), personalized with Henry's photograph; Certificate of Membership in the society, February 23, 1905; and typed history of his service.





WE PROVIDE IN-HOUSE SHIPPING WORLDWIDE.
Civil War Archive with Gettysburg Sword of
Estimate $2,000 - $3,000
May 15, 2019
Shipping, Payment & Auction Policies
Ships from
Westport , CT, United States