Weekly Auctions of Exceptional Items
lots of lots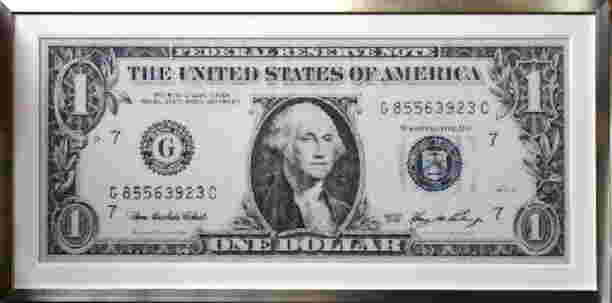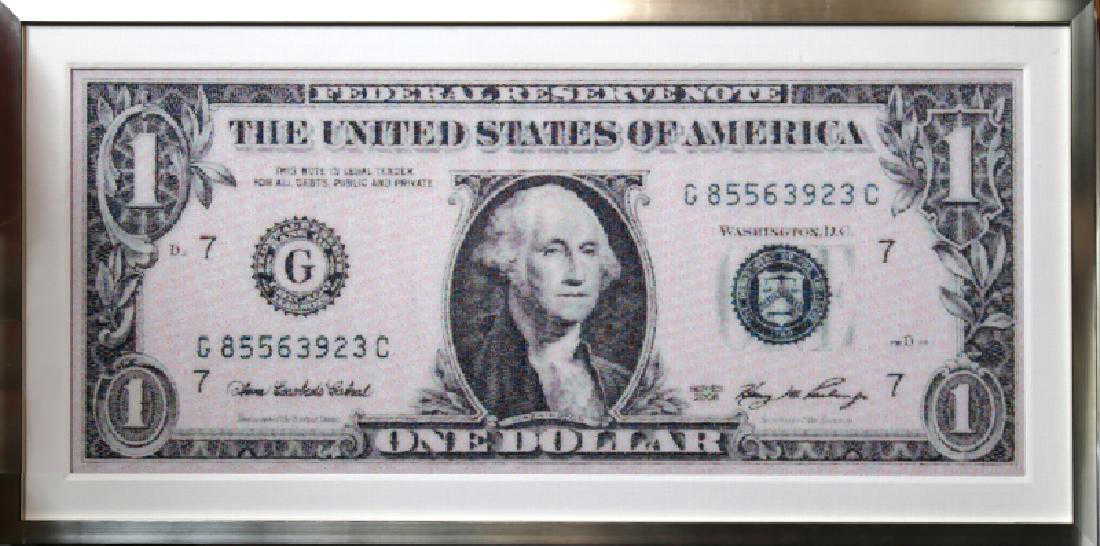 Artist: Robert Silvers, American (1968 - )
Title: One Dollar Bill
Year: circa 2003
Medium: Photomosaic mounted on Aluminum
Size: 27 x 63 in. (68.58 x 160.02 cm)
Frame Size: 35 x 71.5 x 2.25 inches
Shipping
RoGallery provides complete shipping and packing services for all items we sell. All items are professionally and custom packed in-house and shipped using UPS, Fedex, Schenker USA or Professional Art Moving/Transportation (for special deliveries). If you would like a shipping estimate please contact us and we'll get back to you with an accurate quote. If you would like your artwork framed, we have an in-house framing department that would love to frame your artwork to your specifications. After the sale has ended, please contact us and we'll let you know the cost. We are experienced framers and use archival/museum quality materials that will ensure both that your artwork is beautiful and also remain beautiful for a very long time.
Payment
We prefer Bank Wire Transfers, but also accept Visa, Mastercard, Discover, Amex, Money Orders and PAYPAL shipped to confirmed addresses only. Pick-ups and shipments within New York State are required to pay applicable sales tax 8.875%. Wire transfers required for all invoices $2000 and over. International bidders: We require bank wire transfers (Swift, Chips, etc) as payment. All international bidders are responsible for taxes (VAT) and duties imposed by their governments upon receipt of the items. Wire transfer flat fee of $25 will be added to invoice. Buyer shall communicate with Seller within three (3) days of the completion of the auction. Complete payment is due upon receipt of notification of a successful bid and shall be received by the Seller no later than 10 days following the auction. Title shall pass to the Buyer once payment in full has been made. All shipping charges will be borne by the Buyer. See point (6) above.
Accepted payment methods
Terms
Buyer's Terms & Conditions: If you wish to access or use the Site to bid on or offer to purchase any items of Property through the RoGallery Auction Site, you must accept the terms and conditions of this Agreement, without change. PLEASE REVIEW THE FOLLOWING TERMS CAREFULLY BEFORE USING THE SITE AND ITS SERVICES. BY REGISTERING AND USING THE SERVICES OF THE SITE AS A BUYER, YOU AGREE TO BE BOUND BY ALL TERMS AND CONDITIONS OF THIS AGREEMENT AND ALL POLICIES AND GUIDELINES INCORPORATED BY REFERENCE HEREIN. 1) You will honor all bids placed in an auction, and are obligated to complete the transaction if you are the winning bidder. The winning bid is defined as the highest bid in an auction without a reserve, and/or the highest bid in a reserve auction that meets or exceeds the reserve price. You acknowledge that by not fulfilling these obligations, your action or inaction may be legally actionable. 2) Buyer's Premium: A buyer's premium shall be added to each purchase to reach the total sales price. The buyer's premium for each sale is posted on the Auction detail page. 3) Total Sales Price: The total sales price of an item includes (i) the hammer price of the item (ii) the buyer's premium (iii) applicable sales and other taxes due on account of the sale, (iv) packing, shipping transportation and insurance charges. See points (5) and (6) for more information. 4) Online Bidding: By registering to bid through RoGallery Auctions you agree to accept RoGallery policies of bid history disclosure, including the policy that live online bidder's increments are not reported when bidding against an absentee bid until the absentee bid is surpassed. Please register to bid well in advance of the start time. RoGallery will not be held responsible for errors or failure to execute bid(s). 5) Shipping & Packing: We ship to locations around the World via UPS, Fedex and BAX Global. We do not have practical access to a Post Office and do not ship to P.O. Boxes. Estimated Shipping/Packing/Insurance: within the US, $30 unframed in a tube, $125 framed & paintings ; To Europe, $145 unframed in a tube -shipping to be determined on paintings and framed artworks. (All costs are Estimated) Shipping/Packing Costs can vary greatly for flat shipments, special needs, high value and very large items. Overnight is available. We ship by the most secure methods possible. All items are professionally packed in-house and fully insured. Please inquire for specific shipping charges to your location prior to bidding. Combine auctions to save $$ on shipping. 6) Methods of Payments: We prefer Bank Wire Transfers, but also accept Visa, Mastercard, Discover, Amex, Money Orders and PAYPAL shipped to confirmed addresses only. Pick-ups and shipments within New York State are required to pay applicable sales tax 8.875%. Wire transfers required for all invoices $2000 and over. International bidders: We require bank wire transfers (Swift, Chips, etc) as payment. All international bidders are responsible for taxes (VAT) and duties imposed by their governments upon receipt of the items. Wire transfer flat fee of $25 will be added to invoice. 7) Payment Due: Buyer shall communicate with Seller within three (3) days of the completion of the auction. Complete payment is due upon receipt of notification of a successful bid and shall be received by the Seller no later than 10 days following the auction. Title shall pass to the Buyer once payment in full has been made. All shipping charges will be borne by the Buyer. See point (6) above. 8) Winning Bid: The highest bidder shall be the buyer and if any dispute arises between two or more bidders, the auction coordinator shall decide the buyer. 9) Reserve Price: Some lots are offered subject to a reserve. A reserve is a confidential minimum price below which such a lot will not be sold. RoGallery will act to protect the reserve by bidding through the auctioneer. The auctioneer may open the bidding on any lot below the reserve by placing a bid on behalf of the Seller and may continue to bid on behalf of the Seller up to the amount of the reserve. This may be done by placing consecutive bids or by placing bids in response to other bidders. 10) Inquiries: Please email or call us for specific questions regarding lots at Live Auction. Answers will be provided in a timely fashion until Auction start time. We can provide more and detail photos, reference and provenance information on most lots. 11) Withdrawal Prior to Sale: RoGallery reserves the right to withdraw any property before the sale and shall have no liability whatsoever for such withdrawal. 12) Guarantee Terms: All items in the catalog are sold as described and sales are final. Prospective bidders should personally inspect such property to determine its condition and whether it has been repaired or restored. No statement regarding condition, genuineness, attribution, provenance, authenticity, completeness, value or quality of a lot shall be construed to be an expressed or implied warranty, representation or assumption of liability by RoGallery. If an item is materially different than was described, Buyer shall have 48 hours from the date the property is received to notify us. After the 48 hour period all items are considered "as is", without recourse. No lot is returnable on account of property included but not specifically named and described in such lot. Lots containing three or more items, whether named or unnamed, and/or selling for $200 or less, exclusive of buyer's premium, are sold not subject to return for any reason. The foregoing guarantee is only valid to the original buyer. The item(s) must be returned in the same condition and packaging as when purchased. No purchaser shall be entitled to any remedy, relief or damages beyond the return of the property, rescission of the sale and refund of the purchase price; and, without limitation, no purchaser shall be entitled to damages of any kind. If we are prevented by fire, theft or any other reason whatsoever from delivering any property to the purchaser, our liability shall be limited to the sum actually paid by the purchaser. 13) You acknowledge and agree that you have read our Terms of Use and Privacy Policy, which is incorporated by reference into, and made part of, this Agreement. We may change our Terms of Use and/or Privacy Policy in the future without notice to you and you should check our Terms of Use and Privacy Policy sections of the Site frequently for changes. Except as authorized herein and unless otherwise authorized or consented, you agree not to use any information regarding other participants which is accessible from the Site or disclosed to you through the Site except to enter into and complete transactions. You agree not to use any such information for purposes of solicitation, advertising, unsolicited e-mail or spamming, harassment, invasion of privacy, otherwise objectionable conduct or otherwise inconsistent with our Terms of Use and/or Privacy Policy. 14) Buyer agrees not to use brand names, and/or misleading or inappropriate aliases for his/her screen name. 15) You are strictly prohibited from placing bids or causing bids to be placed on any item of Property for the purpose of artificially increasing or otherwise manipulating the bidding process on the Site or the bid price of any item of Property listed on the Site. 16) Entire Agreement; Waiver. This Agreement, including the RoGallery User Agreement and all exhibits and other documents incorporated by reference, set forth the entire understanding and agreement of the parties and supersedes any and all other written or oral agreements or understandings between the parties as to the subject matter of this Agreement. In the event of an inconsistency between this Agreement and any other document, which is part of this Agreement, the terms of this Agreement shall govern. From time to time during the term of this Agreement, RoGallery may amend this Agreement (including any incorporated documents) by posting the amended terms on the Liveauctioneers.com Site, emailing notice of the amendment to the Buyer, or otherwise communicating such amendment to the Buyer. Each amendment will be effective immediately after it is initially posted on the RoGallery Site, emailed to the Buyer, or otherwise communicated to the Buyer. The waiver of a breach of any provision of this Agreement will not operate or be interpreted as a waiver of any other or subsequent breach. The laws of the State of New York shall govern all transactions.
Robert Silvers, One Dollar Bill, Photomosaic mounted on
Estimate

$20,000

-

$25,000
Get pre-approved to bid live on

Wed, May 29, 2019 4:00 PM GMT

.
Register For Auction
Long Island City, NY, USA
Discover Items You'll Love

Bid Anywhere, Anytime. Download the LiveAuctioneers App.
Available on the App Store
Android App on Google Play