Weekly Auctions of Exceptional Items
lots of lots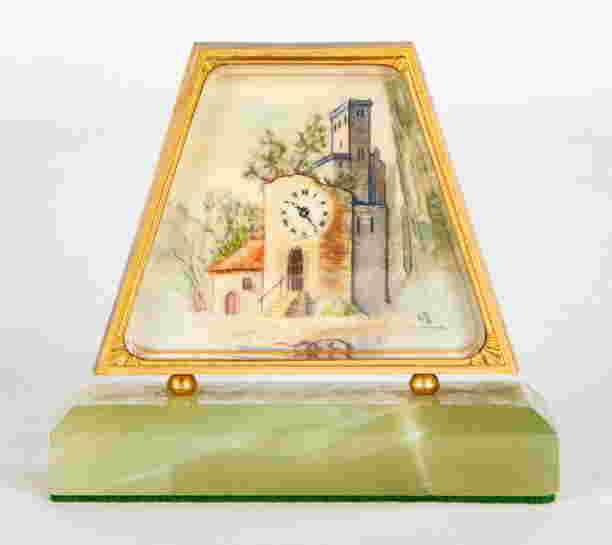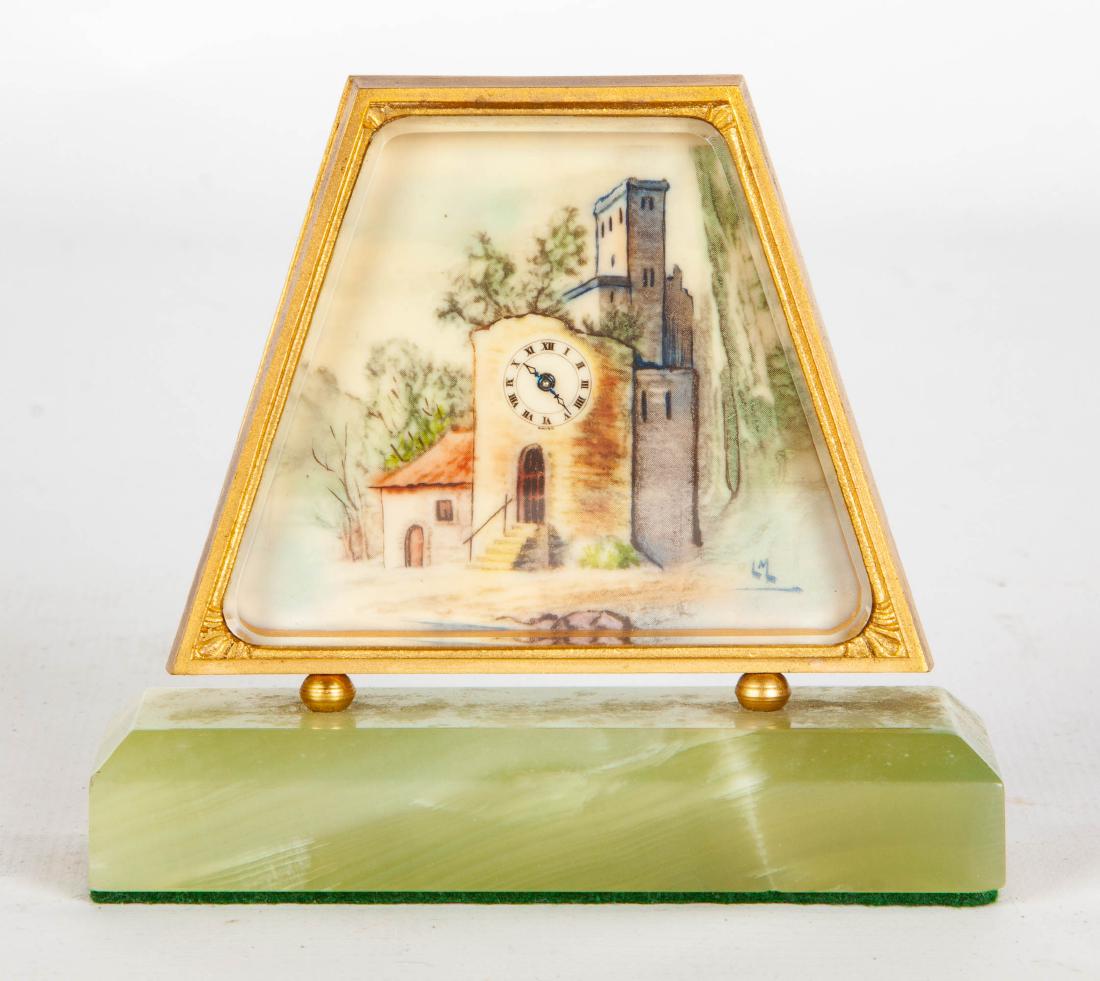 French Desk Clock. Early 20th century. Hand painted dial and onyx base. Ht. 3 1/4".
Shipping
Unlike many auction companies, Cottone's offers a full service shipping department. Shipping estimates are added to your invoice using UPS Ground Insured. Other carrier's quotes available upon request. We typically ship 7-14 days after payment has been received. If you'd like a shipping estimate in advance of the auction, contact martha@cottoneauctions.com or call 585-243-1000 For larger items that we are unable to ship, or items requiring delivery, we work with local, national and international shipping and delivery services. Their information will be provided ahead of time if you request a quote or after the auction if you are the successful bidder.
Payment
Payments must be made by cash, money wire or good check. Visa and MasterCard are accepted for invoices up to $5,000 per customer. If a client does not pay within 10 days of the auction, the credit card number provided to establish your bidding account will be charged in full for any invoice amount due.
Accepted payment methods
Terms
The auctioneer (Cottone Auctions) at its discretion reserves the right to refuse participation in this auction by any bidder, whether on premises, participating on-line, by telephone, or through absentee bid. Cottone Auctions reserves the right not to accept bids via internet bidding for lots of high value. If you intend to bid on high value lots, please contact Cottone Auctions or email matt@cottoneauctions.com. Please note: registrations may not be approved during the course of the sale. NOTE: If your status in "pending", you have not been approved to bid. Please contact the auction house at least 24 hours before the auction. Conditions of Sale By Bidding, you understand that any Bid you submit can and may be regarded as the Purchase Price Bid for a particular Lot; accordingly, your Bid constitutes a legally binding agreement to purchase the Lot in accordance with your Bid if accepted by the auctioneer. You agree to assume personal responsibility to pay the Purchase Price Bid, plus the Buyer's Premium, you agree to purchase the Lot and assume all risk of loss and damage to such Lot, in addition to any obligations, costs and expenses relating to its handling, shipping, insurance, taxes and export. All sales are final. NY state residents are charged 8% sales tax, unless a valid tax exempt number is provided. Condition Statement It is the buyer's responsibility to be knowledgeable about the condition of the property before bidding. This is a live auction, and the buyer is advised to inspect the items in person during the week prior to the auction. As a courtesy, Cottone Auctions makes condition reports available prior to the auction. All lots are sold "AS IS". No statement regarding condition, kind, value, or quality of a lot, whether made orally at the auction or at any other time, or in writing in this catalog or elsewhere, shall be construed to be an express or implied warranty, representation, or assumption of liability. Any such warranty is WAIVED. ALL SALES ARE FINAL AND NO SALE RESCISSONS WILL BE MADE ON THE BASIS OF CONDITION, NO EXCEPTIONS. IMPORTANT NOTICES Important notice: Cottone Auctions usually auctions items at approximately 80 lots per hour. On some occasions your local Internet connection may not be able to keep up with the pace of the auction. We recommend placing a realistic absentee bid as insurance to avoid disappointment. By bidding, you agree that Cottone's may award the lot to another bidder at its sole discretion under the circumstances described above or any other reasonable circumstances. Since internet bids are not shown to us until we open the lot on the floor, we treat those bids just like floor bids. In most cases the floor responds before the internet bid is presented to us, due to possible Internet lag time, so for consistency we have made it a policy that floor bids are always considered first over internet bids. Breach If a buyer fails to make timely payment as required in these Terms, or breaches any other covenant, representation or warranty in this Agreement, we shall be entitled, in our discretion, to exercise any remedies legally available to us, including, but not limited to, the following: A) cancellation of the sale of the Lot to the non-paying buyer, including the sale of any other Lot to the same buyer (whether or not paid); B) reselling the Lot, at public or private sale, with or without reserve;retention of all amounts already paid by the buyer to Cottone. C) After 30 Days - File a Civil Complaint against the buyer to recover any balance due plus court fees, interest, storage fees, administrative costs, and any other applicable financial hardship caused to Cottone Auctions Inc., and/or the consignor or pursue other collection avenues to recover any and all losses. D) Charge interest at a rate of 1% per month throughout the entire time frame of non-payment. E) After 45 Days - Re-offer the items for sale, either publicly or privately, and collect any remaining balance owed after such sale from the original buyer, including, but not limited to, total balance remaining, court fees, interest, storage fees, administrative costs (including those related to re-selling the item(s)) Winning Notification and Billing: After the FINAL session in this auction is complete. Cottone Auctions will send e-mail invoices. This process normally takes up to 48 hours. This auction will be conducted on a live auction floor and over the Internet. If you choose to place an absentee bid, please take a moment to learn how LiveAuctioneers absentee bidding works. Payment: Cottone Auctions buyers premium is 23% to be added to the hammer price of each lot if paid for by check, cash, money order or wire transfer. If paying by Visa or MasterCard an additional 3% surcharge will be added to the total invoice. It is often a good idea to let your card provider know in advance that you intend to buy something. This can help cut down the time we need to seek authority when you come to pay. We ask for your patience as your purchase will be released upon notice that your payment has cleared. NY state residents are charged 8% sales tax, unless a valid tax exempt number is provided.
Get pre-approved to bid live on

Wed, Jun 26, 2019 4:00 PM GMT

.
Register For Auction
Discover Items You'll Love