Weekly Auctions of Exceptional Items
lots of lots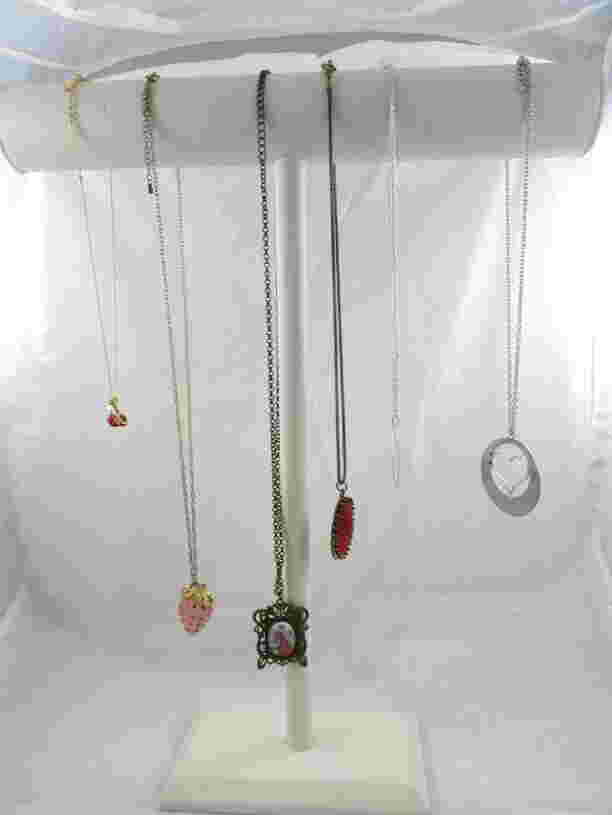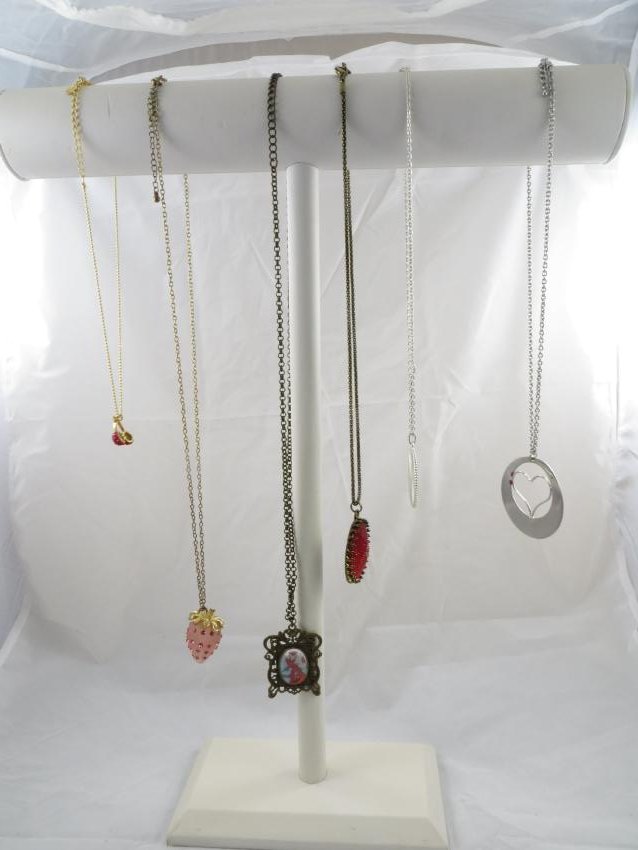 (1) rhinestone studded strawberry with gold tone chain; (1) framed flowers in bronze tone frame and chain; (1) silvertone chain with red enamel medallion; (1) bronze tone rope chain with sparkley red drop; (1)silvertone chain with moon drop; (1) Cookie Lee gold tone chain with rhinestone cherries; longest L-26", VG-EX
Shipping
Buyer Pays Shipping Cost plus a nominal fee for packing and materials. We will send your items the most economical way possible. Please advise us of any shipping requirements or restrictions. Please contact us if you have any specific requests. We may be willing to "unframe" items to avoid glass breakage, etc. THERE MAY BE ITEMS IN THIS AUCTION THAT SHOULD BE SENT PROFESSIONALLY. If you purchase something that falls into this category, we will assist you in finding a third party shipper. We provide in house shipping as a service to our customers, however we will make no guarantees with regards to "turn around time". If you have a specific timeline, you may want to consider a third party shipper.
Payment
Payment is required within 2 weeks of the auction. Please email auctioneer for more information. We will place a PayPal link on your auction invoice for ease of payment. A discount will be given for check payment.
Accepted payment methods
SHIPPING INTERNATIONALLY
We encourage ALL bidders to participate, however due to prior overseas shipping problems, WE RESERVE THE RIGHT TO TURN INTERNATIONAL SHIPMENTS OVER TO A THIRD PARTY SHIPPER AT OUR DISCRETION. There may be instances where we can pack in-house, but there may be other occasions where a third party shipper must be used. Please be aware of this possibility.
Removal of Purchases
We can schedule a time for bidders to pick up their purchases on Sunday, June 23rd. Please contact us for more information. We are able to schedule pick-up times on other days, BY APPOINTMENT ONLY. Anyone deciding to pick up their items will be responsible for paying Maryland Sales Tax, unless a sales tax exemption document is provided to us.
Terms
Terms and Conditions 1. In publishing this catalog, Over & Above Online Auction and Estate Sales, LLC, has endeavored to accurately describe all items being sold. However, all items offered for sale are sold strictly "as is." It is the bidder's responsibility to determine the exact condition of each item. No statement in this listing, the bill of sale, the invoice, or elsewhere, made by any representative of, or person in the employ of Over & Above Online Auction and Estate Sales, LLC, shall be deemed a warranty, representation, or assumption of liability with respect to age, condition, size, quality, variety, importance, provenance or historical relevance of any items sold. Any such matters are strictly matters of opinion. In cataloging, every effort has been made to accurately note major faults, repairs, etc., where seen for all items. However, where major faults have been noted, the item is already being sold "As Is" and lesser faults may NOT be individually described. All bidders are encouraged to ask questions regarding the condition of lots in the auction. Please ask specific questions and we will do our best to answer those queries. 2. The auctioneer will be the final judge as to who is the highest bidder. In the event of any dispute, the auctioneer shall, at his discretion, decide whether or not to reopen the bidding. 3. Title to all merchandise shall pass to the highest bidder at the fall of the auctioneer's "hammer." The purchaser shall assume full risk and responsibility for the lot purchased once title has passed. 4. Online purchases are subject to a 21% buyer's premium. Payment must be made immediately. A discount of 3% will be offered to purchasers who pay promptly by check. 5. Over & Above Online Auction and Estate Sales, LLC, will offer in-house shipping to our clients. We will charge a nominal fee for packing and materials, and will ship the items in the most cost effective manner. If a purchaser has specific shipping requirements, they must make us aware of them at the time of payment. 6. All accounts are to be settled by the end of the sale unless other arrangements have been made in advance. 7. Payment may be in the form of cash(In House Only) or a check. We reserve the right to hold all merchandise paid for by check until such check has cleared the bank. Payment may also be made via. Visa or MasterCard or PAYPAL. In order to make a credit card payment, bidders MUST call our office and supply the appropriate credit card number. We hope to be able to provide customers with a PayPal link on their invoice. The buyer must pay Maryland sales tax unless exemption is allowed under the laws regulating such tax. AS OF JULY 1, 2001, THE STATE OF MARYLAND ACCEPTS OUT-OF-STATE SALES TAX NUMBERS FOR THE PURCHASE OF ANTIQUES AND USED COLLECTIBLES. Potential buyers who hold VALID resale certificates from other states must present a copy of their sales and use tax license. Items shipped out of state are exempt from 6% Maryland sales tax. 8. Over & Above Online Auction and Estate Sales, LLC, is not responsible for any typographical errors or omissions in this catalog or subsequent price key. Photographs in this catalog are of the actual object being sold, however; digital photography can be misleading in regard to color and size of a particular item. Please feel free to ask questions with regard to color. Please see catalog description for actual size of the sale items. However, exact condition of the objects being offered is their condition at the time of time of the sale. 9. ALL ONLINE PURCHASES ARE SUBJECT TO 21% BUYER'S PREMIUM. A discount of 3% will be offered to purchasers who pay promptly by check. 10. ALL SALES ARE FINAL. 11. The act of bidding on any lot offered here is an indication of the bidder's acceptance of these Terms of Sale ABBREVIATIONS GRADING D = Depth H = Height L = Length W = Width Dia.= Diameter TO=Troy Ounces DWT=pennyweight M = Mint NM = Near Mint EX = Excellent VG = Very Good G = Good F = Fair P = Poor
(6) NOVELTY COSTUME JEWELRY NECKLACES
Get pre-approved to bid live on

Sat, Jun 22, 2019 5:00 PM GMT

.
Register For Auction
Discover Items You'll Love
Discover Related Items Available Now