Weekly Auctions of Exceptional Items
lots of lots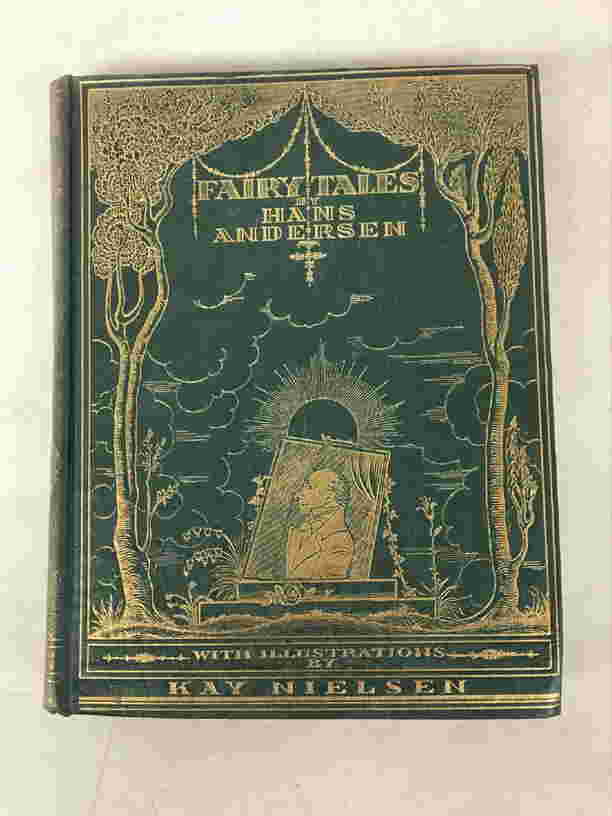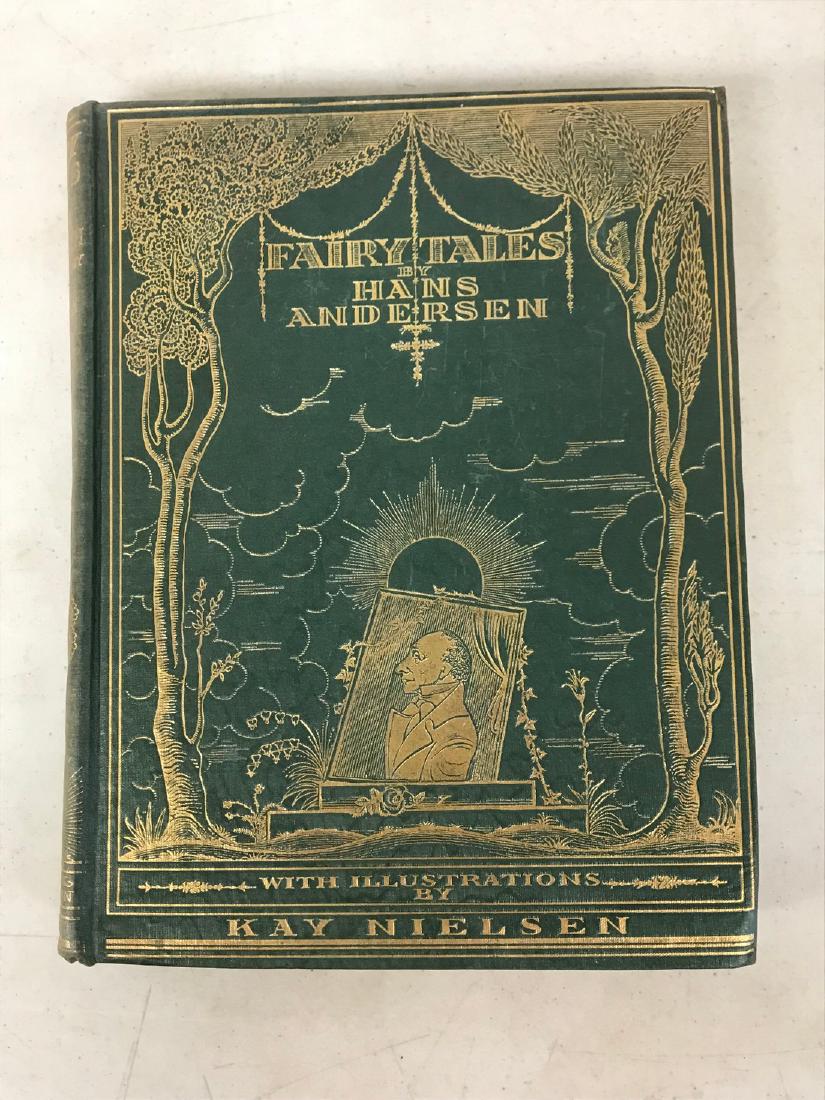 FAIRY TALES BY HANS ANDERSEN, ILLUSTRATED BY KAY NIELSEN, HODDER AND STOUGHTON, LIMITED LONDON. IN NICE ESTATE CONDITION, FIRST EDITION, 1924, GREEN CLOTH, NICE ESTATE CONDITION. FROM THE BEARVILLE, N.Y. ESTATE OF BETTY & IAN BALLANTINE, FOUNDERS OF BANTAM AND BALLANTINE BOOKS, AND ICONS IN THE FIELD OF EDITING AND PUBLISHING
Shipping
Buyer Pays Shipping Cost
Payment
1. Successful bidders will receive invoices by Saturday evening July 20th around 5pm. 2. Once you have received your invoice, PAYPAL is the preferred method of payment.You may pay directly from the invoice or go to PAYPAL directly. Our account is peddlerboy@aol.com. You will pay for merchandise and then receive a second invoice which includes shipping. (See Shipping below) 3. Also accepted are credit cards(MC,VISA,DISCOVER), personal checks, cashiers checks, or money orders
Accepted payment methods
Terms
JMW AUCTION GALLERY CONDITIONS OF SALE THE FOLLOWING CONSTITUTES THE ENTIRE TERMS AND CONDITIONS UPON WHICH PROPERTY LISTED IN THE CATALOG SHALL BE OFFERED FOR SALE OR SOLD BY JMW AUCTION GALLERY AND ANY CONSIGNOR OF SUCH PROPERTY FOR WHOM WE ACT AS AGENT. 1. As used herein the term "bid price" means the price at which a lot is knocked down to the purchaser and the term "purchase price" means the aggregate of (a) the bid price, (b) A PREMIUM PAYABLE BY THE PURCHASER OF 18% OF THE BID PRICE and (c) New York state or local sales tax. 2. This is a live auction, with absentee bids accepted before the sale. As of closing time printed below, the highest bidder shall be deemed to have purchased the offered lot in accordance with all of the conditions set forth herein and thereupon (a) assumes full risk and responsibility therefore (b) if requested will sign a confirmation of purchase, and (c) will pay the purchase price in full or such part as we may require for all lots purchased. No lot may be transferred. All property shall be shipped at the purchaser's expense. Each sale made pursuant to these Conditions of Sale will be deemed to constitute a grant of a security interest by the purchaser to us in, and we may retain as collateral security for the purchaser's obligations to us, any of the purchaser's property in our possession, and we may apply against such obligations all monies held or received by us for the account of, or owing to, the purchaser. Whenever the purchaser pays only a part of the total purchase price for one or more lots purchased, we may apply such payments, in our sole discretion, to the lots we chose. Payment will not be deemed made in full until we have collected all amounts due in cash(In House Only) or good funds represented by cleared checks, cashier checks, and credit cards. If the foregoing conditions or any other applicable conditions herein are not complied with, in addition to other remedies available to us and the consignor by law, including but without limitations, the right to hold the purchaser liable for the purchase price, we at our option may either (a) cancel the sale, retaining as liquidated damages all payments made by purchaser or (b) resell the property, either publicly or privately, and in such event the purchaser shall be liable for the payment of any deficiency plus all costs and expenses of both sales, our commission at our standard rates, all other charges due hereunder, attorney's feel and incidental damages. 3. All autograph signatures, letters, documents and signed photos are guaranteed authentic, all other items are sold "as is". All statements contained in the catalog or in any bill of sale, invoice or elsewhere as to period, culture, source, origin, measurements, quality, rarity, provenance, importance, exhibition and literature of historical relevance or physical condition are qualified statements of opinion and not representations or warranties. The purchaser hereby accepts the benefit of the consignor's warranty of title and other representations and warranties made by the consignor for the purchaser's benefit. The purchaser expressly acknowledges and agrees that in no event shall we be liable for any damage including, without limitation, any compensatory, incidental or consequential damages. 4. We reserve the right to withdraw any property at any time before the actual sale. We reserve the right to reject a bid from any bidder. The highest bidder acknowledged by us shall be the purchaser. In the event of any dispute between bidders, or in the event we doubt the validity of any bid, we shall have sole and final discretion either to determine the successful bidder or to re-offer and resell the article. If any dispute arises after the sale, our sales records shall be conclusive in all respects. If we are prevented by fire, theft or any other reason whatsoever from delivering any property to the purchaser, our liability shall be limited to the sum actually paid therefore by the purchaser and shall in no event include any incidental or consequential damages. 5.We have tried to accurately describe every item in this catalog. Condition description ranges are: poor, fair, good, very good and fine. Poor being the lowest level and fine being the best condition. Substantial defects are noted, minor defects may not be mentioned. If any substantial defect not described in the catalog is discovered by the purchaser, the lot must be returned within two days. This is not an approval sale. Any return for any reason other than authenticity issues will not be accepted if the item is not paid in full within 7 days of the auction date, or 7 days from the issuance of invoice by JMW Auction Gallery 6. All items are to be paid for by (a) cash(In House Only), (b) cashier's check (c) personal check made to JMW Auction Gallery (d) or credit card. All sales are final. No bid can be withdrawn at any time. All payment must be in U.S. dollars. 7. These Conditions of Sale shall bind the successor and assigns of all bidders and purchasers and insure to the benefit of our successors and assigns. No waiver, amendment or modification of the terms hereof shall bind us unless specifically stated in a writing signed by us. If any part of these Conditions of Sale is for any reason invalid or unenforceable, the rest shall remain valid and enforceable. 9. We accept absentee bids in advance of sale. "Buy" bids will not be accepted; all bids must state the highest bid price the bidder is willing to pay. As noted above, a 18% premium payable by the purchaser will be added to the bid price. In the event identical bids are submitted, the earliest will take precedence. We assume no responsibility for failure to execute these bids for any reason whatsoever. 10. Estimated Prices. As a convenience to our clients, we furnish pre-sale estimates for all lots included in the catalog. These are intended as an approximate guide to our opinion of current market value, and should not be interpreted as a price. The final bid price may well be less than or more than any estimate printed. 11. The purchase of any letter or document does not give the buyer any copyright ownership. 12. Shipment is via USPS or UPS at our discretion unless otherwise instructed. Large packages will be packed and shipped by a UPS packing center. Shipping charges are added to all invoices. Items are shipped after receipt of payment. We do not ship to P.O. boxes unless a special arrangement is made. NOTE: All successful bidders will be notified by Monday following the sale date by 5:00PM EST. PLACING OF A BID SHALL CONSTITUTE ACCEPTANCE OF THE PRECEDING TERMS AND CONDITIONS.
FAIRY TALES BY HANS ANDERSEN, ILLUSTRATED BY KAY
Get pre-approved to bid live on

Fri, Jul 19, 2019 8:00 PM UTC

.
Register For Auction
Discover Items You'll Love
Discover Related Items Available Now