lots of lots
Welcome to the world's largest marketplace for fine art, antiques & collectibles.
622: Native American Sculpture by Christopher Pardell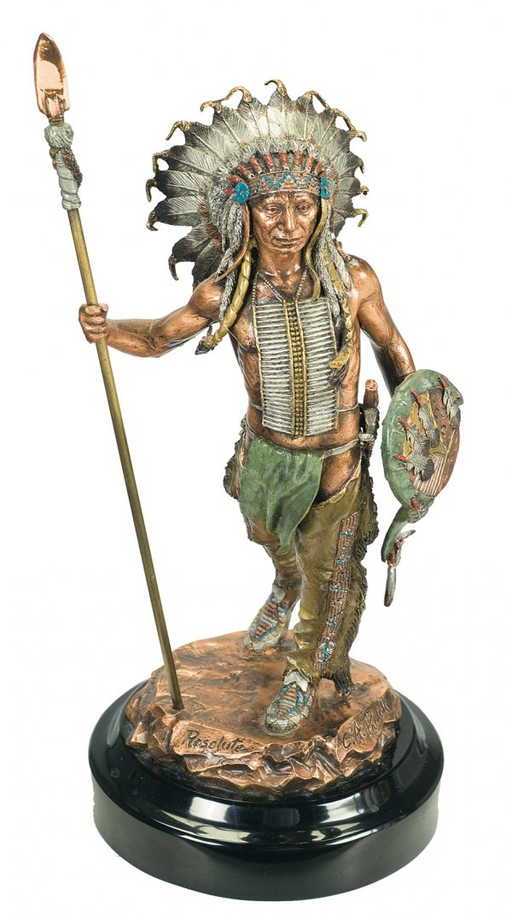 See Sold Price
Don't Miss Your Next Treasure.
Set up a search alert to hear when Mixed Media & Collages items arrive.
Auction ended on April 30th, 2010 UTC
622: Native American Sculpture by Christopher Pardell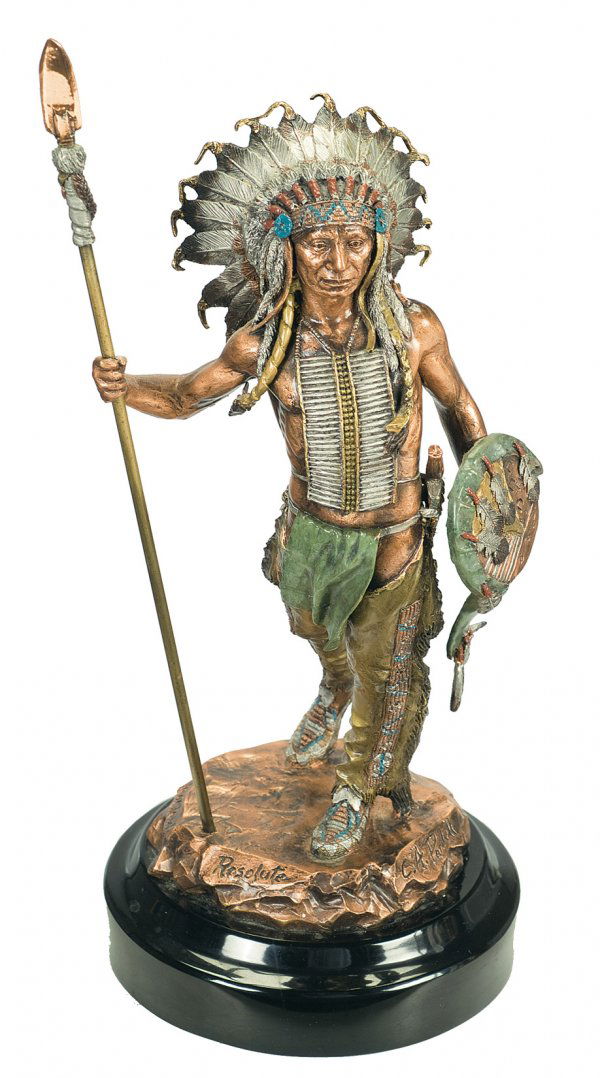 The sculpture is titled "Resolute" designed by Christopher Pardell for Legends. The sculpture depicts Red Cloud with a feathered headdress holding a spear and a shield. The sculpture incorporates Legends unique bronze, pewter and Mixed Media with added gold, red silver, and blue coloring. The sculpture and black marble base stand 14 1/4" tall by 6" wide and is numbered 181 of 750. The sculpture is also signed, dated and comes with original shipping box.
BBL:
Stock:
Gauge:
Finish:
Grips:
Serial Number:

Buyer's Premium
19.5% up to

$500,000.00

19.5% above

$500,000.00
Shipping
We will arrange for packing and shipping at our earliest possible convenience. In the case of crating, or exceptional packaging, the buyer will be charged our cost from outside agents. The buyer pays all shipping and insurance charges.
Payment
The Terms Conditions of Payment are contained in the stated policies on payment terms (see Terms Conditions of Sale). All purchases delivered in Illinois will automatically be charged sales tax unless a valid resale number has been furnished. Generally sales tax is not charged for items shipped out of state.
Accepted payment methods
Taxes
All purchases delivered in Illinois will automatically be charged sales tax unless a valid resale number has been furnished. Generally sales tax is not charged for items shipped out of state.
Buyers Premium Options
The buyers premium will be 19.5% for payments made with approved credit cards. A discounted buyers premium will be 17% for payments made with cash, check or wire transfer.
Terms
Terms & Conditions > Premiere Auction 1. The following conditions of sale make up the entire terms and conditions on which items listed in our catalog and addendum sheets will be offered for sale or sold by Rock Island Auction Company (known hereafter as "RIAC") and any client for whom we act as an agent. Any notices, posted or oral during the sale, are also part of our condition of sale agreement. These are the conditions of the sale. Acceptance of a bidder card constitutes acceptance of the following terms and conditions. The purchasers rights and our respective rights and obligations hereunder are governed by Illinois law. By bidding at our auction whether in person or by agent, sealed bid, telephone bid or other means, the buyer or bidder agrees that the contract created by these conditions of sale is made and performed in the County of Rock Island, State of Illinois. 2. All bid prices hammer prices(means the price at which a lot is knocked down to the purchaser) will be subject to a buyers premium 19.5% payable by the purchaser. The buyers premium shall be reduced to 17% provided the payment is paid by cash or the equivalent of cash (cashiers check, wire transfer, or approved personal check). If the account is settled by credit card, the buyer's premium then shall be the standard 19.5%. This is not an aggregate percentage on the total items bid rather a per item percentage rate. The premium is added to your successful bid and the two together equal the total purchase price. Some items are exempt from Illinois sales tax and others may be subject to Illinois sales tax or local sales tax. The tax is computed on the total purchase price. To establish a tax free sale, a copy of a valid resellers permit or other instrument of information must be provided to our satisfaction establishing a sales tax exemption. Any purchaser claiming an exemption yet unable to provide proof will be required to pay the tax to us and seek a refund from the State of Illinois. Generally, all items shipped out of state are tax free sales. We have been authorized by the consignor to retain as part of our remuneration, the buyers premium payable by the purchaser. 3. Auction sales are strictly for cash, cashiers check or checks (with prior approval of the management), MasterCard, Visa or Discover. NOTE TO FOREIGN BUYERS: Method of payment will be U.S. currency or certified check drawn on an American bank. 4. At the announcement of SOLD, the highest bidder will have purchased the offered lot. All sales are final at the fall of the Auctioneers hammer or at the announcement of "sold". This purchase is subject to all the terms and conditions set forth herein. The purchaser assumes full responsibility thereof and if requested will sign a confirmation of the purchase. The purchaser further agrees to pay the purchase price, buyers premium and any applicable taxes. All items purchased by successful bidders must be paid for in full the day of sale. All property must be removed from our premises at the purchasers expense no later than 5:00 p.m. five days following the date of sale unless otherwise agreed. If the property is not removed, it may be transferred to a public warehouse for the purchaser at the purchasers risk and expense. Each purchaser at this auction grants us a security in the property purchased. We may retain as collateral security for the purchasers obligations to us any of the purchasers property and all monies held or received by us. We may apply against such obligations monies held or received by us for the account of, or owing to, the purchaser. We retain all rights of a secured party under the Illinois Commercial Code. Whenever the purchaser pays only a part of the total price for one or more lots purchased, we may apply such payments, at our sole discretion, to the lot or lots we choose. Payment will not be deemed made in full until we have collected all amounts due in cash on good funds (by our definition). If the conditions of sale are not complied with, in addition to remedies available to us and the consignor by law, we hold the purchaser liable for the purchase price, 19.5% buyers premium, and applicable sales tax, we at our option may either (1) cancel the sale, retain as liquidated damages all payments made by the purchaser or (2) resell the property either publicly or privately, and in such an event the purchaser shall be liable for the payment of any deficiency plus all costs and expenses of both sales and our commission at our standard rates. The purchaser is also responsible for all other charges due hereunder attorneys fees and incidental damages, etc. 5. We reserve the right to withdraw any property prior to sale. 6. We reserve the right to reject a bid from any bidder. The highest bidder, acknowledged by the auctioneer, will be the purchaser. The Auctioneer shall have sole and final discretion as to the disposition of any dispute including the re-offer and resale of any article in dispute. Any dispute after the sale our records will be deemed conclusive in all respects. 7. If we are prevented by fire, theft, or any other reason from delivering any property to the purchaser, our liability shall be limited to the sum actually paid therefore by the purchaser and shall in no event include any incidental or consequential damages. 8. All property offered for sale is as is, where is. Rock Island Auction does not guarantee or make warranties on any lot sold. The bold headline description is the only written statement Rock Island Auction Company will guarantee as correct. Descriptions in the catalog are opinion. They are written as an aid to potential bidders. We acknowledge that there may be errors in what is written beyond the bold headline description. We strongly recommend you personally view any item you bid on or have an acknowledged expert view the item. Statements starting with the word condition are opinions, not statement of fact or guarantees. If a dispute about a lot arises it is the buyers responsibility to provide a written statement by an acknowledged qualified expert within 30 days of the auction that the bold headline is in fact incorrect. If the experts statement is indeed correct Rock Island Auction Company will make a full refund upon return of merchandise. Providing the merchandise is returned in the same condition it was received. We must again reiterate the guaranteed statement is only on the bold headline description. Rock Island Auction Company will only honor this guarantee within 30 days of an Auction. Rock Island Auction Company will have no further obligation including no refunds or returns will be accepted if the above conditions are not met. Items offered for sale as described in the catalog or any bill of sale, advertisement, addendum sheet, or elsewhere as to authorship, period, culture, source, origin, measurement, quality, rarity, provenance, importance, exhibition, physical condition are qualified statements of opinion and not representations or warranties. No employee of Rock Island Auction Company is authorized to make on our behalf or that of the consignor, any representation or warranty, oral or written, with respect to any property. 9. The Conditions of Sale shall bind the successors and assigns of all bidders and purchasers and inure to the benefit of our successors and assigns. No waiver, amendment or modification of the terms hereof (other than posted notices or oral announcements during the sale) shall bind us unless specifically stated in writing signed by us. If any part of these Conditions of Sale is for any reason invalid or unenforceable, the rest shall remain valid and enforceable. 10. Some items in this auction may be subject to reserve (the confidential minimum price below which the lot will not be sold). If a lot is offered with a reserve, we may implement that reserve by bidding on behalf of the consignor. This bidding will not constitute opening bidding. If no opening bid is received we will pass the item. However once bidding is opened we will bid on behalf of the consignor to reach the reserve price. Nominal bids - the auctioneer may reject nominal bids, small opening bids or very nominal advances made with the purpose of disparaging an item. If a lot fails to achieve a bid equal to or exceeding 25 - 30% of the low estimate, the item may be passed and not sold and may not be re-offered until a later sale. If we have an interest in an offered lot and the proceeds there from other than our commission, we may bid therefore to protect such interest. Items which are not reserved are sold at the auctioneers discretion. 11. Consignors are not allowed to bid on their own merchandise or have any agent bid on their behalf. If the Auctioneer recognizes such bidding or is advised of same, the Auctioneer reserves the right to withdraw any or all items consigned by the offending consignor, no exceptions. 12. As a service to anyone wishing to place bids in advance of the sale we may accept bids at our own discretion by telephone or sealed bid using the forms we provide. A Sealed Bid must be received and credit approved in advance of sale date. It is the Bidders responsibility to establish credit before bidding, or we will accept a 15% deposit in the amount of the total bids. (Deposits will be returned within ten (10) days after sale, if not successful). A Sealed Bid form is enclosed in the back of the catalog. Bids may also be faxed to (309)797-1655. Additionally on-line bidding is available on our website. We assume no responsibility for failure to execute telephone or sealed bids for any reason whatsoever. 13. Telephone bidders must contact Rock Island Auction Company at (309)797-1500 by 2 p.m. the day preceding the sale. Bids may be faxed to (309)797-1655. Any bids received later than this date risk being not executed. 14. All post - 1898 firearms must be registered in compliance with Federal and Illinois State Law. Buyers of post - 1898 firearms must complete state and federal registrations forms at Rock Island Auction Company, 4507 49th Avenue, Moline, Illinois 61265, unless otherwise specified. A 3-day waiting period is mandatory for modern handguns, a 24-hour waiting period on modern longarms. Dealers and out-of-state buyers must have in their possession on the day of sale, signed copies of their Federal Firearms License in order to accept same-day delivery of modern weapons. Buyers who act as agents for FFL dealers must have a letter of agency as well as an original signed copy of the dealers Federal Firearms License (FFL). 15. All firearms designated as Class 3 must be registered in compliance with the NFA registry. A $200 federal tax payment is required each time a functional NFA firearm is transferred to or from a private owner. This fee as well as full purchase payment is due at time of purchase in order to process the paperwork. The new owner of the Class 3 firearm will be required to complete 3 forms - 1) ATF Form 4, 2) fingerprint card, 3) ATF form 5330.20 Certificate of Compliance. These forms will be provided to you by Rock Island Auction Company. Note: if state of local law requires a permit or license to purchase, possess, or receive NFA firearms, a copy of the transferee's (buyer) permit or license must accompany the application. Rock Island Auction Company then mails the paperwork for the Federal Transfer Tax to BATFE. The BATFE says that it can take up to 90 days for approval. We will receive back one of the Form 4's (they are sent in duplicate) with a Federal Tax Stamp attached to it. This is given to the new owner when he/she picks up the NFA firearm. No further tax is due. The following states do not allow individuals to own machine guns: California, Hawaii, Illinois, Iowa, Kansas, Maine, Michigan, Mississippi, New Jersey, New York, Rhode Island. SPECIAL NOTE: If you are an SOT (Special Occupation Tax) payer (Class 3 dealer) you are able to transfer functional NFA firearms to or from other SOT payers and government agencies with BATFE approval, but without having to pay a transfer tax. 16. Rock Island Auction Company makes no warranties or representations whatsoever and no employee or consultant of Rock Island Auction Company has the authority to do otherwise, concerning the operation of firing condition, fitness for use, safety to store, or reliability, of any firearm, ammunition, or parts. Use of any firearm or ammunition purchased at Rock Island Auction Company is entirely at the user's risk. Rock Island Auction Company offers for sale the lots as collector lots only. We strongly recommend that all weapons, ammunition, etc. purchased at auction be examined by a competent gunsmith. Rock Island Auction Company expressly disclaims any liability whatsoever for accident, injury or damage resulting to any person from the storage or subsequent use of any such lot. 17. All delivery, shipping and storage charges must be paid by the successful bidder prior to delivery of the firearm. 18. If packing and handling of purchased lots is done by Rock Island Auction Company, it is done at the entire risk of the purchaser. All items must have shipping insurance; this insurance is mandatory. RIAC will not charge any labor charges for shipping. We are not liable for any acts of omission in packaging or shipping. Purchased lots handled by outside carriers or packers including those we may have recommended such carriers or packers may carry their own insurance and any claims for losses or damages should be addressed directly to them. We will arrange for packing and shipping at our earliest possible convenience. We will attempt to ship as soon as possible, however, delays of seven days after full payment is received by us is typical. In the case of crating or any exceptional packaging, the buyer will be charged our cost from outside agents. Buyer pays shipping, packing materials, and insurance charges. RIAC will not charge for labor. 19. Limitation of Liability. EXCEPT AS EXPRESSLY PROVIDED ABOVE, ALL PROPERTY IS SOLD AS IS. ROCK ISLAND AUCTION COMPANY NOR THE CONSIGNOR MAKES ANY REPRESENTATION OR WARRANTY, EXPRESS OR IMPLIED, AS TO THE TITLE, MERCHANTABILITY, FITNESS OR CONDITION OF THE PROPERTY OR AS TO THE CORRECTNESS OF DESCRIPTION, GENUINENESS, ATTRIBUTION, PROVENANCE OR PERIOD OF THE PROPERTY OR AS TO WHETHER THE PURCHASER ACQUIRES ANY COPYRIGHTS OR OTHER INTELLECTUAL PROPERTY RIGHTS IN LOTS SOLD OR AS TO WHETHER A WORK OF ART IS SUBJECT TO THE ARTIST'S MORAL RIGHTS OR OTHER RESIDUAL RIGHTS OF THE ARTIST. ALL FIREARMS AND AMMUNITION ARE SOLD AS COLLECTOR LOTS ONLY. FITNESS TO FIRE OR OTHERWISE DISCHARGE THE ARM OR AMMUNITION IS EXPRESSLY DENIED BY ROCK ISLAND AUCTION COMPANY. A COMPETENT GUNSMITH SHOULD BE CONSULTED BEFORE ATTEMPTING TO USE OR FIRE ANY FIREARM OR AMMUNITION. THE PURCHASER EXPRESSLY ACKNOWLEDGES AND AGREES THAT IN NO EVENT SHALL ROCK ISLAND AUCTION COMPANY BE LIABLE FOR ANY DAMAGES INCLUDING WITHOUT LIMITATION ANY COMPENSATORY, INCIDENTAL OR CONSEQUENTIAL DAMAGES.
Discover Items You'll Love

Bid Anywhere, Anytime. Download the LiveAuctioneers App.
Available on the App Store
Android App on Google Play