Signed J F Raffaelli Cityscape Street Scene 1850-1924
Don't Miss Your Next Treasure.
Set up a search alert to hear when Oil Paintings items arrive.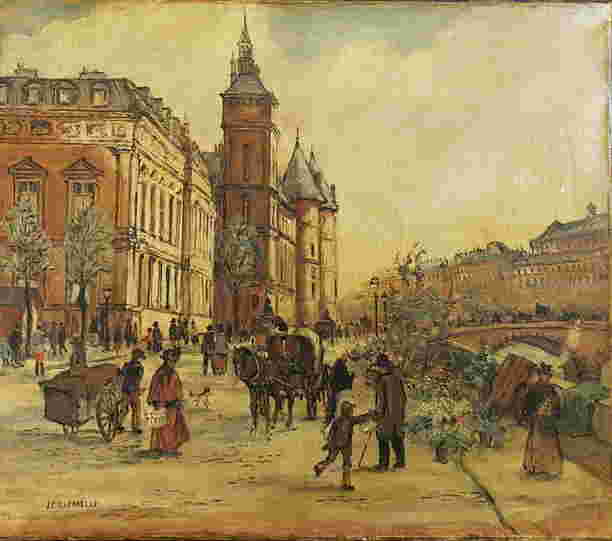 Lot 0105 Details
Description
Jean Francois Raffaelli Cityscape Street Scene Signed Oil On Canvas. Measures 18" x 21 1/4".Provenance:This was inherited by a private collector in Orlando Fl. Bio:An artist who tread the line between various styles of painting and who created an oeuvre diverse in both subject and style, Jean François Raffaelli typifies the aesthetic and political concerns of his time. An advocate of a philosophical art that reflected modern sociological conditions, the majority of Raffaëlli's work surrounds the new, modern city of Paris. Throughout the course of his career, he focused his attention on the downtrodden rag-pickers and wanderers living on the fringes of society, on the growing suburbs of Paris, and on the vibrant street life of the city. His works display both the bustling city and a segment of humanity hidden from public view and largely overlooked by other artists, thereby portraying Paris from many faceted views. He combined his sensitivity for the subject with an acute perception of his environment, a strong tendency to draftsmanship, and the light, painterly touch of the Impressionists.A Naturalist painter in his concern with photographic verisimilitude and the portrayal of psychological character, and an Impressionist by his association with the group, Raffaelli's work defies definite categorization. Raffaelli began his Salon career in 1870 when one of his landscape paintings was accepted despite his lack of formal training. In 1871, he enrolled at the École des Beaux-Arts and entered the studio of Jean Leon Gérôme. Dissatisfied with a lack of rigor at the École, Raffaëlli left after only three months and pursued his studies in the galleries of the Louvre and Luxembourg Museums where the works of Corot, Gérôme and Fortuny became his masters. While he continued to show regularly at the Salon until his death in 1924, Raffaëlli did not disregard alternate groups: he exhibited with the Impressionists in 1880 and 1881.Raffaëlli began his career working from a studio in the Parisian suburb of Asnière and painting those pushed outside of Paris during reconstruction of the city. His works display a segment of humanity hidden from public view and largely overlooked by other artists. Like his friend Huysmans and other contemporary Naturalist writers of fiction, Raffaelli, with rare acuity of vision, depicted downtrodden or work-weary figures carefully individualized in their accustomed milieu.Unlike previous nineteenth-century artists who depicted the Parisian industrial suburbs and its inhabitants only occasionally, Raffaelli focused upon this subject matter for a substantial part of his career - the period of his residence at Asniéres - from the late 1870s until his return to Paris in the early 1890s. Attentive to the sociological role of his art, he categorized these suburban figures not only pictorially but also explicitly by the desctiptive labels he provided for exhibitions, sich as Portraits - Types de gens du bas people, Portraits - Types de petits bourgeois, Scènes de moeurs, Sur Paris and Caractères de banlieue.His sociological endeavor to analyze particular segments of society through detailed investigation is applicable to the positivist philosophy that permeated the latter decades of the nineteenth century. Not surprisingly, Raffaelli's compositions reminded critics more often of the work of writers such as Emile Zola, the Goncourt brothers, Balzac, and Paul de Kock, rather than the work of artists.Raffaelli's theories of art, expressed primarily in his late 1884 essay Etude des mouvements de l'art moderne et du beau caractériste and in his 1885 lecture Le Laid dans l'art, offer a general view of the importance to Raffaelli of sociology and philosophy in art. In these essays, Raffaelli conceived of the artist not as an impulsive, romantic, creative spirit, but rather as a rational being duty-bound to reveal the essential character of various aspects of realist and, in particular, of man. Just as history had progressed from idolatry to individual liberty, art had progressed from admiration of idols to critical examination. The role of art, at that time demythologized, was to reproduce and draw attention to the carious aspects of modern life.Raffaelli set himself apart from the "realists" who, in his judgment, merely copied nature without concern for depicting the predominant aspects of individuals. While at first, Raffaelli seems to have accepted the term "Naturalist" as used by Zola in his art criticism to describe his work and that of his Impressionist friends, by 1884 with the publication of this theory of charactérisme Raffaelli rejected this epithet - probably not due to any doctrinal difference, but rather due to his desire not to be regarded as a mere follower of Zola.In any event Raffaelli's affinities with literary Naturalism remained close, as for example, in his choice of contemporary subject matter. While Zola concentrated on the plight of the industrial worker, Raffaelli turned his attention to those without status either as an industrial worker or bourgeois - the individuals for whom modern society had no place. Raffaelli contended that, despite public attention that had been focused on these déclassés, they had been ignored by art. For him, this vagabond class, these social outcasts served as unexplored territory. Just as Millet had raised the peasant to a status meriting artistic portrayal, so Raffaelli established the artistic worthiness of the déclassés.Raffaelli's career as a Realist artist was launched late in the 1870s with the support of such critics as Duranty and Joris-Karl Huysmans. Through Degas's insistence, Raffaelli became a member of the Impressionist group and eventually, though unwittingly, played a leading role in the dissolution of the group. In the late 1870s and 1880s Raffaelli concentrated on depictions of the newly expanding suburbs of Paris where he had settled, and it was the work done here that forms his major contribution.In 1892, he relocated to a studio on the rue de Courcelles in Paris and began to paint colorful views of the streets, squares and parks of Paris. He said of this transition,"I work according to the humor of the moment…Today I am an optimist, and my paintings that you can see on the Champ-de-Mars are joyful. I have fallen in love with light!...My mode of working, I repeat, follows the whims of my humor and I think it must be so." 1Given Raffaëlli's conviction that art played a sociological role through its analysis of the character of modern life, his new focus, in the 1890s and after, on the joyousness of Paris's street life is revealing. 2By the time Rafaelli died in 1924 his fame had spread across the Atlantic, where he held exhibitions in New York, Boston and Philadelphia as early as 1895.Museums:Béziers; Bordeaux; Boston; Brussels; Bucharest; Cleveland Museum of Art; Copenhagen; Douai; Evreux; Liège; Lyon; Morlaix; Mulhouse; Nancy; Nantes; New York, Metropolitan Museum of Art; Olso; Paris, Musee d'Orsay; Pau; Reims; Fine Arts Museums of San Francisco; Stockholm; Versailles; Washington DC, National Gallery of Art1. Cited by Puech, "Raffaëlli, champ-de-Mars," Le Figaro, 27 May 1896; rpt. Marianne Delafond and Caroline Genet-Bondeville, Jean François Raffaëlli (Paris: Musée Marmottan-Monet, 1999): p. 49.2. For more information see Gabriel Weisberg, The Realist Tradition (Cleveland: Cleveland Museum of Art, 1980): p. 307.
Condition
excellent Descriptions provided in both printed and online catalog formats do not include condition reports. The absence of a condition statement does not imply that the lot is in perfect condition or completely free from wear and tear, imperfections or the effects of aging. Interested bidders are strongly encouraged to request a condition report on any lots upon which they intend to bid, prior to placing a bid. All transactions are governed by RBFineArts LLC Conditions of Sale.
Buyer's Premium
25% up to $50,000
20% above $50,000
Signed J F Raffaelli Cityscape Street Scene 1850-1924
Estimate $5,000 - $25,000
Aug 18, 2019
Shipping, Payment & Auction Policies
Ships from
Tavares, FL, United States