Weekly Auctions of Exceptional Items
lots of lots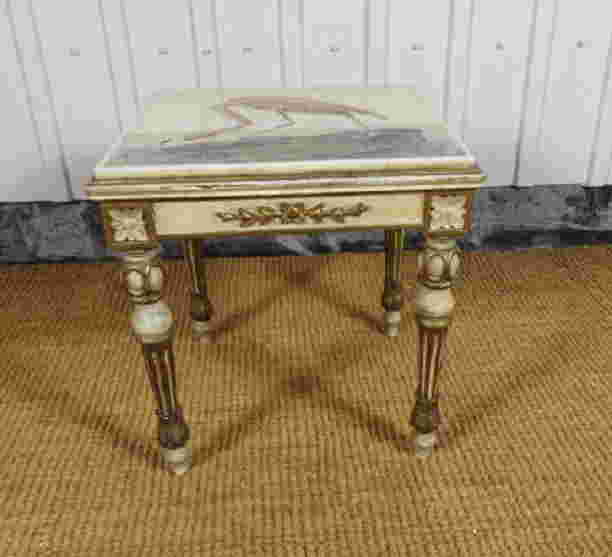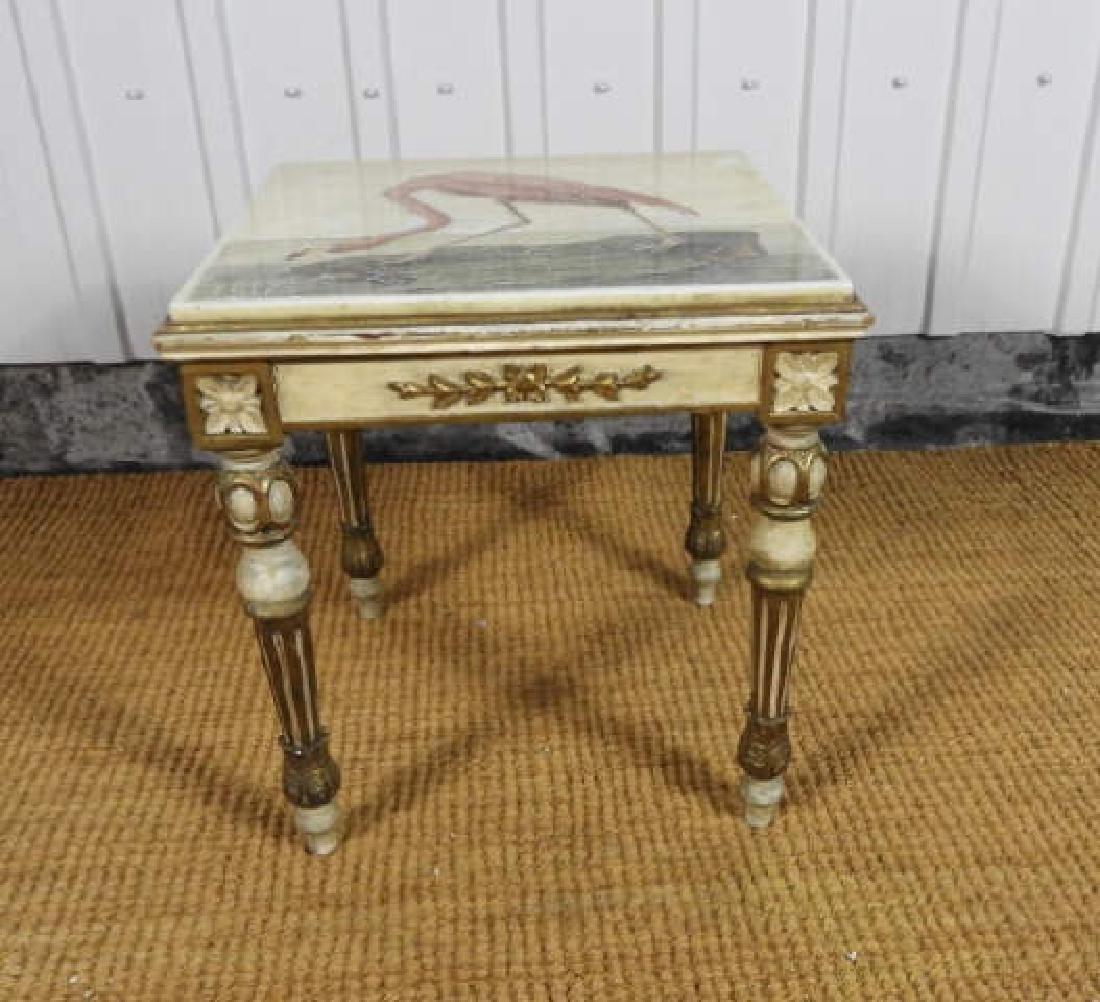 Antique Louis XV style gilt wood square stand with marble top labeled for "Scuola fiorentina del mosaico in marmoridea, Firenze, Made in Italy", the top decorated with a mosaic flamingo, 17" x 15 1/2" x 15 1/2".
Shipping
Please read Pridham's Terms and Conditions. Call 1-877-533-5877 if you have specific needs or questions. Please take note that your registration address has to match your shipping address. We deliver free of charge all purchases (smalls) to UPS Vaudreuil-Dorion, Quebec, when we are ready. We can't rush this process, please be patient. Please take note that the costs for wrapping and shipping is NOT COMMENSURATE with the hammer price. Shipping can be expensive and is based on the size of box and weight. An abandonment fee of $45 CAN will be charged to your credit card by Pridham's if you do not respond to Nancy at UPS - after staff has taken the time to pack your purchase professionally. You can ask Nancy for a QUOTE prior to bidding, at store360@theupsstore.ca or call us for more assistance, 1-877-533-5877. We have been shipping all over the world with Nancy.
Payment
We will email you within 24-48 hours of the sale. Please give us time to wrap up the auction. Purchases have to be paid within 4 days, after receiving your Live Auctioneers invoice by Visa, MasterCard or bank wire transfer, thank you.
Accepted payment methods
Terms
PRIDHAM'S AUCTION HOUSE INC. - TERMS & CONDITIONS OF SALE: OF NOTE: there is no pick-up at our Ottawa's office after the sale; only at Pridham's head office located Vankleek Hill (ON). Condition reports are not available on auction day. Please register early, to make sure that you don't have to wait on auction day. 1. The term "Auctioneer" means Pridham's Auction House Inc. 2. Each lot is sold "AS IS" and "WHERE IS". 3. Descriptions are provided to help move along the process on auction day. No warranty regarding the descriptions, age or condition is made or implied. Almost all these lots are antiques. Additionally, under the Conditions of Sale applicable to the sale of any lot, buyers must satisfy themselves as to each and every aspect of the quality of the lot, including and without limitation, its authorship, attribution, condition, provenance, authenticity, age, suitability and origin. Lots are sold on an 'as is' basis but the actual condition of the lot may not be as good as indicated by its outward appearance. In particular parts may have been replaced or renewed and lots may not be authentic or of satisfactory quality. Any statement in relation to a lot is merely an expression of opinion of the seller or Pridham's, and should not be relied upon as an inducement to bid on the lot. Lots are available for inspection prior to the sale. The condition reports have not been prepared by a professional conservator or engineer. 4. Pridham's does its very best to point out condition issues. You have to examine each piece carefully or ask for a condition report. Sales will not be set aside on grounds of condition, or of real or imagined mis-description. AuctionFlex (cataloguing platform) does not have a CONDITION field, unfortunately, to upload directly into LiveAuctioneers, sorry. That is why you will find some condition reports within the main description of a specific lot. 5. No books in this sale have been collated, please examine carefully before bidding or request a condition report. 6. Descriptions provided in both printed and in online catalog formats do not always include condition reports. The absence of a condition statement does not imply that the lot is in perfect condition or completely free from wear and tear, imperfections or the effects of aging. Interested bidders are encouraged to request a condition report on any lots upon which they intend to bid, prior to placing a bid. All transactions are governed by Pridham's Terms and Conditions of Sale. 7. There are applicable taxes except with proper identification and out-of-country buyers who require shipping of their purchases. 8. The Auctioneer has the right to withdraw or add to the items as listed in any printed catalog or listing, or promoted on the internet. 9. Unless exempted by law, the buyer must pay applicable taxes on the total purchase price. The buyer's premium is added before the applicable taxes. Pridham's does not divide a buyer's invoice between 2 or more attendees on auction day. 10. The Auctioneer has the right to refuse any bid and to advance the bidding at his absolute discretion. The auctioneer reserves the right not to accept and to reject any bid. Without limitation, any bid which is not commensurate with the value of the article offered, or which is merely a nominal or fractional advance over the previous bid may not be recognized. 11. When the Auctioneer says "sold" it is a contractual agreement between the Auctioneer and the buyer. All auctions are (audio) recorded. 12. Payment for purchases must be by cash (in person only), INTERAC in person or by E-TRANSFER (buyer has to cover fees), bank wire transfer (buyer has to cover bank fees), and VISA or MasterCard. Amex and cheques are not accepted. 13. Registration: purchases will NOT be shipped to a secondary address, registration address MUST equal shipping address. All bidders are required to give full name, address, telephone number (s) and postal/zip code. Information is used pursuant to the "Personal Information Protection and Electronic Documents Act". 14. Pridham's is not responsible for any damages or injuries under any circumstances. 15. The Auctioneer reserves the right to withdraw any lot from the sale at any time, to divide any lot or to combine any two or more lots at his sole discretion, all without notice. 16. Unless exempted by law, the buyer is required to pay HST on the total purchase price including the buyer's premium. For international buyers, taxes are not applicable when purchases are shipped out of Canada. For items shipped out of the province of Ontario, the buyer is required to pay taxes as per the tax status of that province, whether it is HST or GST (Goods and Services Tax). 17. The highest bidder accepted by the Auctioneer for any lot shall be the buyer and such buyer shall forthwith assume full risk and responsibility for the lot and must comply with such other Conditions of Sale as may be applicable. If any dispute should arise between bidders, the Auctioneer shall have the absolute discretion to designate the buyer or, at his option, to withdraw any disputed lot from the sale, or to re-offer it at the same or a subsequent sale. The auctioneer's decision in all cases shall be final. 18. The buyer shall pay an item in full and to the satisfaction of the auctioneer; failing to do so may result in the cancellation of the sale, with or without re-offering the item for sale. 19. Live Auctioneers buyers shall pay for all lots within 4 days after receiving the invoice from Pridham's, after which a "Dispute" will be added and a late charge of 4% per month on the total invoice may be incurred or the Auctioneer, in his sole discretion, may cancel the sale. The buyer shall not receive the lot until it is paid for in full. 20. Pridham's does not pack and ship. If you are not able to pick up your SMALL purchases on auction day, Pridham's will deliver the unpacked paid purchases (except furniture, large and heavy items), at the buyer's risk, at UPS in Dorion-Vaudreuil Quebec, Canada, at Pridham's convenience. Please read SHIPPING details, thank you. Pridham's will share the buyer's information with UPS, but not the credit card number. Once delivered to UPS, the buyer must liaise directly with NANCY, at UPS. She is our highly dedicated "representative" (Nancy 1-450-319-1008) for insuring, packing and shipping. SORRY HAVE TO CAP THIS: PLEASE TAKE NOTE THAT UPS PRICES ARE -NOT- COMMENSURATE WITH THE TOTAL ON YOUR INVOICE. It is commensurate with the amount of packing required, size, weight, where it is going, etc. UPS has to follow standards of shipping to make sure that your purchases are safe. 21. The Auctioneer acts solely as agent for the consignor and makes no representation as to any attribute of, title to, or restriction affecting the articles consigned for sale. Without limitation, the buyer understands that any item bought may be affected by the provisions of the Cultural Property Export Act. 22. DISCLAIMER: Ivory, tortoise shell and other "animal" items are restricted from export out of Canada due to protection under CITES (Convention on International Trade in Endangered Species). Pridham's will not provide shipping or CITES application service. The successful buyer has to pick up the item in person. Shall the buyer decide to take the item across a border after picking it up, the buyer takes full responsibility for obtaining proper exporting and importing documents from both countries: EXPORT IS AT THE BUYER'S RISK. Pridham's supports the protection of all wildlife. Thank you for your time and interest in Pridham's Auctions. We truly appreciate it. Robin and Josee Pridham
ANTIQUE LOUIS XV STYLE GILT WOOD & MOSAIC STAND
Estimate

CA$300

-

CA$400
Coming Up:

93

Lots Away
Get pre-approved to bid live on

Tue, Jul 16, 2019 10:00 PM UTC

.
Register For Auction
Discover Items You'll Love