Weekly Auctions of Exceptional Items
lots of lots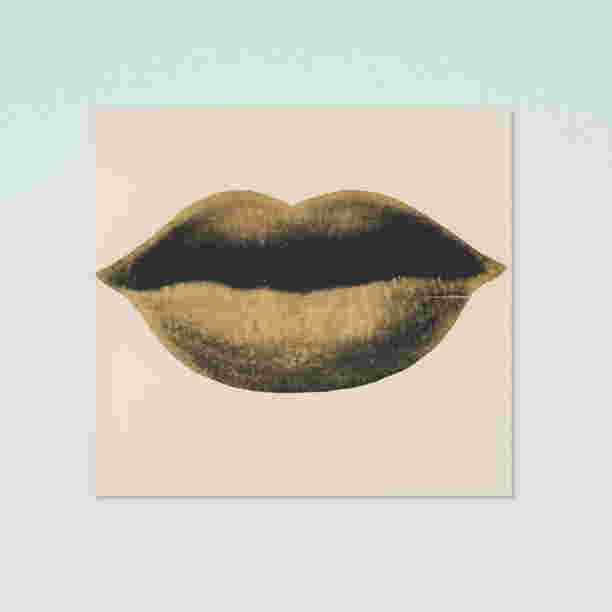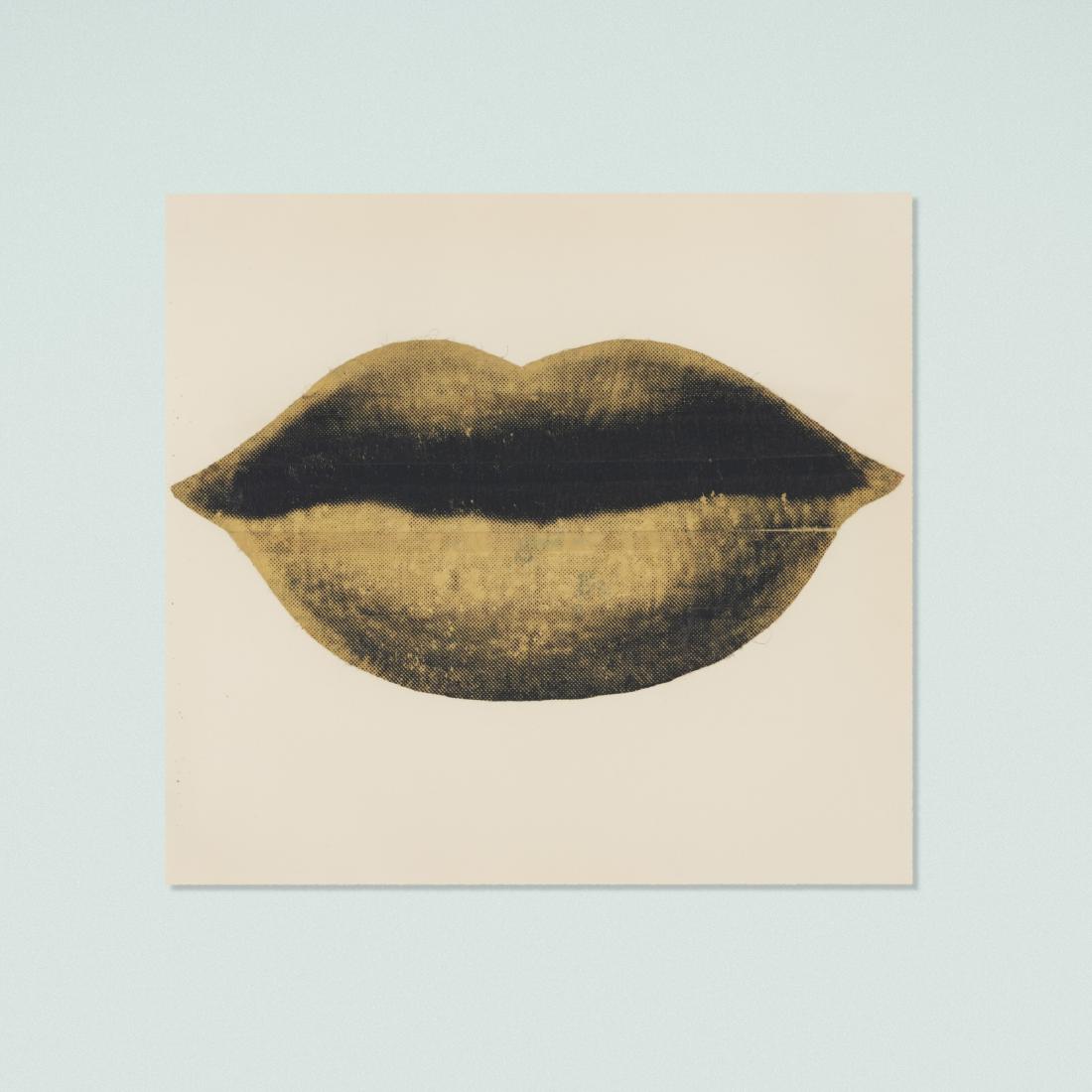 Andy Warhol
Untitled (Lips)

1975
screenprint on masking tape and paper collage
8 h × 8.75 w in (20 × 22 cm)

Provenance: Danziger Gallery, New York
Condition
Condition of the item is not included in this description. Condition reports are available from Wright upon request. Wright strongly recommends that you review a condition report for each item on which you plan to bid. Email
condition@wright20.com
to request a condition report.
Buyer's Premium
30% up to

$250,000

25% above

$250,000
Shipping
Buyer Pays Shipping Cost
Payment
Accepted payment methods
Regarding Condition Reports
If the condition of the item is not included in this description, they can be requested directly from Wright. Wright strongly recommends that you review a condition report for each item on which you plan to bid. Email condition@wright20.com to request a condition report.
Terms
INTRODUCTION Each Lot in a Wright Auction or Wright Catalogue is offered subject to the following Terms and Conditions of Sale ("Terms"), as supplemented in writing or otherwise by us at any time prior to the sale. By Registering to Bid, Bidding, or otherwise purchasing a Lot from Wright, you agree to be bound by these Terms. In these Terms, "we," "us," "our," "Wright" or similar terms mean R. Wright, Inc. and any of its agents, and "you," "your," "buyer" or similar terms mean a person Bidding on or buying a Lot at a Wright Auction, Private Sale, Wright Now Sale or otherwise through us. Please see Section 9 below for the meanings of capitalized terms or phrases that are not defined elsewhere in these Terms. 1. BIDDING AT AUCTION Prerequisites To Bid, you must Register to Bid with us in advance of the sale. In addition to our general registration requirements, we reserve the right to require (a) photo identification; (b) bank references; (c) a credit card; and (d) a monetary deposit (which will be refunded immediately if you do not submit the highest bid on a lot and will be applied to any Purchase Price Bid). Assumed Costs and Risks By Bidding, you understand that any Bid you submit can and may be regarded as the Purchase Price Bid for a particular Lot; accordingly, your Bid constitutes a legally binding agreement to purchase the Lot in accordance with your Bid if accepted by the auctioneer. You agree to assume personal responsibility to pay the Purchase Price Bid, plus the Buyer's Premium and any additional charges that become due and payable in connection with your purchase of a Lot; and that upon the fall of the auctioneer's hammer or other indication by the auctioneer that bidding has closed for a particular Lot, if your last Bid is the Purchase Price Bid, you agree to purchase the Lot and assume all risk of loss and damage to such Lot, in addition to any obligations, costs and expenses relating to its handling, shipping, insurance, taxes and export. All sales are final. Auctioneer Discretion The auctioneer has the right, in his absolute discretion, to determine the conduct of any Wright Auction sale, including, without limitation, to advance the bidding, to reject any Bid offered, to withdraw any lot, to reoffer and resell any lot, and to resolve any dispute in connection with such sale. In any such case, the judgment of the auctioneer is final, and shall be binding upon you and all other participants in such sale. Bidding Increments All Wright Auction sales will be conducted in the following increments, and nonconforming Bids will not be executed, honored or accepted: BID INCREMENT $25-300 $25 $300-1,000 $50 $1,000-2,000 $100 $2,000-3,000 $200 $3,000-5,000 $250 $5,000-10,000 $500 $10,000+ $1,000* * additional increments will be at the discretion of the auctioneer. Reserve All Lots may be offered subject to a confidential minimum price below which the Lot will not be sold (the "Reserve"). The auctioneer may open the bidding on any lot below the Reserve by placing a Bid on behalf of the Seller. The auctioneer may continue to Bid on behalf of the Seller up to the amount of the Reserve, either by placing consecutive Bids or by placing Bids in response to other bidders. Remote Bidding As a convenience to buyers who cannot be present on the day of a Wright Auction and have Registered to Bid, we will use reasonable efforts to execute (i) written, properly completed absentee Bids described on Wright bid forms delivered to us prior to that sale; or (ii) Bids delivered to us via the Internet, whether by properly completed Wright absentee bid forms or, if available, a live bidding service authorized by Wright. We assume no responsibility for a failure to execute any such Bid, or for errors or omissions made in connection with the execution of any such Bid. If requested prior to a Wright Auction in writing, we will use reasonable efforts to contact the buyer by telephone to enable the buyer to Bid by telephone on the day of the sale, but we assume no responsibility for errors or omissions made in connection with any such arrangement (including without limitation miscommunication of instructions given over the phone or failure to establish a connection prior to a sale). You acknowledge that there may be additional terms and conditions governing the use of any third-party service in connection with Bidding on the Internet, including, but not limited to, those providing for additional charges and fees relating to the execution of such Bids. Wright has no control over, and assumes no responsibility for, the content, privacy policies, or practices of any third party websites or services. You expressly release Wright from any and all liability arising from your use of any third-party website or services. Additionally, your dealings with such third party sites, including payment and delivery of goods, and any other terms (such as warranties) are solely between you and such third parties. We encourage you to be aware of, and to read, the terms and conditions and privacy policy of any third-party website or service that you visit. 2. PAYMENT FOR AND COLLECTION OF PURCHASES You Pay Buyer Costs If your Bid results in a Purchase Price Bid (or you agree to pay the purchase price for a Lot as a part of a Wright Now Sale or Private Sale), you agree to pay the following charges associated with the purchase of such Lot: (i) Hammer Price (for Auction Sales) or Lot purchase Price (for Wright Now Sales and Private Sales); (ii) Buyer's Premium (for Auction Sales); which is 25% of the Hammer Price (or part thereof) up to and including $250,000; 20% of the Hammer Price (or part thereof) in excess of $250,000. An additional premium will be added to any successful bid accepted thru a third-party site. (iii) any applicable sales tax, late payment charges, storage fees, Enforcement Costs or other costs, damages or charges assessed in accordance with these Terms (for all sales) ((i) - (iii) collectively, the "Buyer Costs"). All purchases will be subject to state sales tax unless the buyer has provided us with a valid certificate of exemption from such tax. Payment Procedure You agree to pay all Buyer Costs immediately following Wright's acceptance of the Purchase Price Bid unless other arrangements have been approved by Wright in advance. If Wright approves of such other arrangement for payment, Wright may at its discretion require you to make a nonrefundable down payment on Buyer Costs. All payments must be made in US Dollars, in any of the following acceptable forms of payment: Cash Check, with acceptable identification Visa, MasterCard or American Express. Wright reserves the right to charge and collect an additional 2% of payments made by credit card. Title and Risk of Loss Title to a Lot purchased in accordance with these Terms shall not pass to the buyer until Wright has received the Buyer Costs (including clearance of checks and wire transfers). We reserve the right to delay delivery of or otherwise prevent access to any purchased Lot until Wright has received all Buyer Costs. Notwithstanding passage of title, risk of loss to a Lot passes immediately to buyer upon Wright's acceptance of a Purchase Price Bid. All sales are final. Security As security for full payment to us of all amounts due from the buyer and prompt collection of your purchased Lots in accordance with these Terms, we retain, and the buyer grants to us, a security interest in any Lot purchased by the buyer in accordance with these Terms (and any proceeds thereof), and in any other property or money of the buyer in our possession or coming into our possession subsequently ("Security Interest"). We may apply any such money or treat any such property in any manner permitted under the Uniform Commercial Code and/or any other applicable law. You hereby grant us the right to prepare and file any documents to protect and confirm our Security Interest including but not limited to a UCC-1 Financing Statement. Delivery Buyer is solely responsible for collection of purchased Lots from Wright facilities, including making arrangements and paying all costs associated with packing and delivery. We may, as a courtesy to the buyer, provide or arrange packing, shipping or similar logistical services, or refer the buyer to third parties who specialize in these services. Any such services referred, provided or arranged by us are at the buyer's sole risk and expense, we assume no responsibility for any act or omission of any party in connection with any such service or reference, and we make no representations or warranties regarding such parties or their services. You expressly release Wright from any and all liability arising from your use of any third-party website or services. Export, Import and Endangered Species Licenses and Permits Before bidding for any property, prospective buyers are advised to make their own inquiries as to whether a license is required to export a lot from the United States or to import it into another country. Prospective buyers are advised that some countries prohibit the import of property made of or incorporating plant or animal material, such as coral, crocodile, ivory, whalebone, Brazilian rosewood, rhinoceros horn or tortoiseshell, irrespective of age, percentage or value. Accordingly, prior to bidding, prospective buyers considering export of purchased lots should familiarize themselves with relevant export and import regulations of the countries concerned. It is solely the buyer's responsibility to comply with these laws and to obtain any necessary export, import and endangered species licenses or permits. Failure to obtain a license or permit or delay in so doing will not justify the cancellation of the sale or any delay in making full payment for the lot. As a courtesy to clients, Wright will advise clients who inquire about lots containing potentially regulated plant or animal material, but we do not accept liability for errors or for failing to advise on lots containing protected or regulated species. Storage, Abandonment And Related Charges All purchased Lots not collected from Wright's facilities by buyer or buyer's authorized agents within thirty (30) days following the Sale Date will become subject to storage fees of not less than $5 per day. A late payment fee equal to 1.5% per month may be assessed on any Buyer Costs remaining unpaid thirty (30) days following the Sale Date. If a purchased Lot has not been collected from us within sixty (60) days after the Sale Date, and Wright has not consented to continue to store the Lot, the buyer will be deemed to have defaulted under these Terms, and, in addition to any other remedies we may have at law or equity, we shall be entitled to foreclose on the Security Interest by selling such Lots and using the proceeds from such sale for any purpose (including payment of storage fees and administrative expenses of handling such matter), without any further liability to the buyer. You agree that this remedy is reasonable in light of the costs Wright would have to incur to continue to store and process purchased Lots after sale. Breach If a buyer fails to make timely payment as required in these Terms, or breaches any other covenant, representation or warranty in this Agreement, we shall be entitled, in our discretion, to exercise any remedies legally available to us, including, but not limited to, the following: (i) cancellation of the sale of the Lot to the non-paying buyer, including the sale of any other Lot to the same buyer (whether or not paid); (ii) reselling the Lot, at public or private sale, with or without reserve; (iii) retention of all amounts already paid by the buyer to Wright, which shall constitute a processing and restocking fee (which you acknowledge would be reasonable in light of the costs Wright would have to incur to process your breach and attempt to re-auction or resell the Lot); (iv) rejection of any Bids by the buyer at future auctions; (v) setting-off any amounts owed by Wright to the buyer in satisfaction of unpaid amounts; and/or (vi) taking any other action we deem necessary or appropriate under the circumstances. Confession of Judgment If you default on payment of one or more Purchase Price Bids under this Agreement, you hereby authorize any attorney to appear in a court of record and confess judgment against you in favor of Wright for the payment of such Purchase Price Bids and all related Buyer Costs. Accordingly, the confession of judgment may be without process and for any amount due on this Note including collection costs and reasonable attorneys' fees. This authorization is in addition to all other remedies available to Wright. 3. LIMITED WARRANTY "As Is", "Where Is" Except as expressly stated below, each Lot is sold "as is" "where is", with no representation or warranty of any kind from any party (including Wright or the consignors of the Lots), express or implied, including warranties of merchantability, fitness for a particular purpose and non-infringement. Because you are responsible for satisfying yourself as to condition or any other matter concerning each purchased Lot, you are advised to personally examine any Lot on which you intend to bid prior to the auction and/or sale. As a courtesy, condition reports for any Lot are available from Wright prior to the sale, but Wright assumes no responsibility for errors and omissions contained in any such report, a Wright Catalogue or other description of a Lot that may be available on the Wright website. Any statements made by Wright with respect to a Lot (whether in a condition report, a Wright Catalogue or on the Wright website), whether orally or in writing, are intended as statements of opinion only, are not to be relied upon as statements of fact and do not constitute representations or warranties of any kind. Authorship Warranty Subject to the following terms and conditions, Wright warrants, for a period of two (2) years following the date of sale, the information presented in a Wright Catalogue with respect to Authorship of any Lot is true and correct, so long as the name of the Author is set forth unqualifiedly in a heading in BOLD CAPITAL type in the applicable and most current Wright Catalogue. The term "Author" or "Authorship" means the creator, designer, culture or source of origin of the property, as the case may be, as specifically identified in BOLD CAPITAL type in the applicable and most current Wright Catalogue, and shall not include any supplemental text or information included in any other descriptions (whether or not in the Wright Catalogue). Exclusions From And Conditions To The Authorship Warranty Notwithstanding, this warranty is subject to the following: (i) The benefits of this warranty are only available to the original buyer of a Lot from Wright, and not to any subsequent purchasers, transferees, successors, heirs, beneficiaries or assigns of the original buyer. (ii) This warranty shall not apply to any Lot for which a Wright Catalogue description states that there is a conflict of opinion among specialists as to Authorship. (iii) This warranty shall not apply to any Lot for which, at the time of sale, the statements regarding Authorship made by Wright conformed with the generally accepted opinion of scholars, specialists or other experts, despite the subsequent discovery of information that modifies such generally accepted opinions. (iv) The buyer must provide written notice of any claim under this warranty to Wright (validated by no fewer than two (2) written opinions of experts whose principal line of business is the appraisal and authentication of art, antiquities, design objects or other valuable objects similar to the Lot) not later than thirty (30) days after becoming aware of the existence of such a claim, an in any event no later than two (2) years following the date of sale, and must return the Lot subject to such claim to Wright in the same condition as at the time of the original sale. Wright reserves the right to appoint two independent specialists to examine the Lot and evaluate the buyer's claim prior to buyer's receipt of any remedy pursuant to this warranty. Buyer's Only Remedy For Authorship Warranty Breach The buyer's sole remedy, and Wright's sole liability, under this warranty shall be the cancellation of the sale of the Lot in question, or (if the sale has already concluded) the refund of the purchase price originally paid by such buyer for the Lot in question (not including any late fees, taxes, shipping, storage or other amounts paid to Wright in accordance with these Terms). Buyer hereby waives any and all other remedies at law or equity with respect to breaches of this warranty. Limit Of Liability IN NO EVENT SHALL WRIGHT BE LIABLE TO YOU OR ANY THIRD PARTY FOR ANY CONSEQUENTIAL, EXEMPLARY, INDIRECT, SPECIAL, PUNITIVE, INCIDENTAL OR SIMILAR DAMAGES, WHETHER FORESEEABLE OR UNFORESEEABLE, REGARDLESS OF THE CAUSE OF ACTION ON WHICH THEY ARE BASED, EVEN IF ADVISED OF THE POSSIBILITY OF SUCH DAMAGES OCCURRING. WITH RESPECT TO ANY SALE OF A LOT, IN NO EVENT SHALL WRIGHT BE LIABLE TO YOU OR ANY THIRD PARTY FOR LOSSES IN EXCESS OF THE PURCHASE PRICE PAID BY YOU TO WRIGHT FOR SUCH LOT TO WHICH THE CLAIM RELATES. 4. RECISSION/VOIDING OF SALE BY WRIGHT If we become aware of an adverse claim of a third party relating to a Lot purchased by you, we may, in our discretion, rescind the sale. Upon notice of our election to rescind a sale, you will promptly return such Lot to us, at which time we will refund to you the Hammer Price and Buyer's Premium paid to us by you for such Lot. This refund will represent your sole remedy against us and/or the consignor in case of a rescission of sale under this paragraph, and you agree to waive all other remedies at law or equity with respect to the same. If you do not return such Lot to us in accordance with this paragraph, you agree to indemnify, defend and hold Wright, its officers, directors, employees, agents and their successors and assigns, harmless from any damages, costs, liabilities or other losses (including attorney's fees) arising as a result of such third party claim. 5. COPYRIGHT NOTICE Wright and its licensors will retain ownership of our intellectual property rights, including, without limitation, rights to the copyrights and trademarks and other images, logos, text, graphics, icons, audio clips, video clips, digital downloads in, and the "look and feel" of, the Wright website and each Wright Catalogue. You may not obtain any rights of ownership, use, reproduction or any other therein by virtue of these Terms or purchasing a Lot. You may not use any of our trademarks or service marks in any way. 6. SEVERABILITY If any provision of these Terms is held by any court to be invalid, illegal or unenforceable, the invalid/illegal/unenforceable aspect of such provision shall be disregarded and the remaining Terms enforced in accordance with the original document and in accordance with applicable law. 7. GOVERNING LAW These Terms shall be governed by and interpreted in accordance with the law of the State of Illinois and, by Registering to Bid or Bidding in the Wright Auction (whether personally, by telephone or by agent), the you agree to submit to the exclusive jurisdiction of the state and federal courts located in Cook County, Illinois in connection with any matter related to these Terms, the Wright Auction or other sale of a Lot to you by Wright. 8. EXPENSES In addition to the foregoing, you agree to pay to Wright or Seller on demand the amount of all expenses paid or incurred by Wright and Seller, including attorneys' fees and court costs paid or incurred by Wright or Seller in exercising or enforcing any of its rights hereunder or under applicable law, together with interest on all such amounts at 1.5% per month (the "Enforcement Costs") within thirty (30) days of the buyer's receipt of Wright's invoice for such Enforcement Costs. 9. DEFINITIONS The following terms have the following meanings: "Author" and "Authorship" have the meanings given in Section 3. "Bidding", "Bid" or "place a Bid" means a prospective buyer's indication or offer of a price he or she will pay to purchase a Lot at a Wright Auction which conforms with the provisions of Section 1. "Buyer Costs" has the meaning given in Section 2. "Buyer's Premium" means the following for any Lot: (i) 25% of the Hammer Price (or part thereof) up to and including $250,000; (ii) 20% of the Hammer Price (or part thereof) in excess of $250,000. An additional premium will be added to any successful bid accepted thru a third-party site. "Hammer Price" means the price for a Lot established by the last bidder and acknowledged by the auctioneer before dropping the hammer or gavel or otherwise indicating the bidding on such Lot has closed. "Lot" means the personal property offered for sale by Wright, whether at a Wright Auction, Private Sale, Wright Now Sale or otherwise. "Passed Lot" a Lot which does not reach its reserve or otherwise fails to sell at a Wright Auction. "Private Sale" a non-public, discrete sale of a Lot (such Lot typically not being exhibited by Wright). "Purchase Price Bid" means the bid submitted by a Buyer for a Lot which is accepted as the Hammer Price, or in the case of Private Sales or Wright Now Sales, the price accepted by Wright for the sale of such Lot. "Register to Bid" or "Registering to Bid" means providing Wright with your complete, accurate contact information (including address, phone and email) and a current, valid credit card number (including security code), and (i) in the case of phone or absentee bidders, a properly completed Wright bid form, links to which can be found under "Bid Form" here http://www.wright20.com/buying/how-to-bid/; (ii) in the case of online bidders, registration with such authorized third-party online auctioneer service providers described here http://www.wright20.com/buying/how-to-bid/. "Reserve" has the meaning given in Section 1. "Sale Date" means, in the case of Wright Auctions, the date of the closing of bidding for a particular Lot and acceptance of the Purchase Price Bid for such Lot; in the case of all other sales by Wright, the date Wright agrees in writing to sell a Lot to a buyer. "Security Interest" has the meaning given in Section 2. "Seller" means the owner of a Lot offered for sale at a Wright Auction, Private Sale, Wright Now Sale or other sale administered by Wright. "Terms" has the meaning given in the Introduction to this Agreement. "Wright Auction" means the sale of Lots to the public through competitive bidding administered by Wright (including sales administered through a third-party Internet auctioneer authorized by Wright). "Wright Catalogue" means the design catalogues published by Wright which features Lots available at particular Wright Auctions. "Wright Now Sale" is a sale of a Lot valued less than $10,000 consigned to Wright by a third party, either posted on Wright's website directly or solicited after a Lot fails to sell at auction.
Andy Warhol, Untitled (Lips)
Estimate

$8,000

-

$10,000
Get pre-approved to bid live on

Wed, Jul 24, 2019 5:00 PM UTC

.
Register For Auction
Discover Items You'll Love