lots of lots
Welcome to the world's largest marketplace for fine art, antiques & collectibles.
22356: STEIFF CIRCUS TRAIN SET, FIVE CARS, MOHAIR ANIMA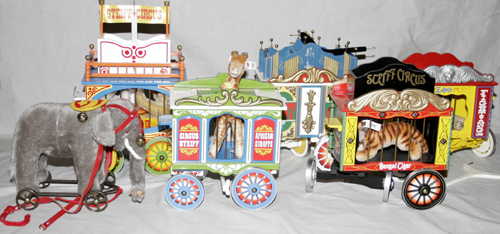 See Sold Price
Don't Miss Your Next Treasure.
Set up a search alert to hear when Steiff Music Boxes items arrive.
Auction ended on February 13th, 2005 UTC
22356: STEIFF CIRCUS TRAIN SET, FIVE CARS, MOHAIR ANIMA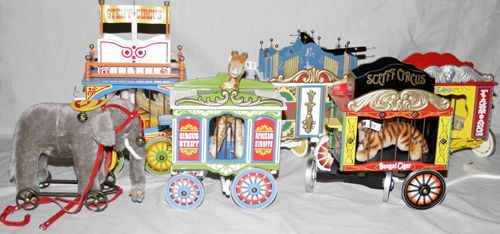 STEIFF CIRCUS TRAIN SET, FIVE CARS, MOHAIR ANIMALS, ORIGINAL TAGS, 6 PIECES TOTAL, EDIT. 5000Elephant and calliope with music box. Leo the lion in cage. Giraffe in cage. Bangle tiger in cage. Two Dickie bears in cage. #4617/5000. Wood wagons H.10" L9". German steiff tags on each animal. Two certificates in file. Original boxes.
Shipping
Buyer Pays Shipping Cost
Payment
Contact For Payment Details
Accepted payment methods
Terms
CONDITIONS OF SALE All property will be offered and sold by DuMouchelles Art Galleries as agent for the Consignor on the following terms and conditions: -All lots are sold 'AS IS'. -DuMouchelles is not responsible for the shipment of items, all shipping and related costs a-DuMouchelles is not responsible for the shipment of items, all shipping and related costs are the responsibility of the purchaser. If you are the successful bidder and need an item(s) shipped, DuMouchelles can provide you with a list of shipping and moving companies that have no affiliation with us and can handle the shipping of your item(s). -For your benefit, we have listed those companies at the bottom of this document. Prospective bidders are welcome to contact any of the businesses for shipping/moving quotes prior to bidding. -Condition reports on items are available, however, we may not be able to respond to all of them due to the volume of them we have been receiving from EBay. Condition reports are provided as a courtesy and are based on our observation and are not a guarantee of an item's quality. Due to potential space limitations on prospective bidders' email accounts, additional photos cannot be sent directly to bidders, additional photos will be uploaded to eBay. All items are sold 'AS IS.' -Internet bidders are REQUIRED to have a valid name, address, phone number, email address and credit card number or bank account listed with eBay to be automatically approved for bidding. Bidders not meeting these criteria will be approved on a case by case basis. -Larger, higher resolution versions of the original photo listed with eBay for each item will be available at http://www.dumouchelles.com. TERMS AND CONDITIONS 1. DuMouchelles Art Galleries Co., and the Consignor assume no risk, liability or responsibility for the authenticity of the authorship of any property identified in the catalog. All property is sold 'AS IS' and neither DuMouchelles nor the Consignor make any warranties or representations of any kind or nature with respect to the property, and no statement in the catalog or made at the sale, or in the bill of sale or invoice or elsewhere shall be deemed and assumption of liability or a warrant or representation as to the description, genuineness, attribution, provenance or condition of the property. Prospective bidders should inspect or request the condition of the property before bidding to determine its condition, size and whether or not it has been repaired or restored. DuMouchelles and the Consignor make no representation or warranty as to whether the successful bidder acquires any reproduction rights in the property. 2. A premium of 22% of the successful bid price will be added thereto and is payable by the purchaser as part of the total purchase price on lots in sale. 3. DuMouchelles reserves the right to withdraw any property before sale. 4. Unless otherwise announced by the auctioneer, all bids are per lot as numbered in the catalog. 5. Notwithstanding the preceding condition, if within twenty-one days of the sale of any lot, the purchaser gives notice in writing to DuMouchelles that the lot so sold is a counterfeit and, if within fourteen days of such notice the purchaser returns the lot to DuMouchelles in the same condition as when sold, and proves beyond a reasonable doubt that the returned lot is in fact a counterfeit and that this was not indicated by a fair reading of the catalog, the sale will be rescinded and the purchase price refunded. Consignor agrees to refund DuMouchelles any payments made to Consignor for any counterfeit property returned DuMouchelles. 6. Unless the sale is advertised and announced as a sale without reserves, each lot is offered subject to reserve and the DuMouchelles may implement such reserves by bidding through its representatives on behalf of the Consignor. In certain instances, the Consignor may pay DuMouchelles less than the standard commission rate where the Consignor is the successful bidder. Where the Consignor is indebted to DuMouchelles, and in certain other instances, DuMouchelles may have an interest in the offered lots and the proceeds there from other than the commissions for their sale. 7. DuMouchelles reserves the right to reject a bid from any bidder. The highest bidder acknowledged by the auctioneer shall be the purchaser. In the event of any dispute between bidders, the auctioneer shall have sole and final discretion either to determine the purchaser or to re-offer and resell the article in dispute. If any dispute arises after the sale, the sale record of DuMouchelles shall be conclusive in all respects. 8. If the auctioneer determines that any opening bid is not commensurate with the value of the article offered, he may reject the same and withdraw the article from the sale; and, if having acknowledged an opening bid, he decides that any advance thereafter is not of sufficient amount, he may reject the advance. 9. On the fall of the auctioneer's hammer, title to the offered lot will pass from Consignor to the purchaser, subject to all the conditions set forth herein, and purchaser thereupon a) assumes full risk and responsibility therefore, b) will sign a confirmation of purchase thereof, and c) will thereupon pay the full purchase price therefore or such part as we may require. We reserve the right to impose a late charge of 1 1/2% per month on the total purchase price if payment is not made in accordance with all of the conditions set forth herein. All property must be removed from our premises by the purchaser at their expense not later than 3 business days following its sale and, if it is not so removed, a handling charge of 1% of the purchase price will be payable by the purchaser per month until its removal, with a minimum of 5% for any property not so removed within 60 days after the sale. If any applicable conditions herein are not compiled with by the purchaser in addition to other remedies available to us and the Consignor by law, including without limitation the right to a) hold the purchaser liable for the total purchase price, we at our option may either cancel the sale, retaining as liquidated damages all payments made by the purchaser or b) resell the property at public auction, and the purchaser shall be liable for any deficiency, costs, including handling charges, the expenses of both sales, or commission on both sales at option, payment will not be deemed to have been made in full until we have collected funds represented by checks, or, in the case of bank or cashier's checks, we have confirmed their authenticity. As between DuMouchelles and Consignor, if the successful bidder does not pay for the property, collection procedures shall be the responsibility of Consignor and not DuMouchelles. 10. Unless exempted by law from the payment thereof, the purchaser will be required to pay Michigan state retail sales taxes at a rate of 6%, or any taxes that are applicable at this date. Unless exemption from such taxes is established to the satisfaction of DuMouchelles, any purchaser claiming an exemption will be required to pay the tax to DuMouchelles and seek a refund. 11. Purchasers not intending to take possession or use the property purchased by them at the sale within the State of Michigan must make arrangements with a shipping company for shipment outside the State of Michigan at the purchaser's risk and expense prior to the bidding. Otherwise, Michigan state taxes of 6% will be added to the bill. REMOVAL OF PROPERTY 1. Unless different arrangements have been agreed upon, all purchases must be removed by the purchaser by 5 p.m. on the third business day following the sale. Removal during the sale on Saturday and Sunday may not be conducted before 2:00 p.m. of that day. Purchases not so removed will be subject to a handling charge to cover our costs. See paragraph "9" of the "Conditions of Sale." 2. Purchasers are advised that packing and handling of purchased lots by our employees are undertaken solely as a courtesy for the convenience of clients; and in the case of fragile articles, will be undertaken at our sole discretion. BIDDING 1. Bidders attending the auction are required to sign a bid confirmation card upon Registration and will not be permitted to take delivery of purchases until their checks have cleared unless they have previously established credit or made payment arrangements. A premium equal to 22% of the successful bid price will be added to all lots, and is payable by the purchasers, as part of the total purchase price. 2. As a convenience to bidders who cannot attend a sale in person ("order bidders"), DuMouchelles will, if so instructed, execute written order bids on their behalf, without additional cost. DuMouchelles will not be responsible for errors or failure to execute bids. 3. Lots are bought for order bidders at the lowest possible price (which may be below the order bid price) subject to other bids and reserves. For further information call DuMouchelles at (313) 963-6255. Movers and Storage Harry Letzmann 313.822.4412 voice 313.822.3215 fax J. Noseda and Son, Inc. 586.563.2273 voice 586.776.0570 fax Art Pack Services, Inc. 248.478.9588 fax 248.478.8946 voice Shipping Companies The UPS Store - Keenan 248.559.1690 voice 248.559.5884 fax store0053@theupsstore.com The UPS Store – Vince 313.392.6000 voice 313.392.0422 fax store3981@theupsstore.com Pack and Ship – Bill Frederick 734.281.0224 voice 734.281.9020 fax 800.551.9820 thepacknshipstore@sbcglobal.net **DuMouchelles does not endorse or recommend any particular business above. Please interview and hire at your own risk.
Discover Items You'll Love

Bid Anywhere, Anytime. Download the LiveAuctioneers App.
Available on the App Store
Android App on Google Play