Important Large-Sized Manhattan Area Stoneware Jar, "C.
Don't Miss Your Next Treasure.
Set up a search alert to hear when Stoneware Serveware, Flatware & Barware items arrive.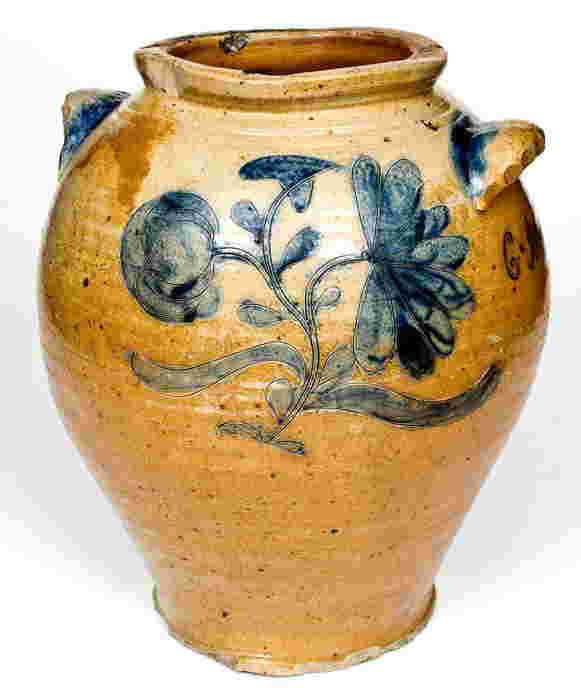 Lot 0156 Details
Description
Exceptional Four-Gallon Stoneware Jar with Elaborate Incised Floral Decoration and Crimped Handles, Inscribed "C. Atterbury / August 24th, 1807", Manhattan, NY area, possibly Crolius Family, 1807, ovoid jar with footed base, tooled shoulder, and applied semi-lunate handles with distinctive pinched crimping to their edges. Lavishly-decorated on the front and reverse with an incised and cobalt-highlighted design of a flowering plant bearing a fan-shaped blossom, a round, multi-lobed flower bud or piece of fruit, and several leaves, including a pointed leaf at the stem's peak. Incised in script under one handle with the cobalt-highlighted name, "C. Atterbury," and under the opposite handle with the date, "August 24th 1807". Brushed cobalt slip decorates the juncture of the jar's handles with the shoulder of the vessel. Produced by the same potter who made the iconic "Elizabeth Crane" bowl in the collection of the Museum of American Folk Art and the "Henry Edoson" flask in the Weitsman collection at the New York State Museum. C. Atterbury was quite clearly Catharine Atterbury, born Catharine Boudinot (December 2, 1781), the daughter of Elisha Boudinot, a prominent New Jersey figure in the history of the Revolutionary War and an eventual New Jersey Supreme Court Justice. As the Historical Society of New Jersey notes, "Elisha [Boudinot] and his brother Elias were both early supporters of the Revolution. In 1755, when the patriots of Newark created the General Committee of Newark to organize their efforts, Elisha was made its clerk. He also held the office of Secretary of the Council of Safety in 1778. Boudinot was involved with many important personages of the time and entertained such men as George Washington and Alexander Hamilton at his Newark home." Indeed, it is remarkable that Catharine Atterbury herself had a brush with George Washington that she cherished her entire life: "Mrs. Catharine Boudinot Atterbury remembered with delight during her long life an incident of her childhood connected with Washington. She was about eight years old, and as she was born in 1781, it is supposed to have occurred on the evening after Washington's inauguration. She was with her parents near the Bowling Green, at what was or had once been grandfather William Peartree Smith's house, near Chancellor Livingston's. She had skipped to the crowded street to see a balloon go up in connection with the fire-works, and her father sent her back into the house; but Washington, standing near, exclaimed, 'No, you pretty little yellow bird, you shall see as well as anybody,' and placed her upon his shoulder." (Magazine of American History, May 1889.) As the Historical Society of New Jersey (which holds family papers of the Boudinots, including papers of Catharine Boudinot Atterbury herself) also notes, "While still living at her parent's house in Newark, [Catharine Boudinot] was the secretary for the Newark Female Charitable Society, the second oldest private charitable organization in the country. From her writing, she seems to have been very affected by the religious revival of the time period. She married Lewis Atterbury (1779-1872), a merchant, on September [11], 1803 and had nine children with him: Mary S., Lewis, John, Edward, Elisha Boudinot, Benjamin Bakewell, Julia Maria, William Wallace and Francis." Lewis Atterbury was born on April 2, 1779 in Leicestershire, England, and immigrated to the United States with his uncle, Benjamin Bakewell, in or about 1793. Bakewell himself is extremely notable as the father of the American flint-glass industry, having founded his famous Pittsburgh glasshouse in the early 1800's. Lewis Atterbury, for his part, became a prominent Baltimore-based merchant in the early years of the same century, returning to Newark in 1812 to establish a gunpowder manufactory. The couple would both live long lives, eventually settling in New York City, with Lewis Atterbury dying in 1872 at the age of 94 and Catharine Atterbury following him in 1877 at the age of 95. (It is worth noting that the New-York Historical Society holds in its collection a sillhouette of Catharine Atterbury, donated by one of her descendants in 1942.) Mrs. Atterbury's jar is extremely notable as one of a small number of surviving items made by a mystery New York City area potter who produced what is among the very finest bodies of work of any of the period American stoneware potters. Based on the very distinctive incised decoration and identical handwriting, the same hand that produced this jar is that which made the iconic "Elizabeth Crane" punch bowl (with an 1811 date) in the collection of the American Folk Art Museum in Manhattan, NY, regarded as one of the finest examples of American stoneware in existence. This same potter likewise produced the wonderful "Henry Edoson" flask (with an 1804 date) in the Weitsman Collection at the New York State Museum in Albany. The largest jar by this potter known, it is a commanding, striking example, complementing pieces like the aforementioned punch bowl and flask as it also bears--in their manner--a prominent inscription for a person in the Newark, New Jersey, area and an early 1800's date. It is difficult to overstate the importance of this jar as both the product of a potter working at the very top of his craft, and as an object that absolutely exudes the history of the early republic, made for a woman whose family (including herself) interacted with Washington and played important roles in the establishment of the United States of America. Heavy chipping to foot. Heavy chipping to one handle. A tiny chip to opposite handle. A smooth, 2 1/2" in-the-firing chip to rim. In-the-firing contact marks to one side. H 14 1/4".
Important Large-Sized Manhattan Area Stoneware Jar, "C.
Estimate $5,000 - $10,000
Oct 26, 2019
Shipping, Payment & Auction Policies
Ships from
Sparks, MD, United States