Weekly Auctions of Exceptional Items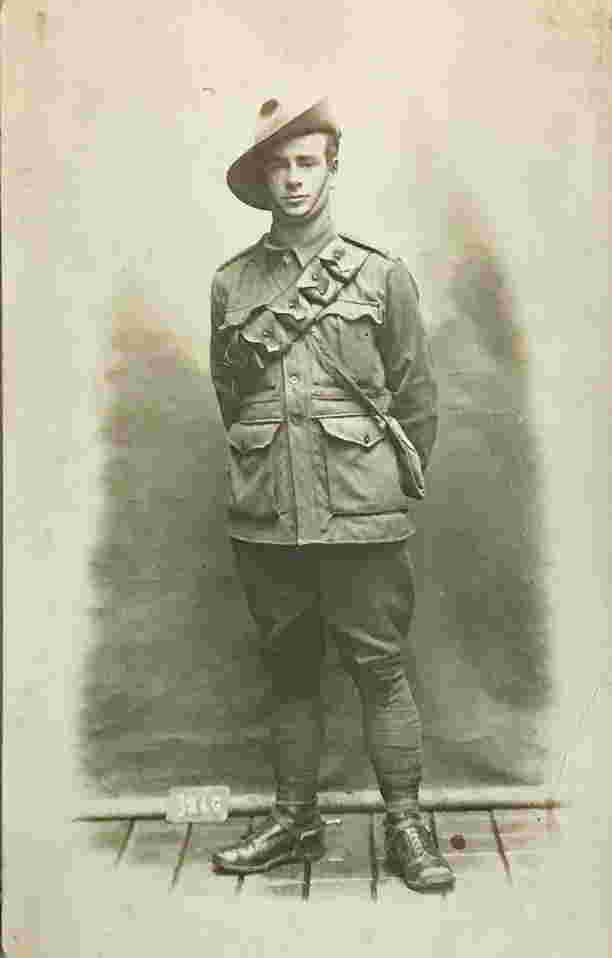 Lot 0011A
Description
WW1 Australia Gunners claim Red Baron kill (24pc). Group of letters and attached maps and photos by various Australian gunners who witnessed the death of the Red Baron or claimed to have shot him down. The lot includes: (10) three Letters, three photos, service record, typed 6 page eyewitness statement, and 2 newspaper clippings from Frank Wormald, a member of the 8th Battalion, 53rd Battery, 14th Field Artillery Brigade which was stationed near the village of Corbie the day the Red Baron was killed. Wormald was alongside the two gunners, Buie and Evans, who claimed to have shot the Red Baron down. In a six page typewritten statement sent to Dr. Walter Powell in March 1985, Wormald writes in part: "We soon saw the red plane of the Baron going after May. At that time he was higher and some 300 yards behind May. Now as the Baron's two guns were a fixture on his plane and they fired through the propeller, he had to line his plane on May to get him. On they came towards us, the Baron getting slightly closer and getting lower all the time. They were flying over the Somme Valley. May was flying low, the Valley had a lot of trees in it, under those trees were Diggers in reserve, anyone with a machine gun was having a shot at the Baron as he raced overhead. . .The Baron was only 400 yards from us and coming straight at us. Buie, Evans, and I looked down the barrels of the Barons two guns for three seconds. Had he touched the trigger we were dead meat. The boys never faltered, their eyes on the Baron, their finger on the trigger of those Lewis Guns. Then May was almost over our heads, "less than 50 feet up." The Baron dipped his plane for the perfect shot at May, about 50 yards behind and up somewhat. When he dipped he exposed his body upwards from the waist, that was the moment that our boys were waiting for--May out of their line of fire and the Baron exposed some 75 feet away. Did any gunner ever have a better target?" (1) 2 page handwritten letter from Private A.R.P. Jackson, veteran of A Company, 31st Battalion, Australian Expeditonary Force to Dr. Walter Powell dated 13 May 1985, noting that "On the morning of April 21st my section had returned from fighting patrol to reserve dug outs 400 yards to the Rear of the front lines situated 25 yards from the Somme with a lot of trees between us. We had just finished breakfast when we heard planes approaching from the direction of the front lines. Within no time a British plane burst into view flying low over the tree tops pursued by a German plane passing us nearby overhead. Within a few seconds they had passed from sight when we heard a Lewis gun open up. An hour later a runner on his way to the front told us two men had shot down the Red Baron with a lewis gun. . . " Jackson also attaches a map of the location where the Red Baron's plane crashed. (6) two handwritten letters with attached photos and newspaper article from E.T. Mayhew of the 53rd Battalion who claimed that he shot down the Red Baron; (4) two handwritten letters and attached copies of his WW1 diary entries and death photos of the Red Baron sent to Dr. Walter Powell in May and July 1985. In his letter of May 20, 1985 he writes in part: "It was my duty, together with a comrade, firstly to guard the Baron's body until British and French authorities had identified it. I was then commissioned to engrave aluminum plates--one for the coffin and one for the cross at the grave head--with the appopriate particulars. . .A photo I took of the grave the day following the burial, and also a photo of the Baron's head, I supplied to Pat Carisella, American author of "Who Killed the Red Baron?" Carsilla has them in his book." (2) typed letter, signed, with attached article written by Ronald East, late of the 4th Squadron, Australian Flying Corps to Dr. Powell dated 4 January 1986 regarding the death of the Red Baron; (2) typed letter, signed, by P.C. Firkins to Dr. Walter Powell dated 14 August 1985 attaching a statement by another claimant to killing the Red Baron, Wally Wright--and adding that he feels certain Wright's statement is likely false.
WW1 Australia Gunners Claim Red Baron Kill (24pc)
Get pre-approved to bid live on
Sat, Jan 18, 2020 11:00 AM '
.
Register For Auction
Discover Items You'll Love
Discover Related Items Available Now
See All