lots of lots
Welcome to the world's largest marketplace for fine art, antiques & collectibles.
481: Webley & Scott Flare Gun, No. 2 Mark 1, Serial #44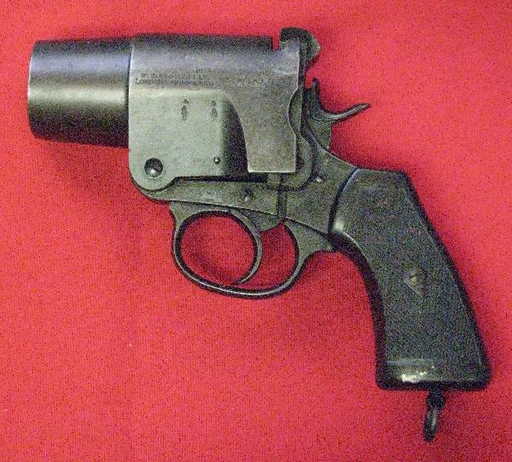 See Sold Price
Don't Miss Your Next Treasure.
Set up a search alert to hear when Motley's Auction lists new auctions.
Discover Related Items Available Now
Auction ended on October 27th, 2010 UTC
481: Webley & Scott Flare Gun, No. 2 Mark 1, Serial #44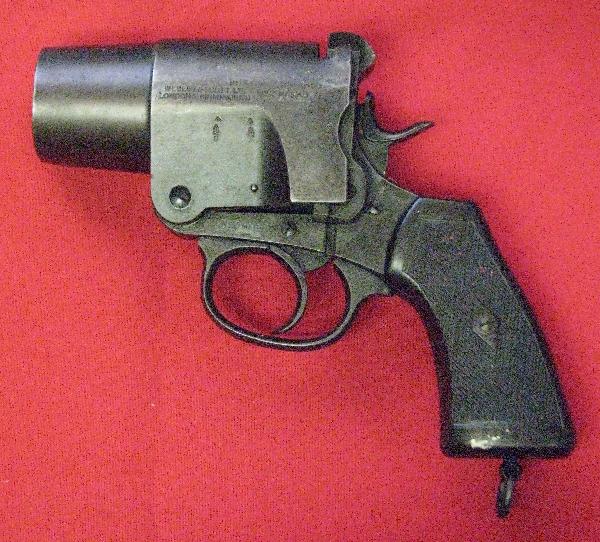 Webley & Scott Flare Gun, No. 2 Mark 1, Serial #44732, Dated 1918, Overall: 8 1/2'' L, Loss to Right Grip, $100-$200.
Shipping
Auction House does NOT ship. If you need shipping please contact Handle With Care at 804-897-0022
Payment
Invoices will be sent the following morning directly to the email provided durring registration. Payment must be received by Friday, October 29, 2010 5:00pm est. Credit Card over the phone is accepted by calling 804-355-2100
Accepted payment methods
Taxes
All Local and State Taxes Apply
Terms
TERMS & CONDITIONS OF SALE BUYER BEWARE ALL ITEM(S) SOLD "AS IS", "WHERE IS", and WITH "ALL FAULTS". ALL SALES FINAL! NO REFUNDS! PREVIEWS All merchandise is publicly displayed prior to auction. BUYER BEWARE, purchases will be at the buyer's own risk. Each item is sold "AS IS", "WHERE IS", and "WITH ALL FAULTS". We recommend that each item be examined thoroughly. Internet purchasers are urged to have items inspected by an independent appraiser or a third party consultant (Please refer to our referral section). Neither Motley's nor the consignor makes any warranty or representation with respect to the correctness of the catalog. Prospective bidders are urged to inspect property before bidding to determine condition and whether or not items have been repaired, restored, or damaged. Most of the items described in the catalog have come from estates and have, therefore, been subjected to extensive use. ALL SALES FINAL! No items may be returned for credit; however, items may be resold for the new purchaser at the next available auction. REGISTRATION All bidders must register with the office to sign a bidder's contract and obtain a bidder's card. Bidders are bound by Motley's Auction & Realty Group Terms & Conditions of Sale. These terms are listed in the sale catalog and posted in our office and gallery areas for your benefit. WARRANTY Each item is sold AS IS, WHERE IS AND WITH ALL FAULTS, in its condition at the time of sale, without any warranties or guarantees, either expressed or implied. Motley's shall not be held responsible for incorrect descriptions. The data contained herein regarding the property is for descriptive information only and is to be used as a guide, solely for the purpose of identifying the goods to be auctioned. All announcements made from the auction podium will take precedence over any previously printed material or any other oral statements made. We reserve the right to remove any lot from the sale at any time. CONDITION Conditions are noted in the catalog. Any item listed without a condition notation does not imply that the item is free of any existing condition problems. It is the purchaser's responsibility to examine all property prior to purchase. All measurements listed are close approximations. CATALOGS Catalogs are published prior to each Antiques & Estates Auction. Motley's catalog/internet listing provides descriptions for each consecutive lot to be sold in the sale. The catalog/internet listing is to be used as a guide of what is being sold. It is our intention to catalogue each lot accurately and fairly; however, Motley's cannot guarantee accuracy or authenticity. The catalog is intended to be used as a guide for your convenience. BIDDING Property will be knocked out to the highest bid. Please bid as early as possible. In the event of duplicate bids, the earliest bid will take precedence. Should a dispute arise between two or more bidders, the item will be immediately put back up for resale. Should the Auctioneer and a bid assistant (bid spotter) simultaneously recognize two conflicting bidders, even though the Auctioneer announces the item as sold, it will be necessary to re-open the bidding to settle the dispute between these two bidders only. The auctioneer has the right to refuse any bid not commensurate with the value of the item being sold. The Auctioneer may reject any raise in the bidding which is less than the amount being called for. If any dispute arises after the sale, Motley's sale records shall be conclusive in all respects. Consignors may not bid on their own property. Pooling or collusive bidding will not be tolerated. ABSENTEE & TELEPHONE BIDS In the event that a customer is unable to attend an auction, you may use our absentee bid forms to leave bids. The instructions for absentee bids are found at the bottom of the form. Motley's will try to purchase the lot or lots on your behalf at the lowest possible price against the competition from other bidders. If you cannot be here to fill out forms, faxes are acceptable. Absentee bids will follow the format of the catalog in most instances. Absentee bids will not be accepted for any amount less than $50. Telephone bids may be made during the auction on a first come first serve basis. You may request such a bid by writing or telephoning our office 24 hours prior to the sale. Phone bids shall be executed only on lots with a guaranteed minimum opening bid of $200.00. We recommend that a minimum bid be supplied in the event of your unavailability. Collect calls will be made to the number you have supplied in time to bid on a specific lot. A cash deposit, in person or via wire transfer is required for any purchaser who does not have an established account with Motley's Auctions. The deposit must total 25% of the medium estimate of the bid for each lot for which a bid is left. Deposits must be received at least 24 hours in advance. Last minute new account bids cannot be accepted without a cash deposit! Absentee and Telephone bids are executed as a courtesy to our customers. Payment and removal terms must be settled prior to bidding. All sales are final whether a lot is purchased unseen or not. Failure to pay for purchases will result in court action and purchaser will be liable for all costs incurred by Motley's to collect the funds (i.e., attorney's fees, court costs, etc.). Motley's representatives make every effort to represent absentee bids fairly; however, Motley's assumes no responsibility or liability if it errs or fails to execute such bids. All bids must be supplied to us in writing. A facsimile is acceptable as well as wire transfer of funds. ESTIMATES When provided, the pre-sale estimate provided in the catalog is purely an indication as to where similar items have sold in the past. It is not a guarantee and is not to be represented as being accurate by the seller. BUYER'S PREMIUM A 20% buyer's premium will be applied to the successful sale price for all Internet bidders. This premium will be added to each and all lots sold in the auction. PAYMENT Payment accepted by Visa, MasterCard, personal check, company check, cash, cashier's check, or wire transfers. For wire transfers, please confirm with your banking institution any transaction fees that may need to be allowed for and confirm that the correct amount is being wired. Purchases of $500.00 or less are due at time of sale. For purchases over $500.00 a 25% deposit or $500.00, whichever is greater, is required at time of sale with full payment due within 48 hours or by Friday, 5:00 PM. Personal or company checks for full settlement over $500.00 MUST be accompanied by a current irrevocable bank letter of guarantee or prior approval. Motley's reserves the right to hold items paid for by personal check until we receive proceeds from buyer's bank. All sales are final! In the event Purchaser fails to pay the full purchase price of any lot as per these terms and conditions set forth herein, Motley's shall retain a lien on all lots of Purchaser until all items are paid in full. This lien shall include funds for original purchase price, sales and use taxes, buyer's premiums, transportation and handling fees, storage charges, security and insurance. In addition, Motley's, at its sole discretion, shall have the right to sell such lots by public or private sale without notice to Purchaser at a commission rate of 25% plus any expenses outlined above. Interest at the rate of 24% per annum or the maximum rate permitted by State law, where sale is conducted, will be paid by Purchaser on overdue amounts together with any insurance, legal or collection cost incurred by Motley's. LOCAL SALES TAX DUE Unless exempted by law from the payment thereof, the purchaser is required to pay local sales tax upon the purchase price in addition to the buyer's premium. Note that Virginia requires that sales tax be collected on all purchases unless a valid tax exemption form has been provided prior to the purchase. All sales without a valid tax form will be subjected to taxation. No refunds will be made without proper authority. REMOVAL Purchases to be removed by Wed., November 3, (between 8:00 AM and 5:00 PM Thursday and Friday 9:00 AM and 5:00 PM Monday thru Wednesday). Large items and objects on stage cannot be removed from the showroom until the conclusion of the auction. If a customer wishes to remove their purchases during the auction, immediate assistance will not be available. We strongly recommend that you supply your own labor. Announcements from the podium made on the day of the Auction regarding pickup will take precedence over all printed material or any other oral statements made. Any variance from our announced removal schedule must be arranged. Purchaser takes full responsibility for the removal of lots and holds harmless the consignor and auctioneer for any damage or injury in the moving or dismantling process. Items remaining after five working days will be subject to our standard storage fee of $5.00 per lot/per day. Items left over 30 days will be deemed abandoned. Abandoned purchases will be sold without notification to offset storage fees and handling. SHERMAN ANTI-TRUST ACT Title 15, Section 1 of the United States Code specifically prohibits any agreements that restrain trade and commerce and declares them to be illegal and a federal felony. The law provides: "Every contract, combination in the form of trust or otherwise, or conspiracy, in restraint of trade or commerce among the several States, or with foreign nations, is declared to be illegal. Every person who shall make any contract or engage in any combination or conspiracy hereby declared to be illegal shall be deemed guilty of a felony, and, on conviction thereof, shall be punished by fine not exceeding $10,000,000 if a corporation, or, if any other person, $350,000, or by imprisonment not exceeding three years, or by both said punishments, in the discretion of the court." Any agreement among potential bidders at this auction not to bid against one another, or otherwise to dampen the bidding process, is illegal and will be immediately reported by Motley's to the United States Attorney and the Department of Justice for investigation and prosecution. This is a very serious matter and we want you to view it as such and conduct yourselves accordingly. PACKING Motley's may help provide packing of items for the purchaser, solely as a courtesy, at in-house auctions. Purchaser agrees that packing is at their sole risk and that Motley's will not be liable for any loss or damages to said items. Packaging is limited to paper and boxes only. REFERRALS o Shipping & Delivery: M*I*S*C –804-271-1572 o Glassware: Terry Hunter, 804-276-3817 o Fine Antiques: Marshall Goodman, o Books: William Blair Books, 804-358-8465 o Civil War: Thomas Wood, 757-229-3100 o Jewelry: Christina Woolford, GG, ISA, 804-288-3793 o Furniture: Rick Vogt, 804-358-1651 o Pottery & Porcelain: Terry Hunter, 804-276-3817 Please Note: The numbers appearing in parentheses following some descriptions are internal inventory numbers. We apologize, but, due to safety hazards, it is not possible to remove large items from the Showroom and stage until the end of the auction. If you need help in removing a large piece of furniture or an Oriental rug from the checkout area prior to the end of the auction, we suggest you supply your own labor. Auction staff will not be available for removal during the auction. Motley's cannot supply ropes, blankets, cardboard or any materials for packing items into or onto vehicles. Thank you for your cooperation.
Discover Items You'll Love

Bid Anywhere, Anytime. Download the LiveAuctioneers App.
Available on the App Store
Android App on Google Play