Weekly Auctions of Exceptional Items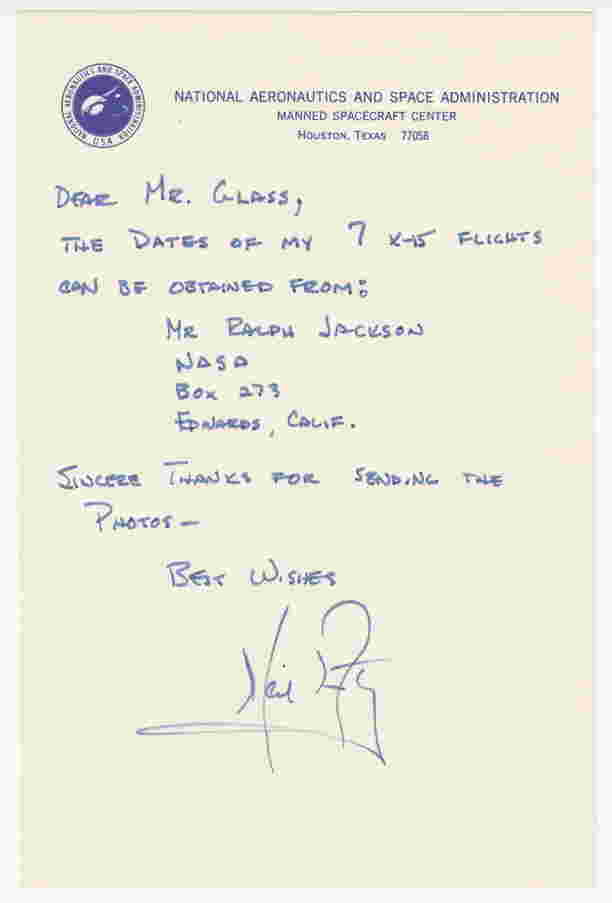 Lot 0004
Description
Armstrong Neil
Neil Armstrong ALS on NASA Letterhead Mentioning His X-15 Flights
Single page autographed letter signed, 5.25" x 8", on NASA Manned Spacecraft Center stationery. Boldly signed by Neil Armstrong "Neil Armstrong".  Fine condition.
In full: "Dear Mr. Glass,/ The Dates of my 7 X-15 flights/ can be obtained from:/ Mr. Ralph Jackson/ NASA/ Box 273/ Edwards, Calif./ Sincere Thanks for sending the/ Photos-/ Best Wishes/ Neil Armstrong". A rare and desirable item- an ALS with a full signature written while he was at NASA and mentioning his participation in the X-15 program. Excellent.
Armstrong was actively engaged in both piloting and engineering aspects of the X-15 program from its inception. He completed the first flight in the aircraft equipped with a new flow-direction sensor (ball nose) and the initial flight in an X-15 equipped with a self-adaptive flight control system. He worked closely with designers and engineers in development of the adaptive system, and made seven flights in the rocket plane from December 1960 until July 1962. During those fights he reached a peak altitude of 207,500 feet in the X-15-3, and a speed of 3,989 mph (Mach 5.74) in the X-15-1.
On Friday, April 20, 1962, Armstrong zoomed up to 207,500 feet in the X-15, as high as he'd go until his Gemini 8 mission would quadruple that four years later. Well outside the atmosphere, he used the reaction control system to maneuver. Another job on this flight was to check out the MH-96, a G limiting device designed to keep the rocket plane from exceeding 5 Gs. He kept the nose up as he plummeted from his peak altitude, which caused his flight path to "balloon," or rise again, producing about 4 Gs. This ballooning continued as he waited to see the G limiter kick in, which it never did. It turned out that the real flight was not agreeing with simulations he'd done on the ground. All the while, he was cruising along at the rate of ten football fields a second toward Los Angeles, and still up around 140,000 feet. Soon he heard the main flight control center telling him as they watched his telemetry, "We show you ballooning, not turning. Hard left turn, Neil! Hard left turn!" By then, Armstrong had, in his own words, gone "sailing merrily by the field." 
With not enough atmosphere for his flight control surfaces to bite into, he couldn't turn. Instead, he followed a ballistic path like an artillery shell over the San Gabriel Mountains and toward the populated areas of southern California. When he finally fell far enough that the wings began to respond, Armstrong pulled a U-turn and headed northeast in a steep glide toward the lake beds he had overshot. He was 45 miles south of them, not far enough to put him over the Rose Bowl. But he was still generally over Pasadena. Luckily, he was still above 100,000 feet, and cleared the San Gabriel Mountains by a wide margin, then performed a straight-in landing on Rosamond Dry Lake, south of Rogers. The transcript shows he used speed brakes on his way to touchdown, dispelling notions that he was about to fall short in the Joshua trees. Furthermore, in the heat of the overtasked moment, he failed to consider jettisoning the ventral, or underside, tail fin at the back of the X-15 earlier than normal, which would have reduced his drag and extended his time in the air. 
In 12.4 minutes, Armstrong had covered 350 miles ground track, the record for longest duration and distance of all 199 X-15 flights.
This item comes with a Certificate from John Reznikoff, a premier authenticator for both major 3rd party authentication services, PSA and JSA (James Spence Authentications), as well as numerous auction houses.
WE PROVIDE IN-HOUSE SHIPPING WORLDWIDE!
Neil Armstrong ALS on NASA Letterhead Regarding His
Get pre-approved to bid live on

Wed, Feb 26, 2020 10:30 AM '

.
Register For Auction
Ships from
Westport , CT, US
University Archives
TOP RATED
49 Richmondville Avenue
Westport , CT 06880
USA
1,003 Followers
Auction Curated By:
Discover Items You'll Love
Discover Related Items Available Now
See All