Weekly Auctions of Exceptional Items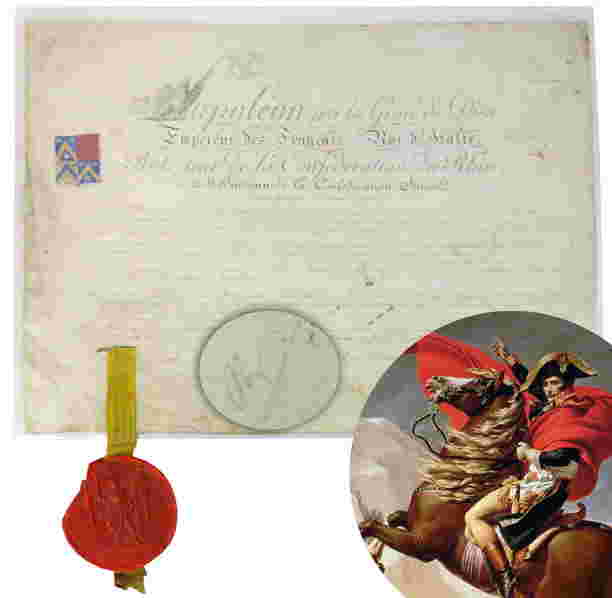 Lot 0020
Description
Bonaparte Napoleon
Napoleon DS Featuring Imperial Eagle and Enormous Great Seal Appointing Norman Politician Baron of the Empire
Oversized document in French signed by Napoleon Bonaparte (1769-1821) as "Nap" at bottom center. Dated May 16, 1813. The document appointed "Sieur Luc Barthelemy Marie Duhamel" a Baron of the Empire. Partly printed and partly handwritten on vellum, with an enormous Great Seal attached by a yellow silk ribbon at lower left. Docketed at upper and lower left. Currently encapsulated in a protective sheet of plastic. Expected wear including light to moderate soiling and wrinkling. Chipped edges and an isolated area of loss found along the left edge have been professionally restored. The handwriting is faded in some places but mostly legible. Else very good to near fine, with dramatic decoration! The document (excluding the seal) measures 24" x 17.5".
An imperial eagle appears at top, to the left of Napoleon's several grandiloquent titles, depicted clutching a laurel branch in its beak. The recently appointed Baron Duhamel's new heraldic shield appears at left. Hand-painted in gouache, the shield is divided into quarters featuring stars, crescents, rams' heads, and an oak branch (more on this later.) Napoleon's Great Seal dangles from the lower left corner. Measuring 4.75" diameter and .5" thick, the hardened red clay disc shows Napoleon in Classical drapery enthroned on the obverse, and an imperial eagle on the reverse. The seal has been repaired, and has some minor loss at upper left.
A translation is reproduced below; page breaks have been added for improved legibility.
"Napoleon, by the Grace of God Emperor of the French, King of Italy, Protector of the Confederation of the Rhine, Mediator of the Swiss Confederation, to all presents and to come, Greetings:
Article thirteen of the first statute of the first of March one thousand eight hundred eight reserves for Us the ability to grant Titles that We judge appropriate to those among Our Subjects who have distinguished themselves by Service to the State and to Us. Our knowledge of the Zeal and fidelity that Our dear and loved Lord Duhamel demonstrated in Our Service led Us to thus intervene in his favor. In this way, We have by Our Decree of the twenty-seventh of January one thousand eight hundred thirteen named Our dear and loved Lord Duhamel, Baron of Our Empire.
In consequence of and by virtue of this Decree, the said Lord Duhamel, being now before Our Cousin the Prince Archi-Chancelier of the Empire to obtain by Our Grace the Letters patent that are necessary for him to enjoy his Title; We have, by these present signed by Our hand, Conferred and Will Confer upon our dear and loved Lord Luc Barthelemy Marie Duhamel, deputy of the Legislative body, member of the Electoral College of the Department of La Manche, born in Granville, in the same department, the twentieth of July one thousand seven hundred seventy one, the Title of Baron of Our Empire; the said Title will be transferrable to his direct descendants, legitimate, natural or adoptive, from male to male by order of primogeniture, so that he will be in accordance with article six of our --…
Grant the said Lord Duhamel the right to call himself and qualify himself as Baron of Our Empire in Acts and Contracts as much in Judgement as besides; We Desire that he is recognized as such throughout, that he enjoys all the honors attached to this Title as soon as he will have taken the vow prescribed in article thirty seven of Our second statute, in front of the one or those by Us delegated for this purpose, and that he can use in all places, the heraldry that is described below:
In the first and fourth azure quarters are golden chevrons accompanied at top by two stars -- [faded, illegible] -- of the Barons members of the Electoral College, the third in gold with a blue chevron accompanied by three rams' heads -- [faded, illegible] …
We charge Our Cousin the Prince Archi-Chancelier of the Empire to communicate this to those present at the Senate, and to transcribe it in the Registry. Because this is Our good pleasure and in order that the issue is well and truly closed, Our Cousin the Prince Archi-Chancelier of the Empire will append it, by Our Orders, [with] Our Great Seal, in presence of the Council of the Seal of Titles.
Given the sixteenth day of the month of May of the Year of grace one thousand eight hundred thirteen.
[signed]
Nap."
Napoleon established a noble ranking system the same year he crowned himself emperor. The appointment of princes, dukes, counts, barons, and knights was a form of royal patronage that stabilized post-Revolutionary society. Napoleon granted 2,200 titles over the course of his 10-year-long imperial reign, among them a little over 1,000 baronetcies, including Duhamel's. Barons were usually appointed among low- to mid-level functionaries like local government officials, generals, or bishops. They were required to have a minimum annual income of 15,000 francs to properly enjoy the honors and benefits of the office.
While the portion of our document that describes Duhamel's heraldic crest is somewhat faded, we know how the crest was once described by consulting other period heraldic sources:
"In the first and fourth azure quarters are golden chevrons, accompanied by two stars at top and the point of a crescent, all in gold; in the second quarter, an oak branch in silver (sign of Barons who are also members of the Electoral College); in the third gold quarter, a blue chevron accompanied by three rams' heads in silver…the whole topped by a cap of black velvet surmounted by three feathers and silver drapery…"
Luc Barthelemy Marie Duhamel (1771-1818) was indeed born on July 20, 1771 in Granville, located on the northwestern coast of France. The grandson of a pirate and the son of a shipowner, Duhamel the younger was a sailor before entering politics. He exploited his family and seafaring connections to quickly mount the regional political ladder, serving in the Senate between 1802-1815, and being elected to the Chamber of Deputies in 1817.
WE PROVIDE IN-HOUSE SHIPPING WORLDWIDE!
Napoleon DS Featuring Imperial Eagle and Enormous Great
Get pre-approved to bid live on

Wed, Feb 26, 2020 10:30 AM '

.
Register For Auction
Ships from
Westport , CT, US
University Archives
TOP RATED
49 Richmondville Avenue
Westport , CT 06880
USA
1,003 Followers
Auction Curated By:
Discover Items You'll Love
Discover Related Items Available Now
See All